Novel enzymes for the degradation of cellulose
Biotechnology for Biofuels
2012
5:45
Received: 16 May 2012
Accepted: 18 June 2012
Published: 2 July 2012
Abstract
The bulk terrestrial biomass resource in a future bio-economy will be lignocellulosic biomass, which is recalcitrant and challenging to process. Enzymatic conversion of polysaccharides in the lignocellulosic biomass will be a key technology in future biorefineries and this technology is currently the subject of intensive research. We describe recent developments in enzyme technology for conversion of cellulose, the most abundant, homogeneous and recalcitrant polysaccharide in lignocellulosic biomass. In particular, we focus on a recently discovered new type of enzymes currently classified as CBM33 and GH61 that catalyze oxidative cleavage of polysaccharides. These enzymes promote the efficiency of classical hydrolytic enzymes (cellulases) by acting on the surfaces of the insoluble substrate, where they introduce chain breaks in the polysaccharide chains, without the need of first "extracting" these chains from their crystalline matrix.
Keywords
CellulaseCelluloseGH61CBM33BiofuelBioethanolLytic polysaccharide monooxygenaseBiorefineryBioeconomyAldonic acid
Introduction
Biomass in the form of bioenergy provides about 10% of the global energy supply (50 EJ/year), and is the largest source of renewable energy. Most current biomass use concerns traditional burning in developing countries for heating and cooking, while biofuels (bioethanol and biodiesel) represent about 3 EJ/year. All harvested biomass currently used for food, fodder and fibre equals approximately 219 EJ/year. A three-fold increase in the use of bioenergy, to 150 EJ/year, would require nearly the entire current global biomass harvest [1]. Nevertheless, it has been estimated that the potential deployment level of biomass for energy by 2050 could be in the range 100 to 300 EJ. Since liquid transportation fuels are less easy to replace than heat and power, future use of biomass for energy is likely to focus on the former.
Modern applications of bioenergy are based on convenient solid, liquid and gaseous energy carriers, typical examples being pellets, bioethanol and methane. The biofuel produced in biggest volume today is bioethanol with an annual production of 84 billion litres (2010) projected to reach 125 billion litres in 2017 [2]. Currently, bioethanol is mainly produced from starch (corn in the US) or sugar (sugarcane in Brazil). However, starch and sugar are also potential food sources and great efforts are being made to develop biofuels based on non-food biomass such as lignocellulosic or algal biomass. These so-called second generation biofuels may be produced through thermochemical processes [3], such as pyrolysis, or through biochemical processes. This paper addresses important recent developments related to biochemical conversion of biomass, in particular the enzymatic conversion of plant polysaccharides to monomeric sugars, the central "platform chemical" of the future biorefinery.
Biochemical conversion of biomass advantageously preserves the original carbohydrate structures in the form of monomeric sugars (in contrast to thermochemical conversion which leads to destruction of the carbohydrates) and enzyme technology is generally considered the most sustainable technology for saccharification. However, despite large efforts in the past decade, the (in)efficiency of enzymatic hydrolysis of lignocellulosic materials remains a key limiting step in many biorefining approaches [4]. Limiting factors lie in the heterogeneity of the plant cell wall (primarily cellulose, hemicelluloses and lignin [5]) and the inaccessibility and recalcitrance of its individual components.
Traditionally, enzyme systems capable of degrading recalcitrant polysaccharides, such as cellulose, are thought to consist of endo-acting enzymes that cut randomly in the polysaccharide chain, and processive exo-acting enzymes that degrade the polymers from chain ends [6]. However, polysaccharide chains in a crystal are tightly packed and the existence of additional factors that would make the substrate more accessible has been suggested since the 1950s [7]. Recent studies of bacterial proteins currently classified as family 33 Carbohydrate Binding Modules (CBM33) [8–11] and of fungal proteins currently classified as family 61 Glycoside Hydrolases [12–18] have shown that the classical endo/exo scheme indeed may be too simple. These proteins have flat substrate-binding surfaces and are capable of cleaving polysaccharide chains in their crystalline contexts using an oxidative mechanism that depends on the presence of divalent metal ions and an electron donor [8]. CBM33- and GH61-encoding genes are abundant in the genomes of biomass-converting microorganisms and these oxidative enzymes represent a new paradigm for degradation of recalcitrant polysaccharides that may be of major importance for the future biorefinery.
Lignocellulosic biomass and processing
Lignocellulose
Lignocellulosic plant biomass consists mainly of three types of polymers: lignin, cellulose and hemicellulose. These three polymers are interlinked in a hetero-matrix and their relative abundance varies depending on the type of biomass [19]. Examples of such biomass are angiosperms (hardwoods), gymnosperms (softwoods) and graminaceous plants (grasses such as wheat, giant reed and Miscanthus). The main components of lignocellulosic biomass are cellulose (40–50%), hemicellulose (20–40%) and lignin (20–30%). Minor components are proteins, lipids, pectin, soluble sugars and minerals [20].
Cellulose is a linear polysaccharide consisting of hundreds to over ten thousand β-1,4 linked glucose units (Figure
1
A). The cellulose chains aggregate into microfibrils via hydrogen bonding and van der Waals interactions [
21
,
22
], reported to consist of 24 to 36 chains based on scattering data [
23
] and information about the cellulose synthase [
24
], respectively (Figure
1
B). These microfibrils are crystalline and non-soluble and enzymatic saccharification is challenging. Consecutive sugars along chains in crystalline cellulose are rotated by 180 degrees, meaning that the disaccharide (cellobiose) is the repeating unit. Cellulose tends to contain both well ordered crystalline regions and disordered, more amorphous regions. In nature crystalline cellulose is found as parallel chains in the form of Iα and Iβ, where Iβ is the predominant form in plants (Figure
1
B). Pretreatment (see below) may lead to the formation of other types of crystalline cellulose (i.e. type II, III and IV) [
25
]. While its recalcitrance to enzymatic degradation may pose problems, one big advantage of cellulose is its homogeneity. Complete depolymerization of cellulose yields just one product, glucose.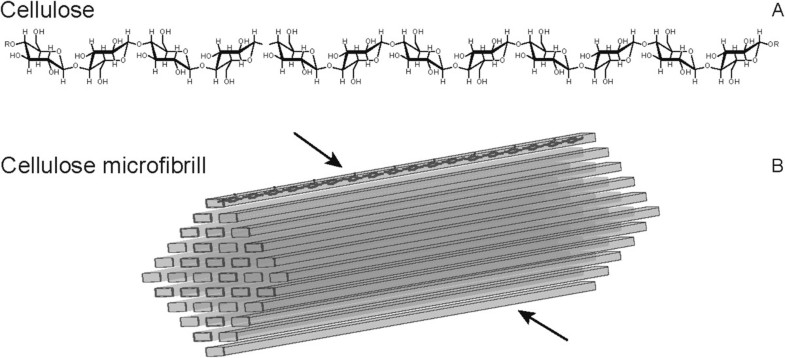 The term hemicellulose collectively names non-cellulose polysaccharides that show large variation, within one plant species and its tissues and in between plants. Common hemicelluloses are xylan, abundant in grasses and angiosperms (hardwoods like birch and aspen), mannan, abundant in gymnosperms (softwoods like spruce and pine), and xyloglucan, abundant in many angiosperms. Hemicelluloses are heteropolymers with varying degrees of branching. This may be exemplified by hardwood xylans which have a β-1,4-linked xylose backbone with a high amount of acetylesterifications and a lesser amount of α-1,2 linked glucuronic acid/4-O-Methyl-glucuronic acid substituents [28]. Grass xylan is more complex, containing a high degree of arabinose substitutions and ester modifications like acetylesterification and hydroxycinnamic acid esters (p-coumaric acid and ferulic acid) [29]. Xylan chains may be cross-linked via hydroxycinnamic acids [30]. Glucomannan contains a mixed β-1,4-linked mannose/glucose backbone substituted with α-1,6-linked galactose and with some mannose residues O-2/O-3 acetylesterified [31].
Hemicelluloses are generally easier to degrade enzymatically than cellulose but certain oligomeric structures are recalcitrant because of complex branching and acetylation patterns [32]. Hemicellulose structures may add to the recalcitrance of cellulose and enzymes such as xylanases are common in industrial enzyme cocktails for lignocellulose processing [33]. While depolymerization of cellulose only yields glucose, degradation of hemicelluloses yields a mixture of different sugars that may contain substantial amounts of pentoses that are difficult to ferment.
Lignin is a relatively hydrophobic and aromatic heteropolymer consisting of three monolignols, methoxylated to various degrees: coniferyl alcohol, sinapyl alcohol and p-coumaryl alcohol. These monolignols are incorporated into lignin in the form of guaiacyl (G), syringyl (S) and p-hydroxyphenyl (H), respectively. The relative amounts of these monolignols vary between different sources of lignin [34]. Softwoods have lignins dominated by G, whereas hardwood lignin is a mix of G and S. Lignin from grasses typically contains all three types of monolignols [34, 35]. In lignocellulosic biomass lignin is crosslinked with carbohydrates by ether or ester linkages via e.g. arabinose-ferulic acid or glucuronic acid [36].
Enzymes known to act on lignin are mostly co-factor dependent oxidoreductases [37], which implies that their industrial use is going to be expensive. Furthermore, today, there is no known simple enzymatic scenario for depolymerization of lignin. Interestingly, the ability of microbes to degrade aromatic compounds such as lignin building blocks is well documented [38].
The biorefinery and the key role of enzymes
The cellulose-hemicellulose-lignin matrix is highly recalcitrant and thus not efficiently degraded to sugars by enzymes alone. Therefore, some kind of pretreatment is usually applied to make the biomass more accessible to enzymes [19]. Chemical methods for polysaccharide depolymerization do exist, but most biorefining strategies pursued world-wide are based on the use of enzymes. Depolymerization of pretreated biomass is achieved by adding an enzyme cocktail which degrades the polysaccharides to pentoses (xylose and arabinose) and hexoses (glucose, mannose and galactose). The most commonly used commercial enzyme cocktails are produced by the fungus Trichoderma reesei (nowadays called Hypocrea jecorina ) and the depolymerization process usually takes place at a pH 4.5 - 5.0 and temperatures in the range of 40 to 50°C.
Enzymatic degradation of cellulose
Conclusions and future perspectives
The discovery of lytic polysaccharide monooxygenases currently classified as CBM33 and GH61 may represent a revolution in enzymatic biomass processing, although further work is needed to establish their full potential. From a scientific point of view these enzymes are interesting because they represent a novel type of enzymatic activity. From an applied point of view these enzymes are of interest because they may speed up enzymatic conversion of biomass, thus reducing enzyme loads and processing times. Reported effects on chitinase activity are huge [8, 10], whereas reported effects on cellulose activity are less [9, 12, 17, 55] but still significant and of considerable commercial value. One of the best known commercial cellulose preparations today, Cellic CTec2 produced by Novozymes, contains extra GH61s that contribute to this product's improved performance compared to its predecessors [55]. Although industrial knowledge on these enzymes remains mostly invisible to the outside world, it would seem that accumulated research on CBM33s and GH61s still is quite limited. It is thus likely that further improvements in enzymatic biomass conversion through use of these enzymes will emerge in the coming years.
The classifications of CBM33s and GH61s as carbohydrate-binding modules and glycoside hydrolases, respectively, are clearly wrong and will thus change in the near future. Although the two enzyme families show strong similarities, it remains to be seen how similar they really are. Mechanistically, there may be differences, as indicated by the production of C4 and perhaps even C6-oxidized sugars by some of the GH61s described so far. Also, all GH61 structures published so far show methylation of the N-terminal histidine in the active site [13, 18]. Such methylation has not been observed in CBM33s and, to the best of our knowledge, not in bacteria in general [13, 18, 72, 82].
Another issue concerns possible variation in substrate specificity. The multiplicity of genes, especially in the case of GH61s, the large sequence variation (e.g. see [18]) and, in the case of CBM33s, the huge variation in modular structure, all suggest that different substrates are targeted. In addition to the various forms and crystal faces of chitin and cellulose, other complex and ordered structures may be targeted such as junction zones or other carbohydrate aggregates in tightly inter-linked hemicellulose-cellulose chains [83–85]. The physiological data available for some CBM33s certainly support the idea of a wider substrate range within this family.
It is important to note that so far, there are no indications that these novel lytic polysaccharide monooxygenases act on single chains, which in an experimental context would mean soluble oligosaccharides. In this sense these novel enzymes differ dramatically from classical glucanases, which need to position single chains in their active sites grooves, clefts or tunnels [48], and which normally are active on soluble oligosaccharides. Such glucanases may have additional CBMs providing affinity for crystalline surfaces [86]. Since CBM33s and GH61s have extended substrate-binding surfaces, one may wonder how extended and ordered the substrate surfaces need to be. It is conceivable that other plant polysaccharides as well as perhaps even the more complex of the glycans found in glycoproteins, contain enough "surface" (i.e. expanding beyond a single chain), to interact with certain CBM33s and/or GH61s. All in all, we consider it likely that CBM33s and GH61s acting on biomass structures such as xylan, mannan and starch will be discovered in the near future.
While the recent finding of lytic polysaccharide monooxygenases represents a major advance in the development of better enzyme technology for biomass conversion, more is likely to come. Proteins such as "swollenins" [87, 88] and expansins [89] have for long been known to affect cellulose and other plant polysaccharides but their use in biomass processing has not yet been fully explored. Certain CBMs may have roles beyond mere substrate-binding and they might have some sort of substrate-disrupting effect, thus increasing accessibility to glucanases [74]. Careful engineering of CBMs and appending them to certain glucanases may yield possibilities that so far have remained under-explored. Finally, current massive studies on the microbiomes of herbivores reveal a plethora of potentially relevant biomass-converting enzymes that need further attention and that seem to include cellulolytic enzyme systems unlike the systems known so far [90–92].
Production of biofuels via enzymatic depolymerization of non-food plant polysaccharides currently receives massive attention and the first commercial production facilities are being built [93]. One major reason for current progress is the drastic reduction in enzyme costs that commercial producers have achieved over the past decade. More improvement is needed though, since enzyme costs remain high and, for some tougher substrates, prohibitive [4]. The developments described above open new avenues for further development of enzyme technology in the field. Interestingly, the novel CBM33 and GH61 enzymes do something very different to their substrates than well known hydrolytic enzymes and their implementation may thus require novel thinking. For example, while glucanases need thermochemically pretreated substrates with disrupted crystallinity and sufficiently accessible single polymer chains, these novel enzymes may handle more compact and inaccessible materials. Thus, further implementation of the possibilities offered by CBM33s and GH61s may not only affect the costs of the enzymatic saccharification step but may also direct further optimization of the preceding pretreatment step and process design in general.
Declarations
Acknowledgment
This work was supported by grants 186946, 190965, 193817 and 196885 from the Norwegian Research Council.
Authors' Affiliations
(1)
Department of Chemistry, Biotechnology and Food Science, Norwegian University of Life Sciences, Akershus, Norway
Copyright
© Horn et al.; licensee BioMed Central Ltd. 2012
This article is published under license to BioMed Central Ltd. This is an Open Access article distributed under the terms of the Creative Commons Attribution License (http://creativecommons.org/licenses/by/2.0), which permits unrestricted use, distribution, and reproduction in any medium, provided the original work is properly cited.