Biogas from Macroalgae: is it time to revisit the idea?
Biotechnology for Biofuels
2012
5:86
Received: 24 July 2012
Accepted: 20 November 2012
Published: 27 November 2012
Abstract
The economic and environmental viability of dedicated terrestrial energy crops is in doubt. The production of large scale biomass (macroalgae) for biofuels in the marine environment was first tested in the late 1960's. The culture attempts failed due to the engineering challenges of farming offshore. However the energy conversion via anaerobic digestion was successful as the biochemical composition of macroalgae makes it an ideal feedstock. The technology for the mass production of macroalgae has developed principally in China and Asia over the last 50 years to such a degree that it is now the single largest product of aquaculture. There has also been significant technology transfer and macroalgal cultivation is now well tried and tested in Europe and America. The inherent advantage of production of biofuel feedstock in the marine environment is that it does not compete with food production for land or fresh water. Here we revisit the idea of the large scale cultivation of macroalgae at sea for subsequent anaerobic digestion to produce biogas as a source of renewable energy, using a European case study as an example.
Keywords
BiogasMethaneAnaerobic digestionSeaweedMacroalgaeAquaculture
Introduction
Growing terrestrial crops for biofuel may make a negligible contribution to net greenhouse gas emissions [1, 2] and may cause other environmental impacts while reducing freshwater resources and food security [3]. Given these limitations there has been renewed / increased interest in aquatic and marine production for biofuels [4, 5]. This interest can be divided into two principal components: biofuels derived from macroalgae (seaweed) and biofuels derived from microalgae (single cell plants). Microalgal derived biofuels have received much attention as a source for biodiesel [6–8], however production costs are an order of magnitude too expensive [3]. Although there is currently enormous research investment into the bulk production of microalgae for biodiesel, photo bioreactors are unlikely to be economically competitive for bioenergy production, and culture in outdoor ponds is only suited to regions with a relatively high number of sunlight hours and even then may still be uncompetitive in the biofuels market [9].
Macroalgae as a source of bioenergy first received intensive scrutiny as part of the US Ocean Food and Energy Farm project as proposed by Wilcox [
10
], initiated in 1973 and lasting over a decade [
11
]. It resulted in the construction of ocean farms for cultivation of the giant kelp
Macrocystis
[
12
]; reviewed by Kelly and Dworjanyn, [
13
]. While farming this species of seaweed in this truly offshore environment presented many technical challenges, the biogasification of macroalgal biomass gave excellent results [
10
,
12
,
14
,
15
]. This and subsequent research highlights some of the major advantages of macroalgae over other sources of biofuels (see Table
1
).
Table 1
Environmental and societal risk associated with terrestrial biofuels (after Koh and Ghazoul,[16]) and macroalgae biofuels
Environmental and societal advantages of macroalgae production for biofuels

Net GHG emissions from land-use change

The culture of macroalgae for biofuel would be entirely marine based and would not have the associated GHG emissions associated with land use change.

Threats to biodiversity

Macroalgae cultivation takes place in the water column above the seabed. Impacts of large scale macroalgae production on benthic biodiversity are currently unquantified. Likely impacts will include shading and competition for nutrients. However, most production will be in waters where the seabed is deeper than the photic zone, and where terrestrial nutrient run off creates hypernutrified water. It is likely that biodiversity would increase in the vicinity of macroalgae farms as a result of increased habitat structural complexity.

Impacts on food prices

Currently most macroalgae cultivation is for human consumption. Large scale production of macroalgae for biofuels is bound to distort this market. However the impacts on the supply of macroalgae to human food chain is likely to be small due to a clear market segregation and the far higher value of macroalgae as food compared to the price of energy.

Competition for water resources

Mass cultivation of macroalgae has a zero freshwater requirement and only modest amounts are required in anaerobic digestion
With microalgae much of the research interest has focused on their conversion to liquid biofuels such as ethanol [17–20]. However, in this review we focus on anaerobic digestion of cultivated macroalgae for the production of biogas. Since this original gasification / culture research was conducted there have been substantial advances in macroalgal cultivation and offshore engineering. However the concept of ocean farming for biogas production has received relatively little attention in the 21st century.
In coastal temperate regions this technology may have significant potential to meet local energy demand, particularly in areas where the expansion of terrestrial biofuel production is limited due to high percentages of net primary productivity (NPP) already being appropriated for human use, such as the north Atlantic Coast of North America and Europe, and the western seaboard of South America (Figure
1
). In this review the wild harvest of seaweeds for biofuel is not considered a viable option either in terms of potential yield or its environmental impact. Although macroalgal harvest for high value products takes place in some countries, very careful management is required to prevent serious ecosystem damage [
21
–
24
] hence it would be impossible to justify harvest on the massive scale necessary [
25
–
27
] to make a significant energy contribution. Macroalgal forests, as with other biogenic structures in the marine environment such as corals and seagrasses, are considered to be biodiversity hot spots providing important habitat to a wide range of organisms including fish and birds [
28
]. It is worth noting that in Norway where approximately 170,000 tonnes pa
Laminaria hyperborea
are harvested, even a 4–5 year rotation is not always sufficient to allow recovery [
29
]. In addition, as wild stocks are generally dispersed around coastlines this would result in high costs of transport to processing plants.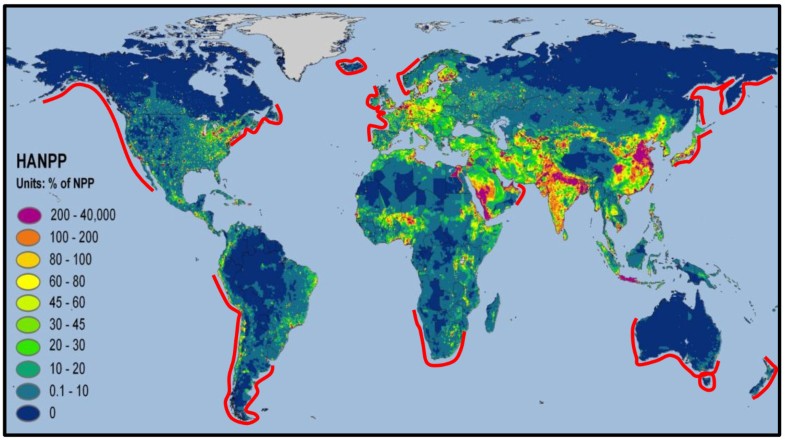 Conclusion
Our analysis of growth data from hatchery-raised macroalgal sporelings outplanted to conventional long-line systems in Scotland suggests there are no major biological obstacles to the culture process in a European context. A fuller understanding of the impacts and performance of native macroalgae grown in dense large-scale cultures can only be achieved through pilot scale trials. Technological advancement is required to mechanise the outplanting and harvest process. The biological gasification of macroalgae was well proven in the later decades of the 20th century and AD technology has sufficiently matured to offer a range of possibilities to further optimise methane yields. Compared to first generation biofuels, macroalgae have inherent advantages that make them environmentally sustainable. Given that fossil fuel prices are likely to increase and that macroalgal production costs will inevitably fall as production is expanded and intensified, it is prudent to develop the technology required to obtain significant quantities of biofuel from marine biomass in time to help meet Europe's energy needs and climate change targets.
Abbreviations
AD:

Anaerobic digestion
C:

Carbon
dw:

Dry weight
GHG:

Greenhouse gas
GJ:

Giga joules
ha:

Hectare
hr:

Hour
kg:

Kilogram
km:

Kilometre
kW:

Kilowatt
m:

Meter
N:

Nitrogen
NPP:

Net primary productivity
pa:

Per annum
PJ:

Peta joules
Sp:

Species
t:

Tonne
UK:

United Kingdom
US:

United States
ww:

Wet weight.
Declarations
Acknowledgements
MSK, KDB and MSS acknowledge funding for the BioMara project (http://www.biomara.ac.uk). The Biomara project is supported by the European Regional Development Fund through the INTERREG IVA Programme, Highlands and Islands Enterprise, Crown Estate, Northern Ireland Executive, Scottish Government and Irish Government. ADH received funding from the MASTS pooling initiative (The Marine Alliance for Science and Technology for Scotland), MASTS is funded by the Scottish Funding Council (grant reference HR09011) along with contributing institutions, and from the European Union's Seventh Framework Programme (FP7/2007-2013) project AT~SEA under grant agreement n° 280860. Their support is gratefully acknowledged.
Authors' Affiliations
(1)
Scottish Association for Marine Science, Scottish Marine Institute, Department of Ecology, Oban, Scotland
(2)
Scottish Association for Marine Science, Scottish Marine Institute, Marine BioEnergy Scotland, Oban, Scotland
Copyright
© Hughes et al.; licensee BioMed Central Ltd. 2012
This article is published under license to BioMed Central Ltd. This is an Open Access article distributed under the terms of the Creative Commons Attribution License (http://creativecommons.org/licenses/by/2.0), which permits unrestricted use, distribution, and reproduction in any medium, provided the original work is properly cited.