Optimization of a synthetic mixture composed of major Trichoderma reesei enzymes for the hydrolysis of steam-exploded wheat straw
Biotechnology for Biofuels
2012
5:9
Received: 2 December 2011
Accepted: 28 February 2012
Published: 28 February 2012
Abstract
Background
An efficient hydrolysis of lignocellulosic substrates to soluble sugars for biofuel production necessitates the interplay and synergistic interaction of multiple enzymes. An optimized enzyme mixture is crucial for reduced cost of the enzymatic hydrolysis step in a bioethanol production process and its composition will depend on the substrate and type of pretreatment used. In the present study, an experimental design was used to determine the optimal composition of a Trichoderma reesei enzyme mixture, comprising the main cellulase and hemicellulase activities, for the hydrolysis of steam-exploded wheat straw.
Methods
Six enzymes, CBH1 (Cel7a), CBH2 (Cel6a), EG1 (Cel7b), EG2 (Cel5a), as well as the xyloglucanase Cel74a and the xylanase XYN1 (Xyl11a) were purified from a T. reesei culture under lactose/xylose-induced conditions. Sugar release was followed in milliliter-scale hydrolysis assays for 48 hours and the influence of the mixture on initial conversion rates and final yields is assessed.
Results
The developed model could show that both responses were strongly correlated. Model predictions suggest that optimal hydrolysis yields can be obtained over a wide range of CBH1 to CBH2 ratios, but necessitates a high proportion of EG1 (13% to 25%) which cannot be replaced by EG2. Whereas 5% to 10% of the latter enzyme and a xylanase content above 6% are required for highest yields, these enzymes are predicted to be less important in the initial stage of hydrolysis.
Conclusions
The developed model could reliably predict hydrolysis yields of enzyme mixtures in the studied domain and highlighted the importance of the respective enzyme components in both the initial and the final hydrolysis phase of steam-exploded wheat straw.
Keywords
Trichoderma reesei cellulasesxylanasewheat strawenzymatic hydrolysisexperimental design
Background
The production of bioethanol from plant biomass is seen as a possible strategy to reduce greenhouse gas emissions and the current dependence of industrialized nations on declining fossil fuels. Renewable lignocellulosic biomass is generally cheap and abundant and does not compete with food production as is the case for agricultural crops. Raw materials include wood residues, dedicated crops such as poplar or Miscanthus, agricultural residues and waste paper. Wheat straw is one of the most abundant crop residues in middle European countries with a production of over 130 million tons [1] and represents a low-cost source of lignocellulosic biomass.
In nature, plant cell wall carbohydrates are hydrolyzed to soluble sugars by (hemi)cellulolytic enzymes from both bacteria and fungi, the latter being very efficient degraders [2]. Trichoderma reesei is the major fungus used for industrial cellulase production. The secreted cellulases comprise two cellobiohydrolases and eight endoglucanases from six glycoside hydrolase families [3] which act in a synergistic manner to degrade the plant biomass, together with beta-glucosidases and hemicellulases. In total, the T. reesei genome contains 200 glycoside hydrolases and more than 20 of them can be found in the secretome [3, 4]. It is supposed that the presence of multiple enzymes displaying the same type of activity (as is the case for endoglucanases) is necessary for efficient biomass hydrolysis, but the precise role of the individual enzymes is still not well understood.
An important number of research studies have been dedicated to the optimization of conversion processes from lignocellulose to fuel ethanol in the last decades resulting in significant progress [5–10]. Industrial bioethanol production processes usually include a physicochemical pretreatment of the lignocellulosic substrate, which aims at increasing the accessibility of the material to hydrolytic enzymes. One of the most efficient pretreatments for wheat straw is steam explosion which consists of heating the biomass with pressurized steam for a few minutes and then rapidly releasing pressure [11]. It hydrolyzes most of the hemicelluloses and part of the lignin present, liberating the access to cellulose fibers and rendering them more amenable to digestion. However, even if this substrate is relatively well hydrolyzed by a (hemi)cellulolytic enzyme cocktail at moderate enzyme loadings (about 90% hydrolysis in 72 hours), saccharification of lignocellulosic materials is generally still too inefficient to support a cost-efficient process [12, 13]. A major problem in developing industrial enzyme mixtures is the different structure and composition of the potential substrates and naturally produced enzyme cocktails are often not adapted to efficiently degrade different pretreated materials. One strategy to improve the hydrolytic activity of the enzyme cocktail is, therefore, to adapt its composition to the substrate to be hydrolyzed.
Previous studies have shown that the efficiency of commercially available enzyme cocktails could be improved by adding xylanase [14–16]. An experimental design to optimize the hydrolysis of barley straw with the four major cellulases of T. reesei indicated that optimal ratios differed from the composition of a naturally produced cocktail, and showed that an optimized mixture of the three major enzymes, CBH1, CBH2 and EG1, could reach 80% of the hydrolysis yield obtained with a commercial enzyme preparation [17]. In order to achieve higher hydrolysis yields, the authors postulated the requirement of hemicellulases or accessory enzymes. Synthetic mixtures comprising more components (11 to 16), assayed on different substrates, such as corn stover, Miscanthus, switchgrass and poplar, could indeed equal the performance of complete T. reesei enzyme cocktails [18, 19]. These studies also showed that the optimal composition varied greatly with the type of feedstock, pretreatment and substrate to enzyme ratio and revealed the difficulty of predicting the necessary enzyme components due to a lack of fundamental mechanistic understanding [19, 20].
In the present study, we analyzed the hydrolysis of a single substrate, steam-pretreated wheat straw, by a six component mixture at different stages. An experimental mixture plan was set up for the four major T. reesei cellulases CBH1 (Cel7a), CBH2 (Cel6a), EG1 (Cel7b) and EG2 (Cel5a), as well as the xyloglucanase Cel74a and the xylanase XYN1 (Xyl11a) which were all purified from a complete T. reesei enzyme cocktail. A statistical model was established allowing the prediction of optimized mixtures for both initial conversion rates and final yields. In addition, the impact of a changing cocktail composition on both responses was assessed to understand better the role of the individual enzymes and their synergistic interactions. Results suggest that the studied enzymes have distinct and only partially redundant roles in initial and late hydrolysis stages of steam-pretreated wheat straw.
Results and discussion
Purification of the
T. reesei
enzyme mixture produced by strain CL847 on an anionic exchange column allowed the recovery of six major fractions, representing the six major cellulolytic proteins found after induction by a lactose/xylose 70:30 mixture. Two-dimensional (2D) electrophoresis and activity measurements confirmed the purity and allowed unambiguous determination of the identity of each fraction. The specific activities of the six major enzymes obtained, the two cellobiohydrolases CBH1 (Cel7a) and CBH2 (Cel6a), the major two endoglucanases EG1 (Cel7b) and EG2 (Cel5a), as well as the xyloglucanase Cel74a and the xylanase XYN1, were measured on Avicel, carboxymethylcellulose (CMC), xylan and xyloglucan (Table
1
). The two cellobiohydrolases have high activity on Avicel cellulose, consistent with values found in the literature [
20
,
21
] whereas endoglucanases and XYN1 show lower activities. A low activity of xylanase on Avicel and CMC has been reported previously [
22
]. As expected, highest activity on amorphous cellulose was seen for endoglucanases. CBH2 also has some activity on CMC, which has also been observed with the heterologously expressed
T. reesei
CBH2 enzyme and is consistent with the endo-type side-activity of this enzyme [
23
]. Besides XYN1 and Cel74a, EG1 also has xylanase activity consistent with previous results [
24
].
Table 1
Specific activities of purified enzymes on solid model substrates
| | CBH1 | CBH2 | EG1 | EG2 | Cel74a | XYN1 |
| --- | --- | --- | --- | --- | --- | --- |
| Avicel | 0.035 | 0.027 | 0.020 | 0.007 | 0.008 | 0.011 |
| CMC | < 0.1 | 0.3 | 0.6 | 0.4 | 0.1 | 0.1 |
| Xylan | ND | ND | 1.6 | ND | 2.6 | 2.8 |
| Xyloglucan | < 1 | < 1 | 731 | 53 | 54 | 70 |
An artificial enzymatic cocktail comprising the six purified enzymes in the same proportion as the
T. reesei
K630 cocktail which was obtained after induction by a lactose:xylose (60:40) mixture was reconstituted. The hydrolysis yields on steam-exploded wheat straw of the reconstituted mixture was similar to that of the K630 cocktail, which indicates that the purified enzymes were highly active and which validates them for use in the following mixture experiments (Figure
1
). The rather modest hydrolysis yield can be explained by the low enzyme loading (2.5 mg g
-1
dry matter); about 61% of available glucose was hydrolyzed in 48 hours. For comparison, 66% hydrolysis could be obtained using the commercial enzyme cocktail GC220 at the same enzyme loading and substrate consistency. With a higher enzyme loading (10 mg g
-1
dry matter) 100% of the cellulose were digested by GC220 in 48 hours and, at 15% consistency, 74% was hydrolyzed in 144 hours.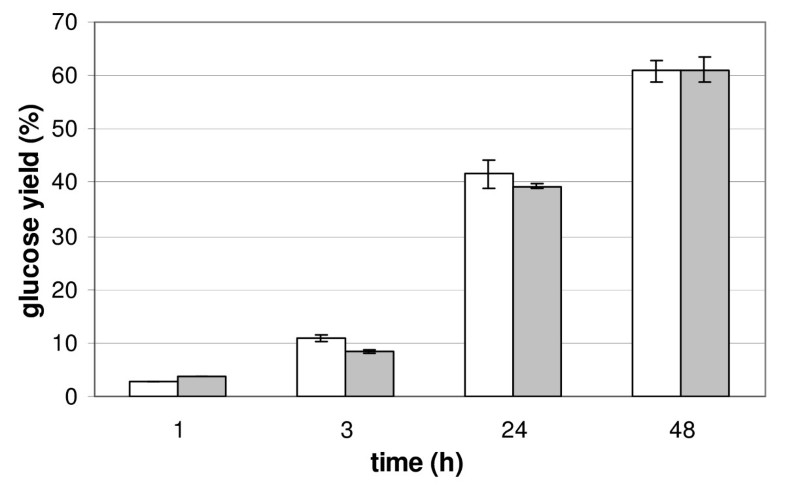 Conclusions
In the present study a statistical model was set up to search for optimized enzymatic mixtures containing the T. reesei enzymes CBH1, CBH2, EG1, EG2, Cel74a and XYN1 for the hydrolysis of steam-exploded wheat straw. While the initial conversion rate was globally correlated to final yield, some enzymes (EG2, XYN1) were predicted to be more important in the later stages of hydrolysis under the conditions used here. The present results show that mixtures with significantly higher final yield than those representing standard T. reesei cocktails could not be identified with the methods applied here, but suggest that EG1 is an enzyme of major importance for optimized initial conversion rates and final yield. Future studies must show if these findings are also true for conditions of high dry matter content and protein loading, conditions which are relevant for enzymatic hydrolysis in industrial applications.
Abbreviations
AFEX:

ammonia fiber expansion
CBH:

cellobiohydrolase
CMC:

carboxymethylcellulose
DNS:

dinitrosalicylic acid
DW:

dry weight
EG:

endo-β-1,4-glucanase
HPLC:

high performance liquid chromatography
Rf:

final yield
v01:

initial conversion rate
XYN1:

xylanase 1.
Declarations
Acknowledgements
The authors thank Hugues Mathis for technical assistance with hydrolysis experiments.
Authors' Affiliations
(1)
IFP Energies nouvelles, Biotechnology Department, France
(2)
IFP Energies nouvelles, Applied Mathematics Department, France
Copyright
© Billard et al; licensee BioMed Central Ltd. 2012
This article is published under license to BioMed Central Ltd. This is an Open Access article distributed under the terms of the Creative Commons Attribution License (http://creativecommons.org/licenses/by/2.0), which permits unrestricted use, distribution, and reproduction in any medium, provided the original work is properly cited.