Understanding cost drivers and economic potential of two variants of ionic liquid pretreatment for cellulosic biofuel production
Biotechnology for Biofuels
2014
7:86
Received: 31 January 2014
Accepted: 14 May 2014
Published: 7 June 2014
Abstract
Background
Ionic liquid (IL) pretreatment could enable an economically viable route to produce biofuels by providing efficient means to extract sugars and lignin from lignocellulosic biomass. However, to realize this, novel IL-based processes need to be developed in order to minimize the overall production costs and accelerate commercial viability. In this study, two variants of IL-based processes are considered: one based on complete removal of the IL prior to hydrolysis using a water-wash (WW) step and the other based on a "one-pot" (OP) process that does not require IL removal prior to saccharification. Detailed techno-economic analysis (TEA) of these two routes was carried out to understand the cost drivers, economic potential (minimum ethanol selling price, MESP), and relative merits and challenges of each route.
Results
At high biomass loading (50%), both routes exhibited comparable economic performance with an MESP of $6.3/gal. With the possible advances identified (reduced water or acid/base consumption, improved conversion in pretreatment, and lignin valorization), the MESP could be reduced to around $3/gal ($3.2 in the WW route and $2.8 in the OP route).
Conclusions
It was found that, to be competitive at industrial scale, lowered cost of ILs used and higher biomass loadings (50%) are essential for both routes, and in particular for the OP route. Overall, while the economic potential of both routes appears to be comparable at higher biomass loadings, the OP route showed the benefit of lower water consumption at the plant level, an important cost and sustainability consideration for biorefineries.
Keywords
Lignocellulosic biofuelsIonic liquid pretreatmentTechno-economic analysisOne-pot processLignin valorizationProcess modeling
Background
Lignocellulosic biomass is the most abundant renewable source of carbon on the planet; thus, it is widely seen as an abundant and sustainable feedstock for the production of non-food-derived biofuels. In addition, lignocellulosic biofuels generally reduce net CO2 emissions from the transport sector and thus are considered environmentally benign. The recalcitrance of biomass to depolymerization, however, is one of the key roadblocks for commercial viability of cellulosic biofuels. Pretreatment is essential to deconstruct the complex structures present in biomass and to facilitate efficient breakdown of long-chain polysaccharides (specifically cellulose and hemicellulose) into C6 sugars (hexoses) and C5 sugars (pentoses), which can then be readily fermented to biofuels. The development of efficient and economically viable pretreatment methods is thus critical for the advancement of production technologies for cellulosic biofuels. Several pretreatment technologies are being developed to tackle biomass recalcitrance, including pretreatment with acids, ammonia, hot water, or steam [1–3]. More recently, ionic liquid (IL)-based pretreatment methods using a specialized class of ILs have gained attention due to their effectiveness on a range of biomass types and their ability to disrupt lignin and decrystallize cellulose [4], aiding in downstream hydrolysis and fermentation. Furthermore, a recent study [5] at the Advanced Biofuels Process Demonstration Unit (ABPDU) has demonstrated the successful scale-up of IL-based pretreatment from lab scale to small pilot scale without any operational difficulties or loss in performance. This further demonstrates the promise and prospects of IL pretreatment technologies at the industrial scale.
In this study, two variants of IL-based processes are considered: the "water-wash" (WW) and "one-pot" (OP) routes. Simplified process flow representations of both configurations are shown in Figure
1
. The primary difference between these two routes is the type of enzyme used for hydrolysis. The WW route uses commercial enzymes that are not tolerant to ILs; thus, the IL must be removed prior to enzymatic hydrolysis. Removal of the IL requires significant amounts of water [
6
], which may challenge the commercial promise of this technology. On the other hand, the OP route [
6
] uses a novel enzyme cocktail that is IL-tolerant and facilitates the enzymatic hydrolysis without a separate washing step. As a result of this "consolidated" approach, IL is present during hydrolysis and hence sugars must be extracted from the hydrolyzate prior to fermentation. This is accomplished using liquid-liquid extraction (LLE) techniques, which are shown to recover more than 90% of the sugars from the IL-containing hydrolyzate [
7
]. After the sugars are extracted, the IL is recovered so that it can be recycled to the pretreatment reactor. Both these routes are further discussed in more detail in the Methods section.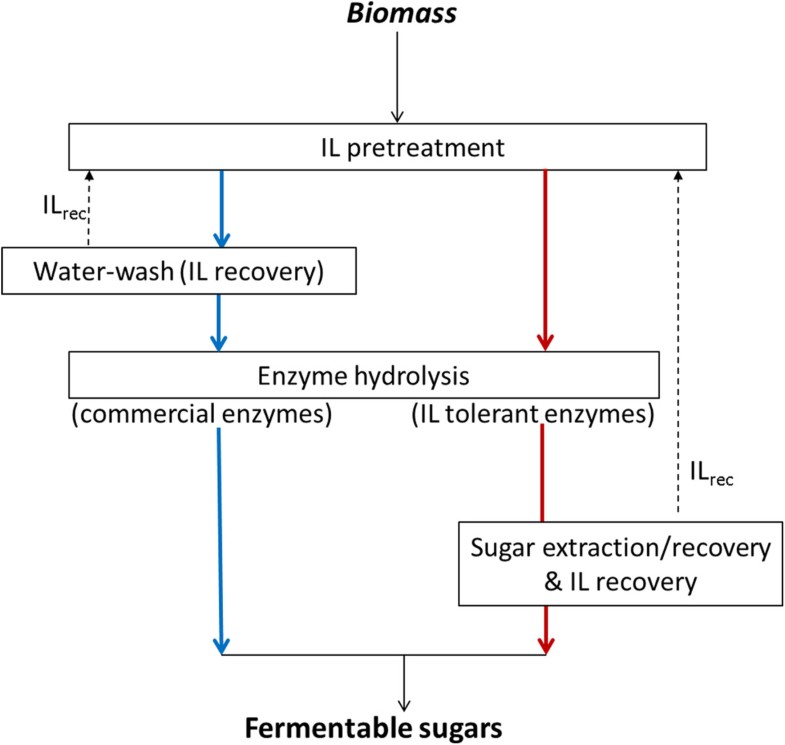 In contrast to other pretreatment technologies, the use of IL-based solvents for biomass dissolution and holocellulose depolymerization is relatively new, and much remains to be learned before an industrial process can be implemented at scale. Recent studies [8–10] have identified some key parameters that can significantly influence the overall process economics of IL-based processes for biorefineries and thus impact the minimum ethanol selling price (MESP, that is, the price of ethanol that results in a zero net present value after discounting cash flows at 10% [11, 12]). These parameters include: IL price, IL recovery, and biomass loading (that is, the weight percent of biomass in the pretreatment reactor). For instance, a comprehensive study [10] carried out an extensive set of simulations to quantitatively understand the impact of these IL process parameters on the overall process economics. One of the interesting observations from this study was that high biomass loading (33.3% or higher), low IL price ($2.5/kg or less), and high IL recovery (97% or higher) are needed to ensure an MESP of $5/gal or less. Given that these three factors have already been identified as important cost drivers, our motivation in this study is to understand any other key cost drivers that are specific to the two routes described above. Thus, IL price and recovery are fixed at favorable levels (refer to the Cost analysis section). While biomass loading was also known to be a key cost driver, it was further explored in the present study because its impact on the economics of the routes considered was observed to be significantly different. A more comprehensive discussion on the potential of ionic liquids within the context of biorefineries can be found in the recent literature [13–18].
Although the performance of IL-based pretreatment is very promising [13–17], research on how this pretreatment technology would integrate with the processing of lignocellulosic sugars to fuels is limited. This is particularly important because it is at the level of a "biorefinery" where economic viability-determining interactions can be observed. With this in mind, a techno-economic analysis (TEA) of the aforementioned IL-based processes (the WW and OP routes) was undertaken to better understand how this novel pretreatment method can be implemented at industrial scales. An analogous solvent-based process, using γ-valerolactone in place of ionic liquids, has been recently reported [19], and the conclusions of a TEA would thus be similar to those using ionic liquids. We report on the economic performance of each of these processes and focus on understanding the cost drivers and the relative merits and challenges of these two routes.
Results and discussion
To identify the cost drivers and to assess the economic potential of the two routes discussed above, several scenarios were constructed from the corresponding base case biorefinery models (see the Methods section). As a first step in the analysis, a detailed TEA was performed for the two routes at 10% biomass loading. For these base cases, which represent the translation of laboratory processes to industrial scales, the MESP for the WW route is $8.5/gal while it is $33/gal for the OP process. In order to identify the underlying cost drivers in both of these routes, a more detailed inspection of the cost breakdown was performed.
Conclusions
A detailed techno-economic analysis (TEA) of two novel routes for IL-based biorefineries was performed. Benchmark economics and the main cost drivers of a water wash (WW) route and a "one-pot" (OP) route to IL pretreatment were identified. Based on the scenarios studied, higher biomass loadings were found to be essential for both routes, though it was a more critical requirement for the OP route. Furthermore, water consumption in the WW route and acid/base consumption in the OP route were observed to be major cost drivers that in turn are correlated with the biomass loading, emphasizing the need to improve this parameter. At high biomass loading (50%), both routes exhibited comparable economic performance (with an MESP of $6.3/gal). The OP route, however, was observed to be more sustainable with regard to water usage. Furthermore, even with the possible advances identified (reduced water or acid/base consumption and improved conversion in pretreatment), the MESP remained above $4/gal ($4.5 and $4.1 in the WW and OP routes, respectively). Further innovation in lignin valorization could reduce the MESP to around $3/gal as the lignin selling price increases to $1,000/MT, highlighting the importance of lignin valorization in the context of future biorefineries. Representative models developed in SuperPro Designer are available to freely download from our wiki [26] for non-commercial usage.
Abbreviations
DA:

dilute acid
IL:

ionic liquid
MESP:

minimum ethanol selling price
Mgal:

million gallons
OP:

one-pot
WW:

water-wash.
Declarations
Acknowledgements
This work, conducted by the Joint BioEnergy Institute, was supported by the Office of Science, Office of Biological and Environmental Research of the U.S. Department of Energy under contract no. DE-AC02-05CH11231.
Authors' Affiliations
(1)
Joint BioEnergy Institute, Emeryville, USA
(2)
Physical Biosciences Division, Lawrence Berkeley National Laboratory, Berkeley, USA
(3)
Biological and Materials Science Center, Sandia National Laboratories, Livermore, USA
(4)
Department of Chemical Engineering, University of California, Berkeley, USA
(5)
Dow Center for Sustainable Engineering Innovation, University of Queensland, St. Lucia, Australia
Copyright
© Konda et al.; licensee BioMed Central Ltd. 2014
This article is published under license to BioMed Central Ltd. This is an Open Access article distributed under the terms of the Creative Commons Attribution License (http://creativecommons.org/licenses/by/2.0), which permits unrestricted use, distribution, and reproduction in any medium, provided the original work is properly credited. The Creative Commons Public Domain Dedication waiver (http://creativecommons.org/publicdomain/zero/1.0/) applies to the data made available in this article, unless otherwise stated.