Microbial community dynamics in replicate anaerobic digesters exposed sequentially to increasing organic loading rate, acidosis, and process recovery
Biotechnology for Biofuels
2015
8:122
Received: 12 May 2015
Accepted: 7 August 2015
Published: 19 August 2015
Abstract
Background
Volatile fatty acid intoxication (acidosis), a common process failure recorded in anaerobic reactors, leads to drastic losses in methane production. Unfortunately, little is known about the microbial mechanisms underlining acidosis and the potential to recover the process. In this study, triplicate mesophilic anaerobic reactors of 100 L were exposed to acidosis resulting from an excessive feeding with sugar beet pulp and were compared to a steady-state reactor.
Results
Stable operational conditions at the beginning of the experiment initially led to similar microbial populations in the four reactors, as revealed by 16S rRNA gene T-RFLP and high-throughput amplicon sequencing. Bacteroidetes and Firmicutes were the two dominant phyla, and although they were represented by a high number of operational taxonomic units, only a few were dominant. Once the environment became deterministic (selective pressure from an increased substrate feeding), microbial populations started to diverge between the overfed reactors. Interestingly, most of bacteria and archaea showed redundant functional adaptation to the changing environmental conditions. However, the dominant Bacteroidales were resistant to high volatile fatty acids content and low pH. The severe acidosis did not eradicate archaea and a clear shift in archaeal populations from acetotrophic to hydrogenotrophic methanogenesis occurred in the overfed reactors. After 11 days of severe acidosis (pH 5.2 ± 0.4), the process was quickly recovered (restoration of the biogas production with methane content above 50 %) in the overfed reactors, by adjusting the pH to around 7 using NaOH and NaHCO3.
Conclusions
In this study we show that once the replicate reactors are confronted with sub-optimal conditions, their microbial populations start to evolve differentially. Furthermore the alterations of commonly used microbial parameters to monitor the process, such as richness, evenness and diversity indices were unsuccessful to predict the process failure. At the same time, we tentatively propose the replacement of the dominant Methanosaeta sp. in this case by Methanoculleus sp., to be a potential warning indicator of acidosis.
Keywords
Anaerobic digestionVolatile fatty acids intoxicationProcess recovery16S rRNA gene-based T-RFLPHigh-throughput 16S rRNA amplicon sequencingMicrobial ecology
Background
Anaerobic digestion (AD and syn. biomethanation) of biomass, including wastewater, agro-food residues, municipal solid waste, and energy crops, is not only regarded as a promising source of renewable energy, but also generates environmental benefits, e.g. reduction of greenhouse gas emissions, manure odour and pathogens [1, 2] and contributes to the recovery of essential nutrients (N, P, and K). The main products of the AD process are the biogas and the digestion residue. Biogas is composed of methane (CH4), carbon dioxide (CO2) and trace gases such as H2S, NH3 and H2, and it can be combusted in combined heat and power units (CHP) to provide electricity and heat. Alternatively, by eliminating CO2 and trace gases, methane can be upgraded to reach the natural gas quality and be injected into the gas grid or used as transport fuel. Digestion residue being rich in nutrients is gaining reputation as a fertilizer in agriculture [3].
The AD process is conducted by different microbial groups interacting to decompose the organic matter into minerals and simple molecules. During the first stage called hydrolysis, facultative or obligatory anaerobic fermenting microorganisms decompose proteins, fats and polysaccharides into soluble compounds (i.e. amino acids, long-chain fatty acids and sugars). In continuation, during the acidogenic stage, acidogenic bacteria convert these by-products into volatile fatty acids (VFAs), CO2, H2, and alcohols. Furthermore, VFAs, CO2 and H2 are transformed by acetogenic microorganisms to produce acetate (acetogenesis stage). Finally during the methanogenesis stage, acetate and H2, CO2 are used, respectively, by the acetotrophic (syn. acetoclastic) and hydrogenotrophic methanogenic archaea to produce methane [4]. Even though the major paths of the AD process are well described, the complexity of the microbial activities, competition, and syntrophism are not well understood [5, 6]. Importantly, the performance of an AD reactor is closely linked to the structure and dynamics of its microbial community (microbiome) [7]. Consequently, the importance of understanding the AD microbiome and the need of establishing microbial indicators of process performance are currently considered as key research subjects towards the improvement of the biomethanation process and the understanding of the process imbalance [6].
Acidification of anaerobic reactors (acidosis) results from an accumulation of VFAs due to an overload of the feeding substrate or the use of a rapidly degradable substrate and sometimes due to the temperature drop [8, 9]. VFAs accumulation directly reflects the kinetic imbalance between their production by fermentative and acidogenic bacteria and their consumption by a combined effort of acetogenic bacteria and methanogenic archaea [10]. Acidosis is the most common process failure taking place in many AD reactors [9, 11] and for which the biogas unit owners seek advice and recommendation on how to quickly and efficiently recover the process (personal interactions with the biogas plants owners in the Greater Region including Luxembourg, and partially Belgium, France and Germany). In general, acidosis is not easy to prevent [12], and high VFAs concentration in the reactors do not necessarily result in pH decrease [13]. However, due to their high sensibility to the increased VFAs concentrations and pH changes, archaeal communities in AD reactors facing acidification are quickly inhibited, leading to a decreased methane production [14]. As a consequence, acidosis represents an important loss for the biogas plants both in terms of reduced methane production and an acidic digestion residue, which do not meet the requirements for optimal fertilization anymore [15, 16]. For these reasons, it is important on the one hand to efficiently predict and prevent acidosis and on the other hand, to quickly restart the process once the acidosis takes place [17]. Indeed, a poor biogas quality (low CH4 content) usually results in stopping the CHP unit with heat no longer being provided to the AD reactor, thus further worsening the process status of the plant. While recent studies have brought more evidence about the changes in microbial communities during the process perturbation related to VFAs accumulation [9, 13, 18, 19], little is known about the individual sensitivity of the reactors and the capability of the process to recover when the pH is brought back to neutrality.
Therefore, this study had two objectives. First, to investigate the assumption that an increasing content of VFAs in some reactors leading to pH drop, directly influences the microbial communities (what is reflected by a decreased methane production), we gradually increased the organic loading rate (OLR) in three test reactors (R1, R2 and R3), while a control reactor (CR) was constantly cautiously fed (Fig.
1
). Second, to establish potential (microbial) warning indicators of a process failure, we characterized the dynamics of the microbial (bacterial and archaeal) communities for six sampling periods P0–P5 in relation to physicochemical parameters in the continuously (completely) stirred tank reactors (CSTRs) sequentially exposed to (1) an increasing OLR of sugar beet pulp, (2) acidosis, and (3) process recovery. Microbial communities in the CSTRs were studied by means of molecular techniques including, 16S rRNA gene-based terminal restriction fragment length polymorphism (T-RFLP) and 16S rRNA high-throughput amplicon sequencing (HTS). In addition, common process parameters such as pH, total solids (TS), volatile solids (VS), alkalinity, ammonium–nitrogen (NH
4
–N) and biogas production and quality were monitored and correlated with the dominant microbes and the state of the AD process.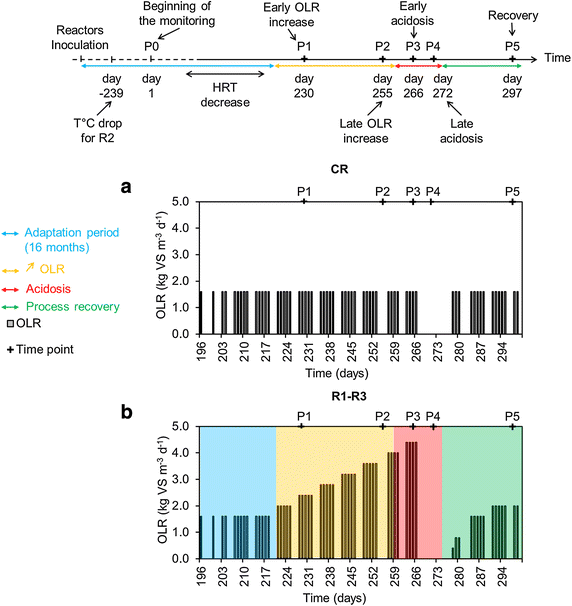 Conclusions
The impact of increasing OLR of sugar beet pulp, acidosis and finally process recovery on microbial community richness and diversity in three mesophilic CSTR reactors (R1–R3) were compared with a cautiously fed reactor (CR). As major outputs of this study we could point out that even though the overfed reactors responded rather similarly in terms of process performance to the OLR increase, each reactor established its own microbial community structure over time, dominated only by a few OTUs. The retrospective management [6] of our reactors showed that traditional microbial parameters such as richness, diversity and evenness which could be potentially used to predict process imbalances were not effective, due to the differential behaviours of microbial consortia in the replicated reactors. Moreover, the reactor that was characterized with the least diverse microbial community (R2) was the most resistant to acidosis and the best performing one in terms of methane production. The shift from Methanosaeta sp. to Methanoculleus sp. in Methanosaeta sp.-dominated reactor could be an interesting and promising warning indicator of an approaching acidosis since this shift occurred before pH started to decreased. The combination of the reactor starvation and the pH adjustment with NaOH and NaHCO3 demonstrated a good potential for process recovery after acidosis, as reflected by a quick restart of the methane production, even if a new microbial community has established. Nevertheless, longer monitoring periods of microbial communities after man-induced process recovery are necessary to evaluate if the newly established microbial populations are stable over time and if they are better adapted to high VFAs concentrations. Relying on the results of this study, alkali-mediated AD process recovery from acidosis was successfully applied to two full-scale anaerobic reactors in Germany and Luxembourg (data not shown).
Abbreviations
AD:

anaerobic digestion
CCA:

canonical correspondence analysis
CHP:

combined heat and power unit
CR:

control (cautiously fed) reactor
CSTR:

continuously/completely stirred tank reactor
H′:

Shannon–Weaver index
HRT:

hydraulic retention time
HTS:

high-throughput amplicon sequencing
J :

Pielou index
LMM:

linear mixed-effect models
nano SIMS:

nanometer-scale secondary ion mass spectrometry
NMDS:

non-metric multidimensional scaling
OLR:

organic loading rate
R1–R3:

test (overfed) reactors R1, R2 and R3
SAO:

syntrophic acetate oxidation
T-RF:

terminal restriction fragment
T-RFLP:

terminal restriction fragment length polymorphism
TS:

total solids
VFAs:

volatile fatty acids
VS:

volatile solids
OTU:

operational taxonomic unit
WWTP:

wastewater treatment plant
Declarations
Authors' contributions
SL and XG performed the anaerobic digestion experiments and collected the samples and the reactor performances data. Molecular analyses were planned and carried out by XG, MC and MM, with the contribution of MK for the T-RFLP analysis. MC and XG analysed the results and wrote the manuscript. TU advised the statistical analysis. EB and PD participated in the planning and coordination of the study and in the manuscript correction. All the authors contributed to writing of the manuscript. All authors read and approved the final manuscript.
Acknowledgements
The authors thank Bénédicte De Vos and Anaïs Noo for their valuable technical support and Laurent Solinhac, Sylvain Legay, Beate Kröck and Ingo Bergmann for their help to set up the T-RFLP method. This work was supported by the Fonds National de la Recherche, Luxembourg (FNR CORE 2011 project GASPOP, CO11/SR/1280949: Influence of the Reactor Design and the Operational Parameters on the Dynamics of the Microbial Consortia Involved in the Biomethanation Process) and co-financed by the European Fund for Regional Development (ERDF) through the INTERREG IV A program 2007–2013 «Greater Region» for the OPTIBIOGAZ project.
Compliance with ethical guidelines
Competing interests The authors declare that they have no competing interests.
Open AccessThis article is distributed under the terms of the Creative Commons Attribution 4.0 International License (http://creativecommons.org/licenses/by/4.0/), which permits unrestricted use, distribution, and reproduction in any medium, provided you give appropriate credit to the original author(s) and the source, provide a link to the Creative Commons license, and indicate if changes were made. The Creative Commons Public Domain Dedication waiver (http://creativecommons.org/publicdomain/zero/1.0/) applies to the data made available in this article, unless otherwise stated.
Authors' Affiliations
(1)
Environmental Research and Innovation (ERIN) Department, Luxembourg Institute of Science and Technology (LIST), Belvaux, Luxembourg
(2)
Laboratoire Sols et Environnement, UMR 1120, Université de Lorraine, Vandœuvre-lès-Nancy, France
(3)
Laboratoire Sols et Environnement, UMR 1120, INRA, Vandœuvre-lès-Nancy, France
(4)
Department Bioengineering, Leibniz Institute for Agricultural Engineering Potsdam-Bornim, Potsdam, Germany
(5)
Fachbereich VI- Raum- und Umweltwissenschaften, Umweltfernerkundung & Geoinformatik, Universität Trier, Trier, Germany