Quantitative proteomic analysis of the influence of lignin on biofuel production by Clostridium acetobutylicum ATCC 824
Biotechnology for Biofuels
2016
9:113
Received: 26 October 2015
Accepted: 9 May 2016
Published: 31 May 2016
Abstract
Background
Clostridium acetobutylicum has been a focus of research because of its ability to produce high-value compounds that can be used as biofuels. Lignocellulose is a promising feedstock, but the lignin–cellulose–hemicellulose biomass complex requires chemical pre-treatment to yield fermentable saccharides, including cellulose-derived cellobiose, prior to bioproduction of acetone–butanol–ethanol (ABE) and hydrogen. Fermentation capability is limited by lignin and thus process optimization requires knowledge of lignin inhibition. The effects of lignin on cellular metabolism were evaluated for C. acetobutylicum grown on medium containing either cellobiose only or cellobiose plus lignin. Microscopy, gas chromatography and 8-plex iTRAQ-based quantitative proteomic technologies were applied to interrogate the effect of lignin on cellular morphology, fermentation and the proteome.
Results
Our results demonstrate that C. acetobutylicum has reduced performance for solvent production when lignin is present in the medium. Medium supplemented with 1 g L−1 of lignin led to delay and decreased solvents production (ethanol; 0.47 g L−1 for cellobiose and 0.27 g L−1 for cellobiose plus lignin and butanol; 0.13 g L−1 for cellobiose and 0.04 g L−1 for cellobiose plus lignin) at 20 and 48 h, respectively, resulting in the accumulation of acetic acid and butyric acid. Of 583 identified proteins (FDR < 1 %), 328 proteins were quantified with at least two unique peptides. Up- or down-regulation of protein expression was determined by comparison of exponential and stationary phases of cellobiose in the presence and absence of lignin. Of relevance, glycolysis and fermentative pathways were mostly down-regulated, during exponential and stationary growth phases in presence of lignin. Moreover, proteins involved in DNA repair, transcription/translation and GTP/ATP-dependent activities were also significantly affected and these changes were associated with altered cell morphology.
Conclusions
This is the first comprehensive analysis of the cellular responses of C. acetobutylicum to lignin at metabolic and physiological levels. These data will enable targeted metabolic engineering strategies to optimize biofuel production from biomass by overcoming limitations imposed by the presence of lignin.
Keywords
Clostridium acetobutylicum CellobioseLigninFermentative end productsBiofuel productionQuantitative proteomicsiTRAQMetabolic changes
Background
Due to growing uncertainties regarding the supply and cost of fuel transportation and concerns about their related environmental impact, the sustainable production of clean energy has become a strategic priority. Lignocellulosic biomass has great potential as a prime feedstock for future biofuel generation, since it is promising source of mixed sugars for fermentative biofuels and chemical production thereby ensuring renewable and sustainable source of energy and also reducing environmental impacts [1]. For that reason, anaerobic Clostridia have received much attention in recent years because of their ability to produce alternative biofuels from renewable biomass and agricultural waste materials [2]. In particular, Clostridium acetobutylicum ATCC 824 (C. acetobutylicum) is a promising candidate. Although it is unable to utilize biopolymers (cellulose and hemicellulose) directly, [3] it can ferment wide range of biomass saccharides (such as cellobiose) into acetone–butanol–ethanol (ABE) [2] products and hydrogen (H2) [4] once brought into solution (hydrolysate) by pre-treatment. Since the presence of lignin [forming 20–30 % of lignocellulosic (wood) biomass] is a key challenge in biological/enzymatic hydrolysis of lignocellulose, [5, 6] various chemical pre-treatments are widely employed to obtained biomass hydrolysates (pre-treatment liquor).
However, major bottlenecks still hamper the economics of ABE production from biomass hydrolysate; in particular the production of lignin and its derivatives during chemical pre-treatments which have inhibitory effects on Clostridium on biofuel production [7]. The phenolic compounds from lignin degradation have been demonstrated as the main inhibitor of ABE fermentation by Clostridia [2, 8]. Alkali treatments at high temperature and pressure have been shown to be most effective technique for biomass pre-treatment to release fermentable sugars and most of the dissolved native lignins into the pre-treatment liquor [9]. Understanding the effects of lignin alone on Clostridium biology, with particular focus on ABE production, is key to mimic such hydrolysates and process optimization to target improved yield.
This study combines an analysis of the effect of lignin on cellobiose consumption, growth rate, morphology, ABE production with a quantitative proteomic analysis to measure alterations in proteins associated with the 'lignin bottleneck'. A soluble form of Kraft lignin, i.e. alkali lignin (carboxylated), was selected since previous studies into microbial degradation of lignin and bioconversion to value-added products have used Kraft lignins [10–15]. Since, metabolism in C. acetobutylicum is biphasic, with acidogenesis (acetic acid, butyric acid and H2) dominant during the exponential phase and solventogenesis (ABE) dominant during stationary phase [16], the proteome was relatively compared at specific time points (exponential and stationary phases) during growth on either cellobiose or cellobiose supplemented with lignin. This study employed 8-plex isobaric tags for relative and absolute quantitation (iTRAQ) to quantitatively profile biological replicates of the four sample types. Data were integrated with gas chromatographic (GC) analysis of ABE and H2 production.
Results and discussion
Carbohydrate polymers (cellulose and hemicellulose) and aromatic polymers (lignin) are the major components of lignocellulosic biomass that, upon hydrolysis (alkali/acid or enzymatic), produces fermentable sugars (that can be utilized by
C. acetobutylicum
) and non-fermentable phenol compounds. Therefore, it is very important to understand how the presence of lignin affects fermentation end products (ABE) formation and core metabolic pathways. This study focused on metabolic and physiological changes in
C. acetobutylicum
during growth on cellobiose only (hereafter: C condition) and cellobiose plus lignin (hereafter: CL condition) supplemented conditions. The workflow shown in Fig.
1
demonstrates the integrated metabolic and proteomics analysis.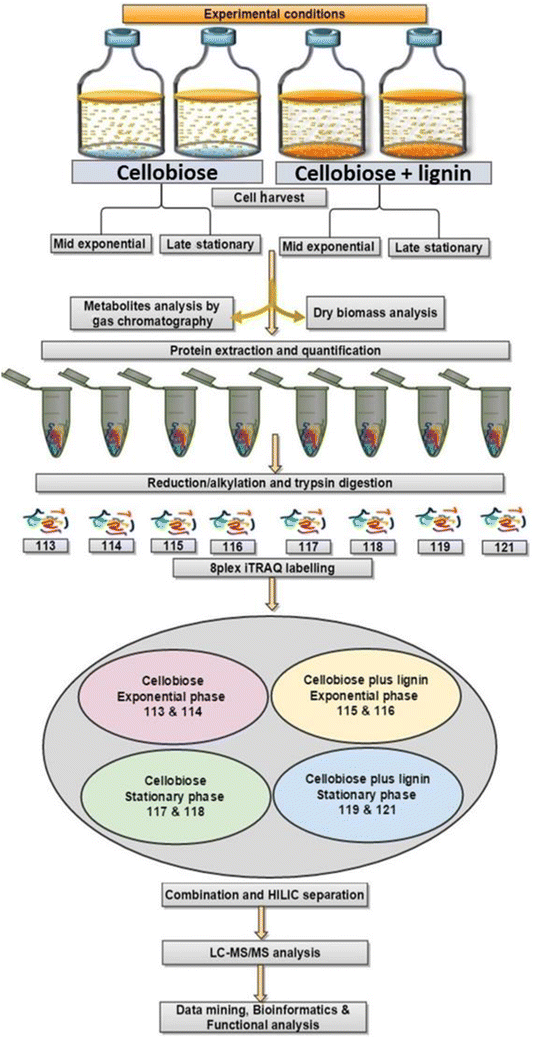 Conclusions
In conclusion, our study presents the most comprehensive analysis of the effect of lignin on cellular metabolism of C. acetobutylicum. This is the first time that the inhibitory effect of lignin on growth, morphology, ABE and H2 production and cellular functions was investigated and integrated. Glycolysis, fermentation and associated pathways were significantly repressed when lignin was present. Several proteins involved in the glycolysis and fermentation pathways were down-regulated in the presence of lignin concomitantly with lower ATP production. Lignin also suppressed the ATP-dependent Clp protease complex (which controls normal cell division) synthesis and activity resulting in a delay in sporulation and solventogenesis. Lignin imposed morphological adaptation since cellular stress associated with decreased ATP-dependent housekeeping activity and the cellular divisome were affected. Our main aim was to analyse the 'lignin bottleneck' by monitoring fermentation end products and associated changes in the proteome of C. acetobutylicum in response to lignin with a view on providing insights into lignocellulose as a feedstock for biofuel generation. Our results shed light on the breadth of the metabolic routes involved in the lignin response in a commercially valuable bacterium for future implementation for lignocellulosic biofuel generation.
Methods
Bacterial strain and growth conditions
All chemicals and reagents were purchased from Sigma-Aldrich (Poole, UK) unless otherwise specified. C. acetobutylicum ATCC 824 was procured from the German Collection of Microorganisms and Cell Cultures (DSMZ, Braunschweig, Germany) and was maintained anaerobically on medium as previously described by Lopez-Contreras et al. [69]. Briefly, the growth media contained 0.75 g L−1 KH2PO4, 0.75 g L−1 K2HPO4, 0.348 g L−1 MgSO4, 0.01 g L−1 MnSO4·H2O, 0.01 g L−1 FeSO4·7H2O, 1 g L−1 NaCl, 1.0 g L−1 cysteine chloride, 5 g L−1 yeast extract and 2 g L−1 (NH4)2SO4.
The cellobiose-only growth medium was prepared with 5 g L−1 cellobiose (hereafter denoted as C) whereas the cellobiose/lignin medium was prepared with 5 g L−1 cellobiose plus 1 g L−1 Kraft lignin (alkali, carboxylated lignin; Sigma-Aldrich; Cat. No. 470996-100G) (hereafter denoted as CL). Media were anaerobically prepared in the presence of 100 % nitrogen gas in 125-mL serum bottles and autoclaved. The culture media were seeded with 1 mL of 18-h-long cultures in which optical density (OD) at 600 nm was equal to 1.3. Cultures were incubated at 37 °C and growth curves were monitored at OD600nm using an UltraSpec 2100 (Amersham Bioscience, GE Healthcare, Buckinghamshire, UK). The cellobiose concentration was estimated by the Anthrone method [70].
Microscopic observations
Cell morphology was observed using Olympus microscope BX51 (Tokyo, Japan) fitted with a CapturePro 2.6-JENOPTIK Laser, Optik, System (GmbH, Germany) camera and an FEI Tecnai transmission electron microscope at an accelerating voltage of 80 kV. Electron micrographs were taken using a Gatan digital camera (Gatan, Oxon, UK).
Fermentation end products analysis
Targeted fermentation products were identified and quantified as previously reported by Pham et al. [71]. Briefly, ethanol, butanol, acetic acid and butyric acid were detected and quantified using an Agilent 7890A gas chromatograph (GC) (Cheshire, UK) instrument equipped with a flame ionization detector (FID) and Stabbilwax (30 m × 0.25 mm ID × 0.25 µm df) fused silica column (Thames Restek, Buckinghamshire, UK). Aliquots (50 μL) were collected from four biological replicates, centrifuged at 17,000×g for 2 min and transferred to a GC vial, and then 2 μL of supernatant was injected into the column. The GC was controlled and automated by ChemStation (Agilent, Rev: 32.3.8) software. Each GC run was performed for 14 min using a temperature gradient (with a hold at 45 °C for 3 min, followed by a ramp at a rate of 15 °C/min to 120 °C, then 30 °C/min to 210 °C and finally a hold 1 min at 210 °C). Helium was used as the carrier gas at a flow rate of 20 mL min−1. The injector, detector and oven temperatures were 250, 350 and 120 °C, respectively. The concentrations of ethanol, butanol, acetic acid and butyric acid were estimated by comparing its retention time and peak area against standard curves of respective metabolite.
Hydrogen gas estimation
Gas samples from four biological replicates were collected from the headspace culture bottles using 10 mL gas tight syringes at different interval times. At each time point, the sample was injected into a gas chromatograph TRACE 1300 (Thermo Scientific, Paisley, UK) equipped with a thermal conductivity detector (TCD) and a 250 μL of sample was injected into the column. Separation was achieved using a precolumn Haysep Q (60–80) column with 2 m × 1/16 SS packing connected with Molsieve 5A (60–80) column with 2 m × 1/16 SS packing. Argon was used as carrier at 36.25 psi pressure. Each GC run was performed for 13 min using a temperature gradient (with a hold at 50 °C for 2.5 min, followed by a ramp at a rate of 20 °C/min to 70 °C for 45 s, then hold at 70 °C for next 8.35 min and finally ramp of 1 min up to 150 °C). The detector and valve oven temperatures were 150 and 80 °C, respectively. The GC was controlled and automated by the Chromeleon software (Dionex, Version 7). The instrument was calibrated using hydrogen gas standards of 10, 30 and 40 % (v/v) from BOC (Guildford, Surrey, UK).
Cell harvesting and protein extraction
Cells grown in C and CL media were harvested at mid-exponential (16 h) and late stationary (48 h) phases and pelleted by centrifugation at 10,000×g for 5 min at 4 °C. Cell pellets were washed twice with phosphate buffer saline (PBS) and once with 0.5 M triethylammonium bicarbonate (TEAB), pH 8.5 buffer. The cells were re-suspended in 600 μL lysis buffer [0.5 M TEAB containing 0.095 % (v/v) sodium dodecyl sulphate (SDS) and 5 μL protease inhibitor cocktail set II, pH 8.5] and 300 mg sterilized acid-washed glass beads (425–600 µm) were also added. Cell lysis was performed using a cell disruptor (Genie, VWR, UK) with 20 cycles of alternative 1 min vortexing and 1 min incubation on ice. Unbroken cells and cell debris were pelleted by centrifugation at 21,000×g for 90 min at 4 °C and the supernatant was transferred to a clean Eppendorf tube. Five microlitre of benzonase® nuclease (1:100) was added to the supernatant to clarify the sample by degradation of nucleic acids. Proteins were acetone precipitated (approximately 16 h) at −20 °C (ratio sample: acetone = 1:4 v/v). Precipitated proteins were recovered by centrifugation at 17,000×g for 20 min at −9 °C and air dried. Finally, the pellet was dissolved in 0.5 M TEAB, pH 8.5 buffer containing 0.1 % (v/v) RapiGest SF (Waters, Milford, MA, USA). The total protein concentration was estimated by the Bradford assay according to the manufacturer's protocol.
Quantitative workflow and iTRAQ labelling
iTRAQ 8-plex labelling was performed for samples according to the manufacturer's protocol (8-plex iTRAQ reagent Multiplex kit, ABSciex, USA). Briefly, 100 µg of proteins from each sample was first reduced with 1 µL of 50 mM Tris (2-carboxyethyl) phosphine hydrochloride and incubated at 60 °C for 1 h. Samples were then alkylated using 1 μL of 200 mM methyl methanethiosulfonate at room temperature for 10 min. Subsequently, proteins were digested with trypsin (Promega, UK) at a ratio of 1:50 (trypsin:protein) overnight at 37 °C. An independent biological duplicate was used for each phenotype. Each biological phenotype was labelled with relevant iTRAQ reagents as shown in Fig. 1. Labelled peptides were acidified with trifluoroacetic acid to precipitate RapiGest SF and removed by centrifugation at 17,000×g for 5 min at 4 °C. iTRAQ-labelled peptides, present in the eight sample supernatants, were combined and concentrated by a vacuum concentration (Scanvac, Lynge, Denmark).
Off-line fractionation
iTRAQ-labelled peptides were off-line fractionated using hydrophilic interaction liquid chromatography (HILIC) on an Agilent 1100 HPLC (Berkshire, UK). Dried peptides were re-suspended in HILIC buffer A [80 % (v/v) acetonitrile (ACN), 10 mM ammonium formate, pH 3] and loaded to polyhydroxyethyl-A column, 5 μm pore size, 100 mm length, 4.6 mm ID (Poly LC, MD, USA) at a flow rate of 0.5 mL/min using an UVD170U detector (Dionex/LC packings, The Netherlands) at 280 nm. HILIC buffer A and buffer B [5 % (v/v) ACN, 10 mM ammonium formate, pH 5] were used to perform a 90 min gradient of 0 % B for 10 min, 0–20 % B for 15 min, 20–40 % for 30 min, 40–60 % for 15 min, 60–100 % B for 5 min, and 100 % A for 15 min. Fractionation and chromatogram were monitored through Chromeleon software (Thermo, Hemel Hempstead, UK). Fifty-eight fractions were collected at one-minute intervals and dried by vacuum concentration (Scanvac, Lynge, Denmark) before tandem mass spectrometric analysis.
Mass spectrometry analysis
HILIC fractions were solubilised in reverse phase (RP) buffer A [3 % (v/v) acetonitrile, 0.1 %(v/v) formic acid (FA)] before submitting to a QStarXL Hybrid ESI Quadrupole Time-of-Flight Tandem mass spectrometer [Applied Biosystems (now ABSciex), Famingham, MA] coupled with an online Ultimate 3000 HPLC system (Dionex, Surrey UK). Reverse-phase peptide separation was performed on a C18 Acclaim® PepMap100 column (3 μm, 100 Å, 15 cm) at a flow rate of 300 nL min−1. A 120-min linear gradient was applied; RP buffer A and RP buffer B [97 % (v/v) ACN, 0.1 % (v/v) FA] were used as follows: 0–3 % B for 5 min, 3–35 % B for 90 min, 35–90 % of B for 0.5 min, 90 % of B for 6.5 min, finally 3 % of buffer B for 18 min. Data were acquired in positive ion mode in the data-dependent acquisition mode. The MS survey scan was set to cover the m/z range of 350–1800 Th and the MS/MS survey scan was set to the m/z range of 100–1600 Th using Analyst® QS 2.0 software (ABSciex, Famingham, MA). Peptides of charge +2, +3, +4 (intensity binning) for each TOF–MS scan (400–1250 m/z) were dynamically selected and isolated for MS/MS fragment ion scans (100–1600 m/z). Two RP-HPLC–MS runs per HILIC fraction were performed.
Data interpretation and protein identification
The generated tandem MS data files (.wiff) from the QSTAR XL were converted into mascot generic files (.mgf) via the mascot.dll embedded script (V1.6) coupled with Analyst QS v. 1.1.1 (ABSciex, MDS-Sciex). Peptide identification was performed using an in-house Phenyx algorithm cluster (Binary version 2.6, Genebio Geneva, Switzerland) using the C. acetobutylicum ATCC 824 database (taxon ID: 272562) containing 3825 protein sequences, which was downloaded from Uniprot (http://www.uniprot.org, June 2014). Searches were also conducted against a forward/reverse concatenated database to determine the false discovery rate (FDR). Search parameters considered trypsin as enzyme allowing a maximum of two missed cleavage sites. As fixed modifications, 8-plex iTRAQ of lysine (K) and peptide N-terminus (+304 Th) and methylthio of cysteine residues (+46 Th) were included in the search. Oxidation of methionine (+16 Th) and deamidation (N and Q) (−1 Th) were also considered as variable modifications. Mass tolerances for peptide identification were set to 0.5 and 0.2 Da for MS and MS/MS, respectively. Thresholds for identified peptides were set to a minimal Z-score of 5.0, a p value of 10−4, an AC score of 5 and peptide length of minimum six amino acids. Phenyx results were exported to Excel *.xls format and 1 % FDR with two unique peptides per protein was used as the confident protein identifier. iTRAQ ratios used for relative quantification were determined by applying an in-house data analysis pipeline [72]. Isotopic and median corrections were applied to the reporter ion's intensities to compensate systematic errors between labels. Ultimately, a statistical method, described by Pham et al. [73] was applied to determine which proteins were significantly regulated at p value <0.05. Cluster analysis and Principal Component Analysis were performed using Mathematica 10.2 software (Wolfram Research, Oxfordshire, UK).
Abbreviations
ABE:

acetone-butanol-ethanol
iTRAQ:

isobaric tags for relative and absolute quantitation
FDR:

false discovery rate
C:

cellobiose
CL:

cellobiose plus lignin
H2 :

molecular hydrogen
PCA:

principal component analysis
PEP:

phosphoenolpyruvate
PTS:

phosphotransferase system
KDPG:

2-keto-3-deoxy-6-phosphogluconate
EMP:

Embden–Meyerhof–Parnas
ED:

Entner–Doudoroff
GC:

gas chromatography
TCA:

tricarboxylic acid
HydA:

hydrogenase
SAM:

S-adenosylmethionine
OD:

optical density
FID:

flame ionization detector
TCD:

thermal conductivity detector
PBS:

phosphate buffer saline
TEAB:

triethylammonium bicarbonate
SDS:

sodium dodecyl sulphate
FA:

formic acid
HILIC:

hydrophilic interaction liquid chromatography
ACN:

acetonitrile
HPLC:

high-performance liquid chromatography
MS:

mass spectrometry
RP:

reverse phase
Declarations
Authors' contributions
MPR and PCW conceived and designed all experiments. MPR, NC and TKP participated in fermentation and proteomics experiments. MPR, TKP, NC, JN and CE helped with the data analysis. All authors participated in the draft writing and revision of the manuscript. All authors read and approved the final manuscript.
Acknowledgements
No other acknowledgements here other than funding, which we describe above.
Availability of supporting data
The online version of this article contains supplementary material, which is available to authorized users.
Competing interests
The authors declare that they have no competing interests.
Consent for publication
All the authors consent to publish this research work.
Ethical approval and consent to publish
Not applicable.
Funding
The funding bodies played no direct role in any aspect of the research reported here other than providing funding that allowed the research to be done. We acknowledge funding from The Ministry of Social Justice and Empowerment, Government of India (National Overseas Fellowship; Grant No. 11015/22/2008-SCD-V), the SUNLIBB project (Sustainable Liquid Biofuels from Biomass Biorefining—project 251132, FP7-ENERGY-2009-BRAZIL) and the EPSRC (EP/I031812/1 and EP/E036252/1).
Open AccessThis article is distributed under the terms of the Creative Commons Attribution 4.0 International License (http://creativecommons.org/licenses/by/4.0/), which permits unrestricted use, distribution, and reproduction in any medium, provided you give appropriate credit to the original author(s) and the source, provide a link to the Creative Commons license, and indicate if changes were made. The Creative Commons Public Domain Dedication waiver (http://creativecommons.org/publicdomain/zero/1.0/) applies to the data made available in this article, unless otherwise stated.
Authors' Affiliations
(1)
The ChELSI Institute, Department of Chemical and Biological Engineering, University of Sheffield, Sheffield, UK
(2)
Chaire de Bioinformatique, LGBA, Conservatoire National Des Arts Et Métiers, Paris, France
(3)
School of Chemical Engineering and Advanced Materials, Faculty of Science, Agriculture & Engineering, Newcastle University, Newcastle upon Tyne, UK