Electrode-assisted acetoin production in a metabolically engineered Escherichia coli strain
Biotechnology for Biofuels
2017
10:65
Received: 24 December 2016
Accepted: 28 February 2017
Published: 14 March 2017
Abstract
Background
This paper describes the metabolic engineering of Escherichia coli for the anaerobic fermentation of glucose to acetoin. Acetoin has well-established applications in industrial food production and was suggested to be a platform chemical for a bio-based economy. However, the biotechnological production is often hampered by the simultaneous formation of several end products in the absence of an electron acceptor. Moreover, typical production strains are often potentially pathogenic. The goal of this study was to overcome these limitations by establishing an electrode-assisted fermentation process in E. coli. Here, the surplus of electrons released in the production process is transferred to an electrode as anoxic and non-depletable electron acceptor.
Results
In a first step, the central metabolism was steered towards the production of pyruvate from glucose by deletion of genes encoding for enzymes of central reactions of the anaerobic carbon metabolism (ΔfrdA-D ΔadhE ΔldhA Δpta–ack). Thereafter, the genes for the acetolactate synthase (alsS) and the acetolactate decarboxylase (alsD) were expressed in this strain from a plasmid. Addition of nitrate as electron acceptor led to an anaerobic acetoin production with a yield of up to 0.9 mol acetoin per mol of glucose consumed (90% of the theoretical maximum). In a second step, the electron acceptor nitrate was replaced by a carbon electrode. This interaction necessitated the further expression of c-type cytochromes from Shewanella oneidensis and the addition of the soluble redox shuttle methylene blue. The interaction with the non-depletable electron acceptor led to an acetoin formation with a yield of 79% of the theoretical maximum (0.79 mol acetoin per mol glucose).
Conclusion
Electrode-assisted fermentations are a new strategy to produce substances of biotechnological value that are more oxidized than the substrates. Here, we show for the first time a process in which the commonly used chassis strain E. coli was tailored for an electrode-assisted fermentation approach branching off from the central metabolite pyruvate. At this early stage, we see promising results regarding carbon and electron recovery and will use further strain development to increase the anaerobic metabolic turnover rate.
Keywords
Electrode-assisted fermentation Escherichia coli Bulk chemicalsAcetoinMetabolic engineering
Background
The envisioned socioeconomical migration towards a bioeconomy necessitates the development of new approaches for the production of bulk and fine chemicals. Electrode-assisted fermentations are a promising new tool for biotechnological production processes. They offer the possibility to gain single fermentation products that are more oxidized than the substrate under anoxic conditions [
1
,
2
]. The catalyst of electrode-assisted fermentations is a composite material of a microorganism as biocatalyst and an electrode that acts as solid state respiratory electron acceptor. The engineering of the metabolism towards the production of an end product being more oxidized than the substrate leads to the release of a surplus of electrons which can be transferred to the electrode. The technology offers the possibility to combine the efficiency of anoxic processes with the production of a wide spectrum of single end products because the formation of side-products to balance the oxidation state is not necessary anymore (Fig.
1
). The transfer of electrons from a microorganism to an electrode necessitates an extended respiratory chain to the cell surface.
Shewanella oneidensis
and
Geobacter sulfurreducens
are the best studied model organisms regarding electrode-assisted respiration [
3
]. Recently,
Escherichia coli
strains that are capable of electrode respiration have been developed and it was shown that the integration of synthetic electron transfer chains leading to an electrode can effectively change the anaerobic product spectrum of
E. coli
strains towards more oxidized end products [
2
,
4
,
5
]. This ability is based on the expression of genes for elements of the electron transport chain to the cell surface from
S. oneidensis
. The transfer of electrons to the electrode surface seems to be limited in
S. oneidensis
by the concentration of a three protein complex (MtrABC) in the outer membrane [
6
]. Expression of this protein complex in
E. coli
together with other compounds of the
S. oneidensis
electron transfer chain did not lead to productivities comparable to
S. oneidensis
so far [
7
,
8
]. Hence, Sturm-Richter et al. successfully used the membrane permeable electron shuttle methylene blue to bridge the electron transfer gap through the outer membrane [
2
].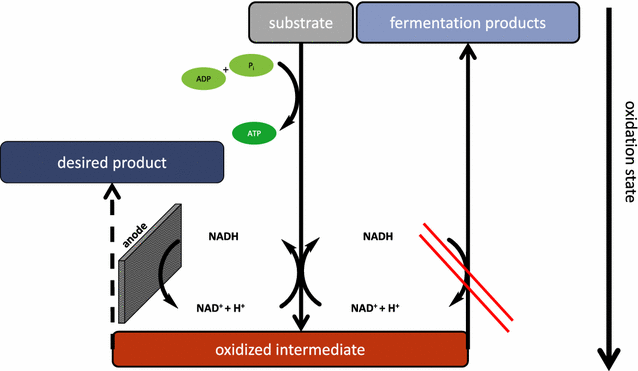 Acetoin is a bulk chemical of industrial interest. It is one example for substances that cannot be produced as sole end product in an anaerobic fermentation because it is more oxidized than typical substrates as for instance glucose. It occurs under environmental conditions as an intermediate of butanediol fermentation in
Bacillus subtilis
and several
Enterobacteria
. Acetoin has a well-established application as food additive, due to its intense butter flavor and is also a precursor for the synthesis of pyrazine flavor compounds. The average daily consumption per person is between 2 and 4 mg. Hence, the global annual volume is in the range of several thousand tons [
9
]. Interestingly, Werpy et al. ranked acetoin within the 30 most promising bio-based building block precursors for a petro-independent economy [
10
]. It is produced from pyruvate in a two-step reaction. At first, the acetolactate synthase (AlsS) catalyzes the condensation of two molecules of pyruvate to acetolactate. One molecule of CO
2
is released in this reaction. In the second step, acetolactate is decarboxylated by the acetolactate decarboxylase (AlsD) [
11
–
13
]. Only low acetoin yields can be achieved using wild-type strains, since several other products are formed—foremost 2, 3-butanediol. The relative amounts depend highly on the NADH level in the cytoplasm and consequently at least partly on the relative abundance of an electron acceptor [
14
,
15
]. To gain larger quantities of acetoin, several attempts were made with genetically engineered organisms.
Escherichia coli
is a common choice as a host organism, due to its versatile metabolism and genetic tractability [
16
–
18
].
Bacillus subtilis
,
Serratia marcescens
,
Clostridium acetobutylicum,
and
Candida glabrata
have also been investigated as production strains [
19
–
22
]. The reported yields in different studies for an aerobic acetoin production in
E. coli
were around 80% of the theoretical maximum (Table
1
). In contrast, studies under anoxic growth conditions resulted only in low yields of acetoin [
16
,
23
]. However, oxic processes are typically less favorable for biotechnological bulk chemical production, due to the necessity of aeration and the higher ratio of anabolism over catabolism [
24
]. At least the latter limitation can be tackled by a very promising approach, which was also used in several further
E. coli
strain developments aiming at the production of pyruvate [
25
–
27
]. The authors deleted the proton translocating part of the membrane-bound ATPase and the
poxB
gene, encoding pyruvate oxidase [
28
]. This led to a strain that could use oxygen as electron acceptor but was not able to conduct energy production based on oxidative phosphorylation.
Table 1
Acetoin production in several approaches
Substrate

Yield (%)

Conditions

Complex compounds

Reference

E. coli

Glucose

90

Anoxic, NO3 −

This study

Diacetyl/glucose

88

Oxic

LB

[53]

Glucose

80

Oxic

Yeast extract

[17]

Glucose

96

Oxic

LB

[51]

Glucose

49

Oxic

LB

[54]

S. oneidensis

Lactate

86

Anoxic, fumarate

[29]

B. subtilis

Glucose/xylose

75

Oxic

[52]

Wood hydrolysate

69.5

Oxic

[22]

Glucose

83.5

Oxic

Beef extract

[55]
Recently, Bursac et al. studied the electrode-assisted fermentation based production of acetoin by using S. oneidensis as biocatalyst [29]. The authors used lactate as carbon and electron source and achieved a production of 78% of the theoretical production maximum. Nevertheless, the spectrum of usable carbon sources is rather narrow for S. oneidensis. Sufficient growth under anoxic conditions is only sustained with lactate, while typical cheap substrates as for instance glucose or glycerol cannot be anaerobically metabolized.
In this study, an E. coli strain was developed as biocatalyst for an electrode-assisted acetoin production. Hence, the impact of the deletion of four genes encoding enzymes of the mixed acid fermentation pathways was investigated. A high efficient chassis strain from the characterization routine was developed further to establish acetoin production in an electrode-assisted fermentation.
Discussion
Several studies analyzed the effects of single mutations in genes encoding for key enzymes of the anoxic fermentative metabolism in E. coli [42–44]. Nevertheless, a thorough analysis of the growth capabilities of these mutants under respiratory and fermentative conditions and a subsequent analysis of metabolic end products have so far not been conducted. Therefore, we combined this analysis with our aim to construct a strain that would accumulate pyruvate under anoxic respiratory conditions.
It was surprising to observe that deletion of the fumarate reductase and alcohol dehydrogenase encoding genes already led to a strain that was almost not capable of fermentative growth anymore, although lactate production alone would be suitable to recycle the cofactor NAD+. Still, even the initial strain used in this study produced lactate only in minor quantities under fermentative conditions and the regulatory routines of E. coli apparently do not seem to sustain a flexible production of end products steered by the available possibilities to balance the cellular redox state.
Interestingly, the deletion of frdA-D (fumarate reductase), adhE (alcohol dehydrogenase), and ldhA (lactate dehydrogenase) led to a 1.25-fold increased growth rate under aerobic and decreased growth rates under anaerobic respiratory conditions. Aerobic respiration is accompanied by the almost full oxidation of glucose to carbon dioxide (Additional file 5: Table S5). Side pathways from the canonical routine of glycolysis and citric acid cycle will therefore not lead to faster growth. Nevertheless, conditions in a shaker flask will not provide every individual cell with equivalent shares of oxygen and it seems reasonable to assume that oxygen depletion might lead in some cells to a partial switch to anoxic growth [45, 46]. This would be accompanied with the production of mixed acid fermentation end products and lower ATP yields [47]. Streamlining of the metabolism by deletion of fermentation pathways ensures that all cells have to metabolize glucose directly to carbon dioxide even if oxygen might be the limiting factor. As a consequence the cells will grow faster.
The situation is different under anoxic respiratory conditions. The absence of oxygen triggers a downregulation of the citric acid cycle, which leads to an incomplete oxidation of glucose via fermentative pathways [48]. Therefore, blockage of these pathways reduces the substrate conversion rates and as a consequence also the growth rate. Still at least under nitrate-reducing conditions, evidence was provided that some part of the growth substrate is completely oxidized to carbon dioxide via the citric acid cycle [47]. This is not possible with DMSO instead of nitrate as electron acceptor. DMSO reduction is menaquinol (E°′  =  −74 mV) dependent. The low midpoint redox potential of the menaquinone/menaquinol pair hampers respiratory glucose consumption coupled to DMSO reduction, because E. coli cannot use a reverse electron transfer-coupled succinate oxidation within the citric acid cycle. The utilization of nitrate as an electron acceptor sustains succinate oxidation within the citric acid cycle because nitrate reduction is functional with ubiquinone (E°′  =  +113 mV) as electron shuttle within the membrane [49, 50]. It might be this reaction within the citric acid cycle that leads to the observed differences in the phenotypes of the mutants compared to the initial strain under respiratory growth with nitrate or DMSO, respectively. Acetate is the main end product under anoxic conditions. Its production is accompanied by the formation of 1 mol ATP per mol acetate. Hence, it is not surprising that a deletion of the ack/pta genes negatively influenced growth of the E. coli strains under anoxic conditions.
The quadruple mutant Δfrd ΔadhE ΔldhA Δpta–ack produced nearly no acetic acid, but accumulated pyruvate instead with a yield of 1.4 mol pyruvate per mol of glucose, which is close the value of 1.6 mol/mol achieved by Causey and colleagues using a strain deficient of the pyruvate oxidase and the ability to gain energy by oxidative phosphorylation [28]. Therefore, this strain was selected for further development towards acetoin production. In this study, acetoin was produced with a yield of 90% with nitrate as the terminal electron acceptor. This represents the highest yield reported for anaerobic acetoin production in E. coli [23], indicating the efficiency of the engineered metabolism. The studies listed in Table 1 report acetoin production in several approaches. Although it is common to investigate acetoin producing strains in complex media containing significant amounts of yeast extract or other fermentable compounds, the acetoin yields are calculated in consideration of the added glucose only. Nevertheless, the literature is full of examples in which productivities over 100% are reached due to the catabolic consumption of complex media constituents [40]. It is not unlikely to assume that the achievable rates will increase if higher amounts of complex media constituents are added. To our best knowledge, the overall highest efficiency for the fermentation of acetoin was reported by Ui et al. with a value of 96% in an engineered E. coli strain [51]. However, the experiments have been conducted in oxic LB medium, containing 15 g/l of complex organic compounds. In this study, only 1 g/l of casamino acids was supplemented to the medium to allow for the analysis of the coulombic efficiency in the subsequent bioelectrochemical process. Works of Chen et al. and Zhang et al. conducted the fermentation process in a comparable minimal medium under oxic to microaerobic conditions with engineered strains of B. subtilis as the catalyst organism [22, 52]. The achieved yields reach values between 60.5 and 75%. Hence, the yields in this study range well within notable benchmarks.
In the last step, the respiratory electron transport chain of
E. coli
was extended by the expression of the c-type cytochromes CymA, MtrA, and STC, facilitating a methylene blue-mediated electrode respiration. The modifications leading to this catalyst strain are summarized in Fig.
6
. During the electrode-assisted fermentation, an acetoin yield of 79% was achieved. No other end product besides acetoin was detectable. The coulombic efficiency of the process was 93.4%, if it is assumed that the amount of glucose which was not converted into acetoin was used for NGAM or the formation of biomass. Biomass formation is not accompanied by the release of electrons as biomass [(CH
2
O)
n
] and glucose have the same oxidation state. A complete oxidation of the glucose molecules that were not converted into acetoin to CO
2
seems unlikely, since the citric acid cycle—as stated above—will not be functional under the operational conditions.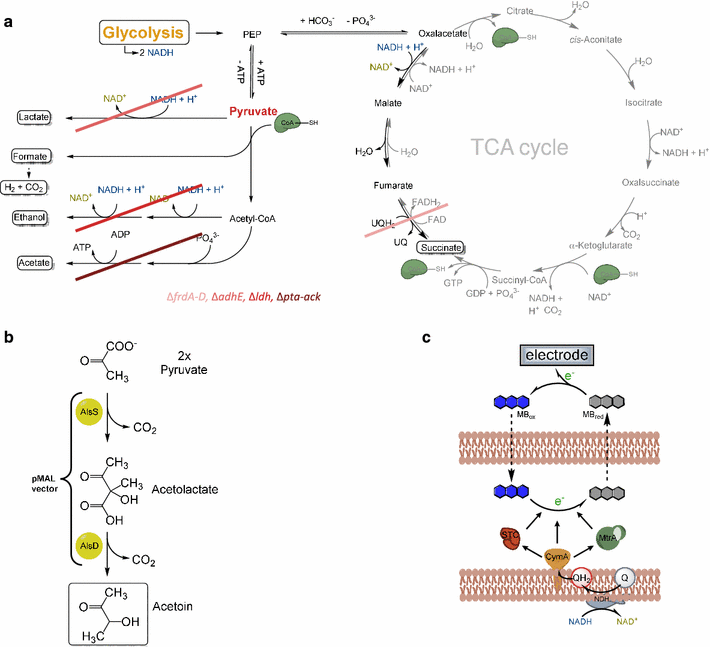 Recently, Bursac et al. could show acetoin production in an analogous setup. The authors used S. oneidensis as biocatalyst. This organism can conduct an extracellular electron transfer to an electrode surface. This is certainly an advantage regarding the development of electrode-assisted fermentation processes. Nevertheless, the E. coli strain used in this study is able to metabolize a larger spectrum of carbon sources including glucose, sucrose, and glycerol. Moreover, the strain produces acetoin with a similar yield but is still able to connect this metabolism to (slow) growth. Hence, the developed E. coli strain can be applied in a continuous culture, while the S. oneidensis biocatalyst will either have to be replaced or the growth conditions would have to be changed to oxic conditions. In conclusion, both strategies for enabling electrode-assisted fermentations have their advantages, and while the E. coli strain must be developed further for higher electron transfer rates, S. oneidensis would have to be developed in the direction of a broader spectrum of useable growth substrates.
Conclusion
In this study, a potential platform organism for pyruvate-dependent production processes was developed. It accumulates high amounts of pyruvate during anaerobic respiration to the medium broth. The presented process for acetoin production is so far unique and offers the potential for a number of newly efficient biotechnological production routines. Of note, all electrode-assisted fermentations are accompanied with the production of an electrical current as side product. This current can be used to sustain the process or to produce hydrogen on the cathode site via a microbial electrolysis cell approach. We do not want to conceal that we can achieve far high yields but that the production rates have to be improved. Further experiments will have to tackle this limitation, for instance, via random mutagenesis and selection for higher substrate conversion rates.
Declarations
Authors' contributions
AF conducted the strain development and the batch experiments. FG was involved in reactor development. SB developed the bioelectrochemical reactor applied in this study and conducted the electrode-assisted fermentation experiments. JG supervised the work in this study and was a major contributor in writing the manuscript. All authors read and approved the final manuscript.
Acknowledgements
We thank Prof. Dr. György Posfai for sharing the plasmids pKD46, pSTKST, and pSG76–CSH for the deletion of genes in E. coli.
Competing interests
The authors declare that they have no competing interests.
Availability of data and materials
The datasets generated during the current study are available on request.
Funding
We are grateful for the financial support from the German Ministry of Education and Research (BMBF) under the Program 03SF0496B.
Open AccessThis article is distributed under the terms of the Creative Commons Attribution 4.0 International License (http://creativecommons.org/licenses/by/4.0/), which permits unrestricted use, distribution, and reproduction in any medium, provided you give appropriate credit to the original author(s) and the source, provide a link to the Creative Commons license, and indicate if changes were made. The Creative Commons Public Domain Dedication waiver (http://creativecommons.org/publicdomain/zero/1.0/) applies to the data made available in this article, unless otherwise stated.
Authors' Affiliations
(1)
Department of Applied Biology, Institute for Applied Biosciences, Karlsruhe Institute of Technology, Karlsruhe, Germany
(2)
Department of Microbiology of Natural and Technical Interfaces, Institute of Functional Interfaces, Karlsruhe Institute of Technology, Eggenstein-Leopoldshafen, Germany