Metagenomic mining pectinolytic microbes and enzymes from an apple pomace-adapted compost microbial community
Biotechnology for Biofuels
2017
10:198
Received: 14 May 2017
Accepted: 10 August 2017
Published: 22 August 2017
Abstract
Background
Degradation of pectin in lignocellulosic materials is one of the key steps for biofuel production. Biological hydrolysis of pectin, i.e., degradation by pectinolytic microbes and enzymes, is an attractive paradigm because of its obvious advantages, such as environmentally friendly procedures, low in energy demand for lignin removal, and the possibility to be integrated in consolidated process. In this study, a metagenomics sequence-guided strategy coupled with enrichment culture technique was used to facilitate targeted discovery of pectinolytic microbes and enzymes. An apple pomace-adapted compost (APAC) habitat was constructed to boost the enrichment of pectinolytic microorganisms.
Results
Analyses of 16S rDNA high-throughput sequencing revealed that microbial communities changed dramatically during composting with some bacterial populations being greatly enriched. Metagenomics data showed that apple pomace-adapted compost microbial community (APACMC) was dominated by Proteobacteria and Bacteroidetes. Functional analysis and carbohydrate-active enzyme profiles confirmed that APACMC had been successfully enriched for the targeted functions. Among the 1756 putative genes encoding pectinolytic enzymes, 129 were predicted as novel (with an identity <30% to any CAZy database entry) and only 1.92% were more than 75% identical with proteins in NCBI environmental database, demonstrating that they have not been observed in previous metagenome projects. Phylogenetic analysis showed that APACMC harbored a broad range of pectinolytic bacteria and many of them were previously unrecognized.
Conclusions
The immensely diverse pectinolytic microbes and enzymes found in our study will expand the arsenal of proficient degraders and enzymes for lignocellulosic biofuel production. Our study provides a powerful approach for targeted mining microbes and enzymes in numerous industries.
Keywords
Lignocellulosic biofuelPectinMetagenomicPectinolytic microbes and enzymesCompost habitat
Background
High worldwide demand for energy and increasing concerns over global climate change have prompted the development of sustainable and environmentally friendly energy [16, 45]. Lignocellulosic biofuel, which derived from the most abundant renewable organic material on our planet, represents a promising alternative to fossil fuels [12, 15]. However, the major obstacles to industrial-scale production of biofuel from lignocellulosic feedstocks lie in the recalcitrant nature of biomass toward enzymatic breakdown and the relatively low activity of currently available hydrolytic enzymes [15, 44].
Pectin is one of the plant cell wall components. It is abundant in the middle lamella and primary cell walls, though presents at low levels in secondary walls [8]. For the cell walls of pectin-rich biomass, for example apple pomace, it contains 12–35% pectin on a dry weight basis [11]. In plant biomass, pectin embeds in the cellulose–hemicellulose network of the cell wall and regulates intercellular adhesion like glues [16]. It is the complex matrix of pectin that masks cellulose and/or hemicellulose through hydrogen bonding interactions [53], and blocks their accessibility to degradative enzymes [8], thus resulting in plant biomass that is less susceptible to degradation and more recalcitrant to deconstruction [23]. As a result, degradation of pectin in lignocellulosic materials has been established as essential for efficient bioconversion of lignocellulose [47]. Recently, the reduction of bulk percentage of pectin through genetic manipulation or enzymatic means has been proved to reduce the recalcitrance and accelerate the lignocellulose saccharification of herbaceous plants [23], Arabidopsis [12], switchgrass [8], and woody biomass [3, 4].
Removal of pectin can be achieved in physical, chemical, or biological manner. Biological hydrolysis of pectin by pectinolytic microbes and enzymes is favored as it is environmentally benign and energy efficient [26]. Pectinolytic enzymes have multiple benefits in the efficient hydrolysis of lignocellulosic materials: first, yield of fermentable sugars by hydrolysis of pectin itself [4]; second, facilitation of sugar release by disrupting the pectin network around cellulose and lignin [23], and exposure of other polymers to degradation by hemicellulases and cellulases [30]; third, improvement of cell wall porosity [3] and reduction of mechanical strength because of its crosslinking and water complexation features [47]. Especially for pectin-rich lignocellulosic biomass which also could serve as the feedstock for lignocellulosic biofuel [30], for instance apple pomace, pectinolytic enzymes will play a more prominent role.
Despite pectinolytic enzymes playing a crucial part in the lignocellulosic biofuel production, most of the currently available pectinolytic enzymes are costly, inefficient, and susceptive to fluctuations in feedstock [5]. In consequence, search for microbes and enzymes from naturally evolved pectinolytic microbial communities offers a promising strategy for the discovery of new pectinolytic enzymes. Given the unique features of compost habitat, there is tremendous potential to discover robust organisms and novel enzymes which tolerate harsh pretreatment scenarios under industrial conditions [2]. Thus, compost is considered as one of the most attractive DNA pools for target gene discovery [2, 24].
Metagenomics, which directly analyzes the total DNA from environmental samples, provides a powerful strategy in unveiling the novel microbes and enzymes in microbial communities without the technical challenges of cultivation [15, 37]. However, as environmental samples generally hold a huge reservoir of extensive microbes and enzymes, it is unfeasible to characterize them accurately. Hence, to reduce the complexity of metagenomic datasets, render further assembly more amenable, and more importantly, improve the specificity of the sample's DNA, the oriented enrichment culture technique is essential to be employed for the establishment of microbial consortia with desired functionality [28]. In this manner, the enzyme repertoire of enriched consortia can be tailored to degrade specific feedstock [52]. Since apple pomace is an pectin-rich lignocellulosic biomass [30], pectinolytic enzymes could be exploited from the established pectinolytic microbes which are selectively enriched in abundance from compost communities by cultivation with apple pomace as the sole carbon source.
In this study, a metagenomic sequence-guided strategy combined with enrichment culture technique was used to targetedly discover the pectinolytic microbes and enzymes from an apple pomace-adapted compost microbial community (APACMC). The pipeline of this strategy is shown in Fig.
1
. Firstly, the unique APACMC was constructed from the cow manure compost habitat to boost the enrichment of pectinolytic microorganisms. The dynamic microbial changes of APACMC were characterized by 16S rDNA high-throughput sequencing. Secondly, a targeted metagenomic approach was applied to facilitate the identification of pectinolytic microbes and enzymes. A more accurate microbial taxonomic analysis and function characterization were conducted. Thirdly, the metagenome sequences were annotated and phylogenetically affiliated against carbohydrate-active enzymes (CAZymes) database. Finally, after the specific investigation of genes related to pectinolytic CAZymes and their taxonomic affiliations, the robust microorganisms and novel enzymes processing the degradation of pectin were identified.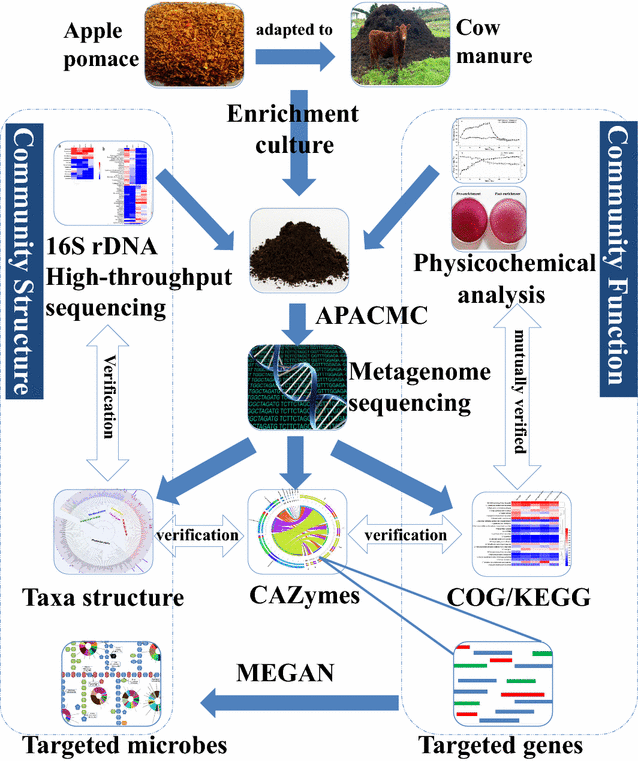 Conclusions
Novel pectinolytic microbes and enzymes have potential application in numerous industrial processes. Here, we adopted a strategy which combined metagenomics sequencing with enrichment culture technique to rapidly discover efficient pectin degraders and novel pectinolytic enzyme sequences. The immensely diverse pectinolytic microbes and enzymes found in our study will not only shed light on the current understanding of microbial interaction and enzymatic synergism in pectin degradation, but also expand the arsenal of proficient degraders and enzymes for lignocellulosic biofuel production. When combined with high-throughput strategies, such as cell-free protein expression system, droplet-based microfluidics, fluorescence-activated cell sorting (FCAS), and nanostructure-initiator mass spectrometry (NIMS), the efficiency of this strategy for obtaining novel enzymes may meet the ever-growing demand from various industries.
Methods
Enrichment of apple pomace-adapted microbial community in compost habitat
The composting materials were composed of apple pomace and fresh cattle manure. Apple pomace was kindly provided by Shaanxi Haisheng fresh fruit juice Co. Ltd., China [46]. The cattle manure was collected from the Northwest A&F University farm located in Yangling, China. The composting experiment was conducted from September 15 to October 29, 2016 according to Sun et al. [41] with slight modifications. Briefly, the cattle manure was mixed with apple pomace to adjust the C/N ratio to 30:1 and the moisture content to around 60% and then the mixture was placed in rectangular foam containers as described in Sun et al. [41]. The piles of compost were turned and sampled daily. Samples were pooled from the top, middle, and bottom of the composting, and then mixed completely. When the pile temperature dropped to ambient temperature at the end of the maturing stage, the composting process was considered as completed. The each sample was split into two parts: one part was stored at 4 °C for subsequent physicochemical analysis and the other was stored at −80 °C for high-throughput sequencing.
Physicochemical analysis
The pile temperature was monitored every 24 h by inserting a mercury thermometer in the center of the composting material. The moisture content was measured gravimetrically after drying samples at 105 °C for 24 h. The pH values of the samples were tested in water (solid-to-water ratio of 1:10, w/v) with a pH meter [51]. The contents of pectin were determined by modified carbazole method [46].
16S rDNA sequencing and phylogenetic classification
The 16S rDNA sequencing was performed at the Frasergen Genoimcs Institute (Wuhan, China) using the Illumina MiSeq platform [33]. The 16S V3-V4 region was amplified using the primers 338F and 806R. After the processing of raw data, the high-quality sequences were subjected to filter singletons, remove chimeras, and cluster into operational taxonomic units (OTUs) at a 97% identity using UPARSE [10]. A representative sequence of each OTU was assigned to a taxonomic level in the SILVA database [35] using the RDP classifier. Microbial diversity and richness measurements were performed using MOTHUR [39]. The microbial diversity was estimated by Shannon and Simpson, and the richness was determined by Chao and Ace estimators.
Metagenome sequencing, de novo assembly, and Open Reading Frames (ORFs) prediction
Metagenome sequencing, de novo assembly, and ORFs prediction were performed by Frasergen Genoimcs Institute (Wuhan, China) according to Qin with slight modifications [34]. Briefly, a library with 400-bp clone insert size was constructed and sequenced on Illumina HiSeq4000 platform. Sequence reads were quality trimmed to an accuracy of 98.0% and duplicate reads were identified and removed prior to assembly. Nearly 89.6 million high-quality reads were generated (16.2 Gb). High-quality short reads of the DNA sample were assembled by the SOAPdenovo assembler [22] with a k-mer length of 39–47. The assembled contigs longer than 500 bp were subject to ORFs prediction using the MetaGene [29] with default parameters. The redundant ORFs were removed by CD-HIT [13] from the non-redundant gene catalog and the abundances were annotated by SOAPaligner [22].
Taxonomic assignment and functional classification in metagenomic database
Taxonomic annotation of predicated genes was performed by BLASTP against the NCBI-NR database with an E value of 1e−5. The APACMC metagenomic dataset was also taxonomically profiled at species level by MetaPhlAn2 [42], MG-RAST [27] and MEGAN 6 [17]. The phylogenetic tree was generated using iTOL software [21]. Functional classification of predicted gene was performed by BLASTP against eggNOG database and by KOBAS 2.0 (a Orthology Based Annotation System) [48] against KEGG database. The "function comparison" module of integrated microbial genomes with microbiome samples (IMG/M) [7] were applied to compare the COG category of APACMC against another four well-known lignocelluloses-degrading microbiomes available on IMG/M, including rain forest compost (IMG Submission ID 5968), switchgrass-adapted compost [2], sao paulo zoo park compost [24], and rice straw-adapted compost [36].
Carbohydrate-active enzymes (CAZymes): annotation and phylogenetic analysis
Searches for CAZymes were performed as described by Wang and coworkers [44]. Briefly, the amino acid sequences of the predicted ORFs in the APACMC metagenome were annotated by dbCAN, an automated CAZyme signature domain-based annotation method based on family-specific HMMs [49] by MAFFT and HMMER. After identification, these sequences were searched against NCBI non-redundant (NCBI-NR), CAZy database, NCBI environmental database (NCBI-ENV), and Swiss-Prot database by DIAMOND [6] with a cutoff of E value <1e−5. The phylogenetic distributions in the top ten abundant members possessing CAZymes were visualized via software Circos [20] at the level of phylum, genus, and specie.
Specific pectin-degrading genes: annotation and phylogenetic analysis
The predicted sequences encoding pectinolytic enzymes were re-annotated and verified using DIAMOND using a sensitive setting [6] against the proteins deposited in NCBI-NR database. The phylogenetic origins of candidate genes were determined by MEGAN 6 [17].
Sequence data submission
The assembled metagenome datasets were submitted to IMG/M and Metagenomics RAST server (MG-RAST) under the project ID 117466 and mgs566360, respectively.
Abbreviations
AAs:

auxiliary activities
APAC:

apple pomace-adapted compost
APACMC:

apple pomace-adapted compost microbial community
CAZymes:

carbohydrate-active enzymes
CBMs:

carbohydrate-binding modules
CEs:

carbohydrate esterases
GHs:

glycoside hydrolases
COGs:

clusters of orthologous groups
GTs:

glycosyltransferases
HG:

homogalacturonan
PAEs:

pectin acetylesterases
PELs:

pectate lyases
PGs:

polygalacturonases
PLs:

polysaccharide lyases
PMEs:

pectin methylesterases
PNLs:

pectin lyases
MG-RAST:

metagenomics RAST
ORFs:

open reading frames
OTU:

operational taxonomic unit
RGLs:

rhamnogalacturonan lyases
RG-I:

rhamnogalacturonan I,
RG-II:

galacturonans rhamnogalacturonan II
XGA:

xylogalacturonan
Declarations
Authors' contributions
MZ conceived and designed the experiments. MZ performed the majority of experimental work, analyzed the results, and drafted this manuscript. PG participated in the analysis of bioinformatics. TW, LG, and HY assisted in the enrichment of APACMC and the chemical composition test. JG and CC helped to guide the composting process and process bioinformatics, respectively. MZ performed all data analyses. XL led and coordinated the overall project. All authors read and approved the final manuscript.
Acknowledgements
Not applicable.
Competing interests
The authors declare that they have no competing interests.
Availability of supporting data
All data are included in the manuscript and additional information will be provided upon request.
Consent for publication
Not applicable. All the authors agree to the publication of this manuscript.
Ethics approval and consent to participate
Not applicable.
Funding
This study was supported by the Special Fund for Agro-scientific Research in the Public Interest (No. 201503135), Ministry of Agriculture, China.
Publisher's Note
Springer Nature remains neutral with regard to jurisdictional claims in published maps and institutional affiliations.
Open AccessThis article is distributed under the terms of the Creative Commons Attribution 4.0 International License (http://creativecommons.org/licenses/by/4.0/), which permits unrestricted use, distribution, and reproduction in any medium, provided you give appropriate credit to the original author(s) and the source, provide a link to the Creative Commons license, and indicate if changes were made. The Creative Commons Public Domain Dedication waiver (http://creativecommons.org/publicdomain/zero/1.0/) applies to the data made available in this article, unless otherwise stated.
Authors' Affiliations
(1)
College of Food Science and Engineering, Northwest A&F University, Yangling, China
(2)
College of Information Engineering, Northwest A&F University, Yangling, China
(3)
College of Natural Resources and Environment, Northwest A&F University, Yangling, China