Correction to: Identification and characterization of a galacturonic acid transporter from Neurospora crassa and its application for Saccharomyces cerevisiae fermentation processes
Biotechnology for Biofuels
2017
10:287
Received: 31 October 2017
Accepted: 2 November 2017
Published: 4 December 2017
The authors noticed an accidental calculation error existing in Fig. 4C of the original article [
1
]. The given velocities of the GAT-1 transporter (in this figure only) were mistakenly listed as 50-fold too high. Based on the correct values (Fig.
1
), the new estimate of
V
max
for GAT-1 is 0.256 ± 0.007 nmol min
−1
mg protein
−1
. This change will in no manner affect the conclusions/narrative of the experiments as described in the original publication. The authors apologize for any inconvenience caused.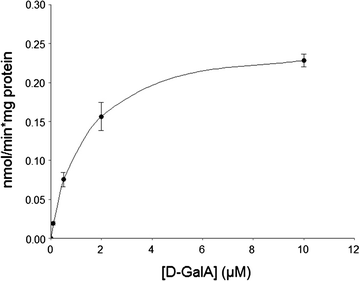 Publisher's Note
Springer Nature remains neutral with regard to jurisdictional claims in published maps and institutional affiliations.
Open AccessThis article is distributed under the terms of the Creative Commons Attribution 4.0 International License (http://creativecommons.org/licenses/by/4.0/), which permits unrestricted use, distribution, and reproduction in any medium, provided you give appropriate credit to the original author(s) and the source, provide a link to the Creative Commons license, and indicate if changes were made. The Creative Commons Public Domain Dedication waiver (http://creativecommons.org/publicdomain/zero/1.0/) applies to the data made available in this article, unless otherwise stated.
(1)
Energy Biosciences Institute, University of California Berkeley, Berkeley, CA, USA
(2)
Department of Molecular and Cell Biology, University of California Berkeley, Berkeley, CA, USA
(3)
Department of Bioengineering, University of California Berkeley, Berkeley, CA, USA
(4)
Department of Plant and Microbial Biology, University of California Berkeley, Berkeley, CA, USA
(5)
Institute of Environmental and Sustainable Chemistry, Technische Universität Braunschweig, Brunswick, Germany
(6)
Present address: TUM School of Life Sciences Weihenstephan, Technical University of Munich, Freising, Germany
(7)
Present address: Zymergen, Emeryville, CA, USA
Benz JP, Protzko RJ, Andrich JMS, Bauer S, Dueber JE, Somerville CR. Identification and characterization of a galacturonic acid transporter from Neurospora crassa and its application for Saccharomyces cerevisiae fermentation processes. Biotechnol Biofuels. 2014;7:20. https://doi.org/10.1186/1754-6834-7-20.View ArticleGoogle Scholar