Engineering microbes for tolerance to next-generation biofuels
Biotechnology for Biofuels
2011
4:32
Received: 10 June 2011
Accepted: 21 September 2011
Published: 21 September 2011
Abstract
A major challenge when using microorganisms to produce bulk chemicals such as biofuels is that the production targets are often toxic to cells. Many biofuels are known to reduce cell viability through damage to the cell membrane and interference with essential physiological processes. Therefore, cells must trade off biofuel production and survival, reducing potential yields. Recently, there have been several efforts towards engineering strains for biofuel tolerance. Promising methods include engineering biofuel export systems, heat shock proteins, membrane modifications, more general stress responses, and approaches that integrate multiple tolerance strategies. In addition, in situ recovery methods and media supplements can help to ease the burden of end-product toxicity and may be used in combination with genetic approaches. Recent advances in systems and synthetic biology provide a framework for tolerance engineering. This review highlights recent targeted approaches towards improving microbial tolerance to next-generation biofuels with a particular emphasis on strategies that will improve production.
Keywords
Efflux PumpBiofuel ProductionPervaporationGenome ShufflingTolerance Strategy
Introduction
Microbes can be engineered to produce biologically-derived replacements for gasoline, diesel, and aviation fuel. Although much research has focused on ethanol as a biogasoline, there are many other biofuels that offer advantages such as high energy density, low freezing point, and compatibility with the existing fuel storage and distribution infrastructure [1–3]. Next-generation biofuels, such as long-chain alcohols, fatty-acid-derived, and isoprenoid-derived fuels offer promise as new biofuels and can be synthesized by microbes. These fuels are being developed as either supplements or drop-in replacements for existing petroleum fuels. Because there is active research on many next-generation fuels, this review highlights general tolerance strategies and discusses areas where mechanisms may only work for certain classes of fuels.
Next-generation biofuels have many advantages, but the fuels are often toxic to microorganisms. Therefore, the inherent tolerance of the host may limit production potential. Microbes that can survive in hydrocarbon-rich environments have been isolated [4, 5], however these strains are rarely suitable for use as biofuel production hosts. Recent efforts have suggested that it may be possible to transfer tolerance mechanisms to a suitable production strain. The ideal host is a well studied organism with good genetic tools available that can be engineered for both biofuel production and tolerance.
It is often assumed that increasing tolerance will improve yields. There are several studies where this is the case [6–8], but also well documented examples where increases in tolerance have no effect or have even decreased yield [9–11]. Because biofuel tolerance is complex, and often intimately linked to general stress response, it can be difficult to predict the effect of a given tolerance strategy.
This review highlights recent advances in tolerance engineering for the production of next-generation biofuels. Particular emphasis is placed on targeted approaches for improving tolerance that can be applied in engineered strains. For more comprehensive coverage of topics related to stress and tolerance in microbial bioprocessing, a recent article by Nicolaou
et al.
[
12
] provides excellent depth. The present review first describes why biofuels are toxic to cells. Next, it surveys specific mechanisms for improving tolerance such as expression of efflux pumps, heat shock proteins, membrane modifying proteins, and activation of general stress response genes (Figure
1
). It then discusses how these approaches have altered yields in biofuel production strains, exploring the link between tolerance and production. Finally, it reviews media supplementation strategies and
in situ
approaches for recovering biofuel that can be used to reduce the need for highly tolerant strains.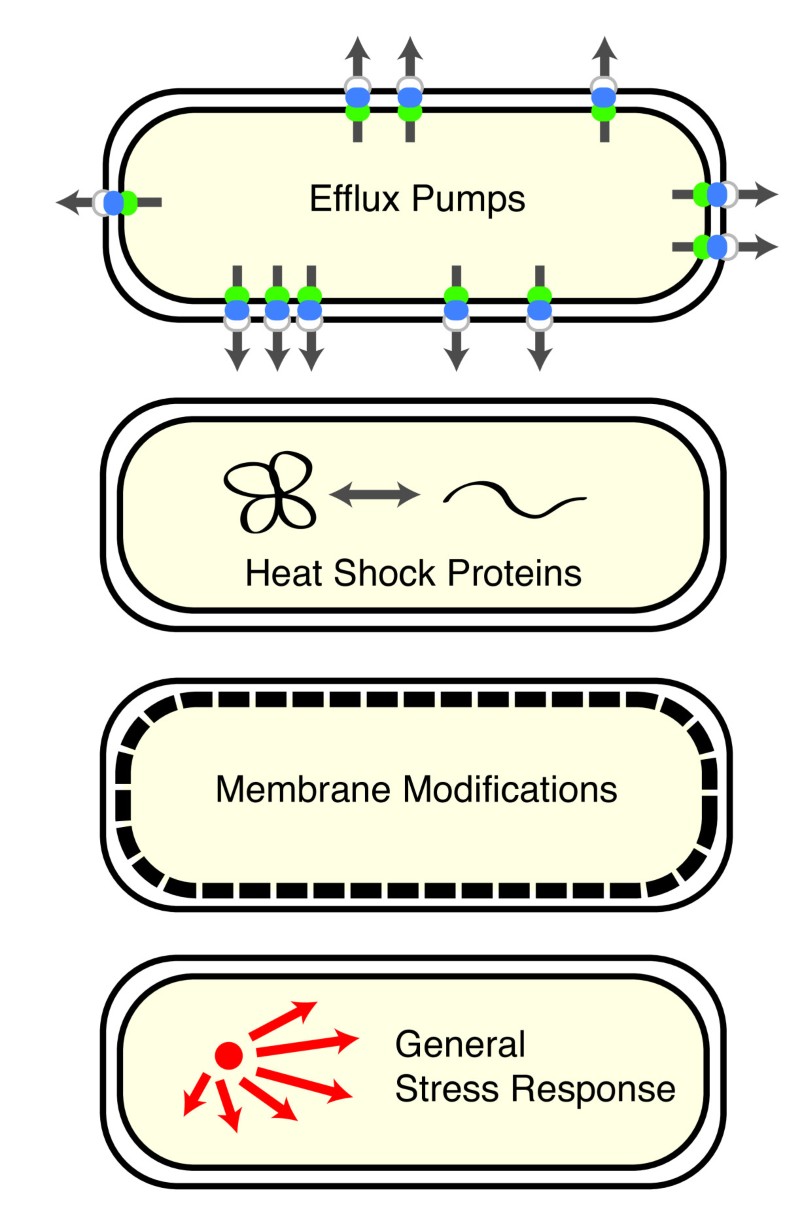 Conclusions
As metabolic engineering continues to improve biofuel production, yields will reach levels that are toxic to cells. This end-product inhibition places a limit on the amount of biofuel that can be produced. Approaches for increasing tolerance to biofuels have been the focus of several recent studies that characterize the stress response caused by biofuels, and develop strategies for increasing tolerance with the goal of increasing yield.
In addition to the end product, other inhibitors from the biofuel production process may also need to be addressed through tolerance engineering. For example, when biomass is deconstructed, residual products such as cellulosic hydrolysate can exhibit cytotoxicity [64–66]. Several reviews on growth inhibition by ligocellulosic hydrolysate have been published recently, which provide insight into the mechanisms of toxicity [67–69]. The tolerance strategies discussed here may also be effective for countering these inhibitors.
There are several key conclusions that can be drawn from recent studies on tolerance engineering for next-generation biofuels: first, tolerance mechanisms are likely to be specific for particular classes of biofuel. For example, RND efflux pumps are effective at exporting several biodiesels and bioaviation fuels, but are less promising for short-chain alcohols. Second, in addition to exploring native tolerance strategies through the use of genomic libraries, adaptation, and mutagenesis studies, it is also worth studying expression of heterologous genes. Third, multiple tolerance mechanisms are likely to be necessary and may have synergistic effects. Several studies on tolerance have shown that epistatic interactions between genes are necessary to improve tolerance. Fourth, tolerance improvements do not necessarily correlate with increases in yield. Although it is necessary to improve tolerance to increase yield, simply increasing tolerance may not increase yield. Finally, optimized growth conditions and recovery strategies that are integrated with the biofuel production infrastructure will help ease the burden caused by end-product toxicity. Combined approaches that use strain engineering with effective recovery technologies will likely be necessary.
Future tolerance engineering efforts should be conducted in biofuel production strains when possible so that improvements in production yields can be measured in conjunction with tolerance. Researchers should explore expression of heterologous genes in addition to modifications to the native genome. Other microorganisms, especially those that are naturally adapted to hydrocarbon-rich environments, may be valuable sources of tolerance mechanisms even if they are not ideal production hosts. In some cases there may be obvious targets for metabolic engineering, but methods for heterologous library construction should also be explored. These new approaches should be used in combination with native tolerance strategies, discovered through classical strain engineering, genome shuffling, or genomic library approaches. In particular, methods that support the exploration of synergistic approaches to tolerance will be especially valuable. Tolerance engineering will be essential as production of next-generation biofuels continues to improve.
Declarations
Acknowledgements
Aindrila Mukhopadhyay provided helpful comments on the manuscript. This research was supported by the University of Vermont and the Office of Science (BER), US Department of Energy.
Authors' Affiliations
(1)
University of Vermont, School of Engineering, Burlington, USA
Copyright
© Dunlop; licensee BioMed Central Ltd. 2011
This article is published under license to BioMed Central Ltd. This is an Open Access article distributed under the terms of the Creative Commons Attribution License (http://creativecommons.org/licenses/by/2.0), which permits unrestricted use, distribution, and reproduction in any medium, provided the original work is properly cited.