Use of substructure-specific carbohydrate binding modules to track changes in cellulose accessibility and surface morphology during the amorphogenesis step of enzymatic hydrolysis
Biotechnology for Biofuels
2012
5:51
Received: 16 May 2012
Accepted: 2 July 2012
Published: 24 July 2012
Abstract
Background
Cellulose amorphogenesis, described as the non-hydrolytic "opening up" or disruption of a cellulosic substrate, is becoming increasingly recognized as one of the key steps in the enzymatic deconstruction of cellulosic biomass when used as a feedstock for fuels and chemicals production. Although this process is thought to play a major role in facilitating hydrolysis, the lack of quantitative techniques capable of accurately describing the molecular-level changes occurring in the substrate during amorphogenesis has hindered our understanding of this process.
Results
In this work, techniques for measuring changes in cellulose accessibility are reviewed and a new quantitative assay method is described. Carbohydrate binding modules (CBMs) with specific affinities for crystalline (CBM2a) or amorphous (CBM44) cellulose were used to track specific changes in the surface morphology of cotton fibres during amorphogenesis. The extents of phosphoric acid-induced and Swollenin-induced changes to cellulose accessibility were successfully quantified using this technique.
Conclusions
The adsorption of substructure-specific CBMs can be used to accurately quantify the extent of changes to cellulose accessibility induced by non-hydrolytic disruptive proteins. The technique provided a quick, accurate and quantitative measure of the accessibility of cellulosic substrates. Expanding the range of CBMs used for adsorption studies to include those specific for such compounds as xylan or mannan should also allow for the accurate quantitative tracking of the accessibility of these and other polymers within the lignocellulosic biomass matrix.
Keywords
AmorphogenesisCellulose AccessibilitySwolleninCellulose DisruptionCarbohydrate Binding ModulesEnzymatic HydrolysisBiofuels
Background
Over the past 50 years a considerable amount of research has been dedicated to determining the roles of the hydrolytic proteins involved in the solubilisation and depolymerisation of the carbohydrates within the lignocellulosic biomass matrix [1–3]. In its native state, cellulose chains typically exist in tightly packed bundles encased within a complex sheath of hemicelluloses and lignin [4–6]. In order for cellulases to hydrolyze the glycosidic linkages within these chains, they must first be able to diffuse into this dense, heterogeneous matrix and access the cellulose [7].
It is becoming increasingly apparent that enzymatic deconstruction of cellulose occurs through two distinct steps. First, an initial disruption of the substrate, the so-called "cellulose amorphogenesis" phase, is thought to be mediated at least in part by non-hydrolytic disruptive proteins [8]. This step is required to enhance the accessibility of the cellulose to the cellulase enzyme mixture [8] while, in the subsequent step, the cellulase enzymes diffuse into and hydrolyze the cellulose. Although the basic functions and mechanisms of the major hydrolytic enzymes have been studied extensively, little is known about the role of the non-hydrolytic proteins that have been suggested to be involved in disrupting the substrate prior to hydrolysis [8]. By developing a better understanding of the role that non-hydrolytic proteins play in the disruption of lignocellulosic materials, it should be possible to design more efficient enzyme preparations, thereby bringing us one step closer to achieving an effective, enzyme/sugar-based biorefinery [5, 9–11].
Results and discussion
As protein-mediated amorphogenesis is still an evolving concept, we initially assessed the sensitivity and reproducibility of a CBM-mediated method for quantifying changes in cellulose accessibility by using concentrated phosphoric acid to disrupt cotton fibres to varying degrees of disassociation [
67
]. The use of harsh acid treatments was intended to provide an exaggerated range of disrupted substrates, and was not intended to be representative of milder, biological treatments. The disruptive effect of the acid was initially qualitatively assessed using SEM (Figure
2
) followed by a quantitative assessment where the adsorption of each of the substructure-specific CBMs [
61
] was determined (Figure
3
).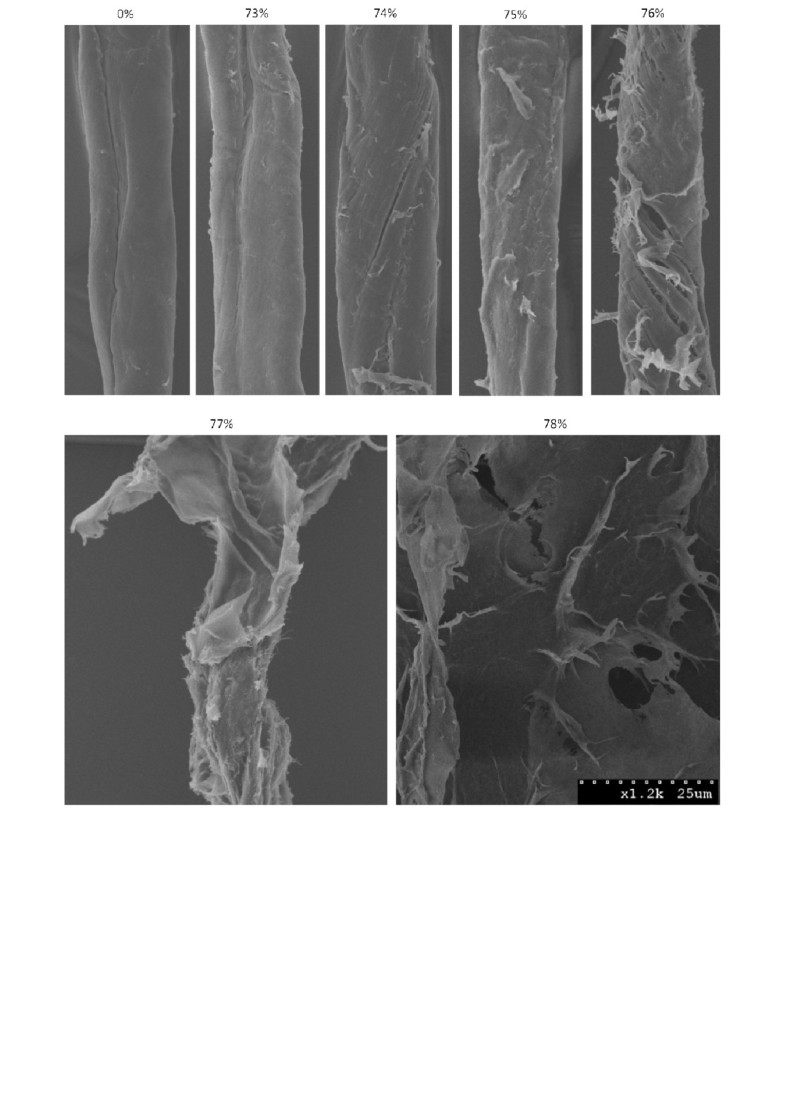 The CBM2a and CBM44 were used to specifically detect the crystalline and amorphous regions of cellulose respectively. Previous work has shown that CBM2a is a Type A CBM which binds to cellulose through a flat binding face incorporating a planar arrangement of hydrophobic aromatic residues [68, 69]. This CBM has been shown by several researchers to be specific for crystalline cellulose [61, 70, 71]. Competitive binding experiments on PASC have been used to demonstrate that CBM2a has little binding site overlap with a Type B CBM (CBM4-1) known to exclusively recognize the amorphous regions of cellulose while showing no affinity for crystalline regions [61, 71]. As CBM2a is thought to interact with 2–3 chains in the ordered crystal lattice [70], in the work reported here, we have defined a crystalline region as one with 2–3 adjacent crystalline cellulose chains. In contrast, the amorphous-cellulose binding CBM used in this work, CBM44, is a Type B CBM with a binding site comprised of a narrow groove lined with hydrophobic aromatic residues [72]. This groove confers binding specificity to free polysaccharide chains, such as those present in amorphous cellulose, but does not enable binding to the tightly packed chains found within crystalline cellulose [72].
To try to progressively disrupt cotton fibres in order to assess the ability of CBM adsorption to quantify cellulose accessibility a range of phosphoric acid concentrations was used. As the concentration of phosphoric acid was increased, an increase in the degree of disruption of the sample, including the splitting, delaminating and roughening of the fibres was apparent (Figure 2). An increase in disruption generally correlated with an increase in binding of both the amorphous-binding and crystalline-binding CBMs up to a concentration of 77% acid treatment (Figure 3). This increase in the combined binding of both CBMs provided a good indication that the overall (crystalline and amorphous) cellulose accessibility had increased. Surprisingly, the use of increasingly harsh acid treatments resulted in only a relatively small increase in the amount of CBM2a bound to the substrate when compared to the increase in CBM44 binding. It had been anticipated that the increasing disruption of the fibres would result in the amorphous-binding CBM44 being bound more than the crystalline-binding CBM2a. However, as CBM2a recognizes only two to three adjacent chains as being 'crystalline', the observed relative increase in CBM2a binding over CBM44 binding as the acid concentration increased was likely due to the increased solvent exposure of small microcrystalline substructures within the acid-disrupted cotton fibres.
As the acid concentration was further increased from 77% to 78%, the SEM micrographs of the cotton showed that any residual fibre structure had been lost and that the substrate now had the form of amorphous cellulosic 'mats' (Figure 2). These SEM observations complemented the CBM adsorption results, where increasing the acid concentration from 77% to 78% resulted in a large increase in the amount of adsorbed CBM44, without significantly altering the adsorption of CBM2a (Figure 3). It was apparent that the specificity of CBM adsorption was distinct enough that changes in the surface morphology of the cellulosic substrates could be readily differentiated.
After determining that CBM adsorption could be used to quantify acid-induced changes in cellulose accessibility, we attempted to correlate the degree of substrate disruption (quantified by CBM adsorption) with enzymatic hydrolyzability. Each of the phosphoric-acid disrupted cotton fibre samples was hydrolyzed using a commercial cellulase mixture (30 filter paper units/g cellulose of Celluclast 1.5 L, supplemented with 15 cellobiase units/g cellulose of Beta-glucosidase (Novozym 188, Novozymes A/S, Bagsværd, Denmark)). The initial hydrolysis rate (defined here as the hydrolysis rate over the first 30 minutes of the reaction) was plotted against the adsorption of each individual CBM, as well as the sum of their adsorptions (Figure
4
). The adsorption of each individual CBM, and particularly their summed adsorptions, was found to correlate well with the enhanced enzymatic hydrolyzability of the cotton fibres. The steeper slope of the curve for CBM44 when compared to CBM2a seemed to indicate that, at least for the initial stages of hydrolysis, enzymatic hydrolysis rates were influenced more by the amount of accessible amorphous cellulose than they were by the amount of accessible crystalline cellulose.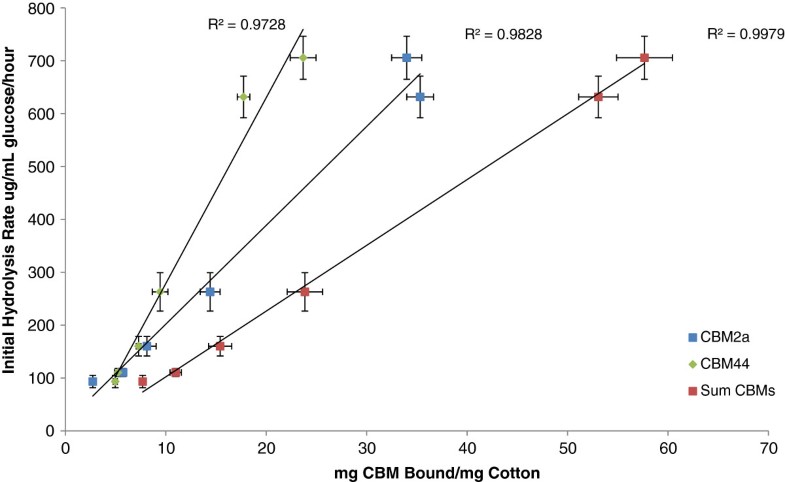 Interestingly, although the hydrolyzability and CBM44 adsorption increased with every incremental increase in phosphoric acid concentration, this was not the case for CBM2a. As the acid concentration was increased from 77% to 78%, the adsorption of CBM2a to the substrate was not significantly affected, even as the hydrolyzability continued to increase. This suggested that any attempts to correlate changes in substrate accessibility to hydrolyzability using a specific mono-component cellulase may be problematic, as some cellulases contain CBMs specific for crystalline cellulose and might therefore underestimate the accessibility of the highly amorphous regions of the substrate.
This seemed to indicate that substructure specific CBMs could be used to quantify acid-induced changes in cellulose accessibility and that increases in accessibility (as determined by CBM adsorption) can provide a good predictor of initial rates of enzymatic hydrolysis.
Quantification of Swollenin-induced increases in cellulose accessibility
As Swollenin had previously been shown to disrupt mercerized cotton fibres [
16
], we next tried to quantify any changes in cellulose accessibility and surface morphology of mercerized cotton fibres treated with Swollenin by looking at the degree of adsorption of substructure-specific CBMs to the treated fibres. Although mercerization is known to cause a significant reduction in the crystallinity of cellulosic substrates, mercerized cellulose has been shown to retain some adsorptive capacity for crystalline binding CBMs [
73
]. After incubation with Swollenin, binding of both the crystalline and amorphous-specific CBMs to the mercerized cotton fibres increased (Figure
5
).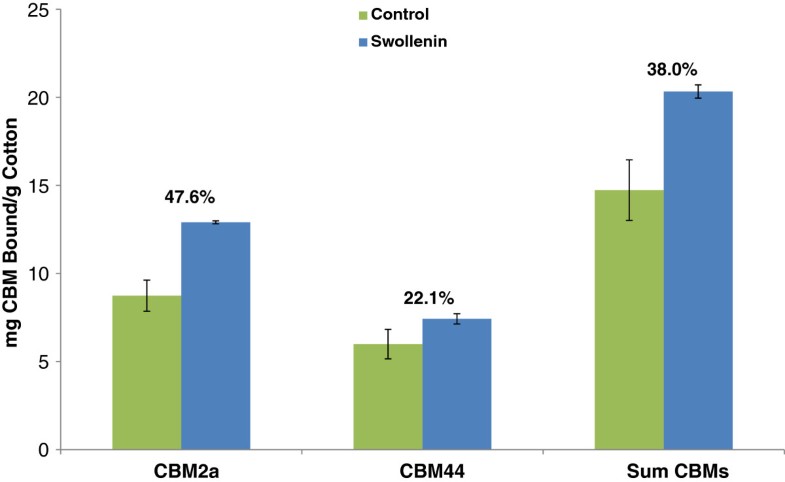 The increase in binding was more pronounced forCBM2a than for CBM44 after Swollenin treatment, indicating that the increase in accessibility was not simply due to Swollenin-mediated decrystallization of the cellulose at the microfibril surface. This suggested that Swollenin might act by promoting the delamination or fibrillation of the substrate, or by promoting the "splitting" of microfibrils, thereby exposing new crystalline regions of cellulose to the CBMs.
Subsequent SEM micrographs of Swollenin-treated mercerized cotton fibres indicated that Swollenin treatments resulted in a smoothing of the roughened patches produced during mercerization (Figure
6
). This smoothing effect was in contrast to the buffer- and BSA-treated mercerized cotton fibres, which retained their roughened surface. After Swollenin treatment, the roughened patches at the surface of the fibres appeared to have been sloughed off, revealing the smooth, well ordered surface of the underlying cotton fibre. The observed increase in turbidity in the supernatant after Swollenin treatment (data not shown) was also indicative of the release of small particles into solution. It is possible that the roughened patches at the surface of the mercerized cotton fibres will contain a higher proportion of amorphous cellulose than the underlying fibre, as these protruding rough regions were more exposed to the NaOH used for mercerization. This treatment has been shown to promote the conversion of crystalline cellulose I into amorphous cellulose and crystalline cellulose II [
74
]. It is possible that the release of these roughened particles from the surface of the fibre resulted in an increase in both the amount of exposed amorphous cellulose (primarily on the released particles) and the amount of exposed crystalline cellulose (primarily on the newly exposed surface of the underlying cotton fibre). However, it should be noted that the small roughened particles that are released from the surface of the cotton fibres appear to be approximately 100 nm in the shorter direction, and up to 1000 nm in the longer direction (estimated from Figure
6
). Since the cellulosic cores of cotton microfibrils have diameters of only 3–5 nm and lengths of 100 s to 1000 s of nm [
5
,
48
,
49
], it is possible that the small, roughened particles released from the surface of the cotton fibres still contained significant amounts of crystalline cellulose.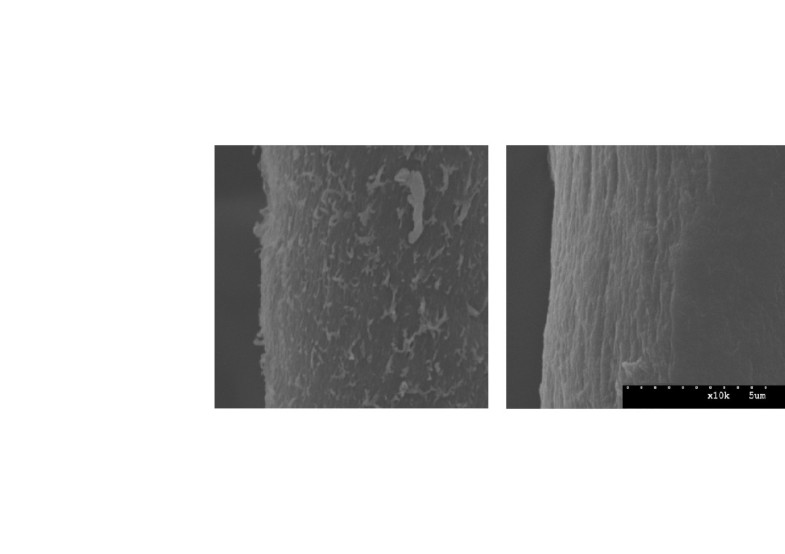 Although it was not evident by which specific mechanism the Swollenin resulted in this "smoothing" effect, it is possible that Swollenin acts in a similar manner to the Expansin family of proteins, which have been shown to weaken plant cell walls through disruption of the hydrogen bonding network between plant cell wall polymers [39]. If Swollenin disrupts hydrogen bonding in a similar mode to Expansins this might also explain how Swollenin appears to both disrupt the cell wall structure of Whatman filter paper No. 1 fibres and result in the swelling of cotton fibres [16, 17].
These results indicated that substructure-specific CBMs could not only be used to track changes in cellulose accessibility after harsh acid treatments, but could also be used to track changes in surface morphology after the milder, Swollenin-induced, amorphogenesis. This technique has several advantages over current alternatives as it provided a direct, quantitative method able to consolidate changes in multiple substrate characteristics. Specifically, changes in the amounts of accessible amorphous cellulose, accessible crystalline cellulose and the total (amorphous and crystalline) accessible cellulose can all be quantified. It was also apparent that this method could help better indicate the mode of action of non-hydrolytic, disruptive/amorphogenesis-inducing proteins and has potential to yield novel insights into the mechanisms of glycosyl hydrolases and the other accessory enzymes involved in lignocellulose deconstruction. Additionally, this technique has the potential to facilitate comparisons of the disruptive capabilities of various non-hydrolytic proteins which might promote an increase in cellulose accessibility to the more traditional, hydrolytic components of the cellulase enzyme mixture.
It is also possible that CBMs with specificities for certain hemicelluloses, such as xylan or mannan, might be able to be used to track changes in the accessibility of these polymers during pretreatment, amorphogenesis and hydrolysis of softwoods, hardwoods and agricultural residues. In previous work, Filonova et al., (2007) demonstrated the use of fluorescently-tagged mannan-specific CBM's to quantify the accessibility of mannan in wood tissues and pulp, after applying a protein-based lignin-blocking technique to prevent non-specific adsorption of the CBMs to lignin [75]. The use of CBM-specific antibodies, or conjugation of CBMs to distinct fluorophores, have been used to provide direct visualization of the locations of the different polymers or substructures at the substrate surface [75, 76]. Thus, by utilizing a suite of different CBMs with specificities for a range of structural features of the substrate, it might be possible to track changes in the morphology of the substrate during pretreatment and hydrolysis while better quantifying the role that enzyme access to the cellulose plays in limiting the rate and extent of enzymatic hydrolysis.
Conclusions
Previous attempts to try and quantify the "cellulose swelling/delamination" or the "amorphogenesis step" of cellulose hydrolysis have tended to make use of a suite of complementary qualitative and semi-quantitative techniques. While these techniques have provided some useful information regarding the effects of amorphogenesis-inducing proteins on (ligno) cellulosic substrates, they have typically provided little insight into the mode of action of these proteins. A novel technique, using non-hydrolytic substructure-specific CBMs capable of quantitatively measuring changes in cellulose accessibility and surface morphology was successfully used to track changes in the cellulose during Swollenin-induced amorphogenesis. This novel method provided useful insights into how proteins such as Swollenin might increase cellulose accessibility by non-hydrolytic mechanisms such as the swelling or delamination of the cellulose substructures.
Methods
Proteins
CBM44 from Clostridium thermocellum was purchased from NZYTech (Lisbon, Portugal, CR0049). CBM2a from Cellulomonas fimi was provided by Dr. Douglas Kilburn from the University of British Columbia, Canada, after recombinant expression and purification from E. coli. Recombinant Swollenin (Swo1) was generously provided by VTT Technical Research Centre, Finland. Briefly, the Swollenin was expressed in Trichoderma reesei as a histidine-tagged protein and purified in two chromatographic steps.
Phosphoric acid-induced amorphogenesis
Phosphoric acid-disrupted cotton fibres were prepared following a protocol similar to that described by Zhang et al. (2006) [67]. Briefly, ice-cold o-phosphoric acid (Fisher Scientific, Canada, A242) solutions were produced at various concentrations and 14.5 mL was added to 50 mL centrifuge tubes containing 0.2 g cotton fibres (Sigma-Aldrich, St. Louis MO, USA, C6663) pre-wetted with 0.5 mL nanopure water to give final o-phosphoric acid concentrations of 0–78% w/w. Samples were incubated for one hour on ice with occasional mixing. Ice-cold nanopure water (35 mL) was slowly added to each sample, followed by centrifugation at 10,000 g for 15 minutes. The fibres were resuspended in 50 mL nanopure water and washed a further 4 times with 50 mL nanopure water, followed by one wash with 50 mL 20 mM Na2CO3 (Fisher Scientific, Pittsburg PA, USA, S263) and 2 subsequent washes in 50 mL nanopure water. The cotton fibres were then lyophilized overnight.
Swollenin-induced amorphogenesis
Prior to Swollenin treatment, 200 mg cotton fibres (Sigma-Aldrich, St. Louis MO, USA, C6663) were mercerized in 50 mL 25% (w/w) ice-cold NaOH for 15 minutes. The mercerized fibres were washed thoroughly with nanopure water then lyophilized overnight. Dried cotton fibres (50 mg) were weighed into 2 mL screwcap tubes. Swollenin or BSA (10 μg/mg cotton in 50 mM sodium acetate buffer, pH 5), or buffer alone was added and the samples were incubated overnight at 50°C in a FinepcrCombi SV12 hybridization incubator at 30 rpm. Protein was removed from the samples by extensive washing with nanopure water. Samples were lyophilized overnight prior to CBM adsorption and microscopy studies.
Turbidity measurements
Supernatants from the Swollenin- or control-treated mercerized cotton fibres were transferred to 1 mL plastic cuvettes, and the optical density at 600 nm was read on a Varian Cary 50 Bio Spectrophotometer. Sodium acetate buffer (50 mM, pH 5) was used as a blank. Samples were run in triplicate.
Scanning electron microscopy
Lyophilized cotton fibres were mounted on aluminum SEM stubs using double sided tape and sputter-coated with 10 nm Au/Pd (80:20 mix) then imaged on a Hitachi S-2600 VP-SEM (Tokyo, Japan).
CBM adsorption
CBM2a and CBM44 were made up to 500 μg/mL in 50 mM sodium acetate buffer, pH 5, and added to 5 mg of phosphoric acid-treated or Swollenin-treated cotton fibres to a final CBM concentration of 50 μg/mg cotton. Samples were incubated for 30 minutes at 20°C in FinepcrCombi SV12 hybridization incubator at 30 rpm then centrifuged at 16,000 g for 10 minutes in a benchtop centrifuge. The amount of CBM bound to the cotton was calculated by measuring the absorbance of the supernatant at 280 nm and determining the concentration of the residual CBM in the supernatant using the calculated molar extinction coefficients of 27,625 M-1 and 27,365 M-1 for CBM2a and CBM44, respectively [77]. The amount of CBM bound to the cotton was calculated by subtracting the amount of the residual CBM in the supernatant from the original amount of CBM added to the sample.
Enzymatic Hydrolysis
Cotton samples were hydrolyzed using 5 mg substrate in 1 mL 50 mM sodium acetate buffer, pH 5, at 50°C for 30 minutes, with an enzyme loading of 30 filter paper units Celluclast (Novozyme, USA) per gram cotton and supplemental β-glucosidase (Novozymes 188, Novozymes,Bagsværd, Denmark) at 1:2 cellobiase units/filter paper unit. After hydrolysis, the enzymes were heat inactivated at 100°C for 10 minutes, samples were centrifuged at 16,000 g in a benchtop centrifuge for 10 minutes, and the glucose concentration of the supernatant was determined using the glucose oxidase assay [46, 47].
Abbreviations
CBM:

Carbohydrate binding module
SEM:

Scanning electron microscopy
BSA:

Bovine serum albumin.
Declarations
Acknowledgements
The Natural Sciences and Engineering Research Council of Canada (NSERC), Natural Resources Canada (NRCan) and Genome BC are gratefully acknowledged for the support of this work. We particularly want to thank Dr. Doug Kilburn and Emily Kwan at UBC for generously donating CBM2a, as well as Dr. Merja Penttilä and Martina Andberg at VTT Technical Research Centre of Finland for their generous donation of purified Swollenin.
Authors' Affiliations
(1)
Forest Products Biotechnology/Bioenergy Group, Department of Wood Science, Faculty of Forestry, University of British Columbia, Vancouver, Canada
Copyright
© Gourlay et al.; licensee BioMed Central Ltd. 2012
This article is published under license to BioMed Central Ltd. This is an Open Access article distributed under the terms of the Creative Commons Attribution License (http://creativecommons.org/licenses/by/2.0), which permits unrestricted use, distribution, and reproduction in any medium, provided the original work is properly cited.