Advances in biotechnology and genomics of switchgrass
Biotechnology for Biofuels
2013
6:77
Received: 14 January 2013
Accepted: 8 May 2013
Published: 12 May 2013
Abstract
Switchgrass (Panicum virgatum L.) is a C4 perennial warm season grass indigenous to the North American tallgrass prairie. A number of its natural and agronomic traits, including adaptation to a wide geographical distribution, low nutrient requirements and production costs, high water use efficiency, high biomass potential, ease of harvesting, and potential for carbon storage, make it an attractive dedicated biomass crop for biofuel production. We believe that genetic improvements using biotechnology will be important to realize the potential of the biomass and biofuel-related uses of switchgrass. Tissue culture techniques aimed at rapid propagation of switchgrass and genetic transformation protocols have been developed. Rapid progress in genome sequencing and bioinformatics has provided efficient strategies to identify, tag, clone and manipulate many economically-important genes, including those related to higher biomass, saccharification efficiency, and lignin biosynthesis. Application of the best genetic tools should render improved switchgrass that will be more economically and environmentally sustainable as a lignocellulosic bioenergy feedstock.
Keywords
Biofuels
Expressed sequence tags
Genetic engineering
Genome sequencing
Lignin biosynthesis
microRNAs
Molecular markers
Introduction
Resource consumption by humans continues to proceed at arguably unsustainable levels. In recent times, worldwide consumption of non-renewable fossil fuel reserves has increased drastically (U.S. Energy Information Administration;
http://www.eia.gov/
; Figure
1
). With high rates of consumption anticipated and an ever-increasing population, a great challenge will be meeting the growing demand for energy for transportation, heating and industrial processes, and providing the raw industrial materials in a sustainable way [
1
]. Fossil fuels supply more than 80% of energy consumed globally and contribute to atmospheric greenhouse gases, declining water tables and climate change [
2
,
3
]. All of these factors naturally lead to the development of renewable energy sources.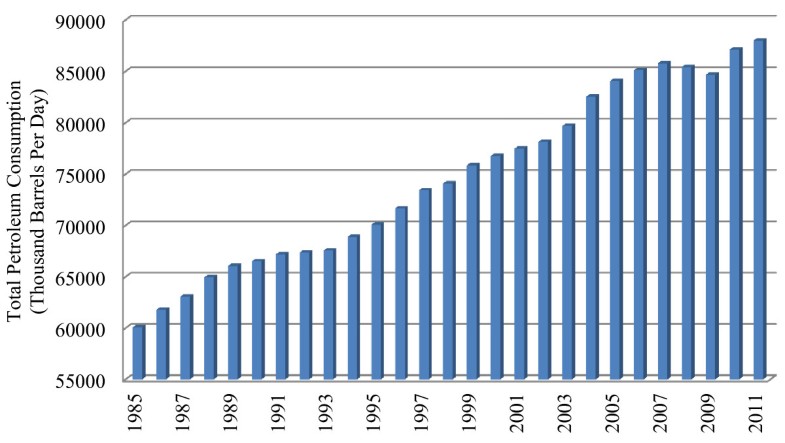 Biomass and biomass-derived fuels may be able to provide a partial solution to today's energy challenges. In the last decade, there has been increased interest in dedicated biomass crops for biofuels [4]. It was considered that bioenergy provided by starch, sugar, and oils from plants would be crucial for accomplishing the goals of incremental substitution of petroleum-based transportation fuels in addition to reducing CO2 emissions [5, 6]. However, first-generation biofuels were produced from traditional food and feed crops (e.g., sugarcane, corn, sugar beet), which may lead to supply shortages, and, in turn, to an increase in food prices [3, 7].
Even though plant-derived biofuels are renewable and, for the most part, carbon-neutral, they have been condemned for being associated with the loss of biological diversity and unfavorable consequences of changes in land use patterns [5]. These shortcomings led to a vision of developing second-generation lignocellulosic bioenergy crops, wherein stems, leaves, and/or husks of plants such as switchgrass, Miscanthus, jatropha, and poplar, may be used for the production of biofuels. In contrast to the easily-processed sugars and oils of first-generation bioenergy feedstocks, lignocellulosic biomass contains hard-to-digest matter from cell walls of grasses, crop residue, and woody biomass. One goal for the selection of second-generation bioenergy crops is that they should be able to grow on 'marginal' and low-cost land not suited for food crops, thus removing competition between the uses of land for food or fuel production [8]. Challenges remain in making second-generation bioenergy crops a reality. Among these are: (a) how to sustainably maximize the yield per hectare of biomass while minimizing agricultural inputs, (b) how to truly avoid competition with food and feed production, (c) how to increase the efficiency of biomass digestion by microbes and other processes [9], and (d) whether transgenic plants can be used [10].
Among all potential second-generation bioenergy crops, switchgrass (
Panicum virgatum
L.) has received, perhaps, the most attention as a dedicated lignocellulosic biofuel crop, beginning in the 1980s [
11
,
12
] (Figure
2
). Switchgrass is a member of the Paniceae tribe of grasses and belongs to the family Poaceae. It is native to North America and widely adapted; growing from 20°-60° north latitude and east of 100° west longitude [
13
,
14
]. It exhibits tremendous diversity in its form and has been categorized into two ecotypes: upland and lowland [
15
,
16
]. It can be grown on lands less-suitable for traditional agricultural crops for the production of biofuels, such as ethanol and butanol, from cellulose [
17
]. Switchgrass readily thrives on marginal land as a result of its deep-rooting habit, C
4
photosynthetic metabolism, among other traits [
13
]. Its perennial growth habit, wide adaptation, excellent conservation attributes, compatibility with conventional farming practices, ease of harvesting, handling, storage and amenability for being handled and stored both as wet or dry feedstock has made it a popular choice for biofuel feedstock crop [
18
–
20
]. Its high yielding potential on marginal lands and high yields across much of the eastern United States, especially the mid-South has set it apart from most other biofuel alternatives [
12
,
21
,
22
]. Switchgrass yields higher net energy than required to cultivate, harvest and convert it into cellulosic ethanol leading to much improved greenhouse gas balance compared with gasoline [
23
].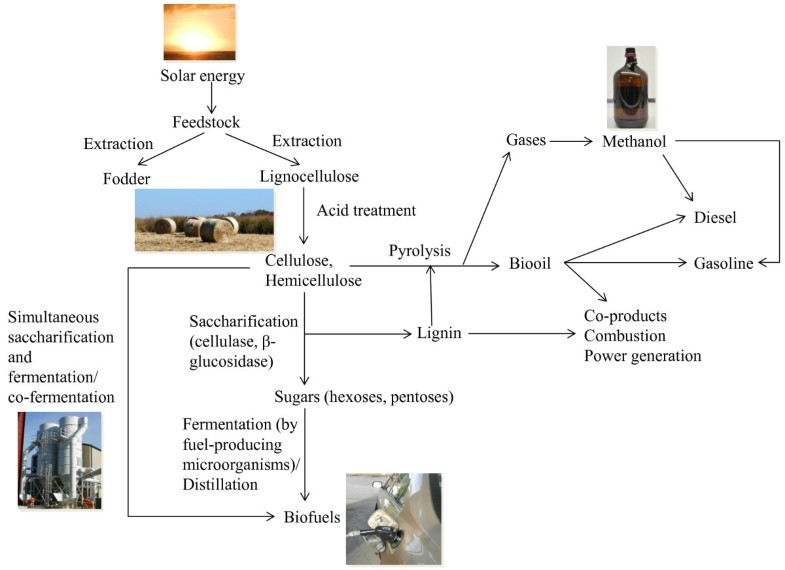 The importance of switchgrass as a bioenergy feedstock has increased interest in the generation of new cultivars optimized for energy production through breeding, biotechnology and management research. Improvement of biomass yield and nutritional quality should be amenable by conventional breeding. However, drastically better conversion of cell walls into fuels might not be possible by conventional breeding; genomics, biotechnology, systems- and synthetic biology tools might be required. Genomics and systems biology allow the identification and characterization of key genes that underlie critical fundamental processes. Overexpression of novel genes or knockdown of the expression of key endogenous genes can alter cell walls to dramatically improve fuel yield of switchgrass. The present scenario and the future prospects of the utilization of molecular and biotechnological tools for the genetic improvement of switchgrass have been emphasized in this review. While it is beyond the scope of this review, we envision that advanced biotechnology tools and synthetic biology will likely be required to optimize desired genetic improvements.
Biotechnological tools for genetic improvement
Genetic and genomics resources
Discussion
Switchgrass has been the topic of important discoveries and relevance in genomics and biotechnology in the last decade [27, 46, 47, 63]. Significant trait improvement via biotechnology e.g. [69, 73, 74] with increased transformation efficiency [50] has been demonstrated in switchgrass. This suggests that genetic improvements of biofuel properties of switchgrass through expression and down-regulation of transgenes is a practical way to rapidly establish it as a viable bioenergy crop on a commercial level and will be achieved with growing reliability in the coming years [60, 81, 82]. Though transgenic approaches are considered imperative for the development of switchgrass and other biofuel crops, their cost-effectiveness will be dependent on their domestication, productivity and biofuel properties [44]. However, we speculate that a regulatory necessity, at least in the US, will likely be bioconfinement of transgenes [10, 135, 136].
Transgene escape has been considered as a major environmental, ecological and regulatory concern. Hence, for commercialization of transgenic switchgrass, efficient and reliable transgene bioconfinement strategies would be enabling, especially in US the geographic center of diversity of switchgrass. While transgenes can be vectored in pollen or seed and less commonly asexually, the prospective for long-distance pollination has made pollen-dispersed transgenes a major concern [137]. One strategy to control gene flow in switchgrass would be to introduce male sterility using transgene-encoded ribonucleases that inhibit pollen formation [138, 139]. With switchgrass being wind-pollinated, the excision of transgenes from the pollen genomes using site-specific recombination systems will also be desirable [140, 141]. Another strategy would be to use plastid (chloroplasts or mitochondria) transformation for the introduction of cytoplasmic male sterility into switchgrass, and thus developing plastid transformation for switchgrass would be helpful. Since the pollen of most plant species contain no chloroplasts, pollen spread will not introduce the foreign genes into wild or non-transgenic switchgrass populations [142, 143]. Thus, strategies for transgene bioconfinement and alleviation of gene flow and research that facilitates the utilization of information and proper regulatory guidelines for transgenic feedstocks are essential in developing the biofuel industry's infrastructure [10], including that for switchgrass [136]. The challenge is to generate efficient methods and procedures to accomplish elevated levels of agricultural productivity while conserving the environment and natural resources [7].
Recent advances in switchgrass genomics will further facilitate biotechnological interventions as well as its germplasm improvements via conventional and molecular breeding. The close colinearity of the switchgrass genome with other grasses will aid in the elucidation of gene function, regulation, and expression by leveraging off other resources. The application of new knowledge and tools developed from genomic resources such as identification of genes like those involved in the lignin pathway, saccharification efficiency, biomass yield, nutritional quality, and pest resistance will help geneticists and plant genetic improvement managers to overcome the limitations associated with conventional breeding, make sexual hybridization more efficient and manipulate various traits effectively. It is important to keep in mind, however, that the utility of new genetic combinations must be demonstrated ultimately by field trials and the value to consumers.
Conclusions
The development of switchgrass as a biofuel crop has the potential to contribute significantly to lignocellulosic ethanol production without competing with food and feed crops. Biotechnological advances made to genetically modify important biofuel related traits in switchgrass will play a key role in shaping the future of the switchgrass biofuel industry. Genomic information being generated for switchgrass will further enhance the breeding and biotechnological endeavors. Although plant biotechnology will play an important role to the successful generation of energy crops, it should be followed up with breeding programs aimed at sustaining or improving the significant agronomic attributes which made these plants imperative for biofuel generation to start with, namely resistance to abiotic and biotic factors, and low fertilization requirements [144]. The critical issue to be dealt with is how to improve the conversion efficiency from the solar energy to biofuel energy such that biofuels can meet anthropogenic energy consumption demands and be able to replace the fossil fuels.
Abbreviations
AFLP:

Amplified fragment length polymorphism
BAC:

Bacterial artificial chromosome
BAP:

6-Benzylaminopurine
BES:

BAC-end sequence
CAD:

Cinnamyl alcohol dehydrogenase
Cg1:

Corngrass1
4CL:

4-Coumarate,coenzyme A ligase
COMT:

Caffeic acid O-methyltransferase
2:

4-D: 2,4-Dichlorophenoxyacetic acid
DArT:

Diversity array technology
EST:

Expressed sequence tags
MS:

Murashige and Skoog
NGS:

Next generation sequencing
RAPD:

Randomly amplified polymorphic DNA
RFLP:

Restriction fragment length polymorphism
SDRFs:

Single dose restriction fragments
SNPs:

Single nucleotide polymorphisms
SPL:

SQUAMOSA PROMOTER BINDING LIKE
SSRs:

Simple sequence repeats
STS:

Sequence-tagged sites
TDZ:

Thidiazuron
TILLING:

Targeting induced local lesions in genomes
WGS:

Whole genome sequencing.
Declarations
Acknowledgements
The authors would like to thank Mr. Wegi A. Wuddineh for providing photographs for Figure 3. This project was made possible through funding from USDA NIFA Biotechnology Risk Assessment Grants (BRAG) Program grant # 2010-39211-21699. C. Neal Stewart Jr. also received support from the BioEnergy Science Center, a Bioenergy Research Center supported by the Office of Biological and Environmental Research in the US Department of Energy Office of Science.
Authors' Affiliations
(1)
Department of Plant Sciences, The University of Tennessee, Knoxville, USA
(2)
Department of Biological Sciences, Polk State College, Winter Haven, USA
(3)
BioEnergy Science Center, Oak Ridge National Laboratory, Oak Ridge, USA
Copyright
© Nageswara-Rao et al.; licensee BioMed Central Ltd. 2013
This article is published under license to BioMed Central Ltd. This is an Open Access article distributed under the terms of the Creative Commons Attribution License (http://creativecommons.org/licenses/by/2.0), which permits unrestricted use, distribution, and reproduction in any medium, provided the original work is properly cited.