Research article
Open Access
Alleviation of carbon catabolite repression in Enterobacter aerogenes for efficient utilization of sugarcane molasses for 2,3-butanediol production
Biotechnology for Biofuels
2015
8:106
Received: 17 February 2015
Accepted: 22 July 2015
Published: 31 July 2015
Abstract
Background
Due to its cost-effectiveness and rich sugar composition, sugarcane molasses is considered to be a promising carbon source for biorefinery. However, the sugar mixture in sugarcane molasses is not consumed as efficiently as glucose in microbial fermentation due to complex interactions among their utilizing pathways, such as carbon catabolite repression (CCR). In this study, 2,3-butanediol-producing Enterobacter aerogenes was engineered to alleviate CCR and improve sugar utilization by modulating its carbon preference.
Results
The gene encoding catabolite repressor/activator (Cra) was deleted in the genome of E. aerogenes to increase the fructose consumption rate. However, the deletion mutation repressed sucrose utilization, resulting in the accumulation of sucrose in the fermentation medium. Cra regulation on expression of the scrAB operon involved in sucrose catabolism was verified by reverse transcription and real-time PCR, and the efficiency of sucrose utilization was restored by disrupting the scrR gene and overexpressing the scrAB operon. In addition, overexpression of the ptsG gene involved in glucose utilization enhanced the glucose preference among mixed sugars, which relieved glucose accumulation in fed-batch fermentation. In fed-batch fermentation using sugarcane molasses, the maximum titer of 2,3-butanediol production by the mutant reached 140.0 g/L at 54 h, which was by far the highest titer of 2,3-butanediol with E. aerogenes achieved through genetic engineering.
Conclusions
We have developed genetically engineered E. aerogenes as a 2,3-butanediol producer that efficiently utilizes sugarcane molasses. The fermentation efficiency was dramatically improved by the alleviation of CCR and modulation of carbon preference. These results offer a metabolic engineering approach for achieving highly efficient utilization of mixed sugars for the biorefinery industry.
Keywords
2,3-Butanediol Enterobacter aerogenes Sugarcane molassesFed-batch fermentationCatabolite repressor/activatorCarbon catabolite repression
Background
The development of biorefineries has attracted a great deal of interest due to increasing energy costs and environmental concerns resulting from fossil fuel utilization [1, 2]. As an example, microbial production of 2,3-butanediol has been intensively studied in the past few years due to its multiple industrial applications, including the production of synthetic rubber, plasticizers, fuel additives, and fumigants [3, 4]. In microbial fermentation for 2,3-butanediol production, the carbon source is one of the major drivers of cost. Therefore, much effort has been made to find inexpensive feedstocks, such as corncob [5], jatropha hulls [6], Jerusalem artichoke tubers [7], and molasses [8]. In general, most biomass derived from lignocellulose and waste materials contains a few mixed sugars. For example, the hydrolysis of lignocellulosic biomass produces a mixture of sugars containing glucose, xylose, and arabinose [9]. The main carbohydrate of Jerusalem artichoke tuber is inulin, which can be hydrolyzed by inulinase to fructose and glucose [10].
When provided with a mixture of different carbon sources, most microorganisms prefer to use one carbon source for the fastest growth. The presence of preferred carbon sources often prevents the utilization of secondary substrates by the regulatory mechanisms, including transcription activation or repression of certain genes concerned with the use of alternative carbon sources, which is called carbon catabolite repression (CCR) [11, 12]. In enteric bacteria, two dominant CCR mechanisms involve transcriptional regulation by cyclic AMP receptor protein (Crp) and by catabolite repressor/activator (Cra) [13]. Crp is known to regulate the genes involved in carbon metabolism, such as lactose, arabinose, mannose, glucosamine, and amino sugars operons, in response to the depletion of preferred carbon source [14, 15]. On the other hand, Cra generally regulates carbon flux through by repression of genes encoding glycolytic pathway enzymes, or by activating key genes involved in the Krebs cycle, glyoxylate shunt, gluconeogenic pathways and electron transfer [16]. After the preferred carbon source is depleted, an intermediate lag-phase is caused by a shift in the catabolic system to utilize a secondary sugar. Because the catabolic characteristic of microbial fermentation with mixed sugars results in a delayed and complicated fermentation process, alleviation of CCR of a host microorganism is very helpful for improving its fermentation efficiency [17].
Sugarcane molasses contains several mixed sugars, a dominant amount of sucrose, and similar amounts of glucose and fructose. It is considered to be a promising feedstock for biorefinery due to its rich sugar content and cost-effectiveness [18]. In our previous study, disruption of the scrR gene, a transcriptional repressor of the scr regulon for sucrose catabolism, was conducted in Enterobacter aerogenes for efficient utilization of sucrose in sugarcane molasses for 2,3-butanediol fermentation [19]. The scrR mutation increased the sucrose consumption rate significantly, resulting in 2,3-butanediol production from sugarcane molasses that was enhanced by 56.8% in batch fermentation over its parent strain. In addition, 98.7 g/L of 2,3-butanediol production was achieved at 36 h of fed-batch fermentation with molasses feeding. However, despite these advances, several obstacles remain for more efficient utilization of sugarcane molasses in fed-batch fermentation. First, the efficiency of fructose utilization in the scrR mutant was relatively reduced, which resulted in a significant amount (~30 g/L) of fructose accumulation in the medium after the fermentation period. Second, the fermentation duration of the scrR mutant with sugarcane molasses for 2,3-butanediol production was shorter by 33.3% than that with glucose, which might be caused by cell stress from the repeated catabolic shift between consumed sugars (glucose and sucrose), according to the feeding of sugarcane molasses.
Therefore, the purpose of this study was to develop a 2,3-butanediol-producing mutant that can utilize all three sugars contained in sugarcane molasses efficiently and simultaneously. As shown in Fig.
1
, all sugars in molasses (glucose, fructose, and sucrose) are transported into cells by the phosphotransferase system (PTS) and then converted to intermediates, such as glucose-6-phosphate (G6P), fructose-6-phosphate (F6P), and fructose-1,6-bisphosphate (F1,6BP), involved in the preparatory phase of glycolysis [
20
–
23
]. Transcription of the
fruBKA
operon, encoding genes for fructose uptake and utilization, was negatively regulated by Cra, previously designated as
fruR
[
24
]. When glucose is depleted, Cra activates the metabolic pathways utilizing gluconeogenic carbon sources, such as acetate, pyruvate, glycerol, and glucogenic amino acids [
25
,
26
].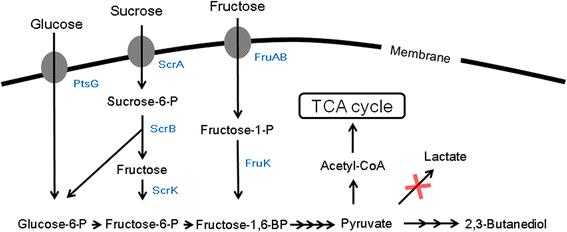 In this study, deletion of the cra gene in E. aerogenes showed a much higher fructose utilization rate, but significantly retarded sucrose utilization. The reduced sucrose consumption in cra-deficient E. aerogenes was examined by reverse transcription real-time PCR. In addition, the carbon preference and efficiency were modulated by overexpression of the key genes involved in each carbon catabolism, which reduced the accumulation of certain carbon sources in fed-batch fermentation. The catabolic regulation of carbohydrates involved in sugarcane molasses and the strategies for constructing 2,3-butanediol production strain are shown in the Additional file 1.
Conclusions
The efficient utilization of biomass is necessary in order to develop an economic biorefinery industry. In this study, sugarcane molasses was used as a cheap feedstock for 2,3-butanediol production with metabolically engineered E. aerogenes. For efficient utilization of sugarcane molasses, the removal of transcriptional repressors enabled the mutant strain to metabolize all sugars in sugarcane molasses simultaneously, which increased fermentation duration and 2,3-butanediol productivity. In addition, the carbon preference was modulated by overexpression of key genes involved in each carbon catabolism, which relieved the accumulation of certain carbon sources in fed-batch fermentation. The metabolic engineering approach provided much higher 2,3-butanediol production and efficient utilization of carbon sources involved in sugarcane molasses. The strategy developed in this study is a promising approach for the biorefinery industry, through employing sugar mixtures derived from inexpensive biomass.
Methods
Construction of the gene-deficient mutants
All
E. aerogenes
strains were derived from the wild-type strain KCTC 2190 (Korean Collection for Type Culture), for which the genome has been sequenced [
39
]. Previously, the lactate dehydrogenase (LdhA, accession number YP_004594301.1) and sucrose regulator (ScrR, accession number YP_004593287.1) were disrupted from the KCTC 2190 genome by using a
λ
red recombination method [
40
], generating EMY-01 (
△ldhA
) [
27
] and EMY-68 (
△ldhA
△scrR
) [
19
], respectively. In this study, the gene encoding catabolite repressor/activator, Cra (previously designated
fruR,
accession number YP_004592435.1), was deleted from the genome of EMY-01 and EMY-68 in a similar manner, and the resulting strains were named EMY-69 (
△ldhA
△cra
) and EMY-70 (
△ldhA
△scrR
△cra
), respectively. The
cra
_FKF_fw and
cra
_FKF_rv primers were used for
cra
disruption, which was confirmed by colony PCR with the primers
cra
_con_A and
cra
_con_B. All resulting strains, along with primers and plasmids, used in this study are listed in Tables
1
and
2
.
Table 2
Primers used in this study
| Primer name | Primer sequence (5′ → 3′)a |
| --- | --- |
| cra_FKF_fw | GTATGTCTATTTAATGGTTGTTTTTTGTACTTCTTACCCAAGGGGCAATTGTGTAGGCTGGAGCTGCTTC |
| cra_FKF_rv | CCATCTGGCGAATAACCTACGAAGAATCTTAACCTTTTTTCGCAAATGAACCTCCTTAGTTCCTATTCC |
| cra_con_A | ACGTAAAAACAGCCCGACAC |
| cra_con_B | CGCTTTTTCTTGCACCATTT |
| pZS21_scrAB_fw | TTTAAGCTTATGGATTTTCAACAGATTTCTCG |
| pZS21_scrAB_rv | AAACCCGGGGCCTGAAAGCAAAACGCTTA |
| pZA31_ptsG_fw | TTTAAGCTTACTCAGGAGCACTCTCAATTATGTT |
| pZA31_ptsG_rv | AAAGGATCCTTAGCTATTGCGGATGTACTCA |
| RT_scrA_fw | TCGGCGGTAACCCTTATCTT |
| RT_scrA_rv | ATTAGCCATCGCCCAGATAG |
| RT_scrB_fw | TGCTACACCGGTAATGTGAAAT |
| RT_scrB_rv | TAGAATTCGAAGCCGCTATCC |
| RT_scrR_fw | CCGGCGTACAGCTGCTTAT |
| RT_scrR_rv | ACGTAGTACCCCTTCCAGCAA |
| RT_scrK_fw | TCAGCCATCTTTCTTTAGATCC |
| RT_scrK_rv | CGGGAAGTGAATATGCTGTTG |
| RT_cra_fw | CCGTATTGCGAACTATCTGGA |
| RT_cra_rv | TAAACAGCAGTTGCGGCATT |
| RT_crp_fw | ATCAAAGAGCACGCTGATTC |
| RT_crp_rv | CCAGCATCTTCAGAATACGG |
| RT_gapA_fw | TTGGTGTTGACGTTGTTGCT |
| RT_gapA_rv | TTCGTAGGACGCTGCTTTTT |
Construction of plasmids
Enterobacter aerogenes KCTC 2190 was cultured in Luria–Bertani medium overnight, and then total genomic DNA was extracted using the Wizard Genomic DNA Purification Kit (Promega, WI, USA). For scrAB overexpression, the scrAB fragment (a 2,771-bp segment of truncated scrAB gene, accession number YP_004593289.1 and YP_004593288.1) was amplified by PCR using the genomic DNA as a template and the primers pZS21_scrAB_fw and _rv at an annealing temperature (Tm) of 62.4°C. The PCR mixture consisted of 100 ng of genomic DNA, 200 μmol of dNTPs, 0.5 pmol each primer, 10 μL of 5× Phusion GC buffer, 1.5 μL of DMSO, and 1.0 unit of Phusion DNA polymerase (NEB, MA, USA) in a total volume of 50 μL. The amplified DNA fragments were cloned into the pZS21MCS plasmid joined by the HindIII and XmaI restriction sites using the DNA Ligation Kit Mighty Mix (TaKaRa Bio Inc., Shiga, Japan). The E. coli strain DH5α was used for amplification and confirmation of the constructed plasmid. The resulting plasmid was verified by sequencing. The ptsG fragment (a 1,434-bp segment of truncated ptsG gene, accession number YP_004593473.1) was amplified by PCR using the corresponding primers. The PCR mixture composition and procedure were the same as that of scrAB, but the annealing temperature was 64°C. The amplified ptsG fragments were cloned into the pZA31MCS plasmid after digestion with HindIII and BamHI. The plasmids and primers used in this study are listed in Tables 1 and 2.
Media and cultivation conditions
The fermentation medium to produce 2,3-butanediol contained (per L): 3 g KH2PO4, 6.8 g Na2HPO4, 0.75 g KCl, 5.35 g (NH4)2SO4, 0.28 g Na2SO4, 0.26 g MgSO4·7H2O, 0.42 g citric acid, 5 g yeast extract, 10 g casamino acid, and 0.3 mL microelement solution (1 L) containing 34.2 g ZnCl2, 2.7 g FeCl3·6H2O, 10 g MnCl2·4H2O, 0.85 g CuCl2·2H2O, and 0.31 g H3BO3, as described previously [19]. In a flask culture, 80 g/L of the individual sugars (glucose, fructose, or sucrose) was added to the medium as the sole carbon source, and the total 90 g/L mixture of sugars, containing 30 g/L each of glucose, fructose, and sucrose, was added to the medium for the sugar mixture cultivation. For pH neutralization of the flask cultivation, 5% calcium carbonate (CaCO3) was added to the medium before cultivation. The flask, sealed with a silicon stopper, was incubated at 250 rpm and 37°C in a 250-mL flask containing 50 mL medium with appropriate antibiotics or inducers, when needed, at the following concentrations: kanamycin (50 μg/mL), chloramphenicol (50 μg/mL), and anhydrotetracycline (50 ng/mL). The fed-batch fermentation was carried out in a 5-L stirring bioreactor (Bio Control and System, Daejeon, Korea) with a working volume of 3 L. The seed culture prepared previously was inoculated (5%, v/v) into the fermentation medium with an initial pH of 6.8. The pH value of the fermentation medium was decreased gradually to 6.0, and then maintained by the automatic addition of 5 M NaOH. During the fed-batch fermentation process, the operating temperature, airflow, and agitation speed were maintained at 37°C, 1.5 vvm, and 280 rpm, respectively. Antifoam 204 (Sigma, MO, USA) was added when needed. Brazilian sugarcane molasses was used, and its sugar content was 87 g/L fructose, 81 g/L glucose, and 387 g/L sucrose, as described previously [19]. The sterilized sugarcane molasses was fed before the sugar was depleted, and the sugar concentration was maintained under 80 g/L during fed-batch fermentation.
Quantification of the transcription level of genes involved in sucrose catabolism by real-time PCR
Total RNA isolation was performed as previously described [41]. Briefly, cells (1 × 109) were harvested at the mid-exponential phase (6 h) and, then, the total RNA in the cell was stabilized using the bacterial reagent RNAprotect (Qiagen, Hilden, Germany). Cell lysis was conducted with TE buffer containing lysozyme (400 μg/mL), and total RNA isolation was carried out using an RNeasy Mini Kit (Qiagen) following the manufacturer's protocol. To synthesize the cDNA from total RNA, SuperScript® Reverse Transcriptase (Invitrogen, CA, USA) was used. Real-time PCR was performed using the synthesized cDNA as a template (Model: MJ Mini thermocycler, Software: Opticon Monitor 3, Bio-Rad, CA, USA) with six sets of PCR primers and a SYBR Green mix (Prime Q-Master mix, Genet Bio, Daejon, Korea). The primers used in real-time PCR are listed in Table 2. The transcription levels of the five genes involved in sucrose catabolism were normalized to the housekeeping gene glyceraldehyde 3-phosphate dehydrogenase (gapA). The experiment was repeated three times independently.
Analysis methods
Cell density was monitored by measurement of the optical density at 600 nm (OD600) with a UV/Visible spectrophotometer (DU730, Beckman Coulter, CA, USA). The concentrations of metabolites, obtained from cultivation, were measured by high-performance liquid chromatography (Waters HPLC 1500 series, MA, USA), equipped with a refractive index (RI) detector at 45°C. The amounts of fructose, glucose, and sucrose were measured using a High Performance Carbohydrate Column (Waters) at 35°C, and 80% acetonitrile was used as the mobile phase. Organic acids, 2,3-butanediol, acetoin, and ethanol, were measured using a Sugar SH1011 column (Shodex, Tokyo, Japan) at 75°C, and 10 mM sulfuric acid was used as the mobile phase. The flow rate of both mobile phases was maintained at 0.5 mL/min.
Abbreviations
Cra:

catabolite repressor/activator
CCR:

carbon catabolite repression
PTS:

phosphotransferase system
G6P:

glucose-6-phosphate
F6P:

fructose-6-phosphate
F1,6BP:

fructose-1,6-bisphosphate
PCR:

polymerase chain reaction
Ldh:

lactate dehydrogenase
OD:

optical density
ScrA:

EII transport protein for sucrose
ScrB:

sucrose-6-phosphate hydrolase
ScrK:

fructokinase
ScrR:

transcriptional repressor of scr regulon
PtsG:

EIIBCGlc complex
FruA:

EIIBCfru complex
FruB:

EIIAfru component
FruK:

fructose-1-phosphate kinase
Crp:

cyclic AMP receptor protein
Declarations
Authors' contributions
MY Jung designed the study, performed the experiments, analyzed the data, and drafted the manuscript. HM Jung executed the experimental work. JW Lee provided some materials and reagents and helped design the experiments. MK Oh designed the experiments, revised the manuscript, and supervised the project. All authors have read and approved the final manuscript.
Acknowledgements
This study was supported by the R&D program of MKE/KEIT (No. 10035578, Development of 2,3-butanediol and derivate production technology for C-Zero bio-platform industry) and the New & Renewable Energy Core Technology Program of the Korea Institute of Energy Technology Evaluation and Planning (KETEP), granted financial resource from the Ministry of Trade, Industry & Energy, Republic of Korea. (No. 20143030091040).
Compliance with ethical guidelines
Competing interests The authors declare that they have no competing interests.
Open AccessThis article is distributed under the terms of the Creative Commons Attribution 4.0 International License (http://creativecommons.org/licenses/by/4.0/), which permits unrestricted use, distribution, and reproduction in any medium, provided you give appropriate credit to the original author(s) and the source, provide a link to the Creative Commons license, and indicate if changes were made. The Creative Commons Public Domain Dedication waiver (http://creativecommons.org/publicdomain/zero/1.0/) applies to the data made available in this article, unless otherwise stated.
Authors' Affiliations
(1)
Department of Chemical and Biological Engineering, Korea University, Seoul, Republic of Korea
(2)
Department of Chemical and Biomolecular Engineering, Sogang University, Seoul, Republic of Korea