The first draft genome of the aquatic model plant Lemna minor opens the route for future stress physiology research and biotechnological applications
Biotechnology for Biofuels
2015
8:188
Received: 29 September 2015
Accepted: 10 November 2015
Published: 25 November 2015
Abstract
Background
Freshwater duckweed, comprising the smallest, fastest growing and simplest macrophytes has various applications in agriculture, phytoremediation and energy production. Lemna minor, the so-called common duckweed, is a model system of these aquatic plants for ecotoxicological bioassays, genetic transformation tools and industrial applications. Given the ecotoxic relevance and high potential for biomass production, whole-genome information of this cosmopolitan duckweed is needed.
Results
The 472 Mbp assembly of the L. minor genome (2n = 40; estimated 481 Mbp; 98.1 %) contains 22,382 protein-coding genes and 61.5 % repetitive sequences. The repeat content explains 94.5 % of the genome size difference in comparison with the greater duckweed, Spirodela polyrhiza (2n = 40; 158 Mbp; 19,623 protein-coding genes; and 15.79 % repetitive sequences). Comparison of proteins from other monocot plants, protein ortholog identification, OrthoMCL, suggests 1356 duckweed-specific groups (3367 proteins, 15.0 % total L. minor proteins) and 795 Lemna-specific groups (2897 proteins, 12.9 % total L. minor proteins). Interestingly, proteins involved in biosynthetic processes in response to various stimuli and hydrolase activities are enriched in the Lemna proteome in comparison with the Spirodela proteome.
Conclusions
The genome sequence and annotation of L. minor protein-coding genes provide new insights in biological understanding and biomass production applications of Lemna species.
Keywords
Lemna minor Whole-genome sequencingDuckweedBiomass productionEcotoxicologyToxicogenomics
Background
Duckweed species comprise a group of aquatic monocotyledons macrophytes consisting of floating plant bodies or "fronds." The family Lemnaceae consists of five genera, Landoltia, Lemna, Spirodela, Wolffia and Wolffiella among which 37 species have been identified so far [1–3]. Frond as well as root structures of duckweed have been morphologically simplified likely by natural selection to only those necessary to survive as floating aquatic plants. Duckweed species are of ecological significance as they are primary producers being a source of food for waterfowl, fish and small invertebrates and provide habitat for a number of small organisms. They are adapted to a wide variety of climatic regions where they, under favorable conditions, can grow extremely rapidly predominantly via asexual reproduction [4]. Such a vegetative growth results in genetically uniform clones, thereby eliminating potential effects due to genetic variability through meiosis. The natural characteristics of this plant family are mainly the basis why duckweed species are attractive for economic applications: duckweeds have been used as feed resource for fish, poultry, cattle's and other animals [5, 6] and are utilized for wastewater treatment [7, 8]. Nowadays, duckweeds are genetically modified to improve industrial applications that seem to have great potential for bioenergy production [9, 10] and pharmaceutical applications [8, 11]. Recent work on duckweed species was highlighted in a special issue in Plant Biology to commemorate Dr. Elias Landolt and his contribution to modern duckweed research [12–14].
Of all the duckweed species, Lemna species are probably the best known because of their extensive use in lab-based tests. Lemna species are smaller than
Spirodela
and
Landoltia
facilitating experimentation under limited spatial conditions but large enough to observe morphologic alterations without use of a microscope. Therefore,
L. minor
(Fig.
1
a) was put forward as a model system to study fundamental plant research and has been shown to contribute to the understanding of the photoperiodic control of flowering [
15
,
16
] and the discovery of auxin biosynthesis and sulfur assimilation pathways [
17
,
18
]. Besides, their variety in growth habitats and their sensitivity to toxicants allowed the use of Lemna species in ecotoxicological research as representative of higher aquatic plants and standardized guidelines on how to perform a growth inhibition test were developed [
19
–
26
]. Testing procedures can follow the ASTM [
24
], ISO:20079 [
26
], OECD [
19
], Environment Canada [
25
], or EPA [
23
] test method guidelines. It is clear that duckweeds, and more in particular Lemna species, are gaining importance as physiological and ecotoxicological model organisms [
27
]. Survival, growth and reproduction at individual organisms are commonly used end points in ecotoxicity tests to support current risk assessments. However, as these end points are regarded as stringent, analyses at molecular level could provide a broader understanding in the alteration of biological pathways, including responses induced from environmental stressors [
28
]. Therefore, studies focusing on physiological mechanisms and genetic improvements among duckweed species await support at molecular level [
3
,
29
].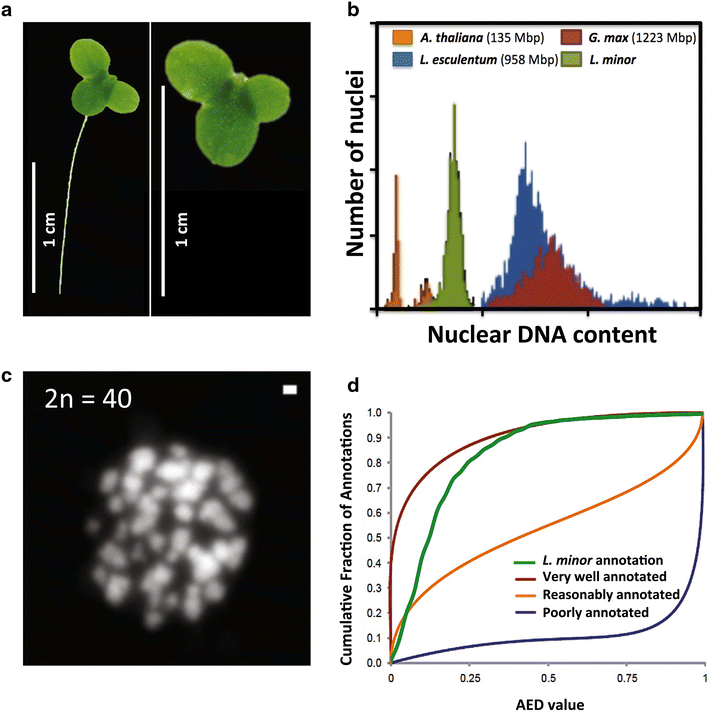 The chloroplast genome of L. minor has been sequenced for phylogenetic analyses among other monocot plants [30]. Later on, Wang and Messing started with DNA barcoding duckweed strains [31] and sequenced chloroplast DNA from three other duckweed species [32], which allowed a taxonomic comparison between different duckweed ecotypes since their minute size, simple anatomy and the lack of flowering make it very harsh to analyze systematic relationships purely on morphological characteristics. To obtain nuclear DNA information for Lemnaceae, a whole-genome high-throughput sequencing project started in 2009 that aimed at sequencing the genome of the giant duckweed, Spirodela polyrhiza. Spirodela was chosen for its basal taxonomic position in the Lemnaceae and because of its small genome size of 158 Mbp, which is similar to that of Arabidopsis. The comprehensive genomic study of S. polyrhiza, published in 2014, provided insights into how this plant is adapted to rapid growth and an aquatic lifestyle [33]. Furthermore, physical mapping of the S. polyrhiza genome revealed that its 20 chromosomes are likely derived from seven ancestral chromosome blocks after two successive rounds of whole-genome duplication events [34].
In an effort to strengthen duckweed research, we employed the Illumina high-throughput sequencing technology to construct a draft genome of L. minor (Fig. 1a). Except for a small number of nuclear genes from small-scale individual studies [35], DNA information for L. minor is today limited to its chloroplast DNA [30]. An extensive analysis of genome sizes in different L. minor strains revealed that genome content and composition is highly variable within these species [36]. The estimated size of the haploid genome for a set of tested L. minor plants varied between 323 and 760 Mbp, thus two to three times larger than the genome size of S. polyrhiza. The primary objective was to characterize the protein-coding genes for L. minor clone 5500, a Lemna strain widely used in ecotoxicological research [37–42]. This genomic platform is expected to support the molecular basis of fundamental research in, e.g., ecotoxicogenomics and to facilitate the genetic improvement of this economically important plant, especially in biomass production.
Conclusions
In the present study, the L. minor genome has been sequenced using exclusively paired-end sequencing reads. Given an estimated genome size of 481 Mbp, the draft genome represented 98 % of the L. minor genome and contained protein-coding genes proportional to S. polyrhiza. Functional characterization and comparison supported the accuracy of the obtained predicted protein-coding genes. Therefore, the present L. minor genomic resource is highly beneficial for understanding the biological and molecular mechanisms in L. minor and will facilitate future genetically improvements and biomass production applications of duckweed species.
Abbreviations
ASTM:

American Society for Testing and Materials
OECD:

Organisation for Economic Co-operation and Development
EPA:

Environmental Protection Agency
LTR:

long terminal repeats
AED:

annotation edit distance
GO:

gene ontology
KEGG:

kyoto encyclopedia of genes and genomes
Declarations
Authors' contributions
AVH carried out the sequencing, assembly, and annotation of the genome and wrote the manuscript. NH participated in the design of the study and critically reviewed the manuscript. PM performed statistical analyses and wrote the scripts necessary for high performance computing. HXC carried out the chromosomal determination, participated in the GO enrichment studies, and critically reviewed the manuscript. HV and RB supervised the research. All authors read and approved the final manuscript.
Acknowledgements
The authors thank the Research foundation-Flanders (FWO) (G.A040.11N) and the European Commission Contract Fission-2010-3.5.1-269672 Strategy for Allied Radioecology (http://www.star-radioecology.org) for financial support of this work. Belgian nuclear research institute (SCK•CEN) is further thanked for funding the PhD of AVH. HXC is supported by the German Research Foundation (SCH 951/18-1). The people from CALCUA at the University of Antwerp are acknowledged for assisting high performance computing (http://www.uantwerpen.be/calcua). The authors also thank L. Leus, ILVO, for estimating DNA genome size through flow cytometry.
Competing interests
The authors declare that they have no competing interests.
Open AccessThis article is distributed under the terms of the Creative Commons Attribution 4.0 International License (http://creativecommons.org/licenses/by/4.0/), which permits unrestricted use, distribution, and reproduction in any medium, provided you give appropriate credit to the original author(s) and the source, provide a link to the Creative Commons license, and indicate if changes were made. The Creative Commons Public Domain Dedication waiver (http://creativecommons.org/publicdomain/zero/1.0/) applies to the data made available in this article, unless otherwise stated.
Authors' Affiliations
(1)
Biosphere Impact Studies, SCK•CEN, Mol, Belgium
(2)
Department of Biology, University of Antwerp, Antwerp, Belgium
(3)
Centre for Environmental Research, University of Hasselt, Diepenbeek, Belgium
(4)
Microbiology, SCK•CEN, Mol, Belgium
(5)
Leibniz Institute of Plant Genetics and Crop Plant Research (IPK), OT Gatersleben, Stadt Seeland, Germany