Diversity of fungal feruloyl esterases: updated phylogenetic classification, properties, and industrial applications
Biotechnology for Biofuels
2016
9:231
Received: 26 April 2016
Accepted: 18 October 2016
Published: 28 October 2016
Abstract
Feruloyl esterases (FAEs) represent a diverse group of carboxyl esterases that specifically catalyze the hydrolysis of ester bonds between ferulic (hydroxycinnamic) acid and plant cell wall polysaccharides. Therefore, FAEs act as accessory enzymes to assist xylanolytic and pectinolytic enzymes in gaining access to their site of action during biomass conversion. Their ability to release ferulic acid and other hydroxycinnamic acids from plant biomass makes FAEs potential biocatalysts in a wide variety of applications such as in biofuel, food and feed, pulp and paper, cosmetics, and pharmaceutical industries. This review provides an updated overview of the knowledge on fungal FAEs, in particular describing their role in plant biomass degradation, diversity of their biochemical properties and substrate specificities, their regulation and conditions needed for their induction. Furthermore, the discovery of new FAEs using genome mining and phylogenetic analysis of current publicly accessible fungal genomes will also be presented. This has led to a new subfamily classification of fungal FAEs that takes into account both phylogeny and substrate specificity.
Keywords
Feruloyl esteraseFerulic acidCinnamic acid P-coumaric acidHydroxycinnamic acidPlant cell wallPhylogenetic analysisApplicationsBiotechnology
Background
Plant biomass is a magnificent renewable source of biopolymers. It offers a wealth of possibilities for development and production of sustainable raw materials and energy which fit perfectly with the development of a bio-based economy [1]. Lignocellulosic biomasses from agricultural, agro-industrial, crop, and forestry wastes as well as herbaceous prairie grass, energy crops, and marine algae are regarded as the prospective feedstocks for modern bioethanol and biochemical production [2, 3]. The enzymatic hydrolysis of lignocellulosic biomass has many advantages when compared to chemical conversion in bioethanol production. There is no substrate loss due to chemical modifications; non-corrosive operational conditions may be used and the process is more environmentally friendly [4]. However, plant cell walls have evolved to defend against external factors, including mechanical, thermal, chemical, and biological stress [5, 6]. To efficiently and completely depolymerize different types of lignocellulosic materials, an arsenal of carbohydrate-active and lignin-acting enzymes is required [7, 8]. Feruloyl esterases (FAEs, also known as ferulic/cinnamic acid esterases, EC 3.1.1.73) are responsible for removing ferulic acid residues and cross-links from polysaccharides. They act as accessory (or auxiliary) enzymes that assist the other enzymes in gaining access to their site of action during biomass conversion [9, 10]. In addition to their potential role in bioethanol production, FAEs and their hydrolytic or transesterification products are of great interest for various biotechnological applications, in particular as modified natural antioxidants or food flavor precursors [11, 12]. Therefore, discovery of new FAEs with novel properties and applications is of considerable interest to industry [13]. In this review, we describe (1) the roles of FAEs in plant biomass degradation, (2) an overview of biochemical properties as well as the conditions that induce FAE production, (3) discovery of FAEs and insight into their phylogenetic relationships among fungal genomes, (4) an updated subfamily classification for fungal FAEs and (5) the recent applications of FAEs in biotechnological processes.
Ferulic and hydroxycinnamic acids in plant cell walls
Different types of lignocellulosic biomass can be used for second generation bioethanol production. In order to select the appropriate specificity of enzymes required for biomass degradation, we briefly summarize the occurrence of ferulic and hydroxycinnamic acids in the different types of plant biomass. A variety of hydroxycinnamic acids are present in the plant cell walls (up to 3% of cell wall dry weight), usually esterified or etherified to the polymers within the lignocellulosic matrix [
14
,
15
]. Ferulic acid (ferulate, 4-hydroxy-3-methoxycinnamic acid, mainly
trans
- or
E
-form; Fig.
1
) and to a lesser extent
p
-coumaric acid (
p
-coumarate, 4-hydroxycinnamic acid) are the most abundant hydroxycinnamic acids (hydroxycinnamates) in the plant cell wall polysaccharides. They are regarded as essential and unique structural components in the family Poales of commelinid monocots (e.g., wheat, rice, barley, oat, corn, sorghum, and sugarcane) [
15
,
16
]. Ferulic acid is linked to cell wall polysaccharides mainly through ester-bonds between their carboxyl group and the
O
-5 hydroxyl group of α-
l
-arabinofuranosyl residues in glucuronoarabinoxylan (Fig.
1
e) [
17
,
18
]. In eudicotyledons, ferulic acid is mainly found in the order 'core' Caryophyllales (e.g., sugar beet; [
19
]). It is ester-linked to pectin at the
O
-2 and
O
-5 hydroxyl group of α-
l
-arabinofuranosyl residues in arabinan as well as at the
O
-6 hydroxyl group of β-
d
-galactopyranosyl residue in (arabino-)galactan, both of which are side chains of rhamnogalacturonan I (Fig.
1
f) [
16
,
20
–
22
]. Ferulic acid can oxidatively cross-link to form intermolecular ester-bonds to another arabinoxylan [mainly 5,5′-, 8-
O
-4′-, 8,5′-, 8,8′-diferulic acids (Fig.
1
g–l)], and ester-ether bonds between polysaccharide and lignin (arabinoxylan–ferulate–lignin) [
15
,
16
,
19
,
23
–
25
]. Diferulic acids have been mainly detected in the high-arabinose substitution region of arabinoxylan, because dimerization requires the ferulic acid to be in close proximity [
26
]. In addition, cross-linking of cell wall polysaccharides and lignin by hydroxycinnamic acids leads to a dramatic increase in mechanical strength of the plant cell wall, decelerates wall extension, and acts as a barrier to block the ingress of microbial invaders as well as hydrolytic enzymes [
16
,
23
,
27
].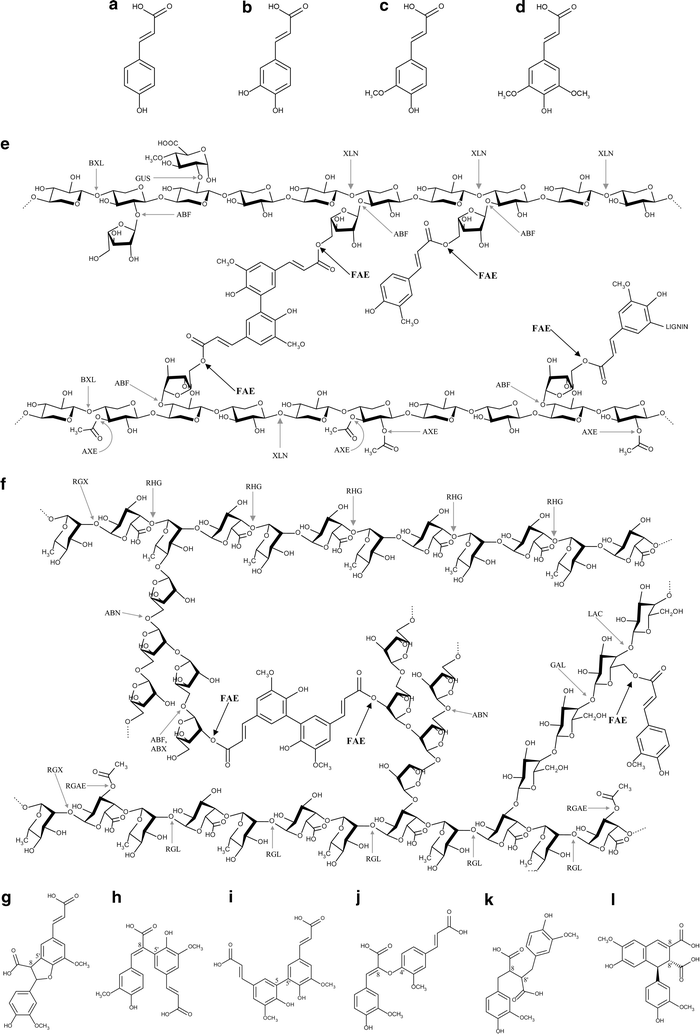 Ferulic acid is also detected in all families of gymnosperms, ester-linked to the primary cell walls, with an amount ranging from 0.01 to 0.16% [28]. However, up to now there is still no identification of which polysaccharides ferulic acid is linked to in gymnosperms [14].
Role of FAEs in plant biomass degradation
Opening up the plant cell wall is a significant part of the process design for bioethanol and biochemical production. Due to the heterogeneity and complexity of the plant cell walls, a variety of carbohydrate- and lignin-active enzyme sets with complementary activities and specificities are required for complete enzymatic hydrolysis of plant biomass (for details see [8, 29]). As ferulic acid is linked to the lignin–carbohydrate complexes, disruption of the ester bond of the lignin–ferulate–arabinoxylan complex is important for complete cell wall deconstruction. FAEs play a key role in providing accessibility for glycoside hydrolases and polysaccharide lyases to the lignocellulose fibers by removal of the ester-bonds between plant polymers [9, 10]. FAEs not only act synergistically with xylanolytic enzymes to convert xylan into its monomers, but have also proved to enhance overall saccharification of lignocellulosic biomass, e.g., wheat straw [30] and sugarcane bagasse [31], when co-incubated with cellulase and xylanase. Moreover, overexpression of FAEs in planta reduces the levels of cell wall esterified phenolics and in most cases also enhances sugar release and improves cell wall digestibility [32–36]. This technique has also been applied to create self-processing transgenic plants that can alter their composition upon activation of the enzyme(s), e.g., to reduce recalcitrance of cell walls prior to saccharification (e.g., [37]; see application section below).
Overview of substrate specificity of characterized FAEs and their other properties
Update on the classification of fungal FAEs
New phylogenetic tree based on all published fungal genomes
Based on the previously reported phylogenetic analysis [
51
], we reconstructed a novel phylogenetic tree using 20 amino acid sequences from characterized FAEs (Table
1
) and a BLASTP search against 247 published fungal genomes (Additional file
1
: Table S2). All resulting amino acid sequences with an expect value lower than 1E
−40
were collected. Duplicate and incomplete sequences as well as sequences with ambiguous amino acids (X) were discarded. Signal peptides were predicted using SignalP [
95
] and removed from all candidate sequences. This analysis resulted in 1251 putative FAE sequences, which were aligned using Multiple Sequence Comparison by Log-Expectation (MUSCLE). Phylogenetic analysis was performed using the neighbor-joining method with pairwise deletion of gaps and the Poisson correction distance of substitution rates (statistical support for phylogenetic grouping was estimated by 1000 bootstrap re-samplings) of the Molecular Evolutionary Genetics Analysis (MEGA 6) program [
96
]. A few characterized acetyl xylan esterases, lipases, and tannases were included in the analysis to reveal the relationships of FAEs with those enzymes. In this analysis, the xylanase-related FAEs (e.g., FAEs from
Aspergillus terreus
(AtFAE-2, AtFAE-3) [
56
]) were not included in the similarity search because they showed similarity to GH10 and GH11 xylanases. Including these xylanase-related FAEs also recognized other non-FAE members of these two families, which could not be screened out because only two fungal xylanase-related FAEs were identified. Also, a putative FAE from
Xylaria polymorpha
(XpoGH78) [
97
] was not included in the phylogenetic tree because it showed no relationship with other FAE sequences.
Table 1
Properties and classification of fungal FAEs with reported amino acid sequences
Origin

Enzyme

Apparent

pH

Temp (°C)

pI

Type

FEF

SF

New

Accession number

References

Mass (kDa)

Optimum

Stability

Optimum

Stability

SF

(A–D)

(1–12)

(1–7)

(1–13)

Aspergillus nidulans

AN1772

130

7.0

4.0–9.5

45

<40

–

B,c

4A

1

1

XM654284

[159]

Aspergillus niger a

AnFaeB/CinnAE

75

6.0

–

–

–

4.8

B,c

4A

1

1

Q8WZI8.1

[75]

Aspergillus oryzae

AoFaeB

61

6.0

3.0–9.0

–

<55

–

B,c

12B

1

1

XP_001818628

[98]

Aspergillus oryzae

AoFaeC

75

6.0

7.0–10.0

–

<55

–

C

4B

1

1

XP_001819091

[98]

Penicillium chrysogenum a

PcFAEI

62

6.0–7.0

4.0–7.0

50

<55

–

B,c

4A

1

1

BAE44304

[160]

Talaromyces stipitatus

TsFAEC

66

6.0–7.0

4.0–7.0

60

<60

4.6

C

4B

1

1

CAD44531.1

[161]

Fusarium oxysporum a

FoFaeC

62

6.0

4.0–10.0

65

<40

6.8

C

4B

–

2

FOXG_12213

[103]

Aspergillus clavatus

AcFAE

30

7.0

6.0–8.5

30

–

–

D

–

5

5

XP_001274884

[162]

Aspergillus nidulans a

AnidFAE/AN5267

28

–

–

–

–

–

–

–

5

5

EAA62427.1

[99]

Myceliophthora thermophila a (Chrysosporium lucknowense)

ClFaeA1

29

7.0

–

45

–

5.5

A

–

5

5

AEP33616.1

[163]

ClFaeA2

36

7.5

–

40

–

5.2

A

–

5

5

AEP33617.1

Neurospora crassa a

NcFaeD

32

–

–

–

–

–

D

4D

5

5

XP_956228

[91]

Talaromyces funiculosus a (Penicillium funiculosum)

PfFaeA

–

–

–

–

–

–

D

–

5

5

AJ312296

[164]

Chaetomium sp.CQ31 a

ChaeFae

30

7.5

4.0–10

60

<55

–

–

–

6

6

AFU88756.1

[100]

Myceliophthora thermophila

MtFae1a

39

7.0

7.0–10.0

50

<55

–

B

–

–

6

AEO62008.1

[165]

Myceliophthora thermophila

ClFaeB2

33

7.0

45

–

6

B

–

6

6

AEP33618.1

[163]

Neurospora crassa a

NcFae1

35

6.0

6.0–7.5

55

–

–

B

6A

6

6

CAC05587.1

[166]

Talaromyces funiculosus a (Penicillium funiculosum)

FaeB

53

–

–

–

–

6

B

5B

6

6

CAC14144

[69]

Aspergillus awamori

AwFaeA

35

5.5

4.0–8.0

55

25–75

4.2

A

12A

7

7

BAA92937.3

Aspergillus flavus a

AfFaeA

40

6.0

4.5–8.0

58

40

–

A

–

–

7

AGN75069.1

[101]

Aspergillus niger a

AnFaeA/FAE-III

36

5.0

–

60

–

3.3

A

12A

7

7

CAA70510

[45]

Aspergillus oryzae

AoFaeA

37

5.0

4.0–6.0

50

<52

–

A

–

7

7

AHZ18111.1

[102]

Aspergillus terreus

AtFAE-1

76

5.0

3.0–8.0

50

<50

–

A

12A

7

7

Sim: EAU31039.1

[56]

Aspergillus tubingensis

AtubFaeA

30

–

–

–

–

–

–

12A

7

7

CAA70511

[45]

Aspergillus usami

AuFaeA

36

5.0

4.0–6.5

45

<45

4.3

A

–

7

7

AHB63528.1

[169]

Anaeromyces mucronatus a

Fae1A

37

7.2

5.5–8.0

37

<15

–

A

–

–

8

ADZ47894.1

[48]

Auricularia auricula-judae a

EstBC

36

6.5

3.5–8.0

61

<65

3.2

–

–

–

8

Sim: EJD51015

[104]

Orpinomyces sp. a

FaeA

–

–

–

–

–

–

–

1A

–

8

AAF70241.1

[105]

Pleurotus eryngii d

PeFaeA

67

5.0

–

50

<50

–

A

–

–

12

CDI44666

[57]

Pleurotus sapidus

Est1

55

6.0

–

50

–

–

A

–

–

12

CBE71381

[106]

Ustilago maydis

UmChlE

71

7.5

3.5–9.5

37

<40

3

B

–

–

13

HG970190

[65]

Coprinopsis cinerea a

CcEst1

46

–

–

–

–

–

–

–

–

U8

BAJ10857.1

[111]

Piromyces equi a

PeEstA

55

6.5

6.0–8.0

50–60

<50

–

D

2

–

U8

AAD45376.1

Piromyces sp.

FaeA

–

–

–

–

–

–

–

–

–

U7

AAP30751

[47]

Aspergillus terreus

AtFAE-2

23

5.0

3.0–8.0

40

<40

–

C

–

–

U5

Sim: EAU39455.1

[56]

Aspergillus terreus

AtFAE-3

36

5.0

3.0–8.0

40

<40

–

C

–

–

U2

Sim: XP_001214121.1

[56]

Xylaria polymorpha

XpoGH78

98

6.0–8.0

–

45

<40

3.7

–

–

–

N3

AFA53086.1

[97]
Previously, the phylogenetic analysis classified the FAEs into seven subfamilies [
51
] (Table
1
; Additional file
1
: Table S1). SF1 contained FAEs from
A. niger
(AnFaeB [
75
]) and
A. oryzae
(AoFaeB, AoFaeC [
98
]) which are closely related to tannases. SF5 contained FAEs from
A. nidulans
(AN5267 [
99
]) and
Neurospora crassa
(NcFaeD [
91
]) and some members of this subfamily belong to CE1 in the CAZy database. SF6 contained FAEs from
Chaetomium
sp. CQ31 (ChaeFAE [
100
]) and
Talaromyces funiculosus
(FaeB [
69
]) which also belong to CE1 and are closely related to acetyl xylan esterases. SF7 contained exclusively FAEs from
Aspergillus
spp., e.g.,
A. niger
(AnFaeA [
45
]),
Aspergillus flavus
(AfFaeA [
101
]), and
A. oryzae
(AoFaeA [
102
]), which are closely related to lipases. SF2–SF4 only contained putative FAEs, which showed sequence similarity to SF1 and tannases (Table
1
). Our new phylogenetic analysis classified the putative FAEs into 13 subfamilies (Fig.
2
; Additional file
2
: Figure S1). In comparison with the previous phylogenetic analysis [
51
], members of SF1–SF3 and SF5–SF7 remain classified to the same subfamilies. In addition, a FAE from
Fusarium oxysporium
(FoFaeC [
103
]) has been characterized, which belongs to SF2 and SF7 members that were expanded to cover other fungi than
Aspergillus
spp. (e.g.,
Jaapia argillacea
,
Penicillium rubens
, and
Armillaria mellea
). Subfamily SF8 contains FAEs from
Auricularia auricular
-
judae
(EstBC [
104
]),
Anaeromyces mucronatus
(Fae1A [
48
]), and
Orpinomyces
sp. (OrpFaeA [
105
]), while SF12 contains
Pleurotus sapidus
(Est1 [
106
]) and
Pleurotus eryngii
(PeFaeA [
57
]) FAEs, for which there were no homologs found in the previous study [
51
]. The new subfamily SF9 separated from SF4 which previously contained a putative FAE from
A. oryzae
(BAE66413). Three tannases (
A. fumigatus
(XP_748839 [
107
]),
A. niger
(ABX89592 [
108
]), and
A. oryzae
(BAA09656 [
109
])) were positioned in SF11, indicating that the enzymes of this subfamily may actually possess tannase activity or potentially dual-activity and may not be true FAEs. The study also resulted in new subfamilies SF10 and SF13. By contrast, no closely related homologs were found for the FAEs from e.g.,
Piromyces equi
(PeEstA [
110
]),
Piromyces
sp. (FaeA [
47
]), and
Coprinopsis cinerea
(CcEst1 [
111
]) and together with the other sequences which are not classified in any group, these are referred to as ungrouped sequences (U1–U10, Fig.
2
; Additional file
2
: Figure S1). These ungrouped sequences may develop into new subfamilies if homologs for them are discovered.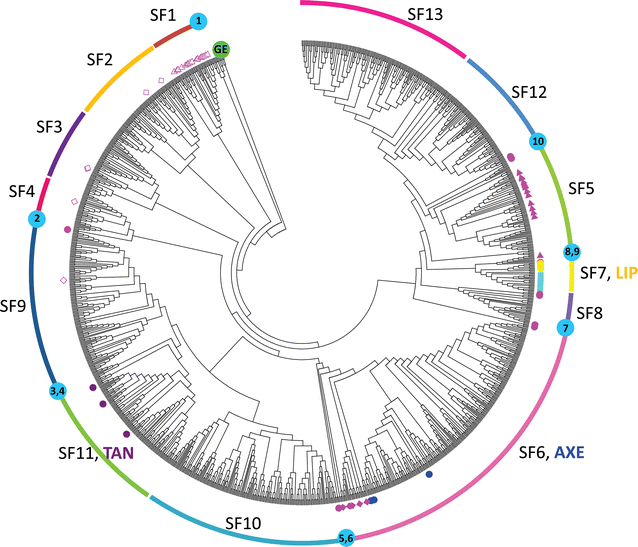 Reflection on origin of the different types of FAEs and comparison with ABCD classification
As mentioned before, FAEs evolved from a diverse class of enzymes (e.g., tannases, acetyl xylan esterases, lipases, and choline esterases). Most FAEs have evolved from tannases, as enzymes belonging to the subfamilies SF1-4 and SF9-11 are related to tannases. SF5 and SF6 enzymes show relationship with acetyl xylan esterases, whereas SF7 enzymes are related to lipases. SF12 and SF13 are related to both lipases and choline esterases. Some FAEs are also related to xylanases (GH10 and GH11) and α-l-rhamnosidases (GH78), whereas some show no similarity to any of the above enzymes (Additional file 1: Table S1). Having evolved from different types of enzymes may explain why different FAEs target different hydroxycinnamic acids. While the ABCD classification system provides hints for the specificity of putative FAEs [92], it no longer reflects the evolutionary relationships among different FAEs [51, 52]. In comparison with the ABCD system, SF6 and SF7 contain solely type B and A FAEs, respectively, whereas SF1 contains both type B and C FAEs, and SF5 a mix of type A and D FAEs (Table 1). SF1 and SF5 may be further divided to support ABCD classification when more FAEs from these subfamilies are characterized. In addition, the two new subfamilies SF8 and SF12, which are distantly related to SF7, also contain type A FAEs, whereas FAEs from Ustilago maydis (SF13) which are distantly related to SF6 also possess type B activity. Therefore, the ABCD system needs to be revisited and combined with the phylogeny-based classification to provide a well-based system that will help in the identification of different types of FAEs and predict the properties of newly discovered FAEs.
Prevalence of different types of FAEs in fungal genomes
From the 247 published fungal genomes in early 2015, 155 of them contained putative FAEs (Tables
2
a, b; Additional file
2
: Figure S2). Approximately 10% of genomes had only one putative FAE and, surprisingly, almost 25 and 5% of the analyzed fungal genomes contained more than 10 and 20 putative FAEs, respectively. The basidiomycetes
Auricularia subglabra
and
Moniliophthora roreri
possessed more than 30 putative FAEs followed by the ascomycetes
A. niger
,
Aspergillus luchuensis
(formerly
A. kawachii
),
Oidiodendron maius
,
Colletotrichum gloeosporioides
with more than 20 putative FAEs. This variation in FAE content could be related to the different abilities of the fungi to degrade feruloylated substrates, which in turn may be related to the presence of such substrates in their natural habitat. However, the multiplicity of putative FAEs identified here could include pseudogenes and the similarity-based method could result in the inclusion of other FAE-related enzymes, e.g., SF11 may also contain tannases. We summarized the prevalence of putative FAEs in industrially and ecologically important fungi in Table
2
. Most of these fungi produce more than one type of FAEs. It should be noted that our findings are in agreement with the earlier study reporting that
Trichoderma reesei
(syn.
Hypocrea jecorina
) does not have any putative FAEs in its genome [
112
], and therefore supplementation of FAEs can significantly increase the saccharification efficiency of an enzyme cocktail from
T. reesei
[
30
,
31
,
67
]. However, two other species of this genus,
T. atroviride
and
T. virens
, contain three putative FAEs in their genomes.
Industrial applications of FAEs
With the ability to remove hydroxycinnamic acids from plant cell walls, FAEs have considerable roles in biotechnological processes for various industrial applications. Earlier Fazary and Ju [
113
] excellently reviewed the early industrial use of FAEs through patents. To date the patents on FAE applications and discovery are almost doubled compared to 2008. In this section, we update the patents on FAEs presented in European Parliament documents (EP) and World Intellectual Property Organization-Patent Cooperation Treaty (WIPOPCT) databases (Additional file
1
: Table S3), and highlight the applications in five major fields: (1) biomass processing, (2) ferulic acid and related fine chemicals production, (3) pulp and paper, (4) feed and (5) seasonings and alcoholic beverages (Fig.
3
).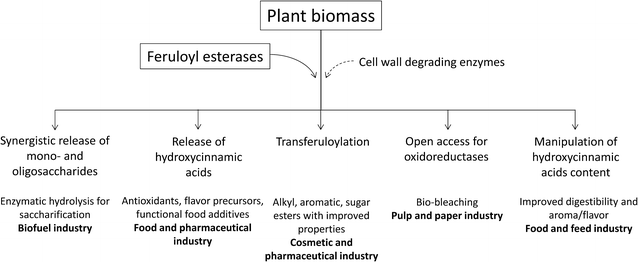 Conclusion
In this review, we provide insight into biodiversity, biochemical properties, production, and discovery of FAEs, a highly diverse group of plant cell wall degrading enzymes. Although FAEs generally play a role in catalyzing the release of ferulic acid and other hydroxycinnamic acids from plant cell wall polysaccharides, they possess diverse specificities towards different feruloylated poly- and oligosaccharides and monomeric hydroxycinnamates. FAEs have evolved from different types of enzymes (e.g., tannases, acetyl xylan esterases, and lipases), which is reflected by their amino acid sequences. Classification based on phylogenetic analysis divided FAEs into distinct groups and also resulted in discovery of novel putative FAEs. These new FAE candidates may possess different substrate specificities and/or biochemical properties which may be useful in different applications. It is clear that more biochemical characterization of FAEs is needed for better understanding of substrate specificity and mode of action of FAEs from different subfamilies. The range of industrial applications of FAEs has been broadened over the past years with emphasis on the conversion of agro-industrial waste materials into valuable products and the synthesis of novel ester-linked hydroxycinnamic products in particular for health and cosmetic applications. The industrial uses of FAEs are still limited to only a few enzymes. Here, we provided the phylogenetic-based classification and putative FAEs resulting from genome mining as a guideline for exploration of FAEs towards the specific applications.
Abbreviations
CAZy:

carbohydrate-active enzymes database
FAE:

feruloyl esterase
SF:

subfamily
Declarations
Authors' contributions
RPDV coordinated the manuscript. AD wrote the first draft of the manuscript. MRM, IBG, KSH, RPDV contributed to manuscript revision and approved the final version. AD, MVAP, RPDV performed bioinformatics analysis. All authors read and approved the final manuscript.
Acknowledgements
The authors would like to thank Miaomiao Zhou for her support with the initial bioinformatics work.
Competing interests
The authors declare that they have no competing interests.
Funding
This work was supported by the European Union, Grant Agreement No: 613868 (OPTIBIOCAT). MVAP was supported by a grant of the Dutch Technology Foundation STW, Applied Science division of NWO and the Technology Program of the Ministry of Economic Affairs 016.130.609 to RPDV.
Open AccessThis article is distributed under the terms of the Creative Commons Attribution 4.0 International License (http://creativecommons.org/licenses/by/4.0/), which permits unrestricted use, distribution, and reproduction in any medium, provided you give appropriate credit to the original author(s) and the source, provide a link to the Creative Commons license, and indicate if changes were made. The Creative Commons Public Domain Dedication waiver (http://creativecommons.org/publicdomain/zero/1.0/) applies to the data made available in this article, unless otherwise stated.
Authors' Affiliations
(1)
Fungal Physiology, CBS-KNAW Fungal Biodiversity Centre & Fungal Molecular Physiology, Utrecht University, Utrecht, The Netherlands
(2)
Division of Microbiology and Biotechnology, Department of Food and Environmental Sciences, University of Helsinki, Helsinki, Finland