In muro deacetylation of xylan affects lignin properties and improves saccharification of aspen wood
Biotechnology for Biofuels
2017
10:98
Received: 18 January 2017
Accepted: 11 April 2017
Published: 20 April 2017
Abstract
Background
Lignocellulose from fast growing hardwood species is a preferred source of polysaccharides for advanced biofuels and "green" chemicals. However, the extensive acetylation of hardwood xylan hinders lignocellulose saccharification by obstructing enzymatic xylan hydrolysis and causing inhibitory acetic acid concentrations during microbial sugar fermentation. To optimize lignocellulose for cost-effective saccharification and biofuel production, an acetyl xylan esterase AnAXE1 from Aspergillus niger was introduced into aspen and targeted to cell walls.
Results
AnAXE1-expressing plants exhibited reduced xylan acetylation and grew normally. Without pretreatment, their lignocellulose yielded over 25% more glucose per unit mass of wood (dry weight) than wild-type plants. Glucose yields were less improved (+7%) after acid pretreatment, which hydrolyses xylan. The results indicate that AnAXE1 expression also reduced the molecular weight of xylan, and xylan–lignin complexes and/or lignin co-extracted with xylan, increased cellulose crystallinity, altered the lignin composition, reducing its syringyl to guaiacyl ratio, and increased lignin solubility in dioxane and hot water. Lignin-associated carbohydrates became enriched in xylose residues, indicating a higher content of xylo-oligosaccharides.
Conclusions
This work revealed several changes in plant cell walls caused by deacetylation of xylan. We propose that deacetylated xylan is partially hydrolyzed in the cell walls, liberating xylo-oligosaccharides and their associated lignin oligomers from the cell wall network. Deacetylating xylan thus not only increases its susceptibility to hydrolytic enzymes during saccharification but also changes the cell wall architecture, increasing the extractability of lignin and xylan and facilitating saccharification.
Keywords
Acetylation
Xylan
Saccharification
Wood
Populus
Background
Woody biomass is a major source of renewable energy, which is needed to meet the global demand for electricity, heat, and clean liquid fuels [1]. The productivity of hardwood tree species such as eucalypts, poplars, aspens, and willows can exceed 40 m3 ha−1 year−1 and several genetic approaches can be used to modify their wood to facilitate cost-effective biorefining.
Hardwood lignocellulose is a composite of heterogeneous polymers, including crystalline cellulose, xylans, and lignins, which are attached to each other by covalent and non-covalent linkages involving both their backbones and side groups. Understanding these interactions is essential for designing efficient methods for lignocellulose deployment. Acetyl side groups are mainly present on glucuronoxylan [2, 3], where 40–70% of xylopyranosyl (Xylp) units are acetylated at the C2 and/or C3 positions [4–8]. Acetyl substitution hinders enzymatic glucuronoxylan hydrolysis [9, 10], and because glucuronoxylan coats cellulose microfibrils [6], its efficient hydrolysis is necessary for cellulose conversion [11]. In biorefineries, most glucuronoxylan is removed during pretreatment and its acetyl groups are converted into acetic acid—a potent inhibitor of microorganisms such as Saccharomyces cerevisiae that are needed for subsequent fermentation [12, 13]. Reducing glucuronoxylan acetylation could therefore improve the conversion of biomass into biofuels. However, saccharification of Arabidopsis mutants with reduced glucuronoxylan acetylation has not improved sugar yields [14–16]. Moreover, many of these mutants exhibited dwarfism, mechanically weak stems, and collapsed xylem vessels [14–18], indicating that glucuronoxylan acetylation has important but poorly understood biological functions. These effects were avoided when glucuronoxylan was deacetylated in muro by Aspergillus nidulans acetyl xylan esterase [19]. Lignocellulose from Arabidopsis plants expressing Aspergillus niger acetyl xylan esterase 1 (AnAXE1] yielded more sugars and ethanol [20] than that from wild-type plants. Encouraged by these results, we have generated aspens expressing AnAXE1 to study its effects on lignocellulose properties relevant to saccharification. The enzyme facilitated lignocellulose saccharification by reducing its acetyl content and by inducing unanticipated effects on the cell walls in planta that increased lignin extractability. These findings will be relevant for all applications of lignocellulose involving lignin extraction.
Discussion
We have shown that partial xylan deacetylation by the acetyl xylan esterase AnAXE1 expressed in planta and targeted to cell walls substantially increased (~26%) the Glc yields of enzymatic saccharification without pretreatment and modestly (~7%) increased yields after acid pretreatment (Fig. 3). Similar results were obtained in transgenic aspen with reduced expression of reduced wall acetylation (RWA) genes, which had reduced xylan acetylation [31]. These reports are consistent with the increased rate of sugar production in Arabidopsis expressing AnAXE1 during saccharification after hot water pretreatment, and the negligible improvement observed after acid pretreatment [20]. Similarly, no increase in saccharification after acid pretreatment was observed when a closely related acetyl xylan esterase was expressed in Arabidopsis [19]. Acid pretreatment thus seems to nullify the benefits of xylan deacetylation. Surprisingly, however, acetyl xylan esterase expression substantially improved saccharification yields after alkali pretreatment [20]. This strongly suggests that the benefits of xylan deacetylation stem from changes in cell wall properties rather than the deacetylation per se.
This work identified at least three changes in cell walls caused by
in planta
deacetylation that could have benefited saccharification: a decrease in xylan chain length, a decrease in MW of xylan–lignin complex and/or lignin co-extracted with xylan, and an increase in lignin solubility. The unchanged expression of genes crucial for biosynthesis of the xylan backbone in the transgenic plants (Additional file
8
) strongly suggests that the decrease in xylan chain length is a direct consequence of deacetylation rather than an indirect effect involving modification of xylan biosynthesis. We propose that deacetylated xylan is more susceptible to endogenous, wall-residing hydrolases, and transglycosylases such as
Ptxt
Xyn10A [
32
], which generate XOS, some of which would be covalently linked to lignin and solubilized as xylan–lignin complexes, as illustrated in Fig.
6
. GH10 activity would thus oligomerize deacetylated xylan and liberate the associated lignin from the cell wall network. Moreover, it has recently been shown that less acetylated xylan may have a higher prevalence of ether and glycosidic bonds to lignin [
33
], implying that more lignin could be associated with the GH10 oligomerized xylan in the
An
AXE1 plants. The proposed mechanism (Fig.
6
) is supported by four observations: (1) the increased solubility of lignin in dioxane-water in transgenic plants (Fig.
4
b), (2) the increased water solubility of lignin (Fig.
5
), (3) the reduced cell wall Xyl content (Additional file
5
) and xylan chain length (Fig.
2
b), and (4) the increased Xyl content in sugars co-precipitated with pectic LCCs (Additional file
9
) and lignin (Fig.
4
c). These data support the notion that xylan deacetylation
in planta
facilitates solubilisation of a fraction of lignin with associated xylan. Moreover, we observed that the xylan–lignin fraction had a lower MW in
An
AXE1 expressing lines (Fig.
2
b; Additional file
6
), supporting the increased lignin solubility. Because acid pretreatment hydrolyzes xylan, including its lignin-associated domains,
An
AXE1 has minimal effects on saccharification after acid pretreatment [
19
,
20
] (Fig.
3
b).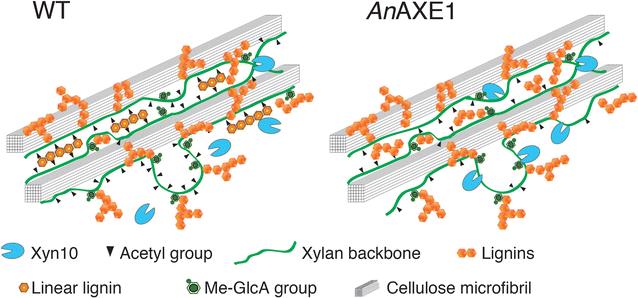 AnAXE1 also increased cellulose crystallinity (Additional file 5), which would adversely affect saccharification [27]. Interestingly, a similar increase in cellulose crystallinity following xylan deacetylation was observed during saccharification in vitro [26], suggesting that this process is spontaneous, perhaps, resulting from reduced xylan coating of microfibrils, causing them to merge into macrofibrils.
Another difference between AnAXE1-expressing and WT lines is that the former have a lower S/G ratio but the same lignin content. The mechanism causing this change is unknown but may be related to lignin polymerization rather than monolignol biosynthesis, because the S-monolignol biosynthetic genes F5H and COMT exhibited no transcriptional changes (Additional file 8). S-lignin monomer formation may be favored by the properties of the spaces between acetylated xylan-coated microfibrils (Fig. 6). The lower S/G ratio may have been partly responsible for the changes in saccharification yields, but it is not yet clear how the S/G ratio affects saccharification in poplar [34, 35].
Saccharification could also benefit from deacetylation of other than xylan polymers, which probably occur in AnAXE1-expressing plants considering the known broad specificity of CE1 esterases [3, 21]. Indeed, the previous results in Arabidopsis suggested that AnAXE1 may deacetylate xyloglucan [20]. Although other acetylated polysaccharides are less abundant than xylan in hardwoods, one cannot rule out a possibility that their deacetylation also plays a role in reduced recalcitrance of transgenic lines.
As in Arabidopsis [20], xylan deacetylation by AnAXE1 in cell walls did not affect growth and morphology in hybrid aspen. Conversely, reducing xylan biosynthesis in the cell walls of Arabidopsis mutants caused severe defects [14–18] including irregular xylem phenotypes and abnormal plant development. The defects in xylem morphology were reversed in the esk1 mutant overexpressing the AtGUX1 enzyme that adds glucuronate decorations to the xylan backbone, indicating that a branched xylan structure is essential for secondary wall biosynthesis [36]. However, glucuronation necessitates the use of α-glucuronidases for xylan hydrolysis. Therefore, expressing microbial enzymes that deacetylate xylan post-synthesis may be a better strategy for tailoring biomass for saccharification. Such engineered plants would also provide biomass with a greater fermentation potential for bioethanol production [20].
Conclusions
Hardwoods have enormous potential as renewable sources of sugars because of their high contents of carbon-rich polysaccharides, but the conversion of these polysaccharides to sugars (saccharification) is hampered by xylan acetylation, which shields the xylans and associated cellulose from hydrolytic enzymes. We found that introducing a fungal gene encoding an acetyl xylan esterase into aspen, and targeting it to cell walls, is a promising strategy for improving the economic viability of hardwood biorefining. Such engineered plants grow well and their wood yields more sugars per unit weight than the wild type. Moreover, we identified a mechanism by which xylan deacetylation exerts its positive effects on saccharification: compared to the wild type, the engineered plants exhibit shorter xylan chain lengths and greater lignin extractability. This changes the architecture of the cell walls without compromising their mechanical properties. These results provide new insights into the role of xylan acetylation in cell walls.
Abbreviations
BMW:

Ball milled wood
DP:

Degree of polymerization
FT-IR:

Fourier transformed-infrared spectroscopy
G:

Guaiacyl
LCC:

Lignin–carbohydrate complex
MW:

Molecular weight
OLIMP:

Oligo mass profiling
PAD:

Pulsed amperometric detector
RWA:

Reduced wall acetylation
S:

Syringyl
WT:

Wild type
XOS:

Xylo-oligosaccharides
Xylp :

Xylopyranosyl
Declarations
Authors' contributions
PM-AP performed most of the work, coordinated the project, and wrote the paper with contributions from all authors; MD-M made the transgenic lines and participated in cell wall analyses; MLG and LJ carried out saccharification assays; SSB performed cell wall compositional analysis; TS and MH performed NMR analyses; S-LC and MT were responsible for xylan fingerprinting analyses; PA and RS performed the X-ray analyses; MÖ and MR performed micromechanical studies; ML designed and supervised the LCC fractionation and lignin analyses; EJM conceived and supervised the project, and finalized the manuscript. All authors read and approved the final manuscript.
Acknowledgements
We thank Novozymes for the gift of Fibercare, and the undergraduate student Andreas Gabrielsson for help with preliminary cell wall NMR analyses. The English language of this manuscript was revised by Sees-Editing Ltd (UK). The statistical approach was consulted with Anders Muszta, Swedish University of Agricultural Sciences.
Availability of supporting data
All data generated or analyzed during this study are included in this published article [and its additional information files].
Competing interests
All authors declare that they have no conflict of interest.
Funding
This work was supported by the FP7 program RENEWALL, Wood-Wisdom program HEMIPOP, SNS-project 107, the FORMAS-funded BioImprove program, VR and FORMAS grants to EJM, the Swedish Research Council and Vinnova program Berzelius, SSF program ValueTree, grants from the Swedish Energy Agency and Bio4Energy to LJJ, funding from NGS-NANO to PA, and the Cell Wall and Vibrational Spectrometry KBC platforms (supported by Bio4Energy and TC4F).
Publisher's Note
Springer Nature remains neutral with regard to jurisdictional claims in published maps and institutional affiliations.
Open AccessThis article is distributed under the terms of the Creative Commons Attribution 4.0 International License (http://creativecommons.org/licenses/by/4.0/), which permits unrestricted use, distribution, and reproduction in any medium, provided you give appropriate credit to the original author(s) and the source, provide a link to the Creative Commons license, and indicate if changes were made. The Creative Commons Public Domain Dedication waiver (http://creativecommons.org/publicdomain/zero/1.0/) applies to the data made available in this article, unless otherwise stated.
Authors' Affiliations
(1)
Department of Forest Genetics and Plant Physiology, Swedish University of Agricultural Sciences, Umeå, Sweden
(2)
Department of Food and Environmental Sciences, University of Helsinki, Helsinki, Finland
(3)
Department of Chemistry, Umeå University, Umeå, Sweden
(4)
Department of Physics, University of Helsinki, Helsinki, Finland
(5)
Institute for Building Materials, Swiss Federal Institute of Technology (ETH Zürich), Zurich, Switzerland
(6)
Laboratory of Applied Wood Materials, Empa, Dübendorf, Switzerland
(7)
Department of Fiber and Polymer Technology, Wallenberg Wood Science Center, WWSC, Royal Institute of Technology, KTH, Stockholm, Sweden
(8)
Department of Biochemistry, Purdue University, West Lafayette, USA
(9)
Department of Biology and Biological Engineering, Division of Industrial Biotechnology, Chalmers University of Technology, Göteborg, Sweden