Improving the thermostability of a fungal GH11 xylanase via site-directed mutagenesis guided by sequence and structural analysis
Biotechnology for Biofuels
2017
10:133
Received: 21 February 2017
Accepted: 17 May 2017
Published: 23 May 2017
Abstract
Background
Xylanases have been widely employed in many industrial processes, and thermophilic xylanases are in great demand for meeting the high-temperature requirements of biotechnological treatments. In this work, we aim to improve the thermostability of XynCDBFV, a glycoside hydrolase (GH) family 11 xylanase from the ruminal fungus Neocallimastix patriciarum, by site-directed mutagenesis. We report favorable mutations at the C-terminus from B-factor comparison and multiple sequence alignment.
Results
C-terminal residues 207-NGGA-210 in XynCDBFV were discovered to exhibit pronounced flexibility based on comparison of normalized B-factors. Multiple sequence alignment revealed that beneficial residues 207-SSGS-210 are highly conserved in GH11 xylanases. Thus, a recombinant xylanase, Xyn-MUT, was constructed by substituting three residues (N207S, G208S, A210S) at the C-terminus of XynCDBFV. Xyn-MUT exhibited higher thermostability than XynCDBFV at ≥70 °C. Xyn-MUT showed promising improvement in residual activity with a thermal retention of 14% compared to that of XynCDBFV after 1 h incubation at 80 °C; Xyn-MUT maintained around 50% of the maximal activity after incubation at 95 °C for 1 h. Kinetic measurements showed that the recombinant Xyn-MUT had greater kinetic efficiency than XynCDBFV (K m, 0.22 and 0.59 µM, respectively). Catalytic efficiency values (k cat /K m) of Xyn-MUT also increased (1.64-fold) compared to that of XynCDBFV. Molecular dynamics simulations were performed to explore the improved catalytic efficiency and thermostability: (1) the substrate-binding cleft of Xyn-MUT prefers to open to a larger extent to allow substrate access to the active site residues, and (2) hydrogen bond pairs S208-N205 and S210-A55 in Xyn-MUT contribute significantly to the improved thermostability. In addition, three xylanases with single point mutations were tested, and temperature assays verified that the substituted residues S208 and S210 give rise to the improved thermostability.
Conclusions
This is the first report for GH11 recombinant with improved thermostability based on C-terminus replacement. The resulting Xyn-MUT will be an attractive candidate for industrial applications.
Keywords
XylanaseThermostabilityB-factorMD simulationSite-directed mutagenesisC-terminus replacement
Background
Xylan is the primary hemicellulosic constituent of plant cell walls and accounts for up to 35% of all renewable organic carbon sources on Earth [1]. Xylan is a heterogeneous polysaccharide consisting of a backbone chain of β-1,4-d-linked xylose units usually decorated with side groups (such as methyl and acetyl groups) and other sugar molecules [2]. Owing to the heterogeneity and complexity of xylan, complete degradation requires a set of main chain- and side group-cleaving enzymes [3]. Among all the xylanolytic enzymes, endo-β-1,4-xylanase (xylanase; EC 3.2.1.8) is a pivotal enzyme that is capable of randomly hydrolyzing the internal β-1,4-d-xylosidic linkages in the backbone chain to yield xylooligosaccharides (XOSs) of various chain lengths during xylan bio-degradation [2, 4].
Xylanases have been widely applied in industry, including paper and pulp processing, feed manufacture, and next generation biorefineries [2, 5–7]. Due to the harsh conditions of biotechnological treatments, xylanases with advantageous properties such as excellent thermostability, broad pH adaptability, and high specific activity are in high demand [8]. As such, numerous projects have been undertaken to discover and develop novel xylanases with favorable properties [9–11].
Based on catalytic domain sequence similarity, xylanases from various source organisms are classified into glycoside hydrolase (GH) families 5, 8, 10, 11, 30, and 43 by the CAZy database, and principally belong to GH10 and GH11 [12]. In contrast to GH10 xylanases, GH11 xylanases display higher catalytic efficiency, higher substrate selectivity, and a greater variety of temperature and pH optima [13]. These advantageous properties make GH11 more suited for industrial applications. Thus, the determinants for the improved properties of GH11 have been widely explored [13–17]. Among them, understanding the heat-resistance mechanism for GH11 has become an intense research area owing to the high-temperature requirement in various industrial conditions.
It has been widely accepted that N-terminal region (NTR) of GH11 is of great importance in maintaining xylanase thermostability, and several heat-resistant recombinants have been developed by replacing the NTR with the corresponding parts from thermostable xylanases [17–19]. In 2014, the Rey-Ting Guo group solved the crystal structure of a GH11 xylanase (XynCDBFV) from the ruminal fungus Neocallimastix patriciarum [20]. XynCDBFV was identified to have the longest NTR among all GH11 members [20]. The NTR of XynCDBFV folds into an α-helix and tightly attaches to a β-sheet via a disulfide bridge (DS1). It has been shown that the NTR plays an important role in XynCDBFV thermostability and that DS1 is the critical factor joining the NTR to the main body of XynCDBFV [20]. Additionally, one thermophilic xylanase (NFX) from Nonomuraea flexuosa has been previously reported and crystallized. This thermophilic NFX was stable at 80 °C and even retained partial activity at 90–100 °C [21]. Although there were no evident structural reasons for the significant higher thermostability of NFX, an additional GNPGNP sequence was found at the C-terminus [21]. Therefore, the C-terminus of NFX and other thermophilic xylanases may also play a pivotal role in maintaining thermostability. A thermophilic xylanase recombinant may be constructed by combining crucial thermostability-enhancing components of xylanases, such as the NTR from XynCDBFV, C-terminus from NFX.
In this work, the sequence and structure of XynCDBFV were carefully compared to those of thermophilic xylanases including NFX. C-terminal residues 207-SSGS-210 were found to be highly conserved in thermophilic xylanases. However, residues 207–210 with sequence NGGA of XynCDBFV were found to display pronounced flexibility. Subsequently, three residues, N207, G208, and A210, from 207-NGGA-210 of XynCDBFV were substituted with serines by site-directed mutagenesis. Experimental measurements showed that the triple mutant displayed higher thermostability and catalytic efficiency than wild-type XynCDBFV. Moreover, heat-resistance mechanisms for the triple mutant were explored by molecular dynamics (MD) simulations and verified by single point mutations. To our knowledge, this is the first report of a GH11 recombinant with improved thermostability based on C-terminus replacement, and the triple mutant demonstrates attractive properties for industrial use.
Discussion
Developing a thermostable xylanase is of great value to meeting practical industrial demands. Additionally, enhanced temperature stability may also improve kinetic efficiency [28]. In this work, B-factor comparison and multiple sequence alignment were first performed to guide the design of mutations to obtain a thermostable xylanase. The result, Xyn-MUT, constructed by site-directed mutagenesis, showed higher thermostability and catalytic efficiency, and the heat-resistance mechanisms of Xyn-MUT were explored by MD simulations and single point mutations.
Firstly, the comparison of normalized B-factors between XynCDBFV and thermophilic NFX is the most crucial step in constructing a thermostable recombinant in this work. Systematic structural studies regarding various enzymes have demonstrated that thermophilic enzymes are characterized by higher degrees of rigidity [29]. Therefore, a strategy for enhancing the thermostability of a particular enzyme is to increase its rigidity at appropriate sites. The B-factors from X-ray data provide information on the fluctuation, and hence, rigidity of atoms relative to their equilibrium positions [22]. Previous work has successfully demonstrated improving enzyme thermostability through the interpretation of B-factors [30]. Consequently, we calculated and compared normalized B-factor values from XynCDBFV and NFX, determined residues with pronounced degrees of flexibility, and constructed a recombinant Xyn-MUT by mutating the flexible residues. Temperature stability testing and kinetic analysis revealed that Xyn-MUT displays higher thermostability and catalytic efficiency than XynCDBFV. Experimental measurements validate the accuracy of B-factor interpretation.
Secondly, Serine (Ser) at the C-terminus is highly related to thermostability in GH11 xylanase. Multiple sequence alignment showed that residues S207, S208, and S210 are highly conserved in both fungal and bacterial GH11 xylanases. The recombinant Xyn-MUT was produced by substituting residues in position 207, 208, and 210 to Ser. The more thermostable Xyn-MUT indicates that incorporating Ser is a potent strategy in engineering a thermostable GH11 xylanase. In another study, Ser- and Thr-containing mutants displayed less flexibility in thermophiles than in mesophiles based on analysis of B-factors from mesophilic and thermophilic proteins [23], suggesting that Ser and Thr are associated with high rigidity in thermophiles. Accordingly, this approach to engineering a thermostable enzyme requires two steps: (1) determine appropriate sites with high flexibility; and (2) mutate flexible sites to appropriate amino acids that allow high rigidity. In our work, the first step was assisted by B-factor comparison. In the second step, the flexible residues were mutated to Ser, a residue that contributes to high rigidity in thermophiles.
Thirdly, this is the first report of a GH11 recombinant with improved thermostability based on C-terminal replacements. Until now, rational design of improved GH11 xylanases have typically focused on three aspects: (1) replacement of the NTR with corresponding parts from thermostable enzymes [17–19]; (2) stabilization of α-helices by introducing disulfide bridges or electrostatic interactions [21, 31]; (3) modification of surface characteristics to form a tighter packing enzyme with fewer cavities [16, 32]. In this work, we found a dominant sequence 207-SSGS-210 at the C-terminus and replaced 207-NGGA-210 in XynCDBFV with this dominant sequence. The thermostable recombinant provides new opportunities for engineering GH11 xylanases at the C-terminal region.
Fourthly, the first segment 86-KQNSSN-91 determined by B-factor comparison may also influence the stability of XynCDBFV. This segment corresponds to sequence gaps in NFX from pairwise sequence alignment. We did not construct XynCDBFV mutants that delete residues 86-KQNSSN-91 in this work. However, the residues 86-KQNSSN-91 are located adjacent to the β-strand formed by the second segment 207-NGGA-210 (Fig.
10
). Moreover, N91 interacts with A210 through a hydrogen bond. Residues 207-NGGA-210 displayed flexibility during MD simulations; the N91 interaction plus other residues in 86-KQNSSN-91 may also disturb the stability of XynCDBFV. This conjecture requires experimental studies.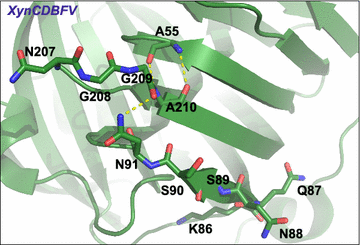 Fifthly, the additional GNPGNP sequence at the C-terminus of NFX is associated with larger-than-average normalized B-factor values (Fig. 1a), indicating it may serve as a flexible linker at the C-terminus. This may allow relatively free movement of the C-terminal domain. Although the GNPGNP sequence from NFX may not contribute to thermostability, it may assist in maintaining NFX's function.
Lastly and importantly, XynCDBFV and its mutants expressed in E. coli are less active than that expressed in Pichia pastoris. The E. coli expression system was used to test the thermostability contribution of individual mutated residues in isolation, since the E. coli expression system is easier to handle than the P. pastoris expression system. However, we discovered that XynCDBFV and its three single mutants expressed in E. coli exhibit their highest activities at no more than 65 °C. Similar phenomena have been observed in several studies [20, 33, 34], indicating that P. pastoris is a better production host than E. coli for XynCDBFV expression and performance, and a more suitable expression system for commercial applications. Nevertheless, the enhanced thermostability of Xyn-MUT accounted for by replacing G208 and A210 in XynCDBFV with serines.
Conclusions
In this work, we identified for the first time the conserved C-terminal residues 207-SSGS-210 of GH11 xylanases and constructed a recombinant xylanase, Xyn-MUT. Experiments showed Xyn-MUT had higher thermostability and kinetic and catalytic efficiency than those of its template (XynCDBFV). Heat-resistance mechanisms explored by MD simulations and single point mutation studies revealed that S208 and S210 give rise to this improved thermostability. Additionally, residues 207-SSGS-210 assist Xyn-MUT in forming a more stable and compact β-sheet structure. The resulting Xyn-MUT is an attractive candidate in industrial applications. This work confirms that sequence/structural-guided protein engineering is an effective strategy for obtaining a thermostable enzyme.
Abbreviations
DS1:

disulfide bridge
E. coli :

Escherichia coli
GH:

glycoside hydrolase
LB:

Luria–Bertani
MD:

molecular dynamics
NTR:

N-terminal region
P. pastoris :

Pichia pastoris
XOSs:

xylooligosaccharides
Declarations
Authors' contributions
NH carried out the computational prediction and molecular dynamics simulations. HM and JL performed the major experiments containing site-directed mutagenesis and enzyme production. HM and YM purified and characterized the xylanases. JZ coordinated the study. NH and HZ wrote the manuscript. JD and HZ revised this paper. All authors read and approved the final manuscript.
Acknowledgements
We would like to thank Kevin Shi from the Massachusetts Institute of Technology for providing language help.
Competing interests
The authors declare that they have no competing interests.
Availability of data and materials
All data generated or analyzed during this study are included in this published article.
Consent for publication
All authors consent for publication.
Funding
This study is supported by Yunling Scholar [2015] No. 56, Yunling Technology Leading Talent [2014] No. 1782, Applied Basic Research Foundation of Yunnan Province No. 2016FD018, and National Natural Science Foundation of China No. 31660304.
Publisher's Note
Springer Nature remains neutral with regard to jurisdictional claims in published maps and institutional affiliations.
Open AccessThis article is distributed under the terms of the Creative Commons Attribution 4.0 International License (http://creativecommons.org/licenses/by/4.0/), which permits unrestricted use, distribution, and reproduction in any medium, provided you give appropriate credit to the original author(s) and the source, provide a link to the Creative Commons license, and indicate if changes were made. The Creative Commons Public Domain Dedication waiver (http://creativecommons.org/publicdomain/zero/1.0/) applies to the data made available in this article, unless otherwise stated.
Authors' Affiliations
(1)
School of Life Sciences, Yunnan Normal University, Kunming, China
(2)
Key Laboratory of Enzyme Engineering, Yunnan Normal University, Kunming, China