Efficient dehydration and recovery of ionic liquid after lignocellulosic processing using pervaporation
Biotechnology for Biofuels
2017
10:154
Received: 21 February 2017
Accepted: 7 June 2017
Published: 15 June 2017
Abstract
Background
Biomass pretreatment using certain ionic liquids (ILs) is very efficient, generally producing a substrate that is amenable to saccharification with fermentable sugar yields approaching theoretical limits. Although promising, several challenges must be addressed before an IL pretreatment technology can become commercially viable. One of the most significant challenges is the affordable and scalable recovery and recycle of the IL itself. Pervaporation (PV) is a highly selective and scalable membrane separation process for quantitatively recovering volatile solutes or solvents directly from non-volatile solvents that could prove more versatile for IL dehydration.
Results
We evaluated a commercially available PV system for IL dehydration and recycling as part of an integrated IL pretreatment process using 1-ethyl-3-methylimidazolium acetate ([C2C1Im][OAc]) that has been proven to be very effective as a biomass pretreatment solvent. Separation factors as high as 1500 were observed. We demonstrate that >99.9 wt% [C2C1Im][OAc] can be recovered from aqueous solution (≤20 wt% IL) and recycled five times. A preliminary technoeconomic analysis validated the promising role of PV in improving overall biorefinery process economics, especially in the case where other IL recovery technologies might lead to significant losses.
Conclusions
These findings establish the foundation for further development of PV as an effective method of recovering and recycling ILs using a commercially viable process technology.
Keywords
Biomass pretreatmentIonic liquidSaccharificationBiofuelsRecyclePervaporation
Background
Certain ionic liquids (ILs), e.g., 1-ethyl-3-methylimidazolium acetate ([C
2
C
1
Im][OAc]) and 1-butyl-3-methylimidazolium chloride ([C
4
C
1
Im]C
l
), have been demonstrated to be very effective at pretreating a wide range of lignocellulosic biomass feedstocks that are capable of generating very high yields of fermentable sugars suitable for biofuel production via fermentation (Fig.
1
) [
1
–
3
], and thus have been widely used recently [
4
]. Although promising, the costs associated with this pretreatment technology are still considered by many to be prohibitive. One of the challenges is the intrinsic cost of the IL itself and the need for effective means of recovery and recycle [
4
–
6
]. For instance, at an IL recovery of 99.5%, the cost contribution due to the lost IL could be in the range of $0.3 gal
−1
(at 30% solids loading with $2 kg
−1
IL) to $5.3 gal
−1
(at 10% solids loading with $10 kg
−1
IL) even if the sugar yields are high [
7
]. This emphasizes the need for technologies that can minimize IL losses during recycle, thereby facilitating high IL recoveries (>99%). IL dehydration is an important step due to the need for water washing of pretreated biomass to reduce the inhibitory effect of certain ILs, including [C
2
C
1
Im][OAc], to enzymes and microbes during enzymatic hydrolysis and fermentation [
8
–
11
]. With the use of large quantities of water in this step, the solids are precipitated/separated and the IL is simultaneously recovered into the aqueous stream. It is therefore imperative to develop affordable and robust dehydration technologies that can recover ILs from aqueous solutions while minimizing any IL losses during the recovery process.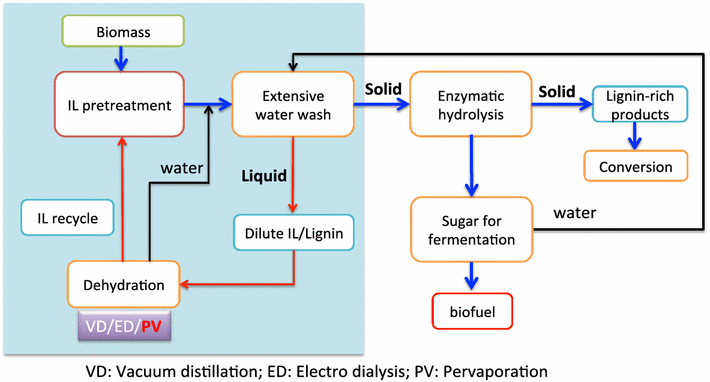 Separation technologies such as evaporation/distillation, electrodialysis (ED), reverse osmosis (RO) have been investigated for concentrating ILs [
12
–
15
]. As known distillation is considered as the simplest method for removal of volatile solvents and solutes from ILs, and the volatile compounds can be distilled by vacuum evaporation, wiped film evaporation, column distillation, and molecular distillation [
12
]. However, distillation suffers from high energy consumption and low separation selectivity [
16
,
17
]. In the case of an IL/H
2
O mixture, high temperature and vacuum are needed to break the strong IL–H
2
O interactions that are dependent on the amount of water present and are stronger at lower water concentrations [
18
]. Water molecules can form hydrogen bonds with anions in imidazolium-based ILs and at low water concentrations water molecules prefer to form complexes mostly with anions rather than with other water molecules [
19
]. The measured vapor pressures of the binary [C
2
C
1
Im][OAc]/H
2
O system in the temperature range of 100–160 °C (Fig.
2
a) show that the binary mixture has a negative deviation from Raoult's Law, confirming the strong interactions between [C
2
C
1
Im][OAc] and H2O. Consistent with the observation from a previous work [
20
], Fig.
2
a also illustrates a 'boiling-point elevation' (above 100 °C) of water when [C
2
C
1
Im][OAc] is added. In addition, there may be significant IL losses associated due to physical carryover in a typical distillation setup where there is no physical barrier to prevent any carryover losses. It is therefore challenging to achieve both highly concentrated ILs and quantitative IL recovery by distillation [
21
].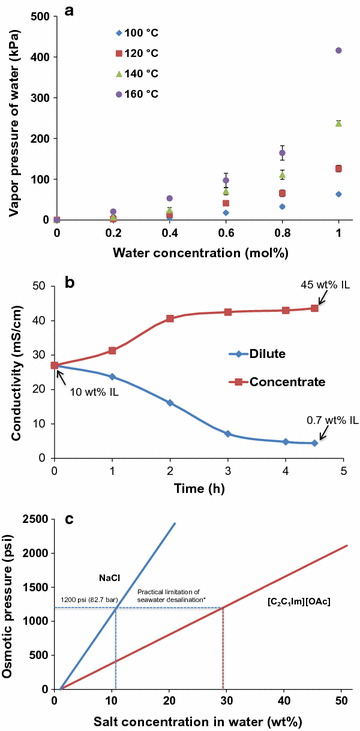 ED is a membrane-based process that has been applied for desalination of seawater and brackish water [22], however, only ~85% recovery of [C4C1Im]Cl could be realized with this technique [13, 23]. Furthermore, ED suffers from low efficiency limits in terms of final IL concentration achieved (Fig. 2b) due to conductivity/viscosity constraints, fouling, and relatively short membrane lifetime. Lastly, RO, which involves the application of pressure to the liquid–water feed, forcing smaller water molecules through a membrane, would require significant energy due to the need for high pressure at higher IL concentrations [24]. In addition, the very high osmotic pressure required to concentrate the dilute IL stream to a pretreatment relevant concentration makes this technology impractical in reality due to a practical limitation of 1200 psi (Fig. 2c) [25, 26]. Thus, there is a clear need for an efficient, affordable, and scalable method to dehydrate IL to relatively high concentration (i.e., with effective water content of <10 wt%), while maintaining high IL recovery (>99%), from aqueous mixtures after pretreatment.
Membrane-based pervaporation (PV) is emerging as an alternative to these technologies and has the potential to reduce energy usage and operating costs [27, 28]. In PV, a fraction of the liquid feed can be selectively evaporated under moderate conditions via the physical–chemical interactions between the membrane material and the permeating molecules, not the relative volatility as in distillation, thus significantly reducing the amount of energy required relative to technologies in which the entire stream is evaporated [28–30]. PV can be applied in biotechnology to concentrate heat-, stress-, and/or chemical-sensitive biochemicals [27, 31–33]. PV appears to be amenable to effective water/IL, volatile organic solvent/IL or organic solvent/water separations [27, 29, 30, 34, 35]. In the context of IL dehydration, as shown in this work, the PV membrane exhibits excellent resistance to IL permeation, thereby minimizing IL loss while, at the same time, achieving high levels of dehydration to recover IL in its concentrated form (~99 wt% IL). In this work, we used a commercially available PV unit that utilizes a perfluorinated membrane, obtained from Compact Membrane Systems Inc. (CMS), to evaluate and assess the potential of PV for IL dehydration in a relevant lignocellulosic processing environment. We first establish the basic performance metrics for the dehydration of a water-IL binary mixture, and then demonstrated that >99.9 wt% [C2C1Im][OAc] IL could be recovered from aqueous solution by PV and reused at least five times in a biomass pretreatment process. A preliminary technoeconomic analysis indicates that PV is a promising technology for the efficient dehydration and recycle of ILs primarily due to its ability to minimize (or avoid) IL losses.
Conclusions
The present research aimed to develop and demonstrate an efficient and robust technology for the dehydration, recovery, and reuse of [C2C1Im][OAc] after lignocellulosic biomass processing. We evaluated pervaporation (PV) in place of conventional distillation to recover the [C2C1Im][OAc] after pretreatment. Compared to vacuum distillation and electrodialysis, we found that the [C2C1Im][OAc] loss was kept within 0.1 wt% (i.e., >99.9 wt% IL recovery) using PV, and near-complete dehydration of IL (i.e., >99 wt% IL) was achieved with a maximum water flux of 42.8 kg h−1 m−2. Overall, the separation was found to very effective with separation factors of ~1500. The recovered [C2C1Im][OAc] was reused five times without significant changes in chemical structure and pretreatment efficiency. In addition, the long-term stability of the PV membrane has been demonstrated over 60 dehydration cycles using the same [C2C1Im][OAc]-water mixture. A preliminary technoeconomic analysis highlights the advantage of PV in conjunction with vacuum distillation, as it could potentially minimize IL losses thereby improving overall economics. PV integrates evaporation with a permeation membrane and has the potential to meet the needs for both high selectivity and low IL loss. More efforts are still needed to improve the permeate flux, selectivity, and stability of the membranes in a more complex separations and scale-up applications with significant prospects in fuels and chemical industries.
Methods
Materials
The two feedstocks included in this study were switchgrass (Panicum virgatum) and eucalyptus (Eucalyptus cinerea). The origin, the harvesting, and detailed grinding and drying parameters of the feedstocks are described elsewhere [44]. After the grinding and drying steps, equal quantities of each feedstock (1:1 on dry weight basis) were blended and mixed for biomass pretreatment. [C2C1Im][OAc] with a purity of >99% was purchased from BASF (Florham Park, NJ, USA) and used as received. Cellulase (Cellic® CTec2; Batch# VCN10001, protein content 188 mg mL−1) and hemicellulase (Cellic® HTec2; Batch# VHN00001, protein content 180 mg ml−1) enzyme mixtures were received as gifts from Novozymes NA (Franklinton, NC, USA), and mixed with the volume ratio of 9:1 before use. Polysulfone ultrafiltration ER membranes (30 kD, 47 mm, YMERSP475) were purchased from Sterlitech Corporation.
Biomass pretreatment
As an example, 0.5 g of switchgrass and 0.5 g of eucalyptus were mixed with 8.1 g of [C2C1 m][OAc] and 0.9 g of water to give a 10 wt% biomass loading. Pretreatment runs were carried out at 160 °C for 1 h with constant stirring at 120 rpm by an 80-mm-diameter polytetrafluoroethylene anchor-type impeller, powered by a Heidolph RZR 2052 mechanical stirrer (Heidolph Instruments GmbH & Co. KG, Schwabach, Germany). Duplicate runs were performed for each IL pretreatment of mixed feedstocks. After pretreatment, the slurry was washed five times with DI water to remove the residual [C2C1im][OAc]. An aliquot of recovered solid was lyophilized in a FreeZone® Freeze Dry System (Labconco, MO, USA) and used for composition analysis. All the water-washed streams were collected and used as the raw feed solution for pervaporation, in which the [C2C1Im][OAc] concentration was controlled at ~20 wt%.
Pervaporation operation
In a typical pervaporation process, 50 g 20 wt% IL feed solution was added to a 125 mL stainless steel vessel. The Dewar was filled about 3/4-way of liquid N2 and then was connected with insulation foam cap under condenser and slowly immerse condenser in coolant. After connecting thermocouple to heater/temperature controller box and installing insulation block, the vessel was heated up to a desired operating temperature with stirring and N2 sweeping (a flow rate of 100 mL min−1). Conductivity measurements were performed at room temperature (20 °C) in triplicate using a S230 SevenCompact conductivity meter (Mettler-Toledo, LLC) with an accuracy of ±0.5%. A thorough water wash of membranes in between tests is required using the same apparatus at 100 °C for 1–2 h.
Enzymatic hydrolysis
Enzymatic saccharification of pretreated and untreated biomass samples were carried out in duplicates based on the NREL laboratory analytical protocol 9 'Enzymatic Saccharification of Lignocellulosic Biomass' [45]. The citrate buffer (final molarity 50 mM), enzymes, and DI water were mixed with the recovered solids after pretreatment to achieve a final solids loading of around 10 wt%. A 20 mg protein g−1 solid of enzyme loading was used unless otherwise specified. The supernatant collected during 72 h of hydrolysis was analyzed by HPLC as previously described in literature [19]. Glucose and xylose yields were calculated based on the theoretical glucose and xylose yields as determined by compositional analysis of the recovered biomass after pretreatment. After 72 h of hydrolysis, the remaining solids were collected by centrifugation and washed with an excess volume of DI water to remove residual sugars. The solids were then lyophilized and analyzed for acid-insoluble lignin, glucan, and xylan compositions.
Characterizations of ultrafiltration membrane
Scanning electron microscopy (SEM)
SEM images were taken for both new and 5th used UF membranes using a Hitachi S-5000 microscope. Prior to acquiring images, the samples were mounted with double-sided carbon tape on precut brass sample stubs and sputter coated with approximately 30 Angstrom of Au/Pd. The representative images of membranes in this work were acquired with a 10 kV accelerating voltage and scanned with 50,000 magnification.
Fourier transform infrared (FTIR) Spectroscopy
All the samples were cleaned with DI-water under ultrasonic conditions and dried at 45 °C under vacuum for 2 days. FT-IR spectra were collected in the Mid-IR region (2000–600 cm−1) with 4 cm−1 resolution using Bruker Optics Vertex system (Billerica, MA, USA) with a built-in diamond–germanium ATR single reflection crystal. Air was used as background for all the samples. A set of 96 scans was collected for each sample. All the samples were baseline corrected and vector-normalized using OPUS software from Bruker Optics.
Technoeconomic analysis (TEA)
The model of biorefinery process in Fig. 7a was built up in SuperPro designer (v8.5). It was assumed that the pretreatment was carried out at 20 wt% biomass loading (as higher loadings are generally preferred to improve overall process economics) and a water loading (i.e., mass ratio between total amount of fresh water used and dry biomass present) of 20 in the subsequent water-wash step. All the IL is recovered into the aqueous stream and the impact of any residual IL present in the pretreated biomass on the hydrolysis and fermentation is assumed to be negligible. Downstream hydrolysis was conducted at 20% solid loading with an enzyme loading of 20 mg g−1 solid (i.e., the total solids recovered in the washing step after pretreatment). Fermentable sugars in the hydrolysate were assumed to be co-fermented to produce ethanol that was recovered from the broth using distillation columns in the product recovery section. Key process parameters used in this TEA are provided in Additional file 1: Table S1. While several parameters (e.g., operating temperature of pretreatment and subsequent IL dehydration, enzyme loading) are based on the experimental demonstration in this study, three important parameters (i.e., solids loading during pretreatment and hydrolysis, sugar and ethanol yields) are based on projected performance of a target Nth plant scenario that can be realized with continued developments. Cost data for most of the equipment, and other production costs (i.e., raw materials, labor, and energy), and assumptions for economic analysis were taken from previous studies [5, 40]. Since this is assumed to reflect an industrial scale facility, appropriately sized (large) vessels are assumed to be available to perform key operations—for instance, based on NREL study [40], vessels with a volume of one million gal are used to perform fermentation. Subsequently, based on amount of material processed and processing times, the number of vessels to be utilized in parallel (to satisfy the total volume requirement) was determined. Costs of major equipment are computed based on the equipment cost data and scaling factors (mostly varied in the range of 0.6–0.8) given in NREL study [40]. With perceived advances and based on a large-scale production of PV membranes, we assumed membrane purchase cost of $8 ft−2 in this study (in addition, given the uncertainty with membrane cost, a sensitivity analysis is conducted by varying the membrane cost by ±50%). In addition, the cost of industrial scale evaporator with an effective surface area of around 814 m2 was estimated to be around MM $2.04 and, to account for any uncertainty, a sensitivity analysis is conducted with ±50%. Variation in line with these studies, minimum ethanol selling price (MESP) was used as a key economic performance indicator and was computed through a detailed cash flow analysis over a 30 year project life. The MESP was equivalent to the selling price of ethanol from the cash flow analysis at 10% internal rate of return. Base year for economic analysis in current study is 2014.
In order to understand the economic impact of IL recovery, pretreatment section was modeled in detail and includes pretreatment, water-wash step, ultrafiltration (to remove insoluble solids), and IL concentration/drying operations (i.e., PV and/or VD) to recover/recycle IL from aqueous IL solution (about 85 wt% water). To understand the relative economic merit of PV and VD, two different configurations are studied (Additional file 1: Figure S7): (1) PV/hybrid configuration, (2) VD configuration. In both cases, it is assumed that the IL needs to be dehydrated to around 10 wt% water. The PV/hybrid configuration involved an initial feed concentration (from around 85 to 60 wt% water) followed by a PV membrane to further dry IL (from 60 to 10 wt % water) so that it can then be readily recycled to pretreatment reactor. A multi-effect vacuum distillation (MEVD) system is considered for initial feed concentration step. An average flux of 0.5 kg m−2 h−1) is assumed for the PV system. In the VD configuration, only MEVD is employed to concentrate and dry IL (from 85 to 10 wt% water). Since the VD configuration needs to dry IL to high IL concentration (≥90 wt% IL), typically, it requires relatively higher temperatures (≥150 °C) and/or extended operation times. Subsequently, medium pressure (9.5 bar) steam is utilized in the VD configuration (where as low pressure steam is utilized in the PV configuration). Furthermore, a backward feeding strategy employed in the VD configuration to ensure that the last effect with higher IL concentration is maintained at higher temperatures. Subsequently, the concentrated IL stream in the VD configuration is used to partly pre-heat the aqueous IL feed stream.
Abbreviations
IL:

ionic liquid
[C2C1Im][OAc]:

1-ethyl-3-methylimidazolium acetate
PV:

pervaporation
[C4C1Im]Cl:

1-butyl-3-methylimidazolium chloride
ED:

electrodialysis
RO:

reverse osmosis
Barrer:

a unit of gas permeability used in the membrane technology, which is named after Richard Barrer. 1 Barrer is equivalent to 3.34 × 10−16 mol Pa−1 s−1 m−1
UF:

ultrafiltration
SEM:

scanning electron microscopy
and FTIR:

Fourier transform infrared
1H-NMR:

proton nuclear magnetic resonance
DI water:

deionizing Water
VD:

vacuum distillation
TEA:

technoeconomic analysis
MESP:

minimum ethanol selling price
MEVD:

multi-effect vacuum distillation
Declarations
Authors' contributions
SS, JS, JS, BAS, and RR conceptualized and designed the experiment. JS, JS, DC, DL, SN, JS, TD, PB, and GG performed experiments. MK did technoeconomic analysis. All authors contributed to data analysis, experimental design, and manuscript writing. All authors read and approved the final manuscript.
Acknowledgements
This work conducted by the Joint BioEnergy Institute was supported by the Office of Science, Office of Biological and Environmental Research of the US Department of Energy under contract no. DE-AC02-05CH11231. The authors thank Chijioke (CJ) Joshua for the weight analysis of lignin after ultrafiltration and Dr. William F. Tivol for the assistance of SEM analysis. The effort at University of Kentucky is partially supported by the National Science Foundation under Cooperative Agreement No. 1355438. This research was undertaken, in part, thanks to funding from the Canada Excellence Research Chairs Program.
Competing interests
The authors declare that they have no competing interests.
Availability of data and materials
The supporting data are given as electronic supporting information (ESI).
Consent for publication
All the authors consented on the publication of this work.
Ethics approval and consent to participate
All authors have approved the manuscript and agree with submission to Biotechnology for Biofuels.
Funding
US Department of Energy, Office of Science, Office of Biological and Environmental Research: DE-AC02-05CH11231.
Publisher's Note
Springer Nature remains neutral with regard to jurisdictional claims in published maps and institutional affiliations.
Open AccessThis article is distributed under the terms of the Creative Commons Attribution 4.0 International License (http://creativecommons.org/licenses/by/4.0/), which permits unrestricted use, distribution, and reproduction in any medium, provided you give appropriate credit to the original author(s) and the source, provide a link to the Creative Commons license, and indicate if changes were made. The Creative Commons Public Domain Dedication waiver (http://creativecommons.org/publicdomain/zero/1.0/) applies to the data made available in this article, unless otherwise stated.
Authors' Affiliations
(1)
Deconstruction Division, Joint BioEnergy Institute, Emeryville, USA
(2)
Biological and Engineering Sciences Center, Sandia National Laboratories, Livermore, USA
(3)
Biosystems and Agricultural Engineering, University of Kentucky, Lexington, USA
(4)
Biological Systems and Engineering Division, Lawrence Berkeley National Laboratory, Berkeley, USA
(5)
Compact Membrane Systems Inc, Newport, USA
(6)
Department of Chemistry, The University of Alabama, Tuscaloosa, USA
(7)
Department of Chemistry, McGill University, Montreal, Canada
(8)
525 Solutions, Inc., Tuscaloosa, USA