Quantitative in vivo phosphoproteomics reveals reversible signaling processes during nitrogen starvation and recovery in the biofuel model organism Chlamydomonas reinhardtii
Biotechnology for Biofuels
2017
10:280
Received: 5 July 2017
Accepted: 1 November 2017
Published: 28 November 2017
Abstract
Background
Nitrogen deprivation and replenishment induces massive changes at the physiological and molecular level in the green alga Chlamydomonas reinhardtii, including reversible starch and lipid accumulation. Stress signal perception and acclimation involves transient protein phosphorylation. This study aims to provide the first experimental phosphoprotein dataset for the adaptation of C. reinhardtii during nitrogen depletion and recovery growth phases and its impact on lipid accumulation.
Results
To decipher the signaling pathways involved in this dynamic process, we applied a label-free in vivo shotgun phosphoproteomics analysis on nitrogen-depleted and recovered samples. 1227 phosphopeptides belonging to 732 phosphoproteins were identified and quantified. 470 phosphopeptides showed a significant change across the experimental set-up. Multivariate statistics revealed the reversible phosphorylation process and the time/condition-dependent dynamic rearrangement of the phosphoproteome. Protein–protein interaction analysis of differentially regulated phosphoproteins identified protein kinases and phosphatases, such as DYRKP and an AtGRIK1 orthologue, called CDPKK2, as central players in the coordination of translational, photosynthetic, proteomic and metabolomic activity. Phosphorylation of RPS6, ATG13, and NNK1 proteins points toward a specific regulation of the TOR pathway under nitrogen deprivation. Differential phosphorylation pattern of several eukaryotic initiation factor proteins (EIF) suggests a major control on protein translation and turnover.
Conclusion
This work provides the first phosphoproteomics dataset obtained for
Chlamydomonas
responses to nitrogen availability, revealing multifactorial signaling pathways and their regulatory function for biofuel production. The reproducibility of the experimental set-up allows direct comparison with proteomics and metabolomics datasets and refines therefore the current model of
Chlamydomonas
acclimation to various nitrogen levels. Integration of physiological, proteomics, metabolomics, and phosphoproteomics data reveals three phases of acclimation to N availability: (i) a rapid response triggering starch accumulation as well as energy metabolism while chloroplast structure is conserved followed by (ii) chloroplast degradation combined with cell autophagy and lipid accumulation and finally (iii) chloroplast regeneration and cell growth activation after nitrogen replenishment. Plastid development seems to be further interconnected with primary metabolism and energy stress signaling in order to coordinate cellular mechanism to nitrogen availability stress.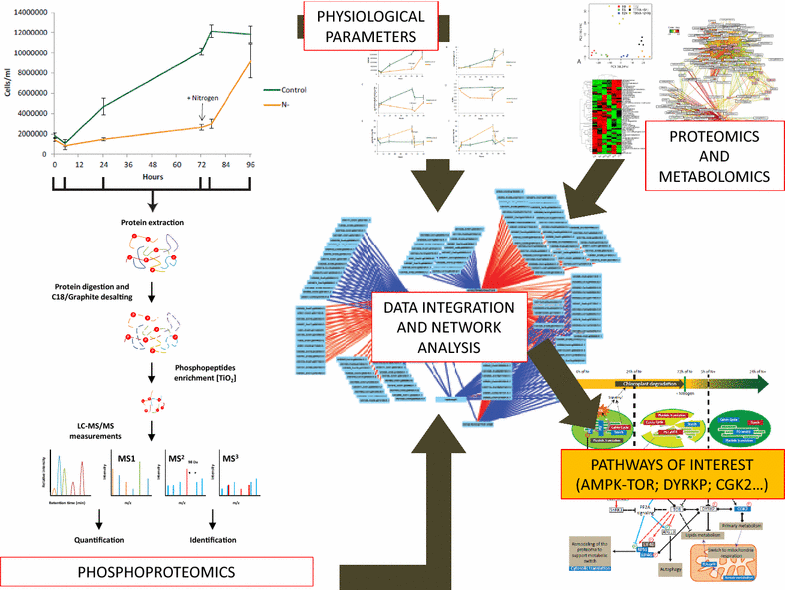 Keywords
Chlamydomonas reinhardtii Nitrogen depletionNitrogen recoveryPhosphoproteomicsSystem-level analysisChloroplastProtein translation regulationTORAMPKPlant systems biology
Background
Microalgae are powerful CO2-neutral sources for biofuel/bioethanol/biomass production since they can convert solar energy, carbon dioxide, and wastewater into massive pools of carbon [1, 2] such as triacylglycerol (TAG) and starch [3, 4]. At the same time they do not compete with arable land for nutritional crops. This is especially important because nutritional crops are still used for biomass and biofuel production which is politically irresponsible with respect to decreasing plant productivity in global climate change and hunger crisis in poor regions of the world [5]. Accordingly, fundamental research on algal metabolism and physiology with respect to biomass and biofuel accumulation is a most pressing demand [5]. Among microalgae, Chlamydomonas reinhardtii (Chlamydomonas) has been extensively studied as a model organism [5–12]. The availability of a sequenced genome [13], various genetic tools [14, 15], a rapid growth rate, and tolerance to environmental changes (e.g., light intensity) has made these algae an attractive model for investigating a wide range of fundamental and industrial applications such as biofuel/bioethanol production [15]. Research on algae growth under nutrient limitation conditions has indicated that nitrogen (N) deprivation results in TAG and starch accumulation which are accompanied by significant physiological and structural reprogramming [16–18]. To understand the adaptive mechanisms of Chlamydomonas to N depletion, several studies have used a combination of metabolomics, proteomics, and transcriptomics tools along with physiological measurements to identify the pathways involved in lipid accumulation during N starvation [19–22]. Molecular processes during the recovery phase, however, have been neglected in these studies although starch and lipid accumulation is completely reversible by nitrogen replenishment [7]. Previously, we have addressed this question by setting up an N depletion and recovery experiment and applying a combined proteomics, metabolomics, and physiological analysis strategy to infer systemic correlation networks and provide a better understanding of cell adaptation and recovery [7]. Many processes involved in post-translational and degradation processes were identified indicating the intimate involvement of signaling by protein kinases [7]. Indeed, orchestration of the cell adaptation to environmental stimuli is known to be mediated by signaling processes, which regulate protein activity through post-translational-modification (PTM) [23]. Among the different forms of signal perception and transduction, reversible protein phosphorylation controlled by protein kinases and phosphatases is one of the most fundamental processes. Kinases and phosphatases are involved in intricate networks to adjust the transcriptome, proteome, and metabolome to environmental changes. Intriguingly, despite the importance of protein phosphorylation in rapid stress perception and signaling, the characterization of the phosphoproteome dynamics during N stress has never been studied for Chlamydomonas. Therefore, there is little knowledge about Chlamydomonas signaling pathways and potential regulatory processes, especially those implied in N stress adaptation. How important these signaling processes are has been demonstrated by Quantitative Trait Locus (QTL) analysis identifying a QTL acting as suppressor of carbon reserve accumulation during optimal growth [24]. A forward genetic screen identified a dual-specificity tyrosine-phosphorylation-regulated kinase-1, a homolog of the yeast kinase Yak1, as a regulator of TAG accumulation under nitrogen and sulfur stress [25]. Another plant-specific DYRK mutant (DYRKP) was identified as accumulating more oil than the wild-type under control and nitrogen deprivation conditions [26]. Concomitantly to these targets, the conserved TOR (Target of Rapamycin) and SnRK1 (Sucrose-non-fermenting-related kinase-1)/Snf1 (Sucrose-non-fermenting kinase-1)/AMPK (AMP-dependent-activated kinase) kinases, which control growth based on nutrient and energy availability (AMPK negative control, TOR positive control), are also involved in stress signaling [6, 7, 27–30]. Recently, we have defined and analyzed the AMPK orthologs in Chlamydomonas CKIN 1, 2, and 3 under cold stress acclimation [6]. In eukaryotic systems, an antagonistic crosstalk of AMPK–TOR signaling is proposed with AMPK upstream of TOR [29, 31]. TOR is a protein kinase which promotes protein translation and growth when enough nutrients are available [32]. In Arabidopsis, AtTOR RNAi lines show a growth inhibition while starch and lipids accumulate [33]. Inhibition of TOR in Chlamydomonas triggered growth inhibition, while starch and TAG accumulate [34]. Interestingly, in Chlamydomonas, phenotypic and metabolomic observations between N stress and rapamycin treatment are similar [35, 36]. Further it was shown in Chlamydomonas that TOR inhibition like nitrogen deprivation induces autophagy through the accumulation of ATG8 protein [35, 37]. As autophagy is a dominant process in stressed Chlamydomonas cells, we have addressed this question as well by analyzing protein phosphorylation in nitrogen depletion and recovery experiments.
In the present study, we used an experimental set-up initially designed by Valledor et al. [7] and applied shotgun phosphoproteomics for the identification and quantification of the in vivo phosphoproteome [29, 38, 39]. Stability and robustness of molecular and physiological parameters between our measurements and those obtained by Valledor et al. indicate a remarkable reproducibility of the experimental set-up enabling a confident integration of phosphoproteome data with both proteomics and metabolomics data [7]. The obtained phosphoproteomics data were subjected to functional annotation, statistical analysis and integration with metabolomics, proteomics, and physiological data to provide a system-level analysis of stress perception and transduction. Significant changes in protein phosphorylation pattern were further investigated with the help of STRING/protein–protein interaction networks [40]. Results reveal a highly dynamic adaptation of the phosphoproteome during nitrogen depletion and inverse processes during the recovery phase. Sparse-Partial-Least-Square (SPLS) network analysis was used to integrate phosphoproteomics data with both physiological and proteome data [7]. These data mining processes revealed a multifactorial, sequential, and reversible reprogramming of primary metabolism, starch, and lipid accumulation, as well as chloroplast growth inhibition and degradation characterized by specific in vivo signaling pathways. Most specifically, these results highlight the central role of DYRKP and AMPK–TOR signaling pathways as key coordinators of the Chlamydomonas metabolism to N availability and as potential targets of interest to study regulatory processes as well as energy stress signaling in green algae in the context of starch and lipid accumulation.
Discussion
In this study, we have confirmed the robustness and reproducibility of the experimental set-up for the analysis of nitrogen depletion and recovery initially introduced by Valledor et al. [
7
]. Consequently, this experimental system allows for the integration of further molecular studies into a comprehensive systemic approach to understand complex biochemical regulation of starch and lipid accumulation in the biomass/biofuel model
C. reinhardtii
. Here, we report for the first time a comprehensive dataset for the
Chlamydomonas
phosphoproteome acclimation during N depletion and recovery. We observed that 55% of the identified phosphoproteins are annotated with unknown protein function compared to only 25% in the proteomic dataset of Valledor et al. [
7
]. These results clearly demonstrate that especially the phosphoproteome and its related functions are rather undiscovered and future studies are needed to focus on signaling networks in
C. reinhardtii
. Integration of phosphoproteomics data with other experimental high-throughput data such as proteomics and metabolomics revealed not only a complex regulatory network of different signaling pathways involved in metabolism but also cellular and intracellular development in these single cell green algae. These results are summarized in a proposed model of
Chlamydomonas
acclimation to nitrogen depletion and recovery as shown in Fig.
8
. A systemic analysis is the requirement to eventually understand the cell's adaptation to N availability because our data suggest an interwoven multi-processes adaptation not explainable with separated processes (Fig.
8
). Furthermore, we provide evidence that phosphopeptide levels are hardly interpretable without the protein level, and therefore a combined analysis between both is required. As example, the phosphorylation at the residue Thr7 on CP29, which is known to be a constitutive phosphorylation site of CP29 [
58
,
83
], showed similar dynamics as the protein level (Additional file
6
: Figure S5). Altogether our results indicate that increasing the coverage between phosphoproteomics and proteomics analysis will improve phosphoproteomics data interpretation.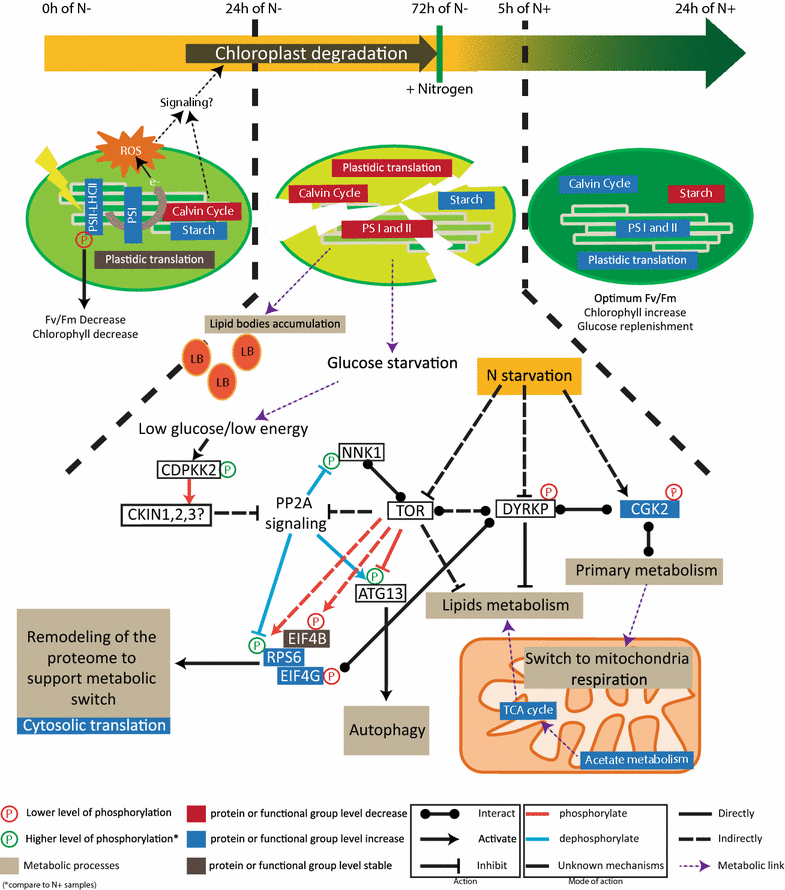 Conclusion
Microalgae are economically important as potential sources for biofuel production, especially because they do not compete with nutritional crops for arable land. As a photoautotrophic/mixotrophic model organism, C. reinhardtii is a suitable candidate for studying TAG and starch accumulation during N depletion and recovery. We report for the first time a comprehensive dataset for Chlamydomonas phosphoproteome acclimation during N depletion and recovery. The analysis demonstrated that chloroplast structure and activity, sugar, and lipid metabolism as well as protein turnover show significant and reversible changes at the phosphoprotein level in response to N depletion and recovery. Integration of phenotypic parameters with protein phosphorylation changes revealed the central involvement of protein kinases such as DYRKP, CGK2, and CDPKK2 in growth as well as starch and lipid accumulation (Fig. 8). Our data suggest a two-phase adaptation of the chloroplast during N depletion: a short-term acclimation (from 0 to 24 h), to "pseudo-highlight"—stress most probably due to the depletion of Calvin cycle proteins, and a long-term acclimation which involves chloroplast and thylakoid membrane degradation (Fig. 8). Chloroplast degradation leads to a metabolic switch toward mitochondria supported by metabolism fine tuning, especially at the glycolysis level (Fig. 8). Results for signaling protein kinases such as DYRKP and CDPKK2 point to an activation of energy saving pathways such as CKIN (AMPK in Chlamydomonas [6]) and a down-regulation of the antagonist TOR complex. Inhibition of TOR complex is supported by the EIF4B phosphorylation level. However, data obtained for other TOR targets such as ATG13, RPS6, and NNK1 indicate that a more complex regulatory mechanism is active potentially involving TOR-complex regulatory PP2A branch signaling in Chlamydomonas (Fig. 8). Our study validates the reproducibility of the experimental set-up which provides a frame toward improving our understanding of signaling pathways occurring during N depletion and replenishment in Chlamydomonas. It also allows a more precise study of the metabolic bottlenecks for N availability acclimation, such as the glycolytic pathway. In this context, energy sensing and signaling function in Chlamydomonas, as well as the chloroplast degradation process in long-term adaptation and their potential link with lipid accumulation and energy metabolism are of particular interest.
Methods
Plants material and growth conditions
Chlamydomonas reinhardtii CC-503 cw92, mt+, agg1+, nit1, nit2 cultures were grown in HEPES–Acetate–Phosphate medium supplemented with 7 mM NH4Cl (HAP  +  N; TAP medium in which Tris was replaced by 5 mM HEPES) at 25 °C with shaking (120 rpm) in a 16:8 light:dark photoperiod (85 μmol m-2 s-1; Sylvania Grolux lamps). To start the experiments, cultures were pelleted down by centrifugation at the end of the night, washed two times with HAP-N medium, and re-suspended in HAP-N media (NH4Cl was replaced by 7 mM KCl) to a final density of 1–3  ×  105 cells mL−1. From this point, cells were cultivated under continuous light. Cells were sampled at 0, 5, 24, and 72 h time points after N depletion. After the 72 h time point, NH4Cl was added to the HAP-N cultures to a final concentration of 7 mM to start the recovery phase. The cultures were once again sampled at 5 h (77 h) and 24 h (96 h) after the addition of N.
Physiological measurements
Growth was measured through the use of two techniques: counting the number of cells and/or measuring the fresh weight of a specific volume of the culture. Cell number was measured by using a Thoma hemocytometer and a light microscope (Nikon eclipse S5i). Fresh weight was acquired through gravitometric measurements. Starch was measured by using an enzymatic assay as described by Staudinger [105]. Total lipid content was measured as described by [7]. Chlorophyll content was monitored as described by [106]. The photosynthetic rate was measured with an imaging/pulse-amplitude modulation fluorimeter (OS1-FL, Opti-Sciences).
Protein extraction and phosphopeptide enrichments
Total protein was extracted from Chlamydomonas cell pellets using 500 μl of extraction buffer (100 mM Tris–HCl pH 8.0; 5% SDS, 10% glycerol; 1.4 M sucrose; 10 mM DTT; supplemented with protease and phosphatase inhibitor cocktails as indicated by the supplier (Roche, Cat. No. 05 892 791 001 and Cat. No. 04 906 837 001)). The samples were incubated at room temperature for 5 min. Immediately after the extraction, 300 µl Roti-phenol was added to the samples, which were then vortexed and incubated during 5 min before centrifugation at 21,000×g for 5 min at room temperature. The supernatant was carefully transferred to a new tube. Phenol extraction was repeated a second time. The phenol fractions were pooled together and counterextracted with 300 μl of extraction buffer and centrifuged at 21,000×g for 5 min at room temperature. The supernatant was carefully transferred to a new tube. Protein precipitation was performed by mixing the phenol fraction with 2.5 volumes of 0.1 M ammonium acetate in methanol. After a 16-h incubation period at − 20 °C, the samples were centrifuged for 5 min at 5000×g. The protein pellets were washed twice with 0.1 M ammonium acetate, one time with acetone, and air dried at room temperature. The protein pellets were dissolved in 8 M urea/100 mM ammonium bicarbonate (AmBic) supplemented with protease and phosphatase inhibitor cocktails as indicated by the supplier (Roche, Cat. No. 05 892 791 001 and Cat. No. 04 906 837 001). Protein concentration was determined using the Bio-Rad Bradford Assay with BSA as a standard. 100 μg of total protein per sample was first reduced with dithiothreitol (DTT) at concentration of 5 mM at 37 °C for 45 min. Cysteine residues were alkylated with 10 mM iodoacetamide (IAA) in darkness at room temperature (RT) for 60 min. Alkylation was stopped by increasing DTT concentration to 10 mM and incubating the samples in the dark at RT for 15 min. Then the urea concentration was diluted to 2 M with 50 mM AmBic/10% acetonitrile (ACN). CaCl2 was added to a final concentration of 2 mM. Trypsin digestion (Poroszyme immobilized trypsin; 5:100 v:w) was performed at 37 °C overnight. Protein digests were desalted with C18 solid phase extraction (SPE) (Agilent Technologies, Santa Clara, USA) and carbon graphite SPE as described by [107]. After both SPEs, the corresponding eluates were pooled and dried in a vacuum concentrator. Phosphopeptide enrichment was performed using 5 mg of TiO2 (Glygen Corp.) as described previously [29, 38] and dried in a vacuum concentrator.
LC–MS for phosphoproteomics
Phosphopeptide pellets were resolved in 10 µl of 5% (v/v) ACN and 0.5% (v/v) formic acid (FA). 5 µl of the mixture was separated on an EASY-Spray PepMap RSLC 75 μm × 50 cm column (Thermo Fisher Scientific Inc., Waltham, USA). Peptides were eluted using a 240-min linear gradient from 2 to 40% of mobile phase B (mobile phase A: 0.1% [v/v] formic acid (FA) in water; mobile phase B: 0.1% [v/v] FA in 90% [v/v] ACN) with 300 nl/min flow rate generated with an UltiMate 3000 RSLCnano system.
The peptides were measured with a LTQ-Orbitrap Elite (Thermo) using the following mass analyzer settings: ion transfer capillary temperature 275 °C, full scan range 350–1800 m/z, and FTMS resolution 120,000. Each FTMS full scan was followed by up to ten data-dependent (DDA) CID tandem mass spectra (MS/MS spectra) in the linear triple quadrupole (LTQ) mass analyzer. Dynamic exclusion was enabled using list size 500 m/z values with exclusion width ± 10 ppm for 60 s. Charge state screening was enabled and unassigned and + 1 charged ions were excluded from MS/MS acquisitions. For injection control, automatic gain control (AGC) for full scan acquisition in the Orbitrap was set to 5 × 105 ion population, and the maximum injection time (max IT) was set to 200 ms. Orbitrap online calibration using internal lock mass calibration on m/z 371.10123 from polydimethylcyclosiloxane was used. Multistage activation was enabled with neural losses of 24.49, 32.66, 48.999, 97.97, 195.94, and 293.91 Da for the ten most intense precursor ions. Prediction of ion injection time was enabled and the trap was set to gather 5 × 103 ions for up to 50 ms.
Data analysis and statistics
For peptide identification against the Chlamydomonas database, a map for the proteome of the JGI_236 version was specifically created using Mercator (http://MapMan.gabipd.org/web/guest/app/mercator) [108]. For phosphorylation site mapping as well as phosphopeptide quantification, MaxQuant 1.5 (http://www.maxquant.org) and Andromeda search algorithm were used [109, 110]. Phosphopeptide identification was performed using the following settings: Mass tolerance for precursor was set to 5 ppm and for fragment masses up to 0.8 Da. The maximum FDR was set to 0.01%. Three missed cleavages were allowed. The dynamic modifications allowed were phosphorylation (STY), methionine oxidation (M), and protein N-terminal acetylation. The fixed modification allowed was Carbamidomethyl (C). Quantification was done at peptide level. Further data processing was done with the Perseus 1.5 software. Phosphoproteomics data were log2-transformed, and the following filtered steps were applied: only phosphopeptides belonging to category I (localization probability > 0.75 and score difference > 5) [111]. Additionally, phosphopeptides were accounted for quantification only if they were present in more than 50% of the overall samples. Data were normalized to the median of each sample and the missing values were replaced with random numbers drawn from normal distribution of each sample. Z-scores (zero mean, unit variance) were calculated for relative protein and phosphopeptide abundance for subsequent uni- and multi-variates analysis. One-way analysis of variance (ANOVA) and Student's t test were performed with Perseus 1.5 software. PCA was performed within the numerical software environment Matlab® (V8.4.0 R2014b; http://www.mathworks.com) and the toolbox COVAIN [112] and hierarchical clustering with MeV [113, 114]. Motif-x analysis was used to identify phosphorylation motifs that were over represented in our dataset (http://motif-x.med.harvard.edu/motif-x.html) [45]. The analysis was conducted on peptides which significantly changed in the one-way ANOVA analysis. Two searches were performed against a serine residue or a threonine residue as central position. Chlamydomonas JGI_236 version was used as background proteome. Further details have been provided in the figure legend (Fig. 5a). Protein–protein interaction networks were created using the STRING database for Known and Predicted Protein–Protein Interactions with the standard setting (http://string-db.org/) [40]. The R software (The R Project for Statistical Computing; http://www.r-project.org/) was used to calculate SPLS analysis. Finally SPLS networks were visualized with Cytoscape v3.4.0 (http://www.cytoscape.org/) [115].
Declarations
Authors' contributions
WW conceived the study; VR, SB, and PJR planned and performed the experiments; VR and WW analyzed the data; and VR and WW wrote the manuscript. All authors read and approved the final manuscript.
Acknowledgements
This study was financed by the Marie Curie ITN project CALIPSO (Grant Agreement Number: GA 2013-607-607). We would like to thank Ella Nukarinen for support in phosphoproteomics. We also thank Dr. Verena Ibl, Dr. Michele Grieco, Dr. Bernhard Wurzinger, and Dr. Paul Roustan for critical reading of the manuscript as well as all members of the CALIPSO network and the MoSys lab for all the constructive discussions, support, and advice.
Competing interests
The authors declare that they have no competing interests.
Availability of data and materials
The authors declare that [the/all other] data supporting the findings of this study are available within the article and its Additional files 1, 2, 3, 4, 5, and 6.
Consent for publication
Not applicable.
Ethics approval and consent to participate
Not applicable.
Funding
Valentin Roustan is supported by the EU Marie Curie ITN CALIPSO, Grant Number GA 2013-607-607.
Publisher's Note
Springer Nature remains neutral with regard to jurisdictional claims in published maps and institutional affiliations.
Open AccessThis article is distributed under the terms of the Creative Commons Attribution 4.0 International License (http://creativecommons.org/licenses/by/4.0/), which permits unrestricted use, distribution, and reproduction in any medium, provided you give appropriate credit to the original author(s) and the source, provide a link to the Creative Commons license, and indicate if changes were made. The Creative Commons Public Domain Dedication waiver (http://creativecommons.org/publicdomain/zero/1.0/) applies to the data made available in this article, unless otherwise stated.
Authors' Affiliations
(1)
Department of Ecogenomics and Systems Biology, University of Vienna, Vienna, Austria
(2)
Vienna Metabolomics Center (VIME), University of Vienna, Vienna, Austria