Meta-proteomic analysis of protein expression distinctive to electricity-generating biofilm communities in air-cathode microbial fuel cells
Biotechnology for Biofuels
2018
11:121
Received: 25 November 2017
Accepted: 6 April 2018
Published: 23 April 2018
Abstract
Background
Bioelectrochemical systems (BESs) harness electrons from microbial respiration to generate power or chemical products from a variety of organic feedstocks, including lignocellulosic biomass, fermentation byproducts, and wastewater sludge. In some BESs, such as microbial fuel cells (MFCs), bacteria living in a biofilm use the anode as an electron acceptor for electrons harvested from organic materials such as lignocellulosic biomass or waste byproducts, generating energy that may be used by humans. Many BES applications use bacterial biofilm communities, but no studies have investigated protein expression by the anode biofilm community as a whole.
Results
To discover functional protein expression during current generation that may be useful for MFC optimization, a label-free meta-proteomics approach was used to compare protein expression in acetate-fed anode biofilms before and after the onset of robust electricity generation. Meta-proteomic comparisons were integrated with 16S rRNA gene-based community analysis at four developmental stages. The community composition shifted from dominance by aerobic Gammaproteobacteria (90.9 ± 3.3%) during initial biofilm formation to dominance by Deltaproteobacteria, particularly Geobacter (68.7 ± 3.6%) in mature, electricity-generating anodes. Community diversity in the intermediate stage, just after robust current generation began, was double that at the early stage and nearly double that of mature anode communities. Maximum current densities at the intermediate stage, however, were relatively similar (~ 83%) to those achieved by mature-stage biofilms. Meta-proteomic analysis, correlated with population changes, revealed significant enrichment of categories specific to membrane and transport functions among proteins from electricity-producing biofilms. Proteins detected only in electricity-producing biofilms were associated with gluconeogenesis, the glyoxylate cycle, and fatty acid β-oxidation, as well as with denitrification and competitive inhibition.
Conclusions
The results demonstrate that it is possible for an MFC microbial community to generate robust current densities while exhibiting high taxonomic diversity. Moreover, these data provide evidence to suggest that startup growth of air–cathode MFCs under conditions that promote the establishment of aerobic–anaerobic syntrophy may decrease startup times. This study represents the first investigation into protein expression of a complex BES anode biofilm community as a whole. The findings contribute to understanding of the molecular mechanisms at work during BES startup and suggest options for improvement of BES generation of bioelectricity from renewable biomass.
Keywords
Bioelectrochemical
Proteomics
Meta-proteomics
Microbial fuel cell
Metagenomics
Biofilm
Exoelectrogen
Geobacter
Background
In bioelectrochemical systems (BESs), electrochemically active microbes convey electrons to or from a conductive electrode [1]. In some BES systems, such as microbial fuel cells (MFCs), bacteria living in a biofilm use the anode as an electron acceptor for electrons harvested from organic materials such as lignocellulosic biomass or waste byproducts, and the resulting current is harnessed to recover energy during wastewater treatment [2]. Other BES applications include removal of nutrients [3] or metals [4], desalination [5], and generation of bioproducts such as H2 [6], H2O2 [7], or organic molecules from CO2 and sunlight [8]. Successful commercial application of BES technologies will require increases in current generation and efficiency [9]. More detailed information regarding the fundamental mechanisms that enable bioelectricity generation will inform strategies for scale-up and new applications of BES technology [10].
Descriptions of the mechanisms behind electricity generation in BESs have relied primarily on model BES genera. Current generation mechanisms described for model BES genera like Shewanella and Geobacter include indirect electron transfer via soluble redox compounds [11], and direct electron transfer via outer membrane cytochromes [12] or pilus-like "nanowires" [13]. These discoveries have informed improvements in BES performance through design of electrode architecture [14], identification of limiting factors during electron transfer [15], and attempts at metabolic engineering of microbes or defined community [16]. Few studies, however, have attempted to determine which of these current generation mechanisms are most prevalent in mixed culture BES communities or how the interactions between members of BES consortia affect electricity generation. So far, those interactions primarily have been described in terms of community composition, quantified as relative abundance of 16S rRNA genes [17, 18]. This kind of ecological approach describes compositional changes of BES community in response to operational changes such as the type of substrate [19]. Metabolic syntrophies among BES community members are thought to explain the generally superior performance of a mixed community compared with pure cultures [20]. However, 16S rRNA profiling is not well suited to provide insights into interactions among community members. Identification of the community interactions and mechanisms of current generation at work during BES biofilm development may suggest strategies to reduce reactor startup time or increase community resilience to perturbation, thereby reducing operating costs and supporting commercial scale-up.
Appropriate tools for molecular investigations of microbial community function have emerged only recently [21]. Proteomics, in particular, has been useful for profiling protein expression of defined or undefined microbial communities [22]. These "meta-proteomics" studies have identified metabolic mechanisms behind multispecies fermentation [23], methanogenesis [24], or community response to a toxic perturbation [25]. A few studies have used proteomics methods to investigate electricity generation by model species or isolates [26, 27]. Meta-proteomics examinations of BES systems, however, have been limited to a single investigation of protein expression of biocathode biofilm organisms under optimal and suboptimal conditions [28]. This study identified several biocathode proteins associated with an optimal reactor potential for use of an electrode as an electron donor to fix CO2. The question of the proteins associated with anode mixed-species biofilms that generate electricity has not yet been addressed.
The goal of this study was to characterize protein expression that is distinctive to a MFC anode community when it is generating electricity. Specifically, a label-free meta-proteomics approach was used to compare protein expression in acetate-fed MFC anode biofilms before and after the onset of robust current generation. Since the types and abundances of proteins expressed depend on the types and abundances of microbial genera present in the community, we quantified changes in MFC community structure across developmental stages in terms of relative abundance of operational taxonomical units (OTUs). This information about community structure was integrated with meta-proteomics results in two ways. First, protein expression was normalized to abundance levels of individual genera during significance testing for differential expression of proteins. Second, OTU quantification was used as a method of orthogonal "validation" of meta-proteomics results by comparing relative abundance of genera based on OTUs with that based on genera associated with protein identifications. Compared with using a single method, this sort of mixed meta-omics approach offers the possibility of obtaining a more complete picture of the activities and interactions of the anode community members during MFC startup and electricity production. Such a picture may prove useful for improving MFC performance through reactor design, operating conditions, or community structure modification.
Methods
MFC setup, operation, and harvest
The single-chamber, membrane-free, air–cathode MFC design used in this study was similar to a previous design [29] and is described in detail in Additional file 1. The liquid volume of each MFC was 30 mL, and the area of the anode and air–cathode was 7.0 cm2. The MFCs were autoclaved prior to inoculation with a mixed culture inoculum that was derived from anaerobic digester sludge (Drake Water Reclamation Facility, Fort Collins, CO). The MFCs were fed 30 mM acetate by full batch replacement with a minimal medium described previously [29]. No exogenous redox mediators were used. MFCs were operated at room temperature with a 1 kΩ external resistor completing the anode–cathode circuit. Anodes from three replicate MFCs were harvested for each of four developmental stages: (i) bulk MFC suspension; (ii) early anode biofilm; (iii) intermediate anode biofilm; (iv) mature anode biofilm. Bulk suspension samples were collected 24 h after inoculation for Stage (i). Stage (ii) MFCs were harvested when they first reached current densities of  ~ 0.05 A/m2, an order of magnitude lower than that in Stage (iii) (~ 0.6 A/m2). Stage (iv) was characterized by higher current densities (0.7–0.8 A/m2) in repeated batches over a 2-year period.
16S rRNA gene sequencing and OTU analysis
Total DNA was extracted from biofilm scraped from each MFC anode using a Powersoil DNA Isolation Kit (MoBio Laboratories, Inc., Carlsbad, CA, USA), according to the manufacturer's instructions. The V3–V7 region of 16S rRNA genes was sequenced at RTL Genomics (Lubbock, TX) using an Illumina MiSeq platform. Statistical comparison of the relative abundance of operational taxonomic units (OTUs) between communities from the four developmental stages was conducted with a nonparametric multivariate analysis of variance (npMANOVA) test, using the vegan package in R [30], as described in Additional file 1. For post hoc analysis, pairwise Pearson's r correlations between consecutive pairs of anodes of each developmental condition were conducted using the cor() function in R and plotted using the ggplot() function. Pairwise correlations were investigated for significant differences between comparison type (e.g., early–intermediate correlations vs. early–mature correlations) by Tukey's HSD test. In addition, a nonmetric multidimensional scaling (NMDS) plot was generated to compare clustering for each sample type as described in Additional file 1. Based on the results of the npMANOVA, Pearson's correlations, and NMDS results, a similarity percentage (SIMPER) analysis [31] was conducted on the early and mature anode biofilms. This analysis quantifies the average contribution of each taxon to the overall difference between communities. Simpson's Diversity Index (SDI) values were computed for each anode biofilm and compared for statistically significant differences between developmental stages with a Welch's t test.
Proteomic analysis
Protein extraction from MFC samples
A protein extraction method was developed specifically for anode biofilms. Briefly, biofilm scraped from each harvested anode was sonicated in lysis buffer (50 mM ammonium bicarbonate, 1% sodium deoxycholate, pH 8.2) for 5 min, subjected to a freeze–thaw cycle, and sonicated again. Sodium deoxycholate was chosen as a detergent to maximize unbiased protein recovery, including from membrane proteins [32]. Supernatant containing suspended proteins was collected (14,000×g for 20 min). Proteins were precipitated, quantified, and trypsin-digested according to standard methods, as described in Additional file 1.
LC–MS/MS analysis
Two micrograms of resuspended peptides were loaded onto a C18 trap (200 µm ID, 0.5 mm length, 120 Å, Eksigent Technologies) on the front end of a NanoLC 400 (Eksigent Technologies, Redwood City, CA, USA). A 2–80% gradient of acetonitrile (ACN) with 0.1% formic acid was used to elute the peptides (C18, 75 µm ID, 150 mm length, 120 Å, Eksigent Technologies, Redwood City, CA, USA) at a flow rate of 300 nL/min. Peptides were eluted (150 min) into the electrospray ionization chamber of a TripleTOF 5600 Q-TOF mass spectrometer (ABSciex, Redwood City, CA, USA) and ionized at 80 V. Up to 50 MS2 scans followed each MS1 scan, according to the order of intensity. Three technical replicate LC–MS/MS injections were performed for each biological replicate MFC anode. The MS proteomics data were deposited at the open access library of ProteomeXchange Consortium (http://www.proteomexchange.org/) [33].
Label-free quantification, statistical analysis, and metabolic interpretation of protein data
Proteins were identified from LC–MS/MS spectra (ProteinPilot v.4.5 beta) using a fasta database consisting of the entire bacterial metaproteome (proteome filter "taxonomy: bacteria (2)," downloaded from Uniprot 2-15-15). The false discovery rate (FDR) was computed by ProteinPilot with a reversed-sequence decoy database using a threshold ≤ 0.01. For each protein, a modified version of the distributed normalized spectral abundance factor (NSAF) [
34
] was computed with custom R scripts, using the ProteinPilot "unused score". For proteins identified in both early and intermediate MFC samples, this NSAF value was normalized to OTU abundance of the corresponding genus for that protein, thus accounting for population shifts in the community. Since no proteins were identified as differentially expressed after applying a
q
-value multiple-testing correction [
35
], but the histogram of
p
-values showed a right skew (Fig.
1
), we present instead proteins-of-interest (POIs) that had log
2
-fold-change greater than 1 or less than − 1 and
p
 < 0.05 in a Student's
t
test [
36
]. For proteins detected only in one of the anode developmental stages ("uniquely detected proteins," UDPs), Fisher's exact tests implemented in Blast2GO (v.3.1.0) identified Gene Ontology (GO) categories significantly enriched (FDR < 0.05) [
37
] among either the early or intermediate UDPs. Since this study was concerned with proteins that are distinctive to current generation in MFCs, subsequent analysis focused on POIs with log
2
-fold-change > 1 as well as UDPs in intermediate MFCs (UDPIs). Analysis of KEGG pathways enriched among UDPIs was conducted by GhostKOALA, an automated metagenome annotation server that characterizes gene functions and pathways based on KEGG Orthology sequence assignments [
38
]. As for OTUs, the diversity of genera in early and intermediate communities was quantified by SDI on the relative abundance values of proteins identified by GhostKOALA, across replicate anode samples. Diversity in early or intermediate stages was compared by a two-tailed Welch's
t
test on SDI values. A detailed description of protein identification, spectral count quantification, and statistical comparison is provided in Additional file
1
.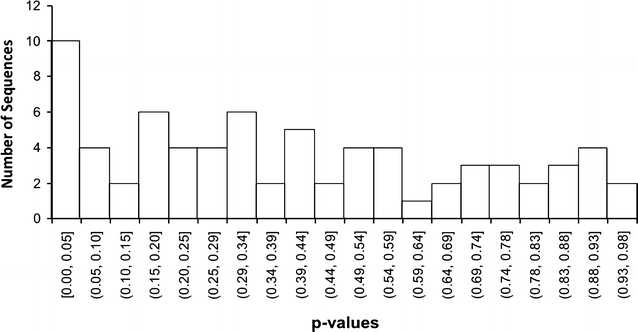 Scanning electron microscopy (SEM)
Sections (3 cm × 3 cm) of harvested anodes were removed using a sterile razor blade. Biofilms were fixed to the anode surface with an aqueous solution of 1.5% formaldehyde and 2.5% glutaraldehyde for 2 h at room temperature. Samples were washed with phosphate buffer and then sequentially in 60, 70, 80, 90, and 100% aqueous solutions of ethanol. Residual ethanol was evaporated, and samples were visualized on a Hitachi TM3000 SEM (Schaumburg, IL, USA).
Results
Current generation and MFC anode colonization
The purpose of this study was to identify protein expression that is unique to MFC anode biofilm communities during electricity generation. Therefore, MFC anodes were harvested at different developmental stages before and after robust current generation was detected. The developmental stage of MFC biofilms was identified by current densities at the harvest point: 0.056 ± 0.005, 0.632 ± 0.059, and 0.764 ± 0.035 A/m
2
for early, intermediate, and mature MFC biofilms, respectively. Early MFC biofilms were harvested after 130.3 ± 9.1 h of operation, at very low levels of electricity generation (Fig.
2
). Initial adhesion of cells to anode fibers was observable at this stage, compared to unused carbon cloth (Additional file
2
: Figure S1A and B). Intermediate MFCs were harvested after 523.7 ± 35.0 h, when current density increased to 0.6 A/m
2
. More extensive cell growth and biofilm structures were observed on intermediate anodes, compared to early anodes (Additional file
2
: Figure S1C). Current densities and dynamics for replicate MFCs at the early and intermediate times were similar (Additional file
2
: Figure S2). Mature anode biofilms were harvested after they generated maximum current densities of 0.7–0.8 A/m
2
for more than 2 years (> 17,000 h) (Additional file
2
: Figure S3). Several layers of cells surrounded by a thick extracellular matrix were observed on mature anodes (Additional file
2
: Figure S1D).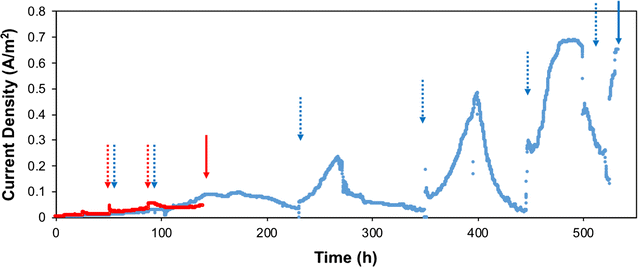 MFC biofilm community structure based on 16S rRNA gene amplicons and proteins
Significant differences (
p
 < 0.001, npMANOVA) in community composition as measured by OTUs were observed among the four MFC developmental stages (Additional file
3
: Table S1). As a post hoc test, pairwise Pearson's r correlations were calculated between consecutive pairs of biological replicates of each developmental stage. The correlation was lowest between the mature anode biofilm OTUs and OTUs from either the bulk solution (Pearson's
r
 = 0.005 ± 0.004) or early anode communities (Pearson's
r
 = 0.011 ± 0.007) (Fig.
3
; Additional file
3
: Table S1). The greatest degree of correlation was found between early and solution communities (
r
 = 0.52 ± 0.30) and early and intermediate communities (
r
 = 0.53 ± 0.22). The latter correlation between early and intermediate communities was significantly (
p
 < 0.05, Tukey's HSD) better than that between early and mature biofilms (
r
 = 0.01 ± 0.01), consistent with the emergence of the intermediate biofilm community from the early community. Interestingly, the taxonomic diversity of the intermediate biofilm was significantly (
p
 < 0.005, Welch's
t
test) much greater than that of any of the other stages, exhibiting a SDI value more than twice that of the early biofilm (Table
1
). The increase in diversity likely contributed to the lower degree of clustering of intermediate anode biofilm samples in the NMDS plot, compared to the other sample types (Additional file
2
: Figure S4).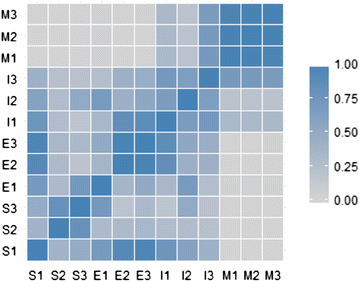 Table 1
Comparison of Simpson's Diversity Index values for MFC communities at different developmental stages. The enumeration method refers to sequenced 16S rRNA gene amplicons (OTUs) or LC–MS/MS-identified proteins assigned to taxonomical groups by GhostKOALA. The error term is the standard deviation across microbial consortia for three independent replicate MFC anodes. GhostKOALA protein information for solution and mature biofilm communities is not available (NA) since proteomics analysis was not conducted on those samples
| Enumeration method | Solution | Early | Intermediate | Mature |
| --- | --- | --- | --- | --- |
| OTUs | 0.28 ± 0.13 | 0.30 ± 0.12 | 0.85 ± 0.03 | 0.50 ± 0.05 |
| GhostKOALA proteins | NA | 0.43 ± 0.07 | 0.80 ± 0.01 | NA |
Since the early and mature communities were significantly different according to both npMANOVA and Pearson's r correlation, SIMPER analysis was conducted to determine the percent contribution of individual taxa to the dissimilarity between those two communities. This analysis identified OTUs 132 (Acinetobacter), 333 (Geobacter), and 96 (Pseudomonas) contributing most to the differences between early and mature biofilm communities, with SIMPER cumulative contribution scores of 0.77, 0.41, and 0.63, respectively. This result from SIMPER analysis was corroborated by the decreasing relative abundance of total Gammaproteobacteria (Acinetobacter, Pseudomonas) and increasing Deltaproteobacteria (Geobacter) as the biofilms progressed from early to mature stages (Additional file 3: Tables S2 and S3). Moreover, the shift in dominance across the developmental stages between those three genera can be seen clearly in relative abundances of prominent OTUs (relative abundance greater than or equal to 1.0%) across developmental stages. Nearly all of the relative abundance attributed to each genus was due to the same OTUs (Additional file 3: Tables S3 and S4). For example, across all developmental stages nearly all of the relative abundance of Geobacter was due to OTU333, which had no identified species. Over the four developmental stages sampled, the number of OTUs with relative abundance greater than or equal to 1.0% decreased from seven (solution) to six (early biofilm), then increased to 17 OTUs (intermediate biofilm) before decreasing to just four OTUs in the mature biofilms. Genera that emerged to more than 1.0% in the intermediate biofilm included Thauera (OTU198), Alcaligenes (OTU288), Geobacter (OTU333), and an unknown Synergistales (OTU204). Of these, only the latter two OTUs were prominent in the mature biofilm; together with an unknown bacterium and an Actinomyces, they comprised over 86% of the mature community.
The relatively high degree of overall correlation between the early and solution communities (Additional file 3: Table S1) as well as the dominance of both early and solution communities by Gammaproteobacteria—i.e., Acinetobacter (OTU132) and Pseudomonas (OTUs 356 and 96) (Additional file 3: Tables S2, S3, S4)—suggested that those genera were early colonizers of the anode. Interestingly, Pseudomonas OTU356 was the most dominant OTU in the solution community but was only present at ~ 1.0% in the early biofilm community (Additional file 3: Table S4). In contrast, relative abundance of Pseudomonas OTU96 increased in abundance in the early biofilm compared to the solution community, suggesting that the species of Pseudomonas represented by OTU356 did not attach to the anode effectively.
The GhostKOALA and OTU datasets were significantly correlated (adjusted
R
2
 = 0.914,
p
 < 2.2e
−16
) with regard to taxonomical relative abundance (Additional file
2
: Figures S5 and S6). The taxonomies of OTUs and proteins both showed dominance of early anode biofilm communities by nonenteric
Gammaproteobacteria
, with increased relative abundance in intermediate biofilms for
Alpha
-,
Beta
-, and
Deltaproteobacteria
, as well as for
Actinobacteria
,
Synergistetes
, and
Firmicutes
(
Clostridia
) (Fig.
4
). Moreover, OTU and GhostKOALA protein methods agreed that the taxonomic diversity of the intermediate MFCs was significantly (
p
 < 0.005, Welch's
t
test) greater than that of the early MFCs. With respect to diversity, SDI values based on GhostKOALA protein identifications (Additional file
1
: Section G) were 0.43 ± 0.07 and 0.80 ± 0.01 for early and intermediate anode samples, respectively (Table
1
). There was no significant difference between the two methods in SDI values for either the early (
p
 > 0.2, Welch's
t
test) or intermediate communities (
p
 > 0.1, Welch's
t
test). The broad phylogenetic agreement between the two methods with respect to genera identifications suggested that a representative extraction of proteins across the set of different members of the MFC community had been achieved.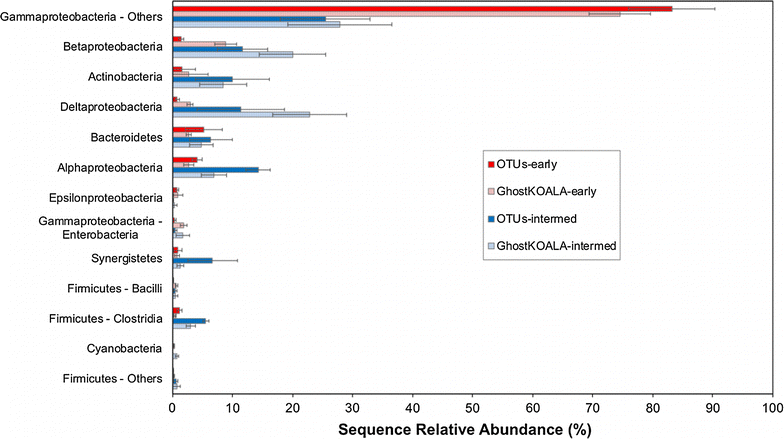 A complete list of all 392 OTUs identified in this study, including taxonomy and abundance in each MFC sample, is provided in Additional file 4.
Conclusions
This study is the first to investigate global protein expression distinctive to electricity generation by a mixed microbial community. Changes in protein expression and community structure as a MFC begins producing electricity inform fundamental understanding of anode biofilm function and strategies to improve MFC performance. The results presented here suggest that community composition during MFC anode biofilm development is dynamic, shifting from dominance by aerobic taxa in early developmental stages to dominance by Geobacter. During that transition, an intermediate stage generates robust current densities, but with considerably greater community diversity than mature MFCs. Initiation of electricity production was associated with enrichment in membrane proteins related to transport and electron transfer, although not in conductive pili. Proteins involved in central carbon metabolism such as the TCA/glyoxylate cycle and gluconeogenesis that were enriched during electricity production suggest EPS biosynthesis by Geobacter and Thauera genera. Interactions between members of the electricity-producing community were indicated by proteins responsible for the production and response to reactive compounds such as N2O. Competitive interactions between Geobacter and other MFC community members were suggested by a contact-dependent inhibition cysteine synthase A protein and a phage tail protein in Geobacter. The results presented in this study suggest strategies to manipulate anode community interactions—for example, promoting aerobic EPS formation during early biofilm development, or reducing nitrification and denitrification—that may reduce startup times and improve efficiency of electricity generation in air–cathode MFCs or other BES technologies. This kind of mechanistic information will be critical for scale-up and integration of BES applications into the landscape of new technologies generating bioenergy from renewable biomass.
Declarations
Authors' contributions
JC designed the experiments, collected and analyzed the data, and wrote the manuscript. KR and SD contributed to experimental design, interpretation of results, and edits of the manuscript. All authors read and approved the final manuscript.
Acknowledgements
The LC–MS/MS operational method used to analyze MFC proteins in this study was a modified version of a method originally developed by Dr. Seijin Park. The authors are grateful to Dr. Park for input and guidance in LC–MS/MS method development.
Competing interests
The authors declare that they have no competing interests.
Availability of data and materials
The datasets from the study are available upon request and are available at ProteomeExchange upon publication. Additional files are available at the Biofuels for Biotechnology website.
Consent for publication
Not applicable.
Ethics approval and consent to participate
Not applicable.
Funding
This work was supported by the US National Science Foundation (Grant No. DGE-0801707), the Colorado Center for Biorefining and Bioproducts, and the Jud and Pat Harper Endowment in the Department of Chemical and Biological Engineering at Colorado State University.
Publisher's Note
Springer Nature remains neutral with regard to jurisdictional claims in published maps and institutional affiliations.
Open AccessThis article is distributed under the terms of the Creative Commons Attribution 4.0 International License (http://creativecommons.org/licenses/by/4.0/), which permits unrestricted use, distribution, and reproduction in any medium, provided you give appropriate credit to the original author(s) and the source, provide a link to the Creative Commons license, and indicate if changes were made. The Creative Commons Public Domain Dedication waiver (http://creativecommons.org/publicdomain/zero/1.0/) applies to the data made available in this article, unless otherwise stated.
Authors' Affiliations
(1)
Department of Chemical and Biological Engineering, Colorado State University, Fort Collins, USA
(2)
Department of Civil and Environmental Engineering, Colorado State University, Fort Collins, USA
(3)
Cell and Molecular Biology Graduate Program, Colorado State University, Fort Collins, USA