Aiming for the complete utilization of sugar-beet pulp: Examination of the effects of mild acid and hydrothermal pretreatment followed by enzymatic digestion
Biotechnology for Biofuels
2011
4:14
Received: 11 February 2011
Accepted: 31 May 2011
Published: 31 May 2011
Abstract
Background
Biomass use for the production of bioethanol or platform chemicals requires efficient breakdown of biomass to fermentable monosaccharides. Lignocellulosic feedstocks often require physicochemical pretreatment before enzymatic hydrolysis can begin. The optimal pretreatment can be different for different feedstocks, and should not lead to biomass destruction or formation of toxic products.
Methods
We examined the influence of six mild sulfuric acid or water pretreatments at different temperatures on the enzymatic degradability of sugar-beet pulp (SBP).
Results
We found that optimal pretreatment at 140°C of 15 minutes in water was able to solubilize 60% w/w of the total carbohydrates present, mainly pectins. More severe treatments led to the destruction of the solubilized sugars, and the subsequent production of the sugar-degradation products furfural, hydroxymethylfurfural, acetic acid and formic acid. The pretreated samples were successfully degraded enzymatically with an experimental cellulase preparation.
Conclusions
In this study, we found that pretreatment of SBP greatly facilitated the subsequent enzymatic degradation within economically feasible time ranges and enzyme levels. In addition, pretreatment of SBP can be useful to fractionate functional ingredients such as arabinans and pectins from cellulose. We found that the optimal combined severity factor to enhance the enzymatic degradation of SBP was between log R'0 = -2.0 and log R'0 = -1.5. The optimal pretreatment and enzyme treatment solubilized up to 80% of all sugars present in the SBP, including ≥90% of the cellulose.
Keywords
PectinFurfuralFerulic AcidArabinoseGalacturonic Acid
Background
Sugar-beet pulp (SBP) consists of up to 75% w/w of carbohydrates (dry matter). Arabinose, glucose and galacturonic acid (GA) are the main sugar moieties present in complex polysaccharide structures [1]. After sugar extraction, the pressed pulp has a dry-matter content of 18-23% w/w. To date, SBP has been used mainly as animal feed or, in regions with no livestock farming, dumped in landfill [2, 3]. The low dry-matter content makes combustion of SBP for heat and power production unfavorable; however, its low lignin and high sugar content make it an interesting candidate for biorefinery and/or bioethanol production. The availability of new, pentose-fermenting yeast strains allows the efficient use of biomass for bioethanol production [4]; however, no yeast strains that allow the fermentation of uronic acids to ethanol are currently available.
For fermentation, the cell-wall material needs to be degraded into fermentable monosaccharides. To this end, lignocellulosic feedstocks are often structurally modified by a mild pretreatment before enzymatic release of fermentable monosaccharides [5]. The severity of this pretreatment can be measured by a combined severity factor (log R″0) that takes into account pretreatment time, pretreatment temperature, and acid concentration (w/w%) and pH after pretreatment [6, 7, 47]. In general, a pretreatment has to be strong enough to disrupt the cellulose-hemicellulose network and, if present, the cellulose-lignin network; however, as the severity of the pretreatment increases, more biomass is degraded to non-fermentable products and products toxic to yeast, such as furfural or hydroxymethylfurfural (HMF) [8]. Along with release of furfural and HMF, weak acids (such as acetic acid) which can have a negative effect on yeast growth, viability and fermentation, may also be released [9, 10]. Although yeasts can adapt to moderate levels of furfural and detoxification, as shown previously [11], it is economically and ecologically favorable to avoid the formation of such compounds.
During the past decades, much work has been performed on the degradation of SBP, which has shown good yields of solubilized carbohydrates; however, in these studies, high levels of enzymes or chemicals were required [12–15]. To our knowledge, there are no data available for the degradation of SBP in commercially reasonable time spans and with economically feasible enzyme levels.
In this study, we examined the effect of hydrothermal or mild acid pretreatment on enhancing the enzymatic degradation of SBP. Several different pretreatments were used, with different temperatures and pH values. The pretreated samples were characterized and used for an enzymatic saccharification study to analyze the amounts of fermentable monosaccharides produced.
Methods
Starting material
SBP was obtained as frozen pressed pulp (23% dry-matter content, harvest 2006; Suiker Unie, Dinteloord, The Netherlands). The pulp contained 68% w/w carbohydrates (dry weight). The constituent sugars were arabinose (18% w/w), glucose (22% w/w), uronic acids (UAs) (18% w/w), galactose (5% w/w), rhamnose (2% w/w), xylose (2% w/w) and mannose (1% w/w), respectively, and the pulp contained 4% w/w residual saccharose. Other components were protein (8% w/w), lipids and salts. Ferulic acid (0.5% w/w), acetic acid (1.6% w/w) and methanol (0.4% w/w) were present as ester-linked substituents of polysaccharides.
Pretreatment
Pretreatments were carried out with a dry-matter content of 5% w/w: 152 g of pressed pulp was made up to 700 g with distilled water. The pulp was mixed for 5 minutes using a blender (type 7011G; Waring Commercial, Torrington, CT, USA) at low speed. Concentrated sulfuric acid (180 μl) was added to the blended pulp, according to the conditions used (Table
1
). Pretreatment was performed in a pressure reactor (Model 4520; Parr Instrument Company, Moline, IL, USA) connected to a power controller (Model 4875; Parr Instrument Company) and operated by a process controller (Model 4875; Parr Instrument Company). The reactor was equipped with an oil bath (200°C) that caused oil to flush through a spindle inside the reactor. An electric heating cord was attached to the outside of the reactor to accelerate the average heating rate and to maintain a constant temperature after heating. The oil bath was turned off when a temperature 20°C below the desired temperature was reached in the reactor. After 12 minutes, the electric heater was removed, and the reactor was cooled by flushing tap water (at 10°C) in a specially designed flow-through water bath, resulting in an overall pretreatment time of 15 minutes at the pretreatment temperature chosen. Temperature and pressure were recorded, and the pH of the samples was determined before and after the pretreatment. Directly after the pretreatment, 1 ml of supernatant was removed and filtered through a 0.2 μm round filter (Whatman plc, Maidstone, Kent, UK) to determine the free amounts of lactic acid, acetic acid, formic acid, furfural and hydroxymethyl furfural. The severities of the pretreatments were calculated as the combined severity factor [
6
,
7
,
47
]:
Table 1
Pretreatment conditions of sugar-beet pulp
| Sample | Temp, °C | H2SO4a | pHb | R″0c | log R″0d |
| --- | --- | --- | --- | --- | --- |
| 0-0 | 0 | 0 | 5.3 | -1.77 | -6.97 |
| 120-0 | 120 | 0 | 4.8 | 1.76 | -3.04 |
| 140-0 | 140 | 0 | 4.4 | 2.35 | -2.05 |
| 170-0 | 170 | 0 | 4.1 | 3.24 | -0.86 |
| 120-1 | 120 | 1* | 3.9 | 2.11 | -2.14 |
| 140-1 | 140 | 1* | 3.9 | 2.70 | -1.65 |
| 170-1 | 170 | 1* | 3.8 | 3.62 | -0.53 |
R'0 (R'0 = t × (10-pH) × exp × ((T-100)/14.75)),
and expressed as log R'0 according to Kabel et al. [16]). This factor is an indicator for the severity of a pretreatment, and takes into account the pretreatment temperature, time, acid concentration and final pH.
Mass balance
The process of sample separation and mass-balance determination is summarized in Figure
1
. Nylon pantyhose (15 denier) were used to filter the pretreated slurries. The remaining solids were wrapped in a double layer of cheesecloth, and pressed in a hydraulic press (IKA Werke GmbH & Co. KG, Staufen, Germany) at 100 bar until draining ceased. The pressed pellet was soaked three times with 500 ml distilled water at 60°C for 10 minutes, and pressed again. The supernatant was weighed and subsequently combined with the washes. The supernatant and pellets were both divided in two, and one half (S1 and P1) of each was freeze-dried for chemical characterization, and the other half (S2 and P2) was frozen for enzymatic digestion. The P1 fractions were weighed before and after freeze-drying, and the dry-matter content was determined as an indicator of the water-binding capacity after pretreatment. The S1 supernatants collected after pressing were spun in a centrifuge (12,320 × g) at 4°C for 20 minutes to remove cell debris. The clear S1 supernatants were freeze-dried, and the debris was added to the P1 pellet fraction. The S2 supernatants were concentrated to their original concentrations, and stored frozen (-20°C).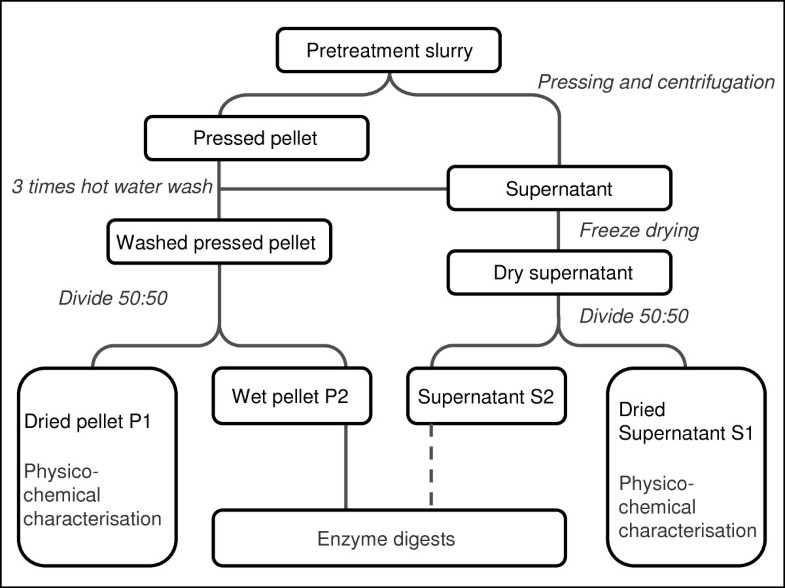 Dry-matter content
Freeze-dried samples (20-40 mg) were weighed into aluminum cups (diameter 50 mm) and dried in an oven at 70°C for up to 3 days, until the weight was constant.
Chemical characterization of pretreated SBP
After freeze-drying, the P1 pellets were weighed and ground (4 minutes at 100 Hz) in a swinging mill (Model M2200; Retsch GmbH, Haan, Germany) using 25 ml stainless steel containers with two stainless-steel metal balls (diameter 10 mm) per container.
The freeze-dried S1 supernatants were treated in the same way except for the supernatants S1 0-0, S1 170-0 and S1 170-1, which did not crystallize but instead formed a syrup. For these fractions, the syrup was dissolved in distilled water, and the volume was determined. An aliquot (1 ml) was freeze-dried and subsequently oven-dried to calculate the dry-matter content of the solutions. The different crystallization behavior did not affect the subsequent results.
Enzyme digestion
Activity assays
Glycosidase activities in the experimental enzyme preparation C1-G1 were measured by determining the hydrolysis of p-nitrophenyl-β-d-glucopyranoside, p-nitrophenyl-β-d-xylopyranoside or p-nitrophenyl-β-l-arabinofuranoside at 37°C after 10 minutes of incubation. The reaction mixture consisted of 25 μl substrate solution (4 mg/ml) and 10 μl of the suitable enzyme concentration in 50 mmol/l sodium acetate buffer pH 5.0. The reaction was stopped by adding 40 μl of reaction mixture to 60 μl of 250 mmol/l TRIS-HCl buffer pH 8.8. The color formation was measured at 410 nm in a microtiter plate reader. One unit of activity was defined as 1 μmol of glucose, xylose or arabinose liberated per minute under the conditions specified. The molar extinction coefficient under these assay conditions was 0.00158/μmol/l/mm. Xylanase and cellulase activities were determined by measuring the amount of reducing sugars released from the hydrolysis of medium-viscosity wheat arabinoxylan (Megazyme International Ireland Limited, Bray, Wicklow, Ireland) and phosphoric acid-treated cellulose [17]. The reaction mixture consisted of 50 μl substrate solution (15 mg/ml) and 20 μl of the suitable enzyme concentration in 60 mmol/l sodium acetate buffer pH 5.0. The reaction mixtures were preheated at 37°C before the enzyme was added. After an incubation time of 10 minutes, 25 μl of the reaction mixture were used to determine the amount of reducing sugars using a PAra-Hydroxy Benzoic Acid Hydrazide (PAHBAH) assay [18].
The activities of polygalacturonase, rhamnogalacturonase, arabinanase and galactanase were determined by measuring the amount of reducing sugars released from the hydrolysis of poly-GA (Fluka, Sigma-Aldrich, Schnelldorf, Germany), linear arabinan (Megazyme) and potato galactan (Megazyme).The reaction mixture consisted of 180 μl substrate (5 mg/ml) in 50 mmol/l sodium acetate buffer pH 5.0, which was preheated to 37°C before 20 μl of the relevant enzyme concentration were added. The reaction mixture. After an incubation time of 20 minutes, 10 μl of the reaction mixture were used to determine the amount of reducing sugars using the PAHBAH assay [19]. Calibration curves of the different monosaccharides (50 to 750 μg/ml) were used for quantification.
Digestions of pretreated pulp
Pressed pulp P2 (5% w/w, 0.2% of the initial dry-matter) was digested with 10 μl of an experimental enzyme mixture (protein content 75 mg/ml, 1% w/w enzyme level) (C1-G1; Dyadic Netherlands, Wageningen, The Netherlands) in 100 mmol/l sodium acetate buffer pH 5.5 for 2, 5, 10, 24 or 48 hours. C1-G1 is an enzyme preparation of the fungus
Chrysosporium lucknowense
[
20
], which is rich in cellulase and xylanase activities, but also contains arabinanase and galactanase activities (Table
2
). Ampicillin 100 μg/ml was added to prevent microbial growth. The reactions were carried out in 2 ml microcentrifuge tubes placed in an microcentrifuge tube shaker kept at 40°C and shaken at 800 rpm. Enzymes were inactivated by placing in a waterbath at 100°C for 15 minutes. The samples were spun in a centrifuge for 10 minutes at 20,000 × g and 20°C, and 200 μl of the supernatant was used for high-performance size exclusion chromatography (HPSEC) and high-performance anion exchange chromatography (HPAEC) analysis. The sugar composition of the remaining pellets was analyzed by gas chromatography with flame ionization detection (GC-FLD) after alditol acetate derivatization.
Table 2
Activity profile of enzyme mix C1-G1
| Activity | U/mg protein |
| --- | --- |
| β-Glucosidase | 0.198 |
| β-Xylosidase | 0.012 |
| α-Arabinofuranosidase | 0.035 |
| Xylanase | 1.322 |
| Cellulase | 1.400 |
| Arabinanase | 0.100 |
| Galactanase | 0.142 |
| Polygalacturonase/pectate lyase | 0.006 |
Chromatography
Sugar composition
The neutral sugar composition was determined by analyzing the sugars as their alditol acetate derivatives using GC-FLD. A gas chromatograph (Thermo Focus; Thermo Scientific, Waltham, MA, USA) and autosampler (Focus AS 3000; Thermo Scientific) equipped with a column (15 m × 0.53 mm, 1 μm film; DB-225; J&W Scientific, Santa Clara, IL, USA) was used. The samples were hydrolyzed stepwise with 72% w/w sulfuric acid for 1 hour at 30°C, followed by 1 M sulfuric acid for 3 hours at 100°C. Subsequently, the free monosaccharides were reduced and derivatized to their corresponding alditol acetates [21]. The samples were dissolved in 0.4 ml acetone, and 1 μl was injected with a pre-injection dwell time of 1 second and a post-injection dwell time of 2 seconds. The sample was then eluted using the following temperature profile: 0 to 2 minutes at 180°C, 2 to 17 minutes at a linear gradient from 180 to 210°C, and 17 to 22 minutes at 210°C.
UA content was determined colorimetrically [22] with 3-phenylphenol using an automated analyzer (Skalar Analytical, Breda, The Netherlands). A GA standard curve (12.5 to 100.0 μg/ml) was used for quantification.
Organic-acid content
The content of organic acids, HMF, furfural and methanol was analyzed by high performance liquid chromatography with a (Ultimate 3000; Dionex Corp., Sunnyvale, CA, USA) equipped with an ion-exclusion column (300 mm × 7.8 mm; Aminex HPX-87H; Bio-Rad Laboratories, Hercules, CA, USA) in combination with a self-packed guard column (50 mm × 7.8 mm; AG 50W-X4 resin; Bio-Rad Laboratories). Samples were eluted with 5 mmol/l sulfuric acid at a flow rate of 0.6 ml/min at 30°C. The S1 supernatants were filtered through a 0.2 μm round filter (Whatman), and 20 μl samples used for injection. The samples were quantified by single-component standards of known concentrations (0.5 mg/ml). Elution was monitored by refractive index detection (Shodex RI 101; Showa Denko K.K., Kawasaki, Japan).
Monomer and oligomer analysis
The monosaccharide and oligosaccharide levels of the digests were analyzed by HPAEC with pulsed amperometric detection (PAD) (ITS-3000 HLPC; Dionex) equipped with an analytical column (2 mm × 250 mm, CarboPac PA1; Dionex) in combination with a guard column (2 mm × 50 mm, CarboPac PA1; Dionex) at a flow rate of 0.3 ml/min. Arabinose, rhamnose, galactose, glucose, xylose, mannose and GA monosaccharides in the range from 2 to 30 μg/ml were used for quantification. Oligomeric standards included arabinose oligomers (degree of polymerization (DP) 2 to 6, 10 μg/ml; Megazyme), GA oligomers (DP 2 and DP 3, 10 μg/ml), a potato galactan digest containing galactose oligomers (DP 2 to 5; 5 mg/ml potato galactan; Megazyme) partially digested with Aspergillus niger endogalactanase (purified in our laboratory) and cellodextrins (DP2 to 7; kind gift of Dr Vladimir Farkas, Institute of Chemistry, Slovak Academy of Sciences, Bratislava, Slovakia). The samples (10 μl; 50 to 100 μg/ml) were eluted in post column addition mode with the following elution profile: 0.0 to 30.0 minutes in water, 30.0 to 30.1 minutes in 0.0 to 0.1 mol/l NaOH, 30.1 to 32 in 0.1M NaOH, 32.0 to 62.5 minutes in 0.0 to 0.4 mol/l NaOAc in 0.1 mol/l NaOH, 62.5 to 67.0 minutes in 1.0 mol/l NaOAc dissolved in 0.1 mol/l NaOH, 67.0 to 75.0 minutes in 0.1 mol/l NaOH, and 75.1 to 90.0 minutes in water (equilibration). NaOH (0.5 mol/l, 0.1 ml/min) was added via a post column to allow PAD detection from 0.0 to 30.1 minutes and from 68.5 to 90.0 minutes.
Ferulic acid analysis
The amount of ester-linked ferulic acid was determined after alkaline hydrolysis and ethyl ether extraction as described previously [23] using reversed phase ultra-high-performance liquid chromatography (UHPLC) on a UHPLC system (Accela; Thermo Scientific) equipped with a column (2.1 mm × 150 mm, 1.9 μm particle size; Hypersyl GOLD; Thermo Scientific). Elution was monitored with the built-in polydiode array multi-wavelength detector set at 335 nm.
Molecular mass distribution
HPSEC was performed on a system (Ultimate 3000; Dionex) equipped with four columns (TSK-Gel superAW; Tosoh Bioscience, Tokyo, Japan) in series: a guard column (6 mm × 40 mm) and three separation columns (4000, 3000 and 2500; 6 mm × 150 mm). The samples (10 μl, 5 mg/ml) were eluted with 0.2 mol/l sodium nitrate at 40°C at a flow rate of 0.6 ml/min. Molecular masses were estimated with the help of molecular mass standards (Pullulan; Polymer Laboratories, Varian Inc., Palo Alto, CA, USA). Elution was monitored by refractive index detection (Shodex RI 101) and UV detection (internal detector) at four wavelengths (λ = 235 nm, 310 nm, 325 nm and 345 nm). The relative peak area distribution was calculated by the integration of the peak area in three time increments. The total peak area was calculated as the total peak area from 7.0 to 18.0 minutes without the negative peak (15.5 minutes) plus the peak area difference between the negative peak of a water blank and the negative peak of the supernatant sample.
Protein content
The protein content of the pretreated samples was determined by combustion (the Dumas method) with a nitrogen analyzer (FlashEA 1112 series; Thermo Scientific) in accordance with the manufacturer's instructions, using methionine as a standard and a nitrogen factor of 6.25.
Conclusions
We found that the combination of a mild hydrothermal pretreatment at 140°C with subsequent enzymatic digestion allowed fast and efficient hydrolysis of SBP. More than 90% of all cellulose could be hydrolyzed within 24 hours, using lower enzyme levels than those reported in earlier studies. In contrast to the chemical pretreatments described in literature, mild pretreatments up to 140°C did not result in a loss of biomass or in production of any compounds toxic to yeast. If the pretreatment process were to be implemented in a sugar factory, the pulp would already be at 70°C after saccharose extraction, and the exhaust heat of the lime ovens could be used in part for the heating of the SBP up to 140°C. The mild pretreatments did not lower the WBC of beet pulp and are therefore unsuitable for increasing the dry-matter content of SBP. Hence, to reduce transportation, pretreated SBP should be fermented in the vicinity of the sugar factory. A fed-batch reactor setting could allow a reasonably high ethanol concentration.
Declarations
Acknowledgements
We thank David van Eylen (Royal Nedalco/C5 Yeast Company, Bergen op Zoom, The Netherlands) for help with the pretreatments. Mirjam Kabel (Royal Nedalco/C5 Yeast Company) is gratefully acknowledged for valuable discussion, and Sandra Hinz (Dyadic Netherlands) for the provision and characterization of the C1-G1 enzyme mixture. The work was financed in part by the Dutch Ministry of Economic Affairs via an EOS-LT grant (http://www.agentschapnl.nl).
Authors' Affiliations
(1)
Laboratory of Food Chemistry, Wageningen University, Wageningen, the Netherlands
Copyright
© Kühnel et al; licensee BioMed Central Ltd. 2011
This article is published under license to BioMed Central Ltd. This is an Open Access article distributed under the terms of the Creative Commons Attribution License (http://creativecommons.org/licenses/by/2.0), which permits unrestricted use, distribution, and reproduction in any medium, provided the original work is properly cited.