Cellular automata modeling depicts degradation of cellulosic material by a cellulase system with single-molecule resolution
Biotechnology for Biofuels
2016
9:56
Received: 18 December 2015
Accepted: 19 February 2016
Published: 8 March 2016
Abstract
Background
Enzymatic hydrolysis of cellulose involves the spatiotemporally correlated action of distinct polysaccharide chain cleaving activities confined to the surface of an insoluble substrate. Because cellulases differ in preference for attacking crystalline compared to amorphous cellulose, the spatial distribution of structural order across the cellulose surface imposes additional constraints on the dynamic interplay between the enzymes. Reconstruction of total system behavior from single-molecule activity parameters is a longstanding key goal in the field.
Results
We have developed a stochastic, cellular automata-based modeling approach to describe degradation of cellulosic material by a cellulase system at single-molecule resolution. Substrate morphology was modeled to represent the amorphous and crystalline phases as well as the different spatial orientations of the polysaccharide chains. The enzyme system model consisted of an internally chain-cleaving endoglucanase (EG) as well as two processively acting, reducing and non-reducing chain end-cleaving cellobiohydrolases (CBHs). Substrate preference (amorphous: EG, CBH II; crystalline: CBH I) and characteristic frequencies for chain cleavage, processive movement, and dissociation were assigned from biochemical data. Once adsorbed, enzymes were allowed to reach surface-exposed substrate sites through "random-walk" lateral diffusion or processive motion. Simulations revealed that slow dissociation of processive enzymes at obstacles obstructing further movement resulted in local jamming of the cellulases, with consequent delay in the degradation of the surface area affected. Exploiting validation against evidence from atomic force microscopy imaging as a unique opportunity opened up by the modeling approach, we show that spatiotemporal characteristics of cellulose surface degradation by the system of synergizing cellulases were reproduced quantitatively at the nanometer resolution of the experimental data. This in turn gave useful prediction of the soluble sugar release rate.
Conclusions
Salient dynamic features of cellulose surface degradation by different cellulases acting in synergy were reproduced in simulations in good agreement with evidence from high-resolution visualization experiments. Due to the single-molecule resolution of the modeling approach, the utility of the presented model lies not only in predicting system behavior but also in elucidating inherently complex (e.g., stochastic) phenomena involved in enzymatic cellulose degradation. Thus, it creates synergy with experiment to advance the mechanistic understanding for improved application.
Keywords
CelluloseCellulaseSystem-level modelingCellular automataAFM imagingHydrolysisSurface degradation
Background
Cellulose is a water-insoluble linear polysaccharide composed of several hundred or more β-1,4-linked D-glucosyl units. Its depolymerization by hydrolytic enzymes occurs through repeated endo- and exo-type cleavages inside of and from the ends of the cellulose chain, respectively [1, 2]. Regarding only a single chain, therefore, the enzymatic hydrolysis might appear as a fairly simple transformation. However, from a system-level viewpoint, degradation of cellulosic material represents an extremely complicated process [1–7]. Its kinetics involves an array of heavily entangled, enzyme- and substrate-related complexities appearing at different length scales in dependence of time and conversion [5, 8–14]. Despite much progress made in delineating function of individual elements [1–3, 15–22], coherent description of the degradation process as a whole proved elusive. Bottom-up reconstruction of total cellulose/cellulase system behavior therefore constitutes an increasingly important research aim of high fundamental but also practical significance.
Core problem of enzymatic cellulose degradation in the way analyzed herein is to depict the spatiotemporally correlated action of distinct polysaccharide chain-cleaving cellulase activities confined to the dynamically evolving surface of the insoluble substrate. Progress in this effort is restrained severely by difficulties in unraveling interfacial enzyme catalysis experimentally. The problem in general is exacerbated in the case of the cellulose–cellulase system due to the fact that the actual substrate is a solid material of typically high morphological irregularity [
1
,
3
,
9
]. Depending on cellulose source and isolation procedure, there is variation and uneven distribution in the spatial arrangement of the polysaccharide chains [
1
,
5
,
9
]. Parts of the cellulose that feature disorder in position, direction, or orientation of the chains therefore alternate with highly organized, crystalline material. Most of the cellulose chains are initially not accessible to the enzymes due to the surrounding material [
5
]. Individual cellulases differ in preference for degrading crystalline compared to amorphous cellulose [
1
,
2
,
7
,
14
]. Crystalline cellulose is degraded primarily through chain ablation promoted by exo-cellulases acting in a processive manner (Scheme
1
) [
16
,
19
]. Degradation of amorphous material additionally involves internal disruptions of cellulose chains by endo-cellulases (Scheme
1
) [
13
,
14
]. The spatial distribution of structural order across the cellulose surface therefore imposes constraints on the attack by different cellulases and also on the dynamic interplay between the enzymes. What results therefore is a highly uneven distribution in the local rates of removal of surface material by lateral and vertical degradation [
14
]. Morphology and also shape of the cellulose surface thus undergo large spatiotemporal changes as the conversion makes progress [
14
,
15
,
23
], with consequent reciprocal action on the chain fragmentation activity by the adsorbed enzymes. While providing a convenient measure of the overall cellulose degradation efficiency, release of soluble sugars is a frequently used but highly convoluted parameter that does not support direct inference to cellulase action on the evolving cellulose surface. Owing to limitations in resolving interfacial processes by experiment, mathematical modeling has traditionally played a leading role in developing the mechanistic thinking of cellulose degradation [
5
,
8
–
12
,
24
–
35
].

Paradigmatic approach of modeling enzymatic cellulose degradation involves development of a set of differential equations describing the relevant physical and chemical steps of the reaction (e.g., cellulase adsorption, chain fragmentation) under the constraints of mass balance [5, 11]. Despite notable recent progress [11, 12, 25, 26], mathematical representation of the substrate's morphology and the change thereof with time and conversion in mutual dependency on the chain fragmentation activity of the locally adsorbed cellulases is at the very limit of what current mass balance-based models are capable of delivering. Spatial heterogeneities in cellulose morphology can only be implemented in the form of distribution functions [12, 25, 26], but not explicitly for individual substrate samples. Model validation including determination of unknown parameters is therefore limited to comparison with lumped experimental data that lack spatial resolution.
Cellular automata (CA) models present an interesting alternative by virtue of their ability to literally depict the spatiotemporal behavior of complex systems across length scales [36]. CA models constitute mathematical systems constructed from many small entities, each simple and obeying preassigned rules, but together capable of complex performance. Evidence from CA modeling is suitable for visual inspection, and what is most important, it offers the unique opportunity to be validated against time and laterally resolved data from advanced imaging analysis. Visualization by real-time AFM [13, 14, 16, 19] and high-resolution fluorescence spectroscopy [6, 7, 17, 18] has recently provided unprecedented insight into the dynamics of cellulose degradation at different length scales down to single-enzyme resolution. Therefore, this emphasizes the need but also the potential of a modeling approach optimally aligned to the capabilities of the emerging visualization techniques. CA modeling has already been applied to the study of enzymatic hydrolysis of cellulose in a few earlier papers [30, 31, 36–39], but the important link to experimental visualization as a validation tool has not been established.
Using CA-based formalism, comprehensive system-level modeling of cellulose degradation by cellulases is reported. The herein developed substrate model allowed for realistic representation of amorphous–crystalline cellulosic material previously applied by this group of authors in AFM imaging experiments [14]. The enzyme model incorporated the three main activities of non-complexed fungal cellulase systems: two processively chain-end cleaving cellobiohydrolases (CBHs) acting from the reducing (CBH I) and non-reducing (CBH II) end of the cellulose chain, respectively; and an internally chain cleaving endoglucanase (EG). CBH I was known from experiment to attack crystalline material, whereas CBH II and EG degraded amorphous substrate parts [14]. We show in simulations, here for the first time, that observable characteristics of cellulose surface degradation by the synergizing set of cellulases (e.g., local surface height degradation rates; surface morphology evolution) were reproduced in useful quantitative agreement with the experiment [14]. Interestingly, the simulations also reproduced a counterintuitive experimental finding: once uncovered from obstructing amorphous material, crystalline nanofibrils were degraded significantly faster than supposedly less resistant amorphous cellulose in their surrounding [14]. Simulations also revealed that slow release of cellulose chains by CBH II resulted in pronounced jamming of processively acting enzymes at the interface of the amorphous and crystalline phases. In addition to the intrinsically slow kinetics of CBH I action [20, 35, 40], this was clear additional factor of rate limitation in the degradation of crystalline cellulose as simulated. The model might aid in the elucidation of inherently complex phenomena of cellulose degradation and thus create synergy with experiment to advance the mechanistic understanding as well as the application.
Conclusions
CA modeling is shown to depict realistically the degradation of mixed amorphous–crystalline cellulose by a three-enzyme-type cellulase system. Total system behavior is successfully reconstructed by combining kinetic data sets from high-resolution single-molecule studies. Most noticeable, salient dynamic features of cellulose surface degradation by different cellulases acting in synergy are reproduced and close prediction of the actual hydrolysis rate is thus achieved. Results of the modeling can be analyzed visually and are therefore ideal for comparison with the evidence from high-resolution visualization experiments. Moreover, the modeling approach employed in this work illustrates the importance of spatial resolution at single-molecule level in both in situ and in silico studies. Besides aiding in the mechanistic interpretation of intrinsically complex effects from the experiment, the modeling also provides deepened insight into the possible interplays, some of them of a stochastic nature, of individual cellulases during cellulose degradation. The model thus helps making explicit what is usually only implicit in experimental observations of enzymatic cellulose hydrolysis. In particular, the k off of CBH II is suggested here for the first time to have a key role in maintaining the dynamics of action of the processively cleaving CBHs at the interface of amorphous and crystalline cellulosic material. The current model is expandable. More complex substrate structures can be implemented. New enzyme properties can be defined, to incorporate non-productive binding to the cellulose or a finite enzyme lifetime due to inactivation for example. Enzyme adsorption dynamics at subsaturating enzyme loading can also be included. It would also be of interest to implement surface diffusion over distances greater than simulated here. Using simulation, the impact of change at the single-molecule level on total system behavior can thus be studied. Insights obtained from CA modeling are of fundamental significance but also relevant for practical application in enzymatic cellulose hydrolysis.
Methods
Programming, simulation, and data processing
All programming was done in MATLAB [Version 7.11.1.866 (R2010b) service pack 1]. The complete program code is available on request. A Monte Carlo approach was used and individual steps are discussed in detail in "Results and discussion" section. Simulations were performed in a cuboid box with dimensions of 70 × 150 × 100 nm for the x, y, and z (height) coordinates, respectively. The cellulose substrate was modeled as an initially completely flat surface that was continuous (i.e., did not contain walls) in the x and y direction. Cellulosic planes were assembled on top of each other in the z direction, making up a material layer of up to 90 nm.
Crystalline phases were included as cellulose nanofibrils. For clarity reason, the nanofibrils were oriented always in plane parallel to the cellulose surface. Their hydrophobic faces were aligned horizontally or vertically, as shown in Fig. 2a. Any orientation of the nanofibril is however possible in the model. A water phase (Fig. 1) was included to indicate the accessible cellulose surface.
To mimic the experimental conditions of AFM imaging in which completely saturating cellulase loadings (4 × 104 mg protein/m2 cellulosic surface) were applied in solution, all simulations were performed at an assumed maximum surface coverage with enzyme of 24 nmol/m2. Lying in between the maximum cellulase adsorption capacity estimated from a "two-dimensional liquid crystal" approximation of the adsorbed cellulase (16 nmol/m2; [68]) and the one determined experimentally by Maurer et al. [68, 69], the assumed surface loading appeared to be realistic. The composition of the adsorbed cellulase was set approximately according to the substrate sites available in the cellulose as 60 % EG and 20 % of each CBH. The total number and the composition of the cellulases were invariant during the simulation. The enzyme kinetic parameters from Table 1 were used. Considering the involvement of multiple random steps in the CA model of cellulase action, simulations were performed in at least 10-fold replicates to obtain statistic validation. Parameters obtained from simulation data are therefore provided as mean values with standard deviation.
Reaction time courses were recorded as movies of cellulose surface degradation. These movies were used for qualitative comparison with time-resolved evidence from AFM imaging. The rate of height removal in amorphous material and also the rates of emergence and degradation of crystalline nanofibrils could be compared quantitatively between experiment and simulation. Cellobiose released from the surface was also calculated and compared with experiment. Parameter used to express enzymatic action of the crystalline material was the time-dependent height difference between the highest point on the crystal and the mean height of surrounding amorphous material (∆h_max). Because the rate of degradation of crystalline was highly dependent on the nanofibril's aspect ratio, we modeled crystals of large (14–18 nm) and small (8–10 nm) diameters.
AFM imaging and data analysis
Experimental data were from our recent studies where in situ AFM imaging was used to monitor surface degradation in a nanoflat mixed amorphous–crystalline substrate [
41
]. In that way, the time-dependent change in ∆h_max could be determined. More specifically, section profiles were taken from an individual nanofibril at each time to determine the highest point in relation to surrounding amorphous level (Fig.
10
). The values of ∆h_max are color-coded to match the color code used for the height measured in the AFM imaging experiments. Additionally, the AFM data were used to calculate at different points of the surface the vertical degradation of amorphous cellulosic material. A large micron-sized crystallite that was completely resistant to enzymatic degradation in the time span of the experiment was used as a height marker [
14
,
70
]. AFM image processing and analysis was performed using Gwyddion 2.31 (released 02/21/2013) and Nanoscope (Build R3Sr4.94136, Bruker Nano Surface Offices). However, to improve the manual processing of multiple images, an automated routine in MATLAB was developed with which the images from an AFM sequence could be matched one on another in an exactly comparable fashion.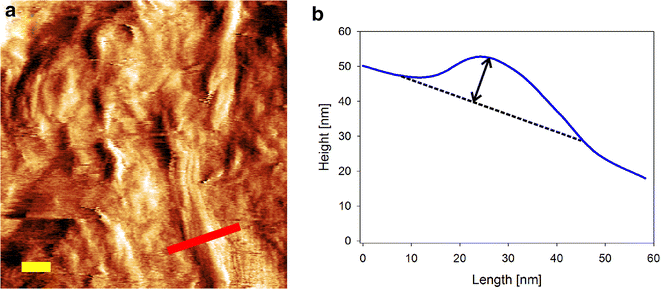 Enzymatic hydrolysis
Experiments were performed in triplicates at 20 °C in sodium acetate buffer (pH 5.0). The mixed amorphous–crystalline cellulose applied to AFM studies was used. The substrate concentration was 2.0 mg/mL and the total reaction volume was 500 µL. Substrate was cut into pieces with dimensions of approximately 5 × 5 × 0.2 mm. Based on this geometry, an initially available surface area of 54 mm2 was calculated.
Reactions using the complete H. jecorina cellulase system contained 25 µg protein/mg cellulose. β-Glucosidase (Megazyme, Wicklow, Ireland) was added at 5 µg protein/mg cellulose. Reactions using purified CBH II alone also contained 25 µg protein/mg cellulose and β-glucosidase (2 µg/mg protein). Samples were taken at suitable times and analyzed for d-glucose using glucose oxidase and peroxidase [70]. d-Glucose concentrations below detection limit of the enzymatic assay were analyzed by high-performance anion-exchange chromatography with pulsed amperometric detection [13]. To compare experimental hydrolysis data with the modeling results of soluble sugar release, the amount of cellobiose formed in the experiment was assumed to be half that of the d-glucose measured. The µmol amounts of cellobiose released per 25 mm2 surface were compared.
Abbreviations
CA:

cellular automata
AFM:

atomic force microscopy
CBH:

cellobiohydrolase
EG:

endoglucanase
V z :

vertical degradation rate
Declarations
Authors' contributions
TZ and BN designed the research. ME and TZ developed the model, did the programming, performed simulations, and analyzed data. TG and HP provided AFM data. ME and BN wrote the paper. All authors read and approved the final manuscript.
Acknowledgements
We thank Dr. Zdenek Petrasek (Institute of Biotechnology and Biochemical Engineering, Graz University of Technology, Austria) for his support.
Competing interests
The authors declare that they have no competing interests.
Funding
Financial support from the Austrian Science Funds (FWF Project P- 24156-B21 to B.N.) is gratefully acknowledged.
Open AccessThis article is distributed under the terms of the Creative Commons Attribution 4.0 International License (http://creativecommons.org/licenses/by/4.0/), which permits unrestricted use, distribution, and reproduction in any medium, provided you give appropriate credit to the original author(s) and the source, provide a link to the Creative Commons license, and indicate if changes were made. The Creative Commons Public Domain Dedication waiver (http://creativecommons.org/publicdomain/zero/1.0/) applies to the data made available in this article, unless otherwise stated.
Authors' Affiliations
(1)
Institute of Biotechnology and Biochemical Engineering, Graz University of Technology, NAWI Graz, Graz, Austria
(2)
Institute for Electron Microscopy and Nanoanalysis, Graz University of Technology, Graz, Austria
(3)
Graz Centre for Electron Microscopy, Graz, Austria
(4)
Austrian Centre of Industrial Biotechnology, Graz, Austria