Promise of combined hydrothermal/chemical and mechanical refining for pretreatment of woody and herbaceous biomass
Biotechnology for Biofuels
2016
9:97
Received: 7 March 2016
Accepted: 12 April 2016
Published: 30 April 2016
The Erratum to this article has been published in Biotechnology for Biofuels 2016 9:263
Abstract
Production of advanced biofuels from woody and herbaceous feedstocks is moving into commercialization. Biomass needs to be pretreated to overcome the physicochemical properties of biomass that hinder enzyme accessibility, impeding the conversion of the plant cell walls to fermentable sugars. Pretreatment also remains one of the most costly unit operations in the process and among the most critical because it is the source of chemicals that inhibit enzymes and microorganisms and largely determines enzyme loading and sugar yields. Pretreatments are categorized into hydrothermal (aqueous)/chemical, physical, and biological pretreatments, and the mechanistic details of which are briefly outlined in this review. To leverage the synergistic effects of different pretreatment methods, conducting two or more pretreatments consecutively has gained attention. Especially, combining hydrothermal/chemical pretreatment and mechanical refining, a type of physical pretreatment, has the potential to be applied to an industrial plant. Here, the effects of the combined pretreatment (combined hydrothermal/chemical pretreatment and mechanical refining) on energy consumption, physical structure, sugar yields, and enzyme dosage are summarized.
Keywords
Combined pretreatmentChemical pretreatmentHydrothermal pretreatmentMechanical refiningLignocellulosic biofuel
Background
Advanced biofuels are advantageous for mitigating greenhouse gas emissions associated with transportation and for promoting rural development [1]. Encouraged by governmental policies, commercial facilities have begun producing second-generation ethanol in several countries. The first modern commercial facility is located in Italy and began operation in January 2013. In the United States, biochemical-based facilities include POET-DSM (Emmetsburg IA) opened in September 2014, Quad County Corn Processors (Galva, IA) opened in September 2015, and E. I. du Pont de Nemours and Company (Nevada, IA) opened in October 2015.
Within the United States, it is estimated that upward of one billion tons of biomass could be produced each year [
2
]: enough to substitute for one-third of domestic petroleum usage. Major sources of lignocellulosic biomass include agriculture residues; pulp, paper, and forestry industrial waste; and food processing and municipal solid wastes. Additional biomass is potentially available through the production of dedicated bioenergy crops including tree plantations and perennial grasses. The structure of the plant cell wall is depicted in Fig.
1
. Cellulose and hemicellulose are in the primary and secondary cell walls. Databases have been made available that list the chemical composition for various sources of biomass [the Biomass Feedstock Composition and Property Database offered by the U.S. Department of Energy (DOE) (
http://www.afdc.energy.gov/biomass/progs/search1.cgi
) and Energy Research Centre of the Netherlands' Phyllis2 (https://www.ecn.nl/phyllis2/Browse/Standard/ECN-Phyllis#)]. According to the U.S. DOE database (Table
1
), agriculture residues contain 31–43 % cellulose, 12–25 % hemicellulose, and 17–24 % total lignin. Hardwoods have 36–49 % cellulose, 14–23 % hemicellulose, and 17–29 % total lignin. Herbaceous dedicated energy crops have 30–38 % cellulose, 16–26 % hemicellulose, and 16–25 % total lignin.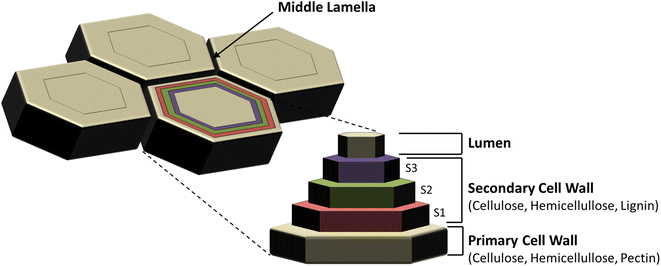 Table 1
Biomass feedstock composition
| Biomass feedstock | Cellulose (%) | Hemicellulose (%) | Lignin (%) |
| --- | --- | --- | --- |
| Agriculture residues | 31–43 | 12–25 | 17–24 |
| Hardwoods | 36–49 | 14–23 | 17–29 |
| Herbaceous dedicated energy crops | 30–38 | 16–26 | 16–25 |
The lignocellulosic ethanol production process is depicted in Fig.
2
. First, feedstock is transported into a plant and ground to a mean size of 0.16–0.23 in (0.41–0.58 cm) [
3
]. The next step in the lignocellulosic ethanol production process is pretreatment. The recalcitrance of biomass, which is caused by epidermal tissue and chemicals (cuticle, wax, and bark), composition (lignin, hemicellulose, and pectin), the physical structure of the cell wall (heterogeneity and complexity), cellulose structure (crystallinity), and pretreatment-induced effects (cellulose re-annealing and melted lignin), prevents enzyme accessibility to cellulose [
4
]. To reduce biomass recalcitrance and increase enzyme accessibility to cellulose, pretreatment that disrupts the biomass cell walls is necessary. Pretreatment can be done by hydrothermal/chemical, physical, and biological methods (Fig.
3
).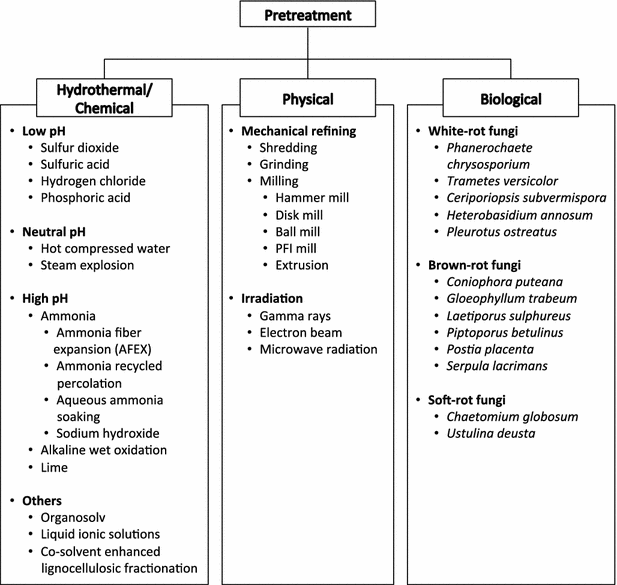 Hydrolysis and fermentation follow pretreatment, and can be done by separate hydrolysis and fermentation (SHF), simultaneous saccharification and fermentation (SSF), simultaneous saccharification and co-fermentation (SScF), hybrid saccharification and fermentation (HSF), or consolidated bioprocessing (CBP). For SHF, hydrolysis and fermentation can each be performed at optimal conditions, and yeast either can be recycled or possibly collected and marketed for feed. However, there are end-product inhibitions and sugar losses during lignin separation before fermentation, both of which result in decreased ethanol yields [5, 6]. To reduce capital investment costs, hydrolysis and fermentation operations can be combined in a single reactor for the SSF process. Ethanol yields are higher in SSF compared to SHF, but more enzymes are required and yeast cannot be reused [5, 6]. When engineered yeasts that can ferment C5 and C6 sugars are used in the SSF, the process is termed as SScF. Adding surfactant, such as Tween 80, increases ethanol yield, reducing enzyme loading and increasing enzyme activity by preventing unproductive binding of the cellulases to lignin in SSF and SHF [7, 8]. Even though many studies have shown that SSF produced higher ethanol yields than SHF [9, 10], there are few reports showing higher ethanol yields from SHF than SSF [11–13]. To leverage SHF and SSF, HSF has been developed. In HSF, samples are incubated with cellulase at its optimal conditions, and then SSF is performed. The basis of CBP is to use microorganisms that produce the needed hydrolysis enzymes. While it offers great promise for the future, this scheme is still in the research stage [14, 15].
Following fermentation, ethanol is recovered by distillation and subsequently dehydrated using molecular sieves to break the 95 % azeotrope. The residual solids are recovered from the bottom of the distillation column and then moved to a combustor to generate electricity [3].
Each step in the advanced ethanol process plays an important role, but pretreatment is a critical step in the process [16, 17]. The choice of a pretreatment method affects downstream processes including conditioning of pretreated samples, enzyme formulation and dosage, microorganism selection, recovery of co-products, and wastewater treatment [16, 17]. It is important to integrate pretreatment design and operation with the whole process.
In this regard, two-stage pretreatments that combine hydrothermal and/or chemical followed by mechanical refining are of particular promise for both woody and herbaceous biomass. As will be discussed, a two-stage pretreatment can often afford higher product yields and offers significant advantages for the other unit operations. This review briefly outlines the mechanistic details of available pretreatment methods. Also, the effects of the combined pretreatment (hydrothermal/chemical pretreatment with mechanical refining) are summarized, including effects on sugar yields, enzyme dosage, energy consumption, size reduction, and crystallinity. Lastly, potential commercial-scale application of the combined pretreatment will be discussed.
One-step pretreatment
An in-depth review of biological and chemical pretreatments will not be discussed here because these have been the subject of numerous recent reviews [18–20]. Readers with particular interest in such chemical pretreatment as organosolv pretreatment [21, 22], liquid ionic solution pretreatment [23, 24], and co-solvent enhanced lignocellulosic fractionation (CELF) [25] are directed to the respective references cited. A full list of pretreatments classified by mechanism is shown in Fig. 3. Only those pretreatments relevant to combined systems will be discussed here, which include dilute acid, hydrothermal and alkaline pretreatments, and mechanical refining.
Future perspectives
For the case of woody biomass, the series of papers on the SPORL process are comprehensive. The same cannot be claimed for thermal mechanical processing of herbaceous biomass. There are at least four major research gaps. The first is the lack of an energy balance and in particular a measure of electrical usage. The second gap is a mechanistic understanding of how thermomechanical systems lower enzyme loading while still achieving high product yields. Enzyme loading is determined by cell wall structure (or lack thereof) and by non-specific lignin binding. It would be of interest to determine if the lower temperature afforded by the subsequent mechanical refining lowers non-specific binding of cellulases. This result would have important consequences for enzyme recycling and operating costs. The third gap is to investigate if a two-stage process, with its reduced generation of inhibitors, will afford increased process efficiencies as measured by fermentation yields and net process water usage. The fourth is the scarcity of data on herbaceous biomass and absence of studies using perennial grasses. While combined chemical/thermomechanical refining is well established for the pulping industry, it represents a new but very promising area of research for biomass conversion because of its ability to increase enzymatic conversion at lower severities and the untested possibility to reduce net enzyme and water usage.
Conclusions
Hydrothermal/chemical, physical, and biological pretreatments have their own unique mechanisms to destruct biomass cell wall structure. Combined pretreatment featuring hydrothermal/chemical pretreatment followed by mechanical refining showed synergistic effects to reduce particle size, crystallinity, and enzyme dosage and increase sugar yields compared to hydrothermal/chemical pretreatment alone or mechanical refining alone. In addition, energy consumption of mechanical refining can be decreased when preceded by hydrothermal/chemical pretreatment that modifies and swells the biomass structure. The combined pretreatment not only successfully increased sugar yields in lab scale, but also has demonstrated potential application in industrial scale.
Abbreviations
AAS:

aqueous ammonia soaking
AFEX:

ammonia fiber explosion
ARP:

ammonia recycled percolation
CBP:

consolidated bioprocessing
CELF:

co-solvent enhanced lignocellulosic fractionation
DOE:

Department of Energy
FPU:

filter paper unit
HSF:

hybrid saccharification and fermentation
MESP:

minimum ethanol selling price
NREL:

National Renewable Energy Laboratory
PFI:

Papirindustriens Forskningsinstitutt
SHF:

separate hydrolysis and fermentation
SPORL:

sulfite pretreatment to overcome recalcitrance of lignocellulose
SScF:

simultaneous saccharification and co-fermentation
SSF:

simultaneous saccharification and fermentation
Declarations
Authors' contributions
All authors (SMK, BD and VS) contributed to formulation, writing, review and editing of this article. All authors read and approved the manuscript.
Acknowledgements
This work was supported by a grant from National Institute of Food and Agriculture (NIFA) as a part of the NIFA (Hatch) Project No. ILLU-741-373-"Processing Corn and Cellulosic Biomass for Food, Fuel and Industrial Products."
Mention of trade names or commercial products in this publication is solely for the purpose of providing specific information and does not imply recommendation or endorsement by the U.S. Department of Agriculture. USDA is an equal opportunity provider and employer.
Availability of data and materials
The datasets supporting the conclusions of this article are included within the article and the references cited.
Competing interests
The authors declare that they have no competing interests.
Consent for publication
Not applicable.
Ethical approval and consent to participate
Not applicable.
Funding
Funding sources have been addressed in the Acknowledgements.
Open AccessThis article is distributed under the terms of the Creative Commons Attribution 4.0 International License (http://creativecommons.org/licenses/by/4.0/), which permits unrestricted use, distribution, and reproduction in any medium, provided you give appropriate credit to the original author(s) and the source, provide a link to the Creative Commons license, and indicate if changes were made. The Creative Commons Public Domain Dedication waiver (http://creativecommons.org/publicdomain/zero/1.0/) applies to the data made available in this article, unless otherwise stated.
Authors' Affiliations
(1)
Department of Agricultural and Biological Engineering, University of Illinois at Urbana-Champaign, Urbana, USA
(2)
Bioenergy Research Unit, Agricultural Research Service, USDA, National Center for Agricultural Utilization Research, Peoria, USA