Microbial synthesis of poly-γ-glutamic acid: current progress, challenges, and future perspectives
Biotechnology for Biofuels
2016
9:134
Received: 14 March 2016
Accepted: 31 May 2016
Published: 29 June 2016
Abstract
Poly-γ-glutamic acid (γ-PGA) is a naturally occurring biopolymer made from repeating units of l-glutamic acid, d-glutamic acid, or both. Since some bacteria are capable of vigorous γ-PGA biosynthesis from renewable biomass, γ-PGA is considered a promising bio-based chemical and is already widely used in the food, medical, and wastewater industries due to its biodegradable, non-toxic, and non-immunogenic properties. In this review, we consider the properties, biosynthetic pathway, production strategies, and applications of γ-PGA. Microbial biosynthesis of γ-PGA and the molecular mechanisms regulating production are covered in particular detail. Genetic engineering and optimization of the growth medium, process control, and downstream processing have proved to be effective strategies for lowering the cost of production, as well as manipulating the molecular mass and conformational/enantiomeric properties that facilitate screening of competitive γ-PGA producers. Finally, future prospects of microbial γ-PGA production are discussed in light of recent progress, challenges, and trends in this field.
Keywords
Poly-γ-glutamic acidMetabolic regulationMicrobial fermentationStrain developmentProcess optimizationIndustrial applications
Background
Poly-γ-glutamic acid (γ-PGA) is an unusual anionic homopolyamide made from d-and l-glutamic acid units connected through amide linkages between α-amino and γ-carboxylic acid groups [1] (Additional file 1: Fig. S1). Based on the glutamate residues present, γ-PGA may be classified as γ-l-PGA (only l-glutamic acid residues), γ-d-PGA (only d-glutamic acid residues), and γ-LD-PGA (both l- and d-glutamic acid residues). At present, there exist four methods for γ-PGA production: chemical synthesis, peptide synthesis, biotransformation, and microbial fermentation [2]. Compared with other methods, microbial fermentation is the most cost-effective and has numerous advantages, including inexpensive raw materials, minimal environmental pollution, high natural product purity, and mild reaction conditions. Initially discovered in 1937 by Bruckner and co-workers as part of the capsule of Bacillus anthracis, γ-PGA has since been found in species from all three domains of life (archaea, bacteria, and eukaryotes) [3, 4]. Most commercial γ-PGA is currently produced via microbial fermentation from biomass.
Unlike most proteinaceous materials, γ-PGA is synthesized in a ribosome-independent manner; thus, substances that inhibit protein translation (such as chloramphenicol) have no effect on the production of γ-PGA [5]. Furthermore, due to the γ-linkage of its component glutamate residues, γ-PGA is resistant to proteases that cleave α-amino linkages [6]. More importantly, as a biodegradable, water-soluble, edible, and non-toxic biopolymer, γ-PGA and its derivatives can be used safely in a wide range of applications including as thickeners, humectants, bitterness-relieving agents, cryoprotectants, sustained release materials, drug carriers, heavy metal absorbers, and animal feed additives.
Although the microbial production of γ-PGA is well established, the cost of production, including the cost of substrates as well as process costs, remains high. Most recent research on γ-PGA production is therefore focused on optimizing growth conditions to increase yield, manipulate enantiomeric composition, and alter the molecular mass. Surprisingly, only a small number of mini reviews on the biosynthesis and applications of γ-PGA have been published to date [1, 6–9]. Therefore, in this review, we have gathered together our accumulated knowledge on the bacterial physiology and catabolism of γ-PGA, and outlined the existing biological γ-PGA production processes, placing particular emphasis on improving bacterial γ-PGA fermentation.
Overview of γ-PGA
Structural characteristics of γ-PGA
Generally, γ-PGA adopts five conformations; α-helix, β-sheet, helix-to-random coil transition, random coil, and enveloped aggregate. The conformation can be changed by altering environmental conditions such as pH, polymer concentration, and ionic strength [10]. For example, γ-PGA adopts a largely α-helical conformation at pH 7, but predominantly β-sheet-based conformation at higher pH [11]. The enantiomeric composition also varies and can be manipulated through the extraction process after fermentation. For example, γ-PGA containing only l or d enantiomers is soluble in ethanol, whereas γ-PGA containing equimolar amounts of l and d precipitates in ethanol [6]. Manipulating the enantiomeric composition of γ-PGA to alter its properties is therefore possible [12].
The molecular mass of γ-PGA can also influence its properties and efficacy for specific applications. Microbial-derived γ-PGA generally has a relatively high molecular weight (Mw ~105–8 × 106 Da), which can limit industrial applications due to high viscosity, unmanageable rheology, and difficult modification [1]. Therefore, polymers with different molecular weights may be required for different purposes, and controlling the molecular weight is of fundamental and practical importance for commercial development. Recently, medium composition, alkaline hydrolysis, ultrasonic degradation, and microbial or enzymatic degradation have all been used to alter the molecular weight of γ-PGA [1]. Of these, ultrasonic irradiation provides an interesting alternative to enzymatic hydrolysis and has been proposed to reduce both the molecular weight and polydispersity of γ-PGA without disturbing the chemical composition of the polymer [13].
Physiological function of γ-PGA
As present, the physiological function of γ-PGA is not completely understood and is believed to depend on the environment in which the organism inhabits, and whether it is bound to peptidoglycan [7]. Peptidoglycan-bound γ-PGA may protect bacterial cells against phage infections and prevent antibodies from gaining access to the bacterium [14]. Staphylococcus epidermidis synthesizes surface-associated γ-PGA to protect against antimicrobial peptides and escape phagocytosis, which contributes to virulence [15]. More importantly, γ-PGA can be released into the environment to sequester toxic metal ions, decrease salt concentration [4], provide a carbon source [15], and protect against adverse conditions [16]. γ-PGA can also improve the formation of biofilms and assist absorption of essential nutrients from the environment [17].
Microbial biosynthesis of γ-PGA
Recently, information about the genes and enzymes involved in γ-PGA synthesis has been reported and has contributed to the design of production systems [
6
,
8
]. As shown in Fig.
1
, the proposed microbial biosynthetic pathway of γ-PGA involves
l
-glutamic acid units derived exogenously or endogenously (using α-ketoglutaric as a direct precursor) [
18
]. Biosynthesis can be divided into four distinct stages; racemization, polymerization, regulation, and degradation.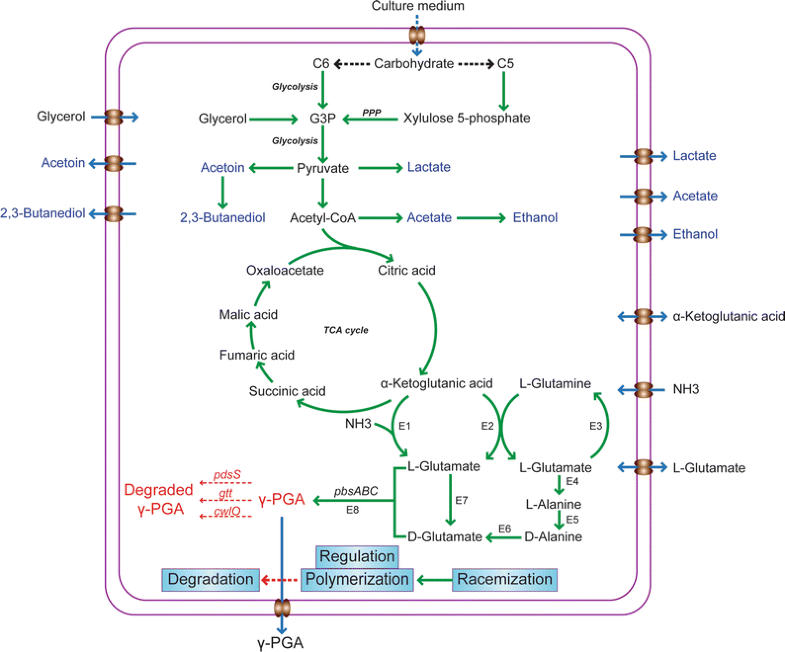 Fermentation engineering for γ-PGA production
At present, γ-PGA can be synthesized by Bacillus species, Fusobacterium nucleatum, and some archaea and eukaryotes [3], but Bacillus species are used most widely to study biological γ-PGA production. Bacteria are either l-glutamate-dependent (B. subtilis CGMCC 0833 [42], B. licheniformis P-104 [43]) or non-l-glutamate-dependent (e.g. B. subtilis C1 [44] and B. amyloliquefaciens LL3 [45]) producers of γ-PGA. For l-glutamic acid-dependent bacteria, PGA yield can be enhanced by increasing the l-glutamate concentration, but this increases the cost of production significantly [8]. In contrast, due to the low cost of production and simple fermentation process, l-glutamate-independent producers are more desirable for industrial γ-PGA production, but are limited by their lower γ-PGA productivity [45]. Therefore, the cost of production (including both productivity and substrates) is a major limitation for microbial γ-PGA production.
To this end, most research on γ-PGA fermentation has focused on optimizing growth conditions to improve γ-PGA yield, alter the enantiomeric composition, and manipulate the molecular mass of γ-PGA [25]. Additionally, genetic engineering of non-glutamate-dependent producers such as B. amyloliquefaciens [46], B. subtilis [47], and E. coli [48] has also been used to increase γ-PGA production.
Applications of γ-PGA
Due to being water soluble, biodegradable, edible, and non-toxic, γ-PGA and its derivatives have been applied in a broad range of industrial fields, including food, cosmetics, agriculture, medicine, and bioremediation (Table
4
).
Table 4
Applications of γ-PGA and its derivatives
Field

Applications

Details

Ref.

Food industry

Food supplement

Promotion of absorption of bioavailable minerals, such as Ca2+

[68]

Texture enhancer

Enhancing the rheological and thermal properties, and reducing the hardness of wheat bread

[98]

Oil-reducing agent

Reducing oil uptake during deep-fat frying

[99]

Cryoprotectant

The γ-PGA with 20 kDa could have higher antifreeze activities than high antifreeze agents like glucose

[11]

Thickener

Enhancing viscosity for fruit juice beverage, sports drinks

[1]

Animal feed additives

Increasing egg-shells strength; decreasing body fat, etc

[1]

Medicine

Metal chelator

Removal of heavy metals and radionuclides

[100]

Drug carrier/deliverer

Improvement of anticancer; nanoparticle medicine

[101]

Gene vectors

Use for gene therapy

[102]

Tissue engineering

Possessing the better mechanical properties, such as easily removed, the more hydrophilic and cytocompatible

[103]

Biological adhesive

Substitutes of fibrin with the better lung adhesion and air-leak sealing

[104]

Bioremediation

Biopolymer flocculant

Substitution for petro-chemically synthesized flocculants, such as polyacrylamide

[70]

Metal chelates

Removal of heavy metals and radionuclides

[105]

Dye removal

Effectively and circularly removing basic dyes from aqueous solution

[71]

Others

Moisturizer

Improving the qualities of skincare and hair care products

[72]

Biocontrol agent

Increasing the nutrient consumption as well as growth of seedlings

[106]

Biodegradable plastic

Use in biodegradable plastics with good thermoplastic property

[7]

Antibacterial activity

Its derivatives have antibacterial activity against Salmonella enteritidis, E. coli and Staphylococcus aureus

[107]

Functional membranes

Separation of metal ions; enantioselection of amino acids

[77]

Protective effect

γ-PGA has a unique protective effect on phage particles

[108]
Conclusion
During more than 70 years of γ-PGA-related research, great insight has been gained regarding its production, metabolic regulation, and applications. Owing to its biodegradability and non-toxic and non-immunogenic properties, it is used widely in the food, medicine, and wastewater industries. Biotechnological production of natural γ-PGA from renewable biomass continues to be of significant interest, especially in the face of decreasing fossil fuels and a need to reduce carbon emissions.
A lot of research has been carried out on the molecular biology (genes, enzymes, pathways) of γ-PGA and its biosynthesis in different organisms, some of which have been applied to improving its production [7, 8, 73]. The insight obtained has been used to manipulate the osmolarity to identify and isolate novel γ-PGA-producing strains from different sources [74]. Furthermore, genetic engineering of host strains has improved γ-PGA yields, expanded the substrate spectrum, and enhanced the robustness of organisms to environmental stresses to create efficient production strains [75, 76]. Advances in molecular biology have therefore helped to optimize γ-PGA production and expanded the number of uses to which γ-PGA can be applied.
The specific properties of γ-PGA determine its applications, and γ-PGA produced by different bacteria or culture conditions may therefore be suited to different uses. Optimization of the cost of production, molecular mass, and conformational/enantiomeric properties is crucial if the potential of γ-PGA is to be fully realized [75]. For instance, a greater understanding of the mechanism of passive drug targeting could lead to the rational improvement of PGA-based drug delivery systems [8]. Moreover, genetic engineering strategies such as directed evolution or site-directed mutagenesis could be used to modify the biosynthetic machinery and hence γ-PGA properties [77]. Clearly, much work remains to be done in this commercially important and academically interesting field of research.
With the increasing trend in using biomass as a carbon source for fermentation processes, much research into the biological production of γ-PGA has aimed at improving the cost-effectiveness and the efficiency of recovery. To realize better industrial production of γ-PGA from renewable biomass, further effort should be made in this area. For example, high-throughput screening of potential new producers should include thermo- and salt-tolerant bacterial extremophiles [78]. Additionally, waste biomass materials such as rice straw or manure compost from the dairy and pig industries could be exploited to lower the cost of feedstock [50]. Genetic manipulation could also be exploited to develop novel γ-PGA 'superproducer' strains. Finally, improving downstream γ-PGA separation processes could be decisive in improving the cost-effectiveness of production.
A greater understanding of the molecular regulatory mechanisms of γ-PGA biosynthesis and control of stereoisomers would undoubtedly prove valuable. Therefore, a systems approach that combines synthetic biology, metabolic engineering, and traditional fundamental research will likely lead to improved fermentative production of γ-PGA from renewable biomass.
Abbreviations
γ-PGA:

poly-γ-glutamic acid
γ-L-PGA:

l-glutamic acid residues
γ-D-PGA:

d-glutamic acid residues
γ-LD-PGA:

l- and d-glutamic acid residues
Mw:

molecular weight
pgs:

polyglutamate synthase
GGT:

γ-glutamyltranspeptidase
Declarations
Authors' contributions
ZTL and YG made contribution to the design of the study, the acquisition of data, the analysis, and interpretation of data and contributed to the manuscript writing. JDL, HQ, and MMZ conceived the study. WZ and SBL conceived and organized the study, helped to draft the manuscript, and revised the manuscript. All the authors read and approved the final manuscript.
Acknowledgements
This research was financially supported by the Fund of Guangxi Academy of Sciences (15YJ22SW05), the "Bagui Scholars Distinguished Professor" Special Project, and the Talents introduction program of Sichuan University of Science and Engineering (No. 2013RC12).
Competing interests
The authors declare that they have no competing interests.
Consent for publication
All authors agreed to publish this article.
Funding
Guangxi Academy of Sciences (15YJ22SW05), the "Bagui Scholars Distinguished Professor" Special Project, and the Talents introduction program of Sichuan University of Science and Engineering (No. 2013RC12).
Open AccessThis article is distributed under the terms of the Creative Commons Attribution 4.0 International License (http://creativecommons.org/licenses/by/4.0/), which permits unrestricted use, distribution, and reproduction in any medium, provided you give appropriate credit to the original author(s) and the source, provide a link to the Creative Commons license, and indicate if changes were made. The Creative Commons Public Domain Dedication waiver (http://creativecommons.org/publicdomain/zero/1.0/) applies to the data made available in this article, unless otherwise stated.
Authors' Affiliations
(1)
College of Light Industry and Food Engineering, Guangxi University, Nanning, China
(2)
National Engineering Research Center for Non-Food Biorefinery, Guangxi Academy of Sciences, Nanning, China
(3)
College of Bioengineering, Sichuan University of Science and Engineering, Zigong, China