The Podospora anserina lytic polysaccharide monooxygenase PaLPMO9H catalyzes oxidative cleavage of diverse plant cell wall matrix glycans
Biotechnology for Biofuels
2017
10:63
Received: 2 November 2016
Accepted: 2 March 2017
Published: 11 March 2017
Abstract
Background
The enzymatic conversion of plant biomass has been recently revolutionized by the discovery of lytic polysaccharide monooxygenases (LPMO) that catalyze oxidative cleavage of polysaccharides. These powerful enzymes are secreted by a large number of fungal saprotrophs and are important components of commercial enzyme cocktails used for industrial biomass conversion. Among the 33 AA9 LPMOs encoded by the genome of Podospora anserina, the PaLPMO9H enzyme catalyzes mixed C1/C4 oxidative cleavage of cellulose and cello-oligosaccharides. Activity of PaLPMO9H on several hemicelluloses has been suggested, but the regioselectivity of the cleavage remained to be determined.
Results
In this study, we investigated the activity of PaLPMO9H on mixed-linkage glucans, xyloglucan and glucomannan using tandem mass spectrometry and ion mobility–mass spectrometry. Structural analysis of the released products revealed that PaLPMO9H catalyzes C4 oxidative cleavage of mixed-linkage glucans and mixed C1/C4 oxidative cleavage of glucomannan and xyloglucan. Gem-diols and ketones were produced at the non-reducing end, while aldonic acids were produced at the reducing extremity of the products.
Conclusion
The ability of PaLPMO9H to target polysaccharides, differing from cellulose by their linkages, glycosidic composition and/or presence of sidechains, could be advantageous for this coprophilous fungus when catabolizing highly variable polysaccharides and for the development of optimized enzyme cocktails in biorefineries.
Keywords
AA9
LPMO
Lignocellulose
Biomass
Polysaccharides
Mass spectrometry
Biorefinery
Background
The use of plant biomass represents an attractive alternative to fossil-based technologies for the production of high-value chemicals [1]. In nature, filamentous fungi produce lignocellulose-degrading enzymes to acquire carbon from plant biomass. Different types of mechanisms for the deconstruction of plant cell walls have been described in saprotrophic fungi [2], but the involvement of oxidative enzymes was largely underestimated. The recent discovery of a new class of oxidative enzymes, namely lytic polysaccharide monooxygenases (LPMOs), has dramatically broadened the concept of the enzymatic deconstruction of plant cell wall polysaccharides [3–5]. LPMOs represent key cellulolytic enzymes that act at the surface of fibers where they mediate oxidative cleavage of polysaccharide chains. In industry, addition of LPMOs to cellulolytic cocktails leads to the reduction of the enzyme loading required for efficient saccharification of cellulosic biomass [6, 7].
Known LPMOs are grouped into the families AA9, AA10, AA11 and AA13 in the CAZy classification [8]. LPMOs all feature a similar histidine brace coordinating the copper ion responsible for the oxidative cleavage of the substrate [9]. Members of the AA9 family are mainly active on cellulose. The few characterized members from AA11 and AA13 families are active on chitin and starch, respectively [10, 11]. In contrast, the AA10s are mostly found in bacteria and exhibit activity on cellulose or chitin [12]. Beside cellulose, AA9 LPMOs are also known to act on xyloglucan and glucomannan [13] as well as soluble cellodextrins [14–16]. Activity on xylan was detected only when xylans were in complex with cellulose chains [17].
Lytic polysaccharide monooxygenases from the AA9 family are exclusively found in fungi with large expansion of genes in white-rot fungi and some ascomycetes. The coprophilous fungus Podospora anserina displays an impressive array of CAZymes [18, 19] with 189 glycoside hydrolases and 33 genes encoding AA9 LPMOs (PaLPMO9), of which seven have been characterized biochemically [15, 20]. These LMPOs are able to oxidatively cleave cellulose with different regioselectivity. For instance, PaLPMO9E was shown to produce exclusively C1-oxidized products, while PaLPMO9H was reported to release both C1- and C4-oxidized products from cellulose [15, 20]. In addition, the PaLPMO9H displayed relatively broad substrate specificity demonstrated by enzyme activity assays using cellulose and cello-oligosaccharides. Activity of PaLPMO9H on different kinds of hemicelluloses was suggested based on hydrogen peroxide assay results. Indeed, the repression of hydrogen peroxide production in the presence of different hemicellulose substrates was significant and concentration-dependent for barley β-glucan, glucomannan, lichenan, and xyloglucan while curdlan, pectin, and xylan had no effect on hydrogen peroxide production [15]. The degradation products and regioselectivity of PaLPMO9H acting on these substrates remained undetermined.
In the present work, a comprehensive oligosaccharide structural analysis was performed by tandem mass spectrometry (MS) and ion mobility–mass spectrometry on the released products of PaLPMO9H following incubation with four hemicellulosic substrates: lichenan, barley mixed-linkage glucan (MLG), konjac glucomannan (GM) and tamarind xyloglucan (XyG). These polysaccharides are widely represented in the cell walls of different monocotyledonous or dicotyledonous plants, and they exhibit different structural features [21]. Similar to cellulose, all contain some (1 → 4)-linked β-d-glucose residues. Lichenan and MLG are polymers of β-d-glucosyl residues linked through (1 → 4) and (1 → 3) linkages. GM is composed of β-d-glucose and β-d-mannose residues, linked through (1 → 4) bonds, while XyG is a branched polysaccharide, with a backbone of (1 → 4)-linked β-d-glucose residues, most of which are substituted with (1 → 6)-linked α-d-xylose sidechains which are sometimes further extended with (1 → 2)-linked β-d-galactose residues. Our objective was to determine the specificity and selectivity of the PaLPMO9H enzyme for these structures, differing from cellulose by their linkages, glycosidic composition and/or the presence of sidechains.
Methods
Chemicals, substrates and standards
HPLC-grade methanol (MeOH) was purchased from Carlo-Erba (Peypin, France). Ultrapure Water was obtained from a milli-Q apparatus (Merck Millipore, Saint Quentin en Yvelines, France). All other chemicals were purchased from Sigma-Aldrich.
Polysaccharides including lichenan from Icelandic moss, barley MLG, tamarind XyG, konjac GM and β(1,3)/β(1,4)-oligosaccharides including G4A (Glc-β(1,3)-Glc-β(1,4)-Glc-β(1,4)-Glc), G4B (Glc-β(1,4)-Glc-β(1,4)-Glc-β(1,3)-Glc) and G4C (Glc-β(1,4)-Glc-β(1,3)-Glc-β(1,4)-Glc) were purchased from Megazyme (Bray, Ireland). XXXGXXXG (XGO14) was prepared and analyzed by HPAEC-PAD as described in McGregor et al. [22]. Phosphoric acid cellulose was prepared as described in Bennati-Granier et al. [15].
Enzyme production
PaLPMO9H from Podospora anserina (Genbank ID CAP61476) was expressed in Pichia pastoris, produced in a bioreactor and purified as described previously [15].
Cleavage assays
All the cleavage assays (300 µL liquid volume) contained 4.4 µM of PaLPMO9H, 1 mM of ascorbate and 0.05% (w/v) of hemicellulose or 0.2 mM XGO14 in milli-Q water. No buffer was used to avoid the formation of multiple salt adducts during the mass spectrometry analyses causing loss of sensitivity or misinterpretations. The enzyme reactions were performed in 2-mL tubes and incubated in a thermomixer (Eppendorf) at 40 °C and 500 rpm. After 24 h of incubation, the enzymatic reaction was stopped by filtration though a 10-kDa cutoff polyether sulfone membrane and the soluble products were analyzed by mass spectrometry.
Mass spectrometry
Experiments were performed on a Synapt G2Si high-definition mass spectrometer (Waters Corp., Manchester, UK). Two types of mass measurements were performed on the samples. First, a mass profile was collected for a mass range of 350–2000 m/z. Second, ion mobility (IM) was activated to collect ion mobility–mass spectra separating possible isomers and/or reducing interference from sample impurities. IM wa performed in a traveling-wave ion mobility (TWIM) cell. The gas flows were held at 180 mL min−1 He in the helium cell and at 90 mL min−1 N2 in the mobility cell. The IM traveling-wave height was set to 40 V and its wave velocity was set to 450 m s−1 for positive ionization mode and 550 m s−1 for negative ionization mode. Ions of interest were fragmented after the gas-phase separation by collision-induced dissociation in the transfer cell of the instrument, with an adjustment of the collision energies such that a significant fragmentation was obtained while keeping an observable proportion of the intact precursor. Samples were diluted tenfold in MeOH/H2O (1:1, v/v) and infused at a flow rate of 5 μL min−1 in the instrument. The instrument was operated in positive or negative polarity and in "sensitivity" mode. Data acquisition was carried out using MassLynx software (V4.1).
Results and discussion
Different sources of hemicelluloses were incubated with PaLPMO9H under ascorbate conditions and their reaction products were characterized by mass spectrometry. Four substrates were considered: lichenan, MLG, XyG and GM. Cellulose was also included in the study as a reference substrate. The activity of PaLPMO9H products on cellulose has been described in detail and was shown to generate singly and doubly oxidized products at the C1 and/or C4 positions. This results in the formation of gem-diols/ketones at the newly formed "non-reducing" end or aldonic acids at the newly formed "reducing" end [15].
Conclusion
A schematic representation compiling results of the present study is proposed in Fig.
5
. Altogether, the results show that
Pa
LPMO9H is able to target polysaccharides differing from cellulose by their linkage types, glycosidic composition or the presence of sidechains. The broad substrate specificity of
Pa
LPMO9H could be advantageous for
P. anserina
, which uses the most recalcitrant fraction of lignocellulose and therefore has to deal with highly variable polysaccharide structures. Recently, other fungal AA9 LPMOs have been shown to catalyze oxidative cleavage of cellulose and xyloglucan. They originate from the ascomycetes
Asperillus niger
(AN3046) [
25
] and
Fusarium graminearum
(
Fg
LPMO9A) [
26
] and the brown-rot fungus
Gloeophyllum trabeum
(GtLPMO9A-2) [
27
]. Compared to these enzymes,
Pa
LPMO9H seems to behave differently. Although
Fg
LPMO9A cleaves at both the C1 and C4 positions of cellulose and xyloglucan, it was not able to act on glucomannan or mixed-linkage β-glucans. Moreover,
Nc
LPMO9C that displays similar substrate specificity to
Pa
LPMO9H releases only C4-oxidized products. These subtle differences in terms of substrate specificity and regioselectivity within AA9 LPMOs could somewhat explain the multiplicity of AA9 genes in fungal saprotrophs.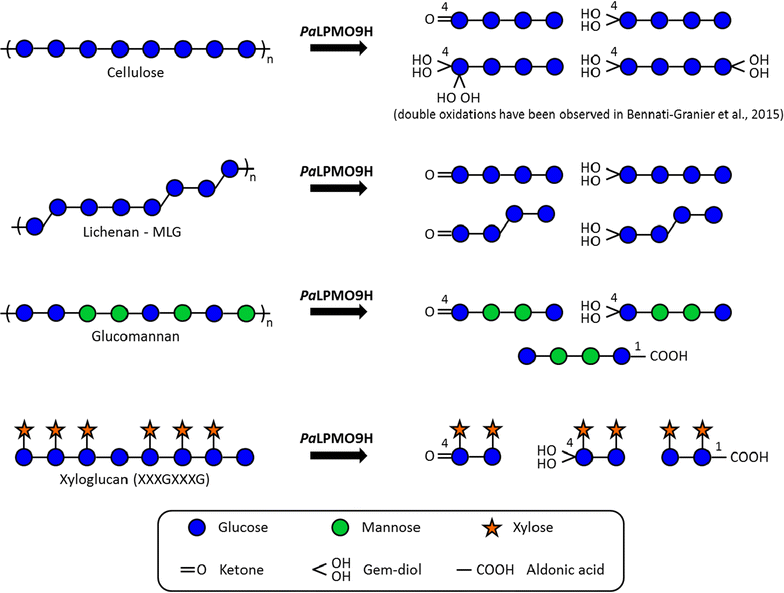 Abbreviations
AA:

auxiliary activity enzyme
PaLPMO9:

Podospora anserina AA9 LPMO
LPMO:

lytic polysaccharide monooxygenase
MLG:

barley mixed-linkage β-glucan
XyG:

tamarind xyloglucan
GM:

konjac glucomannan
DP:

degree of polymerization
Declarations
Authors' contributions
HR and JGB designed the research. MF, NM and SG performed the research experiments. MF, SG, DR, NM, HB, HR and JGB analyzed the data. MF, HR and JGB drafted the manuscript. All authors read and approved the final manuscript.
Acknowledgements
The authors would like to thank M. Haon and S. Grisel for technical assistance. N.M. thanks the Natural Sciences and Engineering Research Council of Canada (NSERC) for an Alexander Graham Bell Canada Graduate Doctoral Scholarship.
Competing interests
The authors declare that they have no competing interests.
Availability of supporting data
All data generated or analyzed during this study are included in this published article and its Additional files.
Consent for publication
All authors approved the final version of the manuscript.
Funding
This study was funded by the AMIDEX foundation (Funcopper project, Grant Number A*M-AAP-EI-13-13-130115-15.37 and MicrobioE project, Grant Number ANR-11-IDEX-0001-02). Work in Vancouver was additionally supported by NSERC (Discovery Grant), the Canada Foundation for Innovation and the British Columbia Knowledge Development Fund.
Open AccessThis article is distributed under the terms of the Creative Commons Attribution 4.0 International License (http://creativecommons.org/licenses/by/4.0/), which permits unrestricted use, distribution, and reproduction in any medium, provided you give appropriate credit to the original author(s) and the source, provide a link to the Creative Commons license, and indicate if changes were made. The Creative Commons Public Domain Dedication waiver (http://creativecommons.org/publicdomain/zero/1.0/) applies to the data made available in this article, unless otherwise stated.
Authors' Affiliations
(1)
Unité de Recherche Biopolymères, Interactions, Assemblages, INRA, Nantes, France
(2)
Polytech Marseille, UMR1163 Biodiversité et Biotechnologie Fongiques, INRA, Aix-Marseille Université, Marseille, France
(3)
Michael Smith Laboratories, University of British Columbia, Vancouver, Canada
(4)
Department of Chemistry, University of British Columbia, Vancouver, Canada
(5)
Department of Biochemistry, University of British Columbia, Vancouver, Canada
(6)
Department of Botany, University of British Columbia, Vancouver, Canada