Metabolic engineering of Rhodopseudomonas palustris for the obligate reduction of n-butyrate to n-butanol
Biotechnology for Biofuels
2017
10:178
Received: 17 April 2017
Accepted: 28 June 2017
Published: 11 July 2017
Abstract
Background
Rhodopseudomonas palustris is a versatile microbe that encounters an innate redox imbalance while growing photoheterotrophically with reduced substrates. The resulting excess in reducing equivalents, together with ATP from photosynthesis, could be utilized to drive a wide range of bioconversions. The objective of this study was to genetically modify R. palustris to provide a pathway to reduce n-butyrate into n-butanol for maintaining redox balance.
Results
Here, we constructed and expressed a plasmid-based pathway for n-butanol production from Clostridium acetobutylicum ATCC 824 in R. palustris. We maintained the environmental conditions in such a way that this pathway functioned as the obligate route to re-oxidize excess reducing equivalents, resulting in an innate selection pressure. The engineered strain of R. palustris grew under otherwise restrictive redox conditions and achieved concentrations of 1.5 mM n-butanol at a production rate of 0.03 g L−1 day−1 and a selectivity (i.e., products compared to the consumed substrate) of close to 40%. Since the theoretical maximum selectivity is 45%, the engineered strain converted close to its maximum selectivity.
Conclusions
The innate redox imbalance of R. palustris can be used to drive the reduction of n-butyrate into n-butanol after expression of a plasmid-based enzyme from a butanol-producing Clostridium strain.
Keywords
Metabolic engineeringRedox-driven obligate reduction n-Butanol Rhodopseudomonas palustris
Background
Rhodopseudomonas palustris, which is a member of the purple non-sulfur bacteria group, is often noted for its metabolic versatility. One of these metabolic activities, which is H2 production by photofermentation, utilizes organic carbon under anaerobic conditions with light and has become an attractive application for bioenergy production [1]. The ability to produce H2 at high concentrations is driven by an excess of reducing equivalents that accumulate during photoheterotrophic growth [2]. Here, we aim to exploit the excess reducing equivalents generated during photoheterotrophic growth to drive an engineered reduction reaction for the obligate production of the liquid fuel n-butanol (hereafter butanol).
When growing on acetate, McKinlay and Harwood [1] reported that approximately half of all reducing equivalents that were generated were used for biosynthesis, while the other half required re-oxidation by some alternate pathway such as CO2 fixation, H2 evolution, or a combination of both. These two pathways were found to be complementary in this role, and when one route was made unavailable, the other facilitated the re-oxidation of all reducing equivalents with minimal changes occurring elsewhere in the central metabolism. However, when fed a more reduced substrate, such as n-butyrate (hereafter butyrate), it was observed that under non-H2 evolving conditions, R. palustris could only grow if exogenous CO2 was supplemented into the medium [2, 3]. This finding demonstrates that under these conditions, R. palustris generates more reducing equivalents than available electron sinks can accommodate, and ultimately suffers a lethal redox imbalance. Numerous studies have used these principles to improve H2 yields from photofermentation using R. palustris [4–6].
Recently, Fixen et al. [7] engineered a strain of R. palustris to utilize excess reducing equivalents to reduce CO2 into CH4 by remodeling the nitrogenase enzyme active site and expressing the modified gene from the chromosome. A NifA* strain of R. palustris was chosen as the host because it expresses the nitrogenase gene constitutively even in the presence of NH3. The result was a light-dependent R. palustris strain that produced CH4 with ATP coming from cyclic photophosphorylation and electrons coming from either an organic substrate or thiosulfate. This reduction is, however, not obligatory and a large excess of H2 was produced by the nitrogenase compared to CH4 [7]. Another attractive route to redirect the excess reducing equivalents and to maintain redox balance when growing on butyrate is to produce the fuel butanol through an obligate reduction reaction. The advantage of the obligate reduction is the lack of side products to achieve a high selectivity (i.e., products compared to the consumed substrate).
Butanol is an attractive biofuel molecule due to its higher energy density, lower volatility, and complete intersolubility with traditional fuels compared to ethanol [
8
]. Butanol is traditionally produced via fermentation of monosaccharides by certain strains of Clostridia.
Clostridium acetobutylicum
ATCC 824, which has been widely studied for this activity, is generally seen as the model organism for solvent production and previously has been used as a source of genes for engineered butanol production [
9
–
11
]. In
C. acetobutylicum
, reduction of butyrate proceeds through a two-phase pathway. First, butyrate is activated to butyryl-CoA, which can occur by two different routes: (1) a two-step butyrate kinase/phosphotransbutyrylase reaction (Fig.
1
); or (2) a one-step reaction with butyrate/acetoacetyl-CoA transferase transferring a CoA group from acetoacetyl-CoA to butyrate. Second, butyryl-CoA is reduced to butanol through the butyraldehyde intermediate [
12
,
13
]. The AdhE2 enzyme from
C. acetobutylicum
ATCC 824 (hereafter AdhE2
824
and
adhE2
824
for its gene) reduces butyryl-CoA to butyraldehyde and subsequently butanol (Fig.
1
) [
14
]. Analysis of AdhE2
824
has revealed that the protein is a bifunctional NADH-dependent fusion protein with the N-terminal domain retaining highly conserved sequences of the aldehyde dehydrogenase family and the C-terminal domain retaining conserved sequences of the iron-containing alcohol dehydrogenase family [
15
]. A second alcohol dehydrogenase enzyme BdhB has also been found to aid in the reduction of butyraldehyde to butanol in
C. acetobutylicum
, though its activity is not necessary for butanol production [
16
].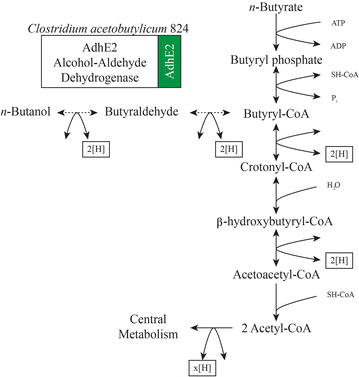 In planning to introduce the butanol production pathway together with the existing catabolism of butyrate by R. palustris, we established that before butyrate can be converted to two molecules of acetyl-CoA via anaerobic β-oxidation, butyryl-CoA is first formed through native butyrate kinase/phosphotransbutyrylase enzymes (Fig. 1). Under photoheterotrophic redox imbalance, the first oxidation reaction for the metabolism of butyrate (i.e., butyryl-CoA to crotonyl-CoA in Fig. 1) would likely be inhibited by the thermodynamic limitations of the reduced cofactor pool. Because of this, we anticipated the butyryl-CoA intermediate to accumulate and provide an ideal target for shunting excess reducing equivalents for the production of butanol by introducing only adhE2 824 (the bifunctional aldehyde/alcohol dehydrogenase gene) into R. palustris (Fig. 1). After necessary optimizations, the production of butanol indicated that this assumption was correct.
A direct introduction of plasmid-based adhE2 824 did not result in the production of AdhE2824 (and butanol production) due to the major incompatibilities in codon utilization preference between the C. acetobutylicum source and the R. palustris host. Therefore, we pursued two alternate attempts to introduce the activity of AdhE2 by using: (1) a gene homologous to adhE2 824 from R. palustris strain BisB18 (hereafter adhE BisB18 and AdhEBisB18 for its protein); and (2) a codon-optimized adhE2 824 (hereafter adhE2 opti and AdhE2opti for its protein). In all our growth experiments, we omitted HCO3 − (CO2) from, and added NH3 to, the growth medium to block the normal routes of shunting reducing equivalents, resulting in an obligate butyrate reduction. This strong selection pressure will only allow growth when butanol production occurs. In our hands, butanol production through the homologous AdhEBisB18 did not work, but AdhE2opti enabled recovered growth through butanol production. Subsequently, we were able to increase the butanol selectivity and production rate in further experiments, accomplishing our aim of generating an engineered reduction reaction for the obligate production of the liquid fuel butanol in R. palustris.
Methods
Media and culture conditions
Rhodopseudomonas palustris CGA009 was cultured in anaerobic butyrate Rhodospirillaceae medium (RM) [17], consisting of 1.64 g NaHCO3, 0.5 g KH2PO4, 0.5 g K2HPO4, 0.2 g MgSO4·7 H2O, 0.4 g NaCl, 0.05 g CaCl2·2 H2O, 0.01 g Fe-Citrate, 1.0 g (NH4)2SO4, 1.12 mL 10 M NaOH, and 1 mL trace metals per liter. The trace-metal solution consisted of 0.25 mL concentrated HCl, 70.0 mg ZnCl2, 100.0 mg MnCl2·4 H2O, 60.0 mg H3BO3, 200.0 mg CoCl2·6 H2O, 20.0 mg CuCl2·2 H2O, 20.0 mg NiCl2·6 H2O, and 40.0 mg Na2MoO4·2 H2O L−1. After autoclaving, 1.0 g sterile butyric acid was added as the substrate. No toxicity or inhibition of R. palustris growth was detected at this concentration (Additional file 1). 1 mL trace vitamins was added to the medium. The trace-vitamin solution consisted of 1.0 g p-aminobenzoic acid, 1.0 g thiamine, and 0.1 g biotin L−1. Sterile medium (50 mL) with a final pH of 7.0 was added to autoclaved serum bottles and sparged for 20 min with sterile-filtered 80:20 N2/CO2 gas. For the growth of engineered strains under restrictive butyrate-to-butanol conversion conditions, NaHCO3 was omitted from the medium, the addition of 10 M NaOH was increased to 2.3 mL total, and serum bottles were sparged for 20 min with N2 instead of N2/CO2. In addition, 200 μg mL−1 of kanamycin sulfate was added for retention of the plasmid in all growth conditions with engineered strains. All serum bottle cultures were grown in an environmental growth chamber (GC8-2VH, EGC, Chagrin Falls, OH) at 30 °C with 80 μmol of photosynthetically active photons s−1 m−2 (photons between 400 and 700 nm) illumination from both fluorescent and incandescent lamps.
DNA manipulation and cloning
We used the green fluorescence protein GFPmut2 [
18
] as a reporter protein to screen for the activity of different expression vectors in
R. palustris
under aerobic conditions. We tested two different plasmids as candidate expression vectors: (1) the endogenously derived pMG105 [
19
]; and (2) the broad-host pBBR1MCS-2 [
20
]. For detection by immunoreaction, we introduced a C-terminal 6X His tag
prior
to the termination site with PCR by the reverse primer (Table
1
).
GFPmut2
was inserted into the pMG105 and pBBR1MCS-2 vectors under the control of a range of promoters, including the endogenous phosphoenolpyruvate carboxykinase (
ppckA
) from
R. palustris
, arabinose (
ara
), and lactose (
lac
) promoters. The
adhE
BisB18
and
adhE2
824
genes were amplified from
R. palustris
strain BisB18 and
C. acetobutylicum
ATCC 824, respectively, using Phusion HF polymerase (New England Biolabs, Ipswich, MA) and directionally ligated into the pBBR1MCS-2 expression vector using the XhoI/XbaI cloning sites. Restriction and ligation enzymes were purchased from Promega (Fitchburg, WI) and all constructs were verified with Sanger sequencing (Cornell University Genomics Facility, Ithaca, NY).
Escherichia coli
DH5α was used for routine cloning of constructs. Both
E. coli
and
R. palustris
were transformed by electroporation with a Bio-Rad Gene Pulser II Electroporator (Bio-Rad, Hercules, CA) with 1.8 kV, 200 Ω, 25 µF for
E. coli
, and 2.5 kV, 400 Ω, 25 µF for
R. palustris
. Electroporated cells were recovered in SOC for 1 and 3 h before plating on lysogeny broth (LB) agar plates with 50 and 200 μg mL
−1
kanamycin sulfate for isolation of individual
E. coli
and
R. palustris
transformants, respectively.
Table 1
Sequences of primers used for this study
Primer

Length

Sequence (5′ → 3′)

Purpose

pBBR1MCS-2 vector

XhoI GFPmut2 F1

60

GGCGGCCTCGAGAGGAGGATCTATTCATGAGTAAAGGAGAAGAACTTTTCACTGGAGTTG

Cloning GFPmut2

XbaI GFPmut2 R1

51

GCCGCCTCTAGACTATTTGTATAGTTCATCCATGCCATGTGTAATCCCAGC

BamHI RBS AdhE2824 F1

68

GCCGCGGATCCAGGAGGATCTATTCATGAAAGTTACAAATCAAAAAGAACTAAAACAAAAGCTAAATG

Cloning adhE2 824

SacI 6X His AdhE2824 R1

62

CACCCGGAGCTCTAAGTGGTGATGGTGATGATGAAATGATTTTATATAGATATCCTTAAGTT

SacI AdhE2824 R1

43

CACCCGGAGCTCTAAAATGATTTTATATAGATATCCTTAAGTT

XhoI RBS AdhEBisB18 F1

57

GACGACCTCGAGAGGAGGATCTATTCGTGACCTTATCTACCCCGTCCGACCTCGACA

Cloning adhE BisB18

XbaI 6X His AdhEBisB18 R1

60

CACCCGTCTAGACTAGTGGTGATGGTGATGATGTTCCGCGGCGTTCGCCGTCGCCACCGA

XbaI AdhEBisB18 R1

52

CAGTCACCCGTCTAGACTATTCCGCGGCGTTCGCCGTCGCCACCGACAATGT

pMG105P vector

XbaI GFPmut2 F1

60

GGCGGCTCTAGAAGGAGGATCTATTCATGAGTAAAGGAGAAGAACTTTTCACTGGAGTTG

Cloning GFPmut2

SalI GFPmut2 R1

53

GGCGGCCGGTCGACCTATTTGTATAGTTCATCCATGCCATGTGTAATCCCAGC
To successfully produce AdhE2824 in R. palustris, codon optimization was pursued. Optimization design was performed in-house and largely utilized the one amino acid one codon approach, except in cases of multiple codon repeats and unfavorable energetics of mRNA secondary structure (Additional file 2). adhE2 opti with a C-terminal 6X His tag was synthesized by GenScript (Piscataway, NJ) with flanking XhoI/XbaI restriction sites that were used for directional cloning into pBBR1MCS-2.
SDS-PAGE and western blot detection
For both SDS-PAGE and subsequent western blot detection, 50 mL of late-log E. coli and R. palustris cells were harvested by centrifugation (10 min, 12,000×g, 4 °C) and resuspended in 1 mL 1X Laemmli sample buffer [21] with a protease inhibitor (Protease inhibitor cocktail, Promega, Fitchburg, WI). The suspension was lysed by ultrasonication on ice using three 30 s on 1 min off pulses of 20 W (Branson Sonifier 150, Emerson, Danbury, CT). After sonication, debris was removed by centrifugation and the total soluble protein concentration was determined by BCA assay (Pierce BCA protein assay kit, Thermo Scientific, Rockford, IL). Forty-five μL of 3 mg mL−1 soluble protein samples and 10 μL of Precision Plus Protein™ standard (Bio-Rad, Hercules, CA) were loaded into pockets of a Mini-PROTEAN® TGX gel (Bio-Rad, Hercules, CA) and run at 100 V for 1.5 h before blotting onto PVDF membranes at 100 V for 1 h. For the initial western blot, immunoreactive bands were developed using manufacturer-suggested protocols for the 1 h Western™ Standard Kit for rabbit (GenScript, Piscataway, NJ) and a 6X His primary antibody (Rabbit polyclonal, GeneTex, Irvine, CA). We used a similar protocol a second time to improve the sensitivity with these changes: we used 0.1 mL OD600 1.0 cells with 0.1 mL Laemmli sample buffer. The samples were boiled for 10 min before centrifugation. 15 µL of each sample was loaded into separate gel lanes. For development, an enhanced chemiluminescence protocol was used using the manufacturer-suggested protocol for promega ECL western blotting substrate (Fitchburg, WI). The film was allowed to incubate with the PVDF membrane for 30 min prior to development.
Bioreactor configuration and operation
Prior to operation, sealed glass bioreactors were autoclaved and filled with 350 mL sterile RM with 1 g L−1 butyrate and without HCO3 −. The bioreactors were equipped with a recirculating water jacket that was operated at 30 °C. Magnetic stir plates (IKA Works Inc., Wilmington, NC) provided stirring of the reactors at 450 rpm. The bioreactors were continuously sparged with sterile-filtered N2 gas at a flow rate of 0.1 L min−1 to maintain an anaerobic environment. After sparging for 1 h to ensure anaerobic reactor conditions, 1 mL of actively growing R. palustris cells at an OD600 of 0.1 was inoculated into the bioreactor. The preculture of R. palustris pBBR1MCS-2 lacp adhE2 opti was grown in anaerobic RM without HCO3 −, while the preculture of R. palustris pBBR1MCS-2 lacp GFPmut2 (control) was grown in aerobic RM without HCO3 −. Gas entered the liquid phase of each bioreactor through a sparging stone to increase the gas/liquid interface for butanol stripping. Off-gas was connected to 2 Friedrich's condensers in parallel with recirculating water at 5 °C to condense the butanol that had been removed by gas stripping. Gas was released into the atmosphere after one passing through the condensers. The bioreactor volume was illuminated externally with a single 60-W incandescent lamp as used previously [22]. The bioreactors were operated in batch-mode and liquid samples were periodically taken for OD600 and metabolite measurements.
Metabolite detection
Butyrate, butanol, and acetate were measured via HPLC (600 HPLC, Waters, Milford, MA) with a refractive index detector and an Aminex HPX-87H column (Bio-Rad, Hercules, CA). The column temperature was set to 60 °C, and a 5-mM sulfuric acid eluent at a flow rate of 0.6 mL min−1 was used as the mobile phase. Butanol and butyraldehyde were measured with a gas chromatograph (HP 5890, Hewlett Packard, Palo Alto, CA) with a 7673 autoinjector and flame ionization detector. The gas chromatograph contained a custom-made packed bed glass column of 1.8 m × 2 mm id (Supelco, Sigma-Aldrich, St. Louis, MO). The support matrix of the column was Chromosorb W/AW80 over 100 mesh; phases were preconditioned: phase A was 10% Carbowax-20M; phase B was 0.1% phosphoric acid. The inlet and detector temperatures were 220 and 240 °C, respectively. The column temperature profile was 100 °C for 2 min, a ramp of 40 °C min−1 to 180 °C with a 5-min hold. Butanol concentrations were verified by both HPLC and GC platforms.
Conclusion
The introduction of adhE2 opti into R. palustris via a plasmid-based construct is an example of metabolically engineered fuel production that proceeds as an obligate strategy for growth. Although growth and production rates were low for this system, our selectivity of 39.7 ± 7.6% matched well with the empirical expectation of 45.0% under these conditions. Because the low growth rates and butanol production are likely constrained by redox flux through the engineered pathway, rational design and directed evolution could be used to further improve the performance of this activity. If improved, the system could be easily integrated into a simple bioreactor design with highly efficient selectivity and recovery. While this proof-of-concept for harnessing an obligate reducing metabolism to drive engineered reactions used butanol as a target molecule, this redox-based driving force could be used to achieve other reactions for the production of desirable chemicals that require reduction reactions.
Declarations
Authors' contributions
DFRD designed and executed experiments, performed analysis, interpreted data, and drafted the manuscript. ECH executed experiments, performed analysis, and contributed to data interpretation. HR and BM advised on how to perform the experiments. GJ and LTA conceived the study and participated in its design. LTA coordinated the study and contributed to the drafting of the manuscript. All authors read and approved the final manuscript.
Acknowledgements
We would like to thank Dr. Meena Haribal, Dr. Lubna Richter, Prof. Dr. Matt DeLisa, Dr. Jason Boock, and Jen Schmidt for their expertise and advice (all at Cornell University). We would like to thank Prof. Dr. Caroline Harwood (University of Washington) for providing the R. palustris strain BisB18 and Wendy Hoose (Cornell University) for providing technical assistance.
Competing interests
The authors declare that they have no competing interests.
Availability of data and materials
The datasets generated and/or analyzed during the current study are available from the corresponding author on reasonable request.
Funding
This project and its researchers were funded in part through an Academic Venture Fund award from the Atkinson Center for a Sustainable Future to LTA and GJ, and the Advanced Research Projects Agency Energy Open 2012 program Project Number DE-AR0000312 to LTA. We acknowledge support by Deutsche Forschungsgemeinschaft and Open Access Publishing Fund of University of Tübingen.
Publisher's Note
Springer Nature remains neutral with regard to jurisdictional claims in published maps and institutional affiliations.
Open AccessThis article is distributed under the terms of the Creative Commons Attribution 4.0 International License (http://creativecommons.org/licenses/by/4.0/), which permits unrestricted use, distribution, and reproduction in any medium, provided you give appropriate credit to the original author(s) and the source, provide a link to the Creative Commons license, and indicate if changes were made. The Creative Commons Public Domain Dedication waiver (http://creativecommons.org/publicdomain/zero/1.0/) applies to the data made available in this article, unless otherwise stated.
Authors' Affiliations
(1)
Department of Biological and Environmental Engineering, Cornell University, Ithaca, USA
(2)
Boyce Thompson Institute for Plant Research, Ithaca, USA
(3)
Atkinson Center for a Sustainable Future, Cornell University, Ithaca, USA
(4)
Center for Applied Geosciences, University of Tübingen, Tübingen, Germany