Association of improved oxidative stress tolerance and alleviation of glucose repression with superior xylose-utilization capability by a natural isolate of Saccharomyces cerevisiae
Biotechnology for Biofuels
2018
11:28
Received: 8 August 2017
Accepted: 11 January 2018
Published: 5 February 2018
Abstract
Background
Saccharomyces cerevisiae wild strains generally have poor xylose-utilization capability, which is a major barrier for efficient bioconversion of lignocellulosic biomass. Laboratory adaption is commonly used to enhance xylose utilization of recombinant S. cerevisiae. Apparently, yeast cells could remodel the metabolic network for xylose metabolism. However, it still remains unclear why natural isolates of S. cerevisiae poorly utilize xylose. Here, we analyzed a unique S. cerevisiae natural isolate YB-2625 which has superior xylose metabolism capability in the presence of mixed-sugar. Comparative transcriptomic analysis was performed using S. cerevisiae YB-2625 grown in a mixture of glucose and xylose, and the model yeast strain S288C served as a control. Global gene transcription was compared at both the early mixed-sugar utilization stage and the latter xylose-utilization stage.
Results
Genes involved in endogenous xylose-assimilation (XYL2 and XKS1), gluconeogenesis, and TCA cycle showed higher transcription levels in S. cerevisiae YB-2625 at the xylose-utilization stage, when compared to the reference strain. On the other hand, transcription factor encoding genes involved in regulation of glucose repression (MIG1, MIG2, and MIG3) as well as HXK2 displayed decreased transcriptional levels in YB-2625, suggesting the alleviation of glucose repression of S. cerevisiae YB-2625. Notably, genes encoding antioxidant enzymes (CTT1, CTA1, SOD2, and PRX1) showed higher transcription levels in S. cerevisiae YB-2625 in the xylose-utilization stage than that of the reference strain. Consistently, catalase activity of YB-2625 was 1.9-fold higher than that of S. cerevisiae S288C during the xylose-utilization stage. As a result, intracellular reactive oxygen species levels of S. cerevisiae YB-2625 were 43.3 and 58.6% lower than that of S288C at both sugar utilization stages. Overexpression of CTT1 and PRX1 in the recombinant strain S. cerevisiae YRH396 deriving from S. cerevisiae YB-2625 increased cell growth when xylose was used as the sole carbon source, leading to 13.5 and 18.1%, respectively, more xylose consumption.
Conclusions
Enhanced oxidative stress tolerance and relief of glucose repression are proposed to be two major mechanisms for superior xylose utilization by S. cerevisiae YB-2625. The present study provides insights into the innate regulatory mechanisms underlying xylose utilization in wild-type S. cerevisiae, which benefits the rapid development of robust yeast strains for lignocellulosic biorefineries.
Keywords
Saccharomyces cerevisiae
Transcriptomic analysis
Xylose utilization
Oxidative stress
Transcription factor
Glucose repression
Background
Bioconversion of renewable lignocellulosic biomass to biofuels and biochemicals is environment-friendly and sustainable. Budding yeast Saccharomyces cerevisiae has been widely studied to produce cellulosic ethanol. However, bioconversion of lignocellulosic biomass is still not economically feasible. One major bottleneck is that most natural S. cerevisiae strains cannot efficiently use xylose, which is abundant in lignocellulosic hydrolysates. Therefore, multiple genetic engineering strategies have been adopted to enable xylose utilization in S. cerevisiae [1–3].
It is well known that genetic background of the S. cerevisiae strain exerts significant effects on the performance of recombinant xylose-assimilating strains. Expression of the same set of genes in different S. cerevisiae strains has resulted in variable xylose utilization abilities [4–6]. Although screening of suitable host strains is commonly employed to construct engineered yeasts, the process is labor-intensive and time-consuming. On the other hand, evolutionary engineering of the recombinant strains is always required to achieve satisfactory xylose-utilization performance [1, 7]. Unveiling the underlying mechanisms of host dependence is beneficial to promote efficient and rapid strain development.
It was revealed that multiple gene mutations occur during adaptive evolution, and some key genes leading to improved xylose utilization have been identified, such as PHO13 and ASK10 [8, 9]. It is very important to explore the innate regulatory mechanisms in the host strains, which are responsible for the optimized metabolic flux for xylose utilization. However, related studies have been only performed using the recombinant strains or the evolved recombinants [4, 9–11].
Natural isolates of S. cerevisiae are rich sources of robust hosts for genetic engineering of xylose utilization. Currently, most studies on natural yeast isolates focused on the differences of stress tolerance [12]. In contrast, so far, limited study has been performed on the xylose-utilization properties of natural S. cerevisiae isolates. Despite the common knowledge that natural S. cerevisiae strains cannot use xylose as the sole carbon source, it was reported that some natural S. cerevisiae strains, especially wine strains, could grow weakly in xylose [13, 14]. In addition, key endogenous genes responsible for xylose utilization in the wild S. cerevisiae strains were identified [14, 15].
We are interested in whether more native S. cerevisiae strains that can use xylose can be explored, and have screened wild yeast isolates and compared their xylose-assimilation capability. We found that S. cerevisiae YB-2625 isolated from bagasse showed superior xylose consumption capability among all the S. cerevisiae wild strains when tested in mixture of glucose and xylose. Consistently, it was reported that comparing the engineered yeasts with other hosts, S. cerevisiae YRH396 derived from S. cerevisiae YB-2625 showed more biomass accumulation and faster growth rate using xylose as the sole carbon source [5]. It is of significance to explore the molecular mechanisms underlying this unique xylose-utilization performance, and therefore, in this study, S. cerevisiae YB-2625 was selected for comparative transcriptomic analysis. The model yeast strain S288C was chosen as the reference strain [16].
The differences of global gene transcription among the recombinant yeast strains have been studied using xylose or glucose as the sole carbon source [4, 17, 18]. However, we investigated mixed-sugar utilization in this study, because both glucose and xylose are present in the cellulosic hydrolysate. Two different physiological stages, including the log growth phase for mixed-sugar utilization and the early xylose-utilization stage which is initiated after complete consumption of glucose, were investigated. To our best knowledge, this is the first report about the transcriptomic analysis of a natural S. cerevisiae isolate in the condition of mixed-sugar (glucose and xylose) fermentation. Our results provide novel insights into understanding the impact of the host selection and will contribute to identifying useful genetic targets for improving xylose utilization of the recombinant yeasts.
Methods
Yeast strains, media, and culture conditions
Saccharomyces cerevisiae YB-2625 was obtained from Agricultural Research Service (ARS) Culture Collection, US Department of Agriculture (USDA), USA. The reference yeast S288C (ATCC 204508) was preserved in our lab. Xylose-fermenting recombinant YRH396 was constructed previously using S. cerevisiae YB-2625 as the host strain [5]. Yeast strains were stored in 30% glycerol at − 80 °C. For seed culture, cells were cultivated in YPD medium containing 10 g/L yeast exact, 20 g/L peptone, and 20 g/L glucose to stationary phase, and then transferred into fresh YPD medium overnight. The mixed-sugar fermentation medium (YPD80X20) consists of 4 g/L yeast exact, 3 g/L peptone, 80 g/L glucose, and 20 g/L xylose, while 40 g/L xylose (YPX40) was used as sole carbon source when performing xylose fermentation. After seed culture, the cells were inoculated into 100 mL YPD80X20 or YPX40 medium in 250 mL flasks with the initial OD600 0.2 at 30 °C, 150 rpm under micro-aerobic condition.
Transcriptome analysis and real-time quantitative PCR (RT-qPCR) analysis
Samples were taken at the stages of mixed-sugar fermentation (~ 7 h after inoculation) and xylose fermentation (~ 48 h), respectively. Cell pellets were collected by centrifugation at 8000×g for 5 min and then immediately frozen in liquid nitrogen. Total RNA was extracted by Spin Column Plant total RNA Purification Kit (Sangon, Shanghai, China) according to the manufacturer's instructions. Two independently replicated experiments of mixed-sugar fermentation and RNA-seq analysis were performed. Agilent 2100 Bioanalyzer was used for determining RNA quality and quantity, and the RNA integrity number (RIN) of all the samples was more than 9.5. The RNA-seq libraries were sequenced on IlluminaHiseq 4000 and analyzed by Beijing Genomics Institute (BGI, Shenzhen, China). All the fold changes of transcriptomic data in this work are log 2 ratios. Five genes involved in stress response, xylose-utilization pathway, and ethanol formation pathway were selected for RT-qPCR verification of the RNA-seq analysis results. The primers used in this study are all listed in Additional file 1: Table S1. The RT-qPCR analysis was performed following the manufacturer's protocol of SYBR® Premix Ex Taq™ II (Takara Kyoto, Japan), and ACT1 was selected as an internal control. The relative expression level of genes was determined by the 2−ΔΔCt method [19].
Quantification of reactive oxygen species (ROS)
ROS accumulation in yeast cells taken in 7 h and 48 h during mixed-sugar fermentation was immediately detected using the ROS detection kit (Beyotime Institute of Biotechnology, Shanghai, China). OD600 values of the two yeast strains (YB-2625 and S288C) were adjusted to the same level by PBS buffer (pH 7.3–7.5) and then determined using the oxidant-sensitive probe 2′,7′-dichlorofluorescin diacetate (DCFH-DA) as described elsewhere [20].
CAT activity determination
Crude protein was extracted from yeast cells collected at 7 and 48 h of mixed-sugar fermentation as previously described [21], and was subsequently subjected to the detection of catalase (CAT) activity. The activity of CAT was determined with a reagent kit according to the manufacturer's instructions (Beyotime Institute of Biotechnology, Shanghai, China).
Oxidative stress tolerance assay
Yeast strains were cultured in YPD medium for 24 h at 30 °C, 150 rpm, and then transferred to fresh YPD medium and cultivated until stationary stage. Before spot assay, the cultures were adjusted to the same initial cell concentration (OD600 ~ 1.0) and serially diluted by tenfold. Two-microliter suspension from each dilution was spotted on YPD plates containing 5 mM hydrogen peroxide (H2O2) and incubated at 30 °C. To minimize degradation of H2O2 in the plates, H2O2 was added to the pre-cooled YPD medium and mixed well immediately prior to pouring. Experiments were performed in triplicates and the YPD plates without H2O2 served as control.
Plasmids and strains construction
The CTT1 and PRX1 genes were amplified from the genomic DNA of YB-2625 using primer pairs CTT1-F'/CTT1-R' and PRX1-F'/PRX1-R' as listed in Additional file 1: Table S1. The fragments were digested by HindIII and PacΙ, and then cloned into plasmid pRS41H-PGK1 p , which contains a PGK1 promoter and CYC1 terminator, to create pRS41H-CTT1 and pRS41H-PRX1. The plasmids were transformed into YRH396 using the lithium acetate method [22]. Cells were selected on agar plates with YPD and 300 μg/mL hygromycin. The transformants were confirmed by PCR verification using CTT1-F' or PRX1-F' and hph-in-R'.
Total ergosterol content determination
Cells from 10 mL of fermentation broth under the same condition of transcriptomic analysis were collected at 10,000×g for 3 min and then washed with sterilized distilled water twice. Ergosterol was extracted and detected as described in the previous study [23].
Cell growth evaluation and HPLC analysis
Cell growth was determined by optical density at 600 nm (OD600). Samples from fermentation broth were analyzed by HPLC (Waters 410, Waters, MA, USA) equipped with an Aminex HPX-87H column (300 mm × 7.8 mm, Bio-Rad, Hercules, CA) as previously described to determine concentrations of glucose, xylose, ethanol, glycerol and acetic acid [24].
Statistical analysis
All quantitative data were expressed as the mean value with corresponding standard deviation (SD) obtained from three independent experiments. The statistical analysis showed in enzyme detection section was performed using Student's t test at the significance of p < 0.05 and p < 0.01, respectively.
Conclusions
Comparative transcriptomic analysis between the natural yeast YB-2625 isolated from bagasse and the model yeast S288C was conducted in the process of mixed-sugar fermentation with glucose and xylose. It was found that besides enhanced expression of genes involved in glycolysis, TCA cycle, as well as gluconeogenesis, the wild strain YB-2625 also showed higher expression of hexose transporters and endogenous xylose metabolism related genes, such as
GRE3
,
XYL2,
and
XKS1
to realize more efficient xylose metabolism than the laboratory strain. Moreover, weakened expression of glucose repression related transcription factors
MIG1
,
MIG2
,
MIG3
, and
HXK2
may also contribute to the accelerated xylose utilization. Sustained low ROS and upregulation of oxidative stress resistance genes, such as
CTT1
,
CTA1
,
SOD2,
and
PRX1,
were present in this superior xylose-utilizing yeast. The combination of lower ROS levels, higher catalase activity, and ergosterol content, suggests that improved oxidative stress tolerance was beneficial for xylose utilization of the yeast strain. We further confirmed that
CTT1
and
PRX1
overexpression improved xylose utilization. The proposed mechanisms for superior xylose utilization are presented in Fig.
9
. The study here provides new insights into the effects of host genetic background on xylose utilization. Our results also benefit further development of xylose-utilizing recombinant yeast strains for efficient lignocellulosic biofuels and biochemical production.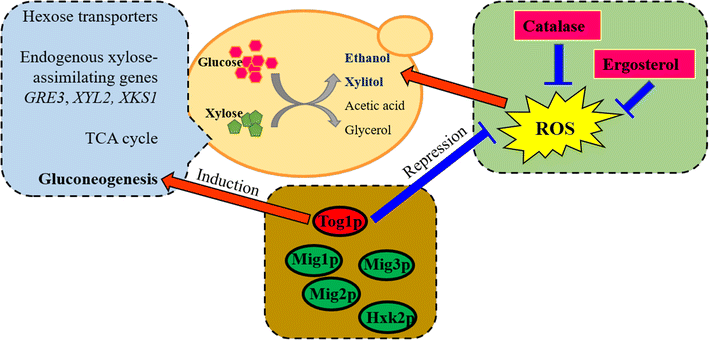 Abbreviations
ROS:

reactive oxygen species
RNA-seq:

RNA sequencing
TCA:

tricarboxylic acid cycle
RT-qPCR:

real-time quantitative polymerase chain reaction
CAT:

catalase
HPLC:

high-performance liquid chromatography
GO:

Gene Ontology
AcCoA:

acetylcoenzyme A
PPP:

pentose-phosphate pathway
HSP:

heat shock protein
TF:

transcription factor
SGD:

Saccharomyces Genome Database
YEASTRACT:

Yeast Search for Transcriptional Regulators And Consensus Tracking
MIPS:

The Munich Information Center for Protein Sequences
Declarations
Authors' contributions
CC and XQZ designed the experiments; CC performed the experiments as well as data analysis, and also prepared the draft of the manuscript. RQT and LX assisted in revision of the manuscript. REH contributed in data analysis and manuscript revision. FWB participated in revision of the manuscript. XQZ also contributed to instruction of the experiments and manuscript preparation revision. All authors read and approved the final manuscript.
Acknowledgements
The authors acknowledge financial support from the Natural Science Foundation of China (Nos. 21536006, 51561145014, and 31461143029).
USDA—The mention of trade names or commercial products in this article is solely for the purpose of providing specific information and does not imply recommendation or endorsement by the U.S. Department of Agriculture. USDA is an equal opportunity provider and employer.
Competing interests
The authors declare that they have no competing interests.
Availability of data and materials
The data sets analyzed during the current study are available from the corresponding author on reasonable request.
Ethics approval and consent to participate
Not applicable.
Publisher's Note
Springer Nature remains neutral with regard to jurisdictional claims in published maps and institutional affiliations.
Open AccessThis article is distributed under the terms of the Creative Commons Attribution 4.0 International License (http://creativecommons.org/licenses/by/4.0/), which permits unrestricted use, distribution, and reproduction in any medium, provided you give appropriate credit to the original author(s) and the source, provide a link to the Creative Commons license, and indicate if changes were made. The Creative Commons Public Domain Dedication waiver (http://creativecommons.org/publicdomain/zero/1.0/) applies to the data made available in this article, unless otherwise stated.
Authors' Affiliations
(1)
State Key Laboratory of Microbial Metabolism, School of Life Sciences and Biotechnology, Shanghai Jiao Tong University, Shanghai, China
(2)
School of Life Science and Biotechnology, Dalian University of Technology, Dalian, China
(3)
Bioenergy Research Unit, National Center for Agricultural Utilization Research, USDA-ARS, Peoria, USA