Biodiesel biorefinery: opportunities and challenges for microbial production of fuels and chemicals from glycerol waste
Biotechnology for Biofuels
2012
5:48
Received: 26 March 2012
Accepted: 29 June 2012
Published: 18 July 2012
Abstract
The considerable increase in biodiesel production worldwide in the last 5 years resulted in a stoichiometric increased coproduction of crude glycerol. As an excess of crude glycerol has been produced, its value on market was reduced and it is becoming a "waste-stream" instead of a valuable "coproduct". The development of biorefineries, i.e. production of chemicals and power integrated with conversion processes of biomass into biofuels, has been singled out as a way to achieve economically viable production chains, valorize residues and coproducts, and reduce industrial waste disposal. In this sense, several alternatives aimed at the use of crude glycerol to produce fuels and chemicals by microbial fermentation have been evaluated. This review summarizes different strategies employed to produce biofuels and chemicals (1,3-propanediol, 2,3-butanediol, ethanol, n-butanol, organic acids, polyols and others) by microbial fermentation of glycerol. Initially, the industrial use of each chemical is briefly presented; then we systematically summarize and discuss the different strategies to produce each chemical, including selection and genetic engineering of producers, and optimization of process conditions to improve yield and productivity. Finally, the impact of the developments obtained until now are placed in perspective and opportunities and challenges for using crude glycerol to the development of biodiesel-based biorefineries are considered. In conclusion, the microbial fermentation of glycerol represents a remarkable alternative to add value to the biodiesel production chain helping the development of biorefineries, which will allow this biofuel to be more competitive.
Keywords
Glycerol
Fermentation
Biofuels
Metabolic engineering
Biodiesel
Introduction
Production of biofuels and chemicals from renewable feedstocks is necessary to meet the energy demand in a world where petrol fuels are becoming scarce and more expensive. One of the main problems associated with biofuels is still the production costs, which can be reduced if residues of biofuels production processes are converted into valuable coproducts [1, 2]. Biodiesel is an alternative fuel that reduces net greenhouse effects and its use has become mandatory in many countries [3]. It is mainly obtained by the transesterification of fat and vegetable oils in the presence of a catalyst by a primary alcohol (usually methanol) leading to a fatty acid methyl ester (FAME), which is used as a biofuel. Sunflower, rape, soybean and palm oils are the main substrates to make biodiesel worldwide, however, there are local variations on which is the main source. In Brazil, for example, 80% of the biodiesel produced in 2010 was from soybean oil [4].
Biodiesel production increased considerably in the past few years and so did the amount of residues generated during its production (Figure
1
A). Europe is still the biggest biodiesel producer, whereas Brazil had the highest increase in production rate in the last years when compared with United States and Europe,
i.e.
from 736 in 2005 to 2,400,000 m
3
in 2010 (Figure
1
B). Production of the two main types of residues, pies and crude glycerol, is increasing concurrently with the biodiesel industry. Pies, which are produced by pressing of palms, seeds and others for oil extraction, are usually used as feed for animals or as fertilizers, consequently adding value to the biodiesel production chain. Crude glycerol, which is derived from the transesterification reaction of fat and vegetable oils (triglycerides) to produce biodiesel, contains methanol, salts, soaps and water as the main contaminants. Concentration and presence of each contaminant will vary drastically from one industry to another, due to a variety of parameters, including oil source and reaction conditions. For instance, glycerol and water content can vary, respectively, from 92% and 6% [
5
] to 65% and 26% [
6
] in crude glycerol samples. The presence of these impurities in crude glycerol samples is expected to influence negatively the bioconversion process of this coproduct. However, it is important to note that the excess of crude glycerol produced in the biodiesel industry is leading to a decrease in glycerol prices and glycerol is now considered a waste instead of a coproduct [
2
]. The production of crude glycerol follows the increasing biodiesel production, since the stoichiometry of the reaction dictates that for each 10 tons of FAME, 1 ton of crude glycerol is formed (Figure
1
). Thus, the development of biorefineries based on crude glycerol is expected to favor the biodiesel industry economy, by reducing costs associated with the disposal of residues and increasing production of value-added chemicals [
7
].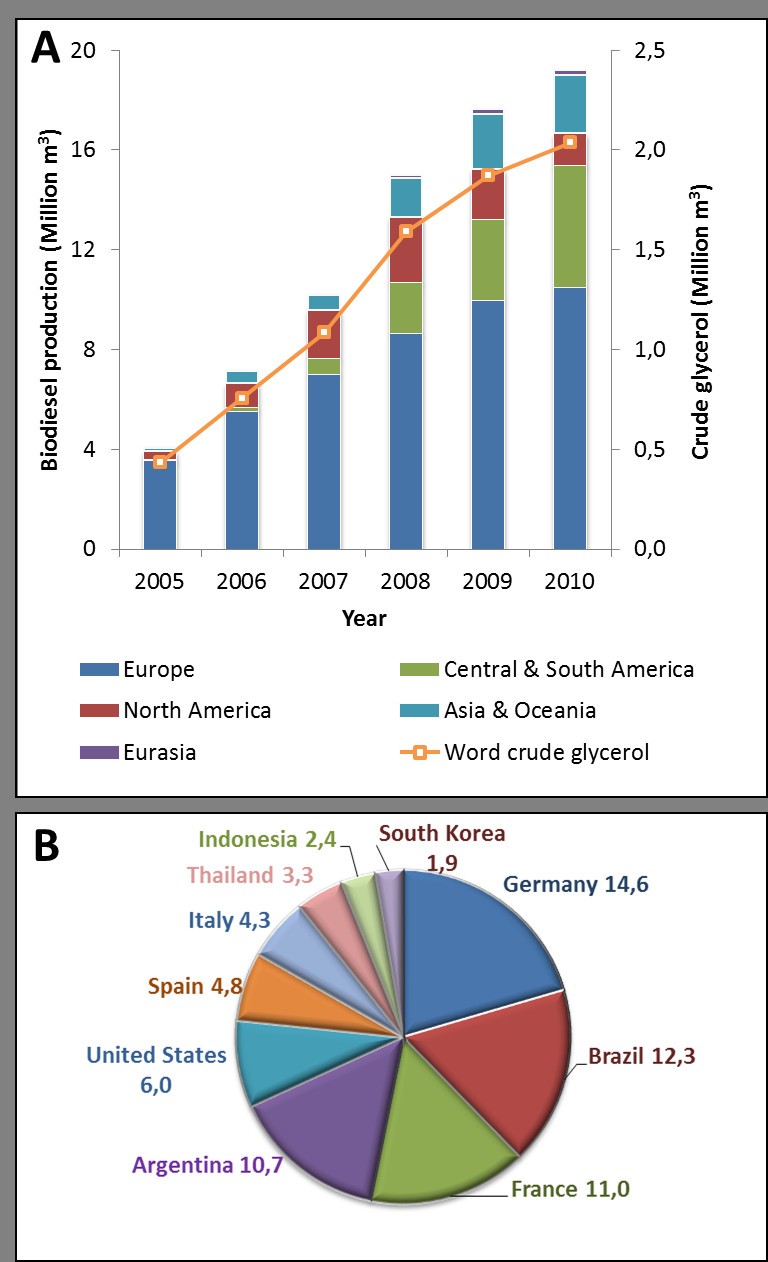 In this review, we discuss the strategies to produce fuels and chemicals of biotechnological interest by microbial fermentation of glycerol. We highlight naturally occurring and engineered bacteria, yeast and filamentous fungi able to produce specific chemicals, as well as the strategies to improve their performance during fermentation. Market and industrial applications of these microbial fermentation products are also discussed.
Conclusions
Increasing awareness of environmental issues and consequent pressure from governments and public agencies to reduce the emission of pollutants, together with the increasing petroleum cost and demand for fuels and chemicals worldwide have led to the development of biomass conversion processes. Processes for production of fuels and chemicals from crude glycerol waste from the biodiesel industry have been evaluated and developed at laboratory scale. Indeed, the strong potential of crude glycerol use for the development of biorefineries has been demonstrated by the production of several chemicals using different routes and microorganisms. Several yeasts and bacteria, especially E. coli and others from the Enterobacteriaceae and Clostridiaceae families, have been evaluated for fermentation of glycerol. Efficient selection and construction of recombinant strains based on biochemical and genomic data associated with optimization of fermentation conditions resulted in strains able to produce more than 100 g/L of the desired products with yields above 50% of the theorethycal maximum in laboratory scale.
Among the different routes to establish a fermentative process based on microbial fermentation of glycerol, the use of "wild type" natural producers and engineered strains are the most considered. The later case is more common for bacteria of the Enterobacteriaceae family and the former one for engineered strains of yeast and E. coli. When wild type strains are employed to produce the desired chemical, efforts to improve production generally concentrate on the optimization of fermentation conditions, like aeration, pH, substrate concentration and feeding. However, the use of these strains (species) in industrial applications may be impaired by pathogenicity, need for strict anaerobic conditions, or lack of genetic tools. The use of engineered strains commonly employed in industry, especially yeasts and E. coli, can solve this problem. However, metabolic engineering strategies have to be used to drive metabolite synthesis through homologous and heterologous pathways. Although in industry the most commonly used strains are engineered producers of fuels and chemicals, a careful screening of the biodiversity is generally advisable, since microorganisms can naturally produce a vast range of compounds. Once enzymes and metabolic pathways in such microorganisms are identified and isolated they can be used for the development of recombinant strains.
Considering the already remarkable advances for the production of fuels and chemicals from glycerol using microorganisms, it may be expected that strains for industrial implementation of these bioprocesses should become available in the next years. The technology for the production of butanol, propanodiol and succinic acid from simple renewable feedstocks such as starch and sucrose is already available. Therefore, it is expected that these chemicals will be the first to be produced from more complex substrates such as biodiesel-derived crude glycerol and other more complex biomasses. However, before implementation of a pilot or industrial plant to produce any fuel or chemical, two important aspects should be considered: i) the cost of producing fuels and chemicals by microbial fermentation should be comparable with fossil-derived products; and ii) the feedstock supply chain for the industry.
Declarations
Acknowledgements
This work was financially supported by the Brazilian National Council for Scientific and Technological Development (CNPq), FINEP and Embrapa.
Authors' Affiliations
(1)
Embrapa-Agroenergy, Parque Estação Biológica S/N, Brasília, DF, Brazil
(2)
Genomic Sciences and Biotechnology Program, Universidade Católica de Brasília, Brasília, DF, Brazil
Copyright
© Almeida et al.; licensee BioMed Central Ltd. 2012
This article is published under license to BioMed Central Ltd. This is an Open Access article distributed under the terms of the Creative Commons Attribution License (http://creativecommons.org/licenses/by/2.0), which permits unrestricted use, distribution, and reproduction in any medium, provided the original work is properly cited.