Research article

Open Access
Deletion of a gene cluster encoding pectin degrading enzymes in Caldicellulosiruptor bescii reveals an important role for pectin in plant biomass recalcitrance
Biotechnology for Biofuels
2014
7:147
Received: 2 July 2014
Accepted: 22 September 2014
Published: 10 October 2014
Abstract
Background
A major obstacle, and perhaps the most important economic barrier to the effective use of plant biomass for the production of fuels, chemicals, and bioproducts, is our current lack of knowledge of how to efficiently and effectively deconstruct wall polymers for their subsequent use as feedstocks. Plants represent the most desired source of renewable energy and hydrocarbons because they fix CO2, making their use carbon neutral. Their biomass structure, however, is a barrier to deconstruction, and this is often referred to as recalcitrance. Members of the bacterial genus Caldicellulosiruptor have the ability to grow on unpretreated plant biomass and thus provide an assay for plant deconstruction and biomass recalcitrance.
Results
Using recently developed genetic tools for manipulation of these bacteria, a deletion of a gene cluster encoding enzymes for pectin degradation was constructed, and the resulting mutant was reduced in its ability to grow on both dicot and grass biomass, but not on soluble sugars. The plant biomass from three phylogenetically diverse plants, Arabidopsis (a herbaceous dicot), switchgrass (a monocot grass), and poplar (a woody dicot), was used in these analyses. These biomass types have cell walls that are significantly different from each other in both structure and composition. While pectin is a relatively minor component of the grass and woody dicot substrates, the reduced growth of the mutant on all three biomass types provides direct evidence that pectin plays an important role in biomass recalcitrance. Glycome profiling of the plant material remaining after growth of the mutant on Arabidopsis biomass compared to the wild-type revealed differences in the rhamnogalacturonan I, homogalacturonan, arabinogalactan, and xylan profiles. In contrast, only minor differences were observed in the glycome profiles of the switchgrass and poplar biomass.
Conclusions
The combination of microbial digestion and plant biomass analysis provides a new and important platform to identify plant wall structures whose presence reduces the ability of microbes to deconstruct plant walls and to identify enzymes that specifically deconstruct those structures.
Keywords
BioenergyBiomass deconstructionPectinThermophile
Background
A fundamental understanding of the physical and chemical structures of plant cell walls is essential to guide the development of processes for biomass deconstruction and to use plant biomass as a feedstock for the production of fuels, chemicals, and bioproducts [1]. Most efforts targeted at improving the deconstruction of plant biomass for biofuel production have centered on crystalline cellulose, lignin, and xylan (the major hemicellulose in grass (for example, switchgrass) walls and in dicot (for example, poplar wood) secondary walls) [2]. Indeed, most models of biomass used in the biofuels field do not list pectin because of its low abundance in grass walls and in dicot secondary walls [3]. Recent work, however, has shown that pectin is synthesized in secondary walls [4], that some pectin biosynthetic enzymes are amplified in grasses [5], and that saccharification of plant biomass can be improved by modifying the structure of pectin [6]. Two recent discoveries provide possible explanations for these observations. Although pectin is present at low levels in secondary walls, which represent the bulk of plant material, the overexpression of a pectin-degrading enzyme during the onset of secondary wall formation in transgenic aspen resulted in increased solubility of pectins and hemicelluloses and resulted in higher yields of pentoses and hexoses, suggesting that, albeit a minor structural component, pectins are important for secondary cell wall architecture [7]. Furthermore, the recent identification of a novel pectin-containing proteoglycan structure [8] in plant walls suggests that current models of the plant cell wall are incomplete, and that the conceptual framework that drives current strategies for overcoming the recalcitrance of biomass for deconstruction and bioproduct formation may need revision. These recent discoveries suggest that pectin-containing structures exist in all plant biomass and that modification of these structures, or at least the pectin domains therein, can be used to decrease biomass recalcitrance.
Members of the genus
Caldicellulosiruptor
have the ability to grow on unpretreated biomass, and different species differ in this ability.
C. bescii
is the most thermophilic cellulolytic bacteria (T
opt
= about 80°C) so far described, and is able to utilize a wide range of substrates such as cellulose, hemicellulose, and diverse types of unpretreated plant biomass [
9
],[
10
]. The
C. bescii
genome contains a total of five genes predicted to be involved in pectin deconstruction/utilization [
11
]. Three exist in a single cluster/operon with a predicted transcriptional regulator (Figure
1
A), and expression of this cluster is significantly up-regulated in cells growing on biomass [
12
],[
13
]. The three genes in this cluster encode members of different families of polysaccharide lyases (PLs).
pecA
(Cbes1855) is a PL9,
pecB
(Cbes1854) is a PL3, and
pecC
(Cbes1853) is a PL11. These three multidomain pectinases also contain two kinds of carbohydrate-binding modules (CBMs), CBM3 (
pecC
) and CMB_4_9 (
pecA
and
pecB
), presumably to facilitate binding and degradation of pectin or other compounds in plant biomass (Table
1
). Cbes1853 was previously annotated as a cellobiohydrolase in GenBank (
http://www.ncbi.nlm.nih.gov/genbank/
). Our own bioinformatic analysis of the predicted protein sequence using BLASTn [
14
] and BLASTx [
15
] suggests that it is more likely a rhamnogalacturonan lyase [
16
]. Only
C. bescii
and
C. kristjansonii
, of the eight
Caldicellulosiruptor
species sequenced, contain all three genes in the cluster [
9
],[
11
]. The two other genes predicted to be involved in pectin degradation are Cbes2380, annotated as a glycoside hydrolase family 28, galacturan 1,4-alpha-galacturonidase [
11
], and Cbes2353, annotated as a hypothetical protein with sequence homology to rhamnogalacturonan lyase of the plysaccharide lyase family 11 [
12
]. While there is no direct biochemical evidence for the enzymatic activity of most of the proteins encoded by these genes, Cbes1854,
pecB
, was cloned and expressed in
E. coli
and was shown to have pectate lyase activity [
17
].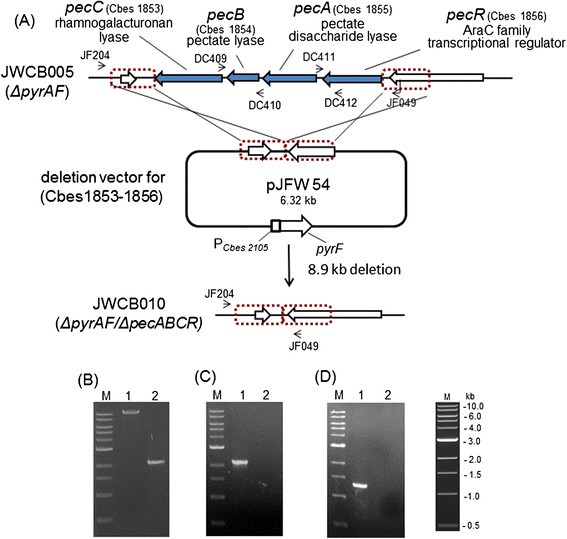 Table 1
Genes in the predicted pectinase gene cluster in Caldicellulosiruptor bescii
| Gene | Predicted gene product | CAZy module architecture | Gene location/size |
| --- | --- | --- | --- |
| pecA (Cbes1855) | Pectate disaccharide lyase (EC:4.2.2.9) | SP-CBM_4_9-PL9 | 1933527-1935488/1.962 kb |
| pecB (Cbes1854) | Pectate lyase (EC:4.2.2.2) | SP-CBM_4_9-PL3 | 1932088-1933470/1.383 kb |
| pecC (Cbes1853) | Rhamnogalacturonan lyase | SP-PL11-CBM3 | 1929397-1931898/2.502 kb |
| pecR (Cbes1856) | AraC family transcriptional regulator | | 1935834-1938215/2.382 kb |
Using recently developed tools for genetic manipulation of C. bescii[20],[21], a deletion of the pectinase gene cluster was constructed in the C. bescii genome, resulting in a mutant that is reduced in its ability to grow on both dicot and grass biomass. The phenotype of the C. bescii pectinase mutant provides direct genetic evidence that pectin is a significant barrier to deconstruction of unpretreated plant biomass by C. bescii and that removal of pectin is essential for maximum deconstruction of plant biomass by C. bescii. Glycome profiling of the plant cell walls before and after growth of C. bescii and the pectinase mutant, using cell wall glycan-directed monoclonal antibodies (mAbs), revealed structural changes, thereby providing some insight into the function of the pectinase gene cluster in plant biomass deconstruction. Glycome profiling analyses revealed differential utilization of Arabidopsis, switchgrass, and poplar biomass by these microbes, likely due to the variations in cell wall structure and composition among them.
Conclusions
Data from both microbial biomass deconstruction experiments and plant cell wall biosynthesis studies demonstrate that one or more pectin structures limit accessibility of microbes and/or microbial enzymes to plant biomass; that is, one or more pectic structures are a recalcitrance barrier to biomass deconstruction. We propose that knowledge of the pectin structures that affect recalcitrance and the means to degrade the structure(s) offer a way to improve biomass deconstruction and to provide technology to increase the cost-effectiveness of using biomass for fuels and biomaterials production. Since grasses and woody species in general contain only a small percentage of their mass as pectin, it was surprising that the deletion of a gene cluster encoding pectin-degrading enzymes had such a dramatic effect on the ability of C. bescii to use switchgrass and poplar as a carbon source. These results suggest a more critical role for pectin in biomass recalcitrance than generally appreciated. Furthermore, we suggest that a combined microbe/plant biomass platform to identify plant wall structures whose presence reduces the ability of microbes to deconstruct plant walls will identify enzymes that deconstruct those structures. Indeed, prior work has demonstrated the utility of using plant cell wall degrading enzymes to probe plant cell wall structure and to provide data for constructing cell wall models [26], as well as to characterize wall polymers affected in specific plant cell wall mutants [27]. The approach described in this paper has the potential to combine plant and microbial genetics and biomass chemistry to guide the development of a process to achieve efficient energy harvesting and conversion. Overexpression of pectin utilization genes in microbes may increase their cellulolytic ability and might facilitate conversion by new microbial hosts. A process that takes advantage of the natural components of plants and microbes and does not use chemicals or added enzymes for pretreatment and without generating toxic products would also be environmentally benign.
Abbreviations
5-FOA:

5-fluoroorotic acid
Ara:

Arabidopsis
C. bescii Caldicellulosiruptor bescii :

carbohydrate-binding module
CBP:

consolidated bioprocessing
LB broth:

Luria-Bertani broth
LOD:

low osmolarity defined
PG:

polygalacturonic acid
PL:

polysaccharide lyase
SG:

switchgrass
YE:

yeast extract
Declarations
Acknowledgements
We thank Jennifer Copeland and Joel Farkas for their outstanding technical assistance, Brian Davison for providing the switchgrass used in this study, Sidney Kushner for his expert technical advice, and Joe Groom, Jenna Young, and MinSeok Cha for their critical review of the manuscript. The BioEnergy Science Center is a U.S. Department of Energy Bioenergy Research Center supported by the Office of Biological and Environmental Research in the DOE Office of Science.
Authors' Affiliations
(1)
Department of Genetics, University of Georgia, Athens, USA
(2)
Department of Biochemistry and Molecular Biology, Complex Carbohydrate Research Center, University of Georgia, Athens, USA
(3)
The BioEnergy Science Center, Oak Ridge National Laboratory, Oak Ridge, USA
(4)
Department of Plant Biology, University of Georgia, Athens, USA
Copyright
© Chung et al.; licensee BioMed Central Ltd. 2014
This article is published under license to BioMed Central Ltd. This is an Open Access article distributed under the terms of the Creative Commons Attribution License (http://creativecommons.org/licenses/by/4.0), which permits unrestricted use, distribution, and reproduction in any medium, provided the original work is properly credited. The Creative Commons Public Domain Dedication waiver (http://creativecommons.org/publicdomain/zero/1.0/) applies to the data made available in this article, unless otherwise stated.