A novel cell factory for efficient production of ethanol from dairy waste
Biotechnology for Biofuels
2016
9:33
Received: 16 November 2015
Accepted: 21 January 2016
Published: 26 February 2016
Abstract
Background
Sustainable and economically feasible ways to produce ethanol or other liquid fuels are becoming increasingly relevant due to the limited supply of fossil fuels and the environmental consequences associated with their consumption. Microbial production of fuel compounds has gained a lot of attention and focus has mostly been on developing bio-processes involving non-food plant biomass feedstocks. The high cost of the enzymes needed to degrade such feedstocks into its constituent sugars as well as problems due to various inhibitors generated in pretreatment are two challenges that have to be addressed if cost-effective processes are to be established. Various industries, especially within the food sector, often have waste streams rich in carbohydrates and/or other nutrients, and these could serve as alternative feedstocks for such bio-processes. The dairy industry is a good example, where large amounts of cheese whey or various processed forms thereof are generated. Because of their nutrient-rich nature, these substrates are particularly well suited as feedstocks for microbial production.
Results
We have generated a Lactococcus lactis strain which produces ethanol as its sole fermentation product from the lactose contained in residual whey permeate (RWP), by introducing lactose catabolism into a L. lactis strain CS4435 (MG1363 Δ3 ldh, Δpta, ΔadhE, pCS4268), where the carbon flow has been directed toward ethanol instead of lactate. To achieve growth and ethanol production on RWP, we added corn steep liquor hydrolysate (CSLH) as the nitrogen source. The outcome was efficient ethanol production with a titer of 41 g/L and a yield of 70 % of the theoretical maximum using a fed-batch strategy. The combination of a low-cost medium from industrial waste streams and an efficient cell factory should make the developed process industrially interesting.
Conclusions
A process for the production of ethanol using L. lactis and a cheap renewable feedstock was developed. The results demonstrate that it is possible to achieve sustainable bioconversion of waste products from the dairy industry (RWP) and corn milling industry (CSLH) to ethanol and the process developed shows great potential for commercial realization.
Keywords
Lactococcus lactis Lactose catabolismResidual whey permeateCorn steep liquor hydrolysate
Background
Currently, there is a growing demand for liquid fuels that can be produced in a sustainable manner from renewable raw materials. The potential that lies in using microorganisms for converting various feedstocks, e.g., plant biomass, into useful compounds including fuels, has already been recognized, and intense research is being carried out to establish robust and economically feasible processes for production of biofuels [1]. Despite its lower energy density and higher hygroscopicity compared to longer chain alcohols (butanol or pentanol) [2], microbially produced ethanol presently dominates the biofuel market, and it is mainly produced from either refined sugar or starch-derived sugar [3, 4]. Although much focus has been on developing bio-processes, which are reliant on non-food plant biomass as feedstock, there are many challenges, including the high cost of enzymes needed for degrading the biomass, the recalcitrance of lignocellulose, a lack of microbial catalysts with sufficient robustness to withstand the inhibitors generated in pretreatment or that have a sufficiently broad spectrum of carbohydrate utilization [5–8]. As an alternative, one cheap abundant feedstock is cheese whey and its various processed forms, such as whey permeate or whey powder. Whey is a liquid byproduct of cheese production, obtained when draining the cheese curd. The worldwide production of cheese whey in 2012 was reported to be 4 × 107 tons and about 50 % hereof was used for animal feed or otherwise disposed of as waste [9]. The latter is a serious problem as whey is discarded as liquid waste and has a high BOD (biochemical oxygen demand) and COD (chemical oxygen demand) [9].
The composition of whey varies according to the source of the milk and the technology used for its production. Normally, it contains approximately 90 % water, 4 % lactose, 1 % protein, 0.7 % minerals, and small amounts of vitamins [10]. Separation of whey proteins generates whey permeate and further extraction of lactose leads to permeate mother liquor (residual whey permeate, RWP), as a leftover product [11]. Fermentation of the main carbon source in whey (lactose) to ethanol has been studied for the last 30 years and most of the research has been focused on yeasts that naturally metabolize lactose, such as Kluyveromyces marxianus or Candida pseudotropicalis [10–13]. Metabolic engineering of Saccharomyces cerevisiae for lactose fermentation has also been reported [14]. There are, however, problems associated with these microorganisms, and these include a general low robustness, slow fermentation rate, and substrate-inhibition effects, which is why there is a need for better performing microbial candidates [10–14].
Lactococcus lactis, which is well known for its role in cheese production, has been demonstrated to have great potential as a cell factory, due to properties such as its high glycolytic flux, ability to metabolize a broad range of carbohydrates, well-characterized metabolic network, and ease of genetic manipulation [15]. Its long record of safe use is also an important asset, especially for the production of food ingredients [16]. Normally, most of the carbon flux in L. lactis is directed to lactate (homo-lactic fermentation). However, it can be successfully engineered to produce ethanol by knocking out alternative product pathways and introducing pyruvate decarboxylase and alcohol dehydrogenase heterologously [17]. A potential drawback of using L. lactis as a cell factory is its fastidious nature, i.e., its many nutritional growth requirements, which could perhaps make it less attractive for some industrial applications, e.g., for production of low-priced chemicals where, for competitive reasons, it is important to keep costs at a minimum. However, relatively cheap fermentation media have been developed, and additionally, the availability of nutrient-rich waste substrates may help circumvent problems associated with using L. lactis as a production host organism.
In the current work, we have engineered
L. lactis
to produce ethanol by fermenting lactose and we demonstrate ethanol production in a medium based on a waste stream, residual whey permeate, from the dairy industry containing partially hydrolyzed Corn Steep Liquor (CSLH) as a nitrogen source (Fig.
1
). By using a fed-batch strategy, we achieve high-level ethanol production with a titer of 41 g/L and a yield of 70 % of the theoretical maximum, which corresponds to 5.2 % (w/v) of ethanol in the broth. We not only demonstrate how a large industrial waste stream can be used for production of a useful value-added chemical, but also how an existing environmental problem can be alleviated.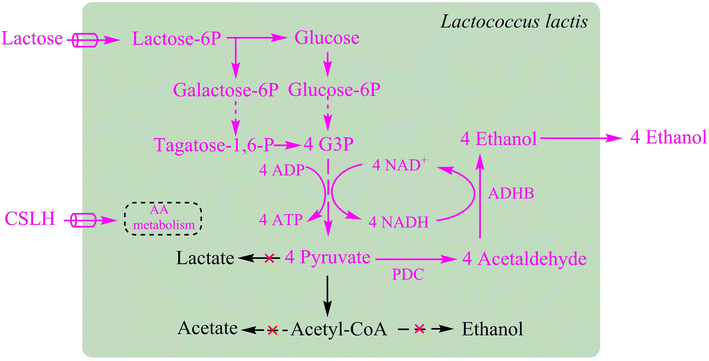 Conclusion
We provide a good example of how L. lactis can serve as a cell factory, by engineering a derivative of L. lactis that can convert waste stream materials from the dairy industry into ethanol. The engineering efforts include substantial rewiring of metabolism, where we incorporate lactose metabolism into an ethanol producer (including the inactivation of LDH, PTA, ADHE, and introduction of heterologous PDC and ADHB). Finally, we achieve a high titer of 41 g/L ethanol with the yield of 70 % of the theoretical maximum by using a low-cost medium that contains a cheap nitrogen source (corn steep liquor hydrolysate) in combination with a fed-batch strategy. We believe that we may develop a cost-effective bioconversion process that can turn waste products from the dairy industry (RWP) and the corn milling industry (CSLH) into value-added ethanol which has immediate potential for commercialization.
Methods
Strains and plasmids
The plasmid-free strain Lactococcus lactis subsp. cremoris MG1363 or derivatives were used for the studies described in this article [18]. Escherichia coli strain ABLE-C (E. coli C lac (LacZ−)[Kanr McrA− McrCB− McrF− Mrr− HsdR (r k − m k − )][F´proAB lacIqZΔM15 Tn10(Tetr)] (Stratagene) was used for cloning purposes. The lactose metabolism plasmid pLP712 (55,395 bp) was extracted from the dairy isolate NCDO712 based on the method of Andersen [38].
Growth condition
E. coli strains were grown aerobically at 30 °C in Luria-Bertani broth [39]. For growth experiments, L. lactis was grown in 100 ml flasks without shaking in defined SA medium [20], where glucose was replaced by lactose, or residual whey permeate medium (RWP). RWP, which was provided from Arla Foods Ingredients Group P/S (http://www.arlafoodsingredients.com/), is the mother liquor from lactose production and its composition is shown in Table 3. When required, yeast extract (Sigma-Aldrich, USA) was used as a nitrogen source. Antibiotics were added in the following concentrations: erythromycin: 200 µg/ml for E. coli and 5 µg/ml for L. lactis, tetracycline: 8 µg/ml for E. coli and 5 µg/ml for L. lactis, chloramphenicol: 20 µg/ml for E. coli and 5 µg/ml for L. lactis.
DNA techniques
All manipulations were performed according to Sambrook et al [39]. PfuX7 polymerase was used for PCR applications [40]. Chromosomal DNA from L. lactis was isolated using the method described for E. coli with the modification that cells were treated with 20 µg of lysozyme per ml for 2 h. Cells of E. coli were transformed using electroporation. L. lactis was made electro competent as described previously by Holo and Nes with the following modifications [41]: the cells were grown with 1 % glycine, and at an optical density of 0.5 (600 nm) ampicillin was added to a final concentration of 20 µg ml−1 and incubation was continued at 30 °C for 30 min.
Analytical methods
Cell growth was regularly measured by OD600, and the quantification of lactose, glucose, lactate, formate, acetate, ethanol, acetoin and 2,3-butanediol was carried out using an Ultimate 3000 high-pressure liquid chromatography system (Dionex, Sunnyvale, USA) equipped with a Aminex HPX-87H column (Bio-Rad, Hercules, USA) and a Shodex RI-101 detector (Showa Denko K.K., Tokyo, Japan). For the detection of pyruvate, the DAD-3000 diode array detector (Dionex, Sunnyvale, USA) was used. The column oven temperature was set at 60 °C and the mobile phase consisted of 5 mM H2SO4, at a flow rate of 0.5 ml/min. As for the detection of amino acids in residual whey permeate, the filtered sample was first hydrolyzed with 6 M HCl and then separated by ion exchange chromatography and detected after oxidation and derivatization with o-phthaldialdehyde [42].
Corn steep liquor hydrolysis
Corn steep liquor (CSL) was purchased from Sigma–Aldrich (St. Louis, MO) with 40–60 % solid content. Different hydrolysis conditions were applied to make corn steep liquor hydrolysate (CSLH). H1 condition: original CSL was diluted two times with water, and then 50 μl concentrated sulfuric acid was mixed with 100 ml diluted CSL. The mixture was kept at 121 °C for 15 min and subsequently pH was adjusted to 6.8–7.1 with the addition of 10 M NaOH solution. H2 condition: original CSL was diluted two times with water and then 250 μl concentrated sulfuric acid was mixed with 100 ml diluted CSL. The mixture was kept at 121 °C for 15 min and subsequently pH was adjusted to 6.8–7.1 with the addition of 10 M NaOH solution. H3 condition: original CSL was diluted two times with water and then 500 μl concentrated sulfuric acid was mixed with 100 ml diluted CSL. The mixture was kept at 121 °C for 15 min and subsequently pH was adjusted to 6.8–7.1 with the addition of 10 M NaOH solution.
Ethanol fermentation
Defined SA medium was used for screening of lactose-metabolizing strain with lactose as the only carbon source. For nitrogen source optimization, 50 g/L lactose (diluted RWP) was mixed with different concentrations of nitrogen sources (NH4Cl, yeast extract, CSL or CSLH) in 25 ml tube with a volume of 10 ml. For ethanol production, RWP was diluted and used as the main substrate for fermentation without the addition of any vitamins or salts, except 2.5 % (w/v) CSLH. CS4435L was grown in a 125 ml flask with 100 ml of medium with slow magnetic stirring and no aeration. The cultivation was carried out at 30 °C. Fed-batch was performed with initial 80 g/L lactose and 2.5 % (w/v) CSLH, and 500 g/L lactose stock solution was used for feeding. The feeding was performed when the lactose concentration was lower than 10 g/L and after rapid injection it returned to around 20 g/L. Samples were collected periodically for determining cell density, lactose, and ethanol concentrations.
Abbreviations
L. lactis :

Lactococcus lactis
RWP:

residual whey permeate
CSLH:

corn steep liquor hydrolysate
YE:

yeast extract
ldh :

genes encoding for lactate dehydrogenase
pta :

gene encoding for phosphotransacetylase
adhE :

gene encoding for the native alcohol dehydrogenase
PDC:

pyruvate decarboxylase from Zymomonas mobilis
ADHB:

ethanol dehydrogenase from Z. mobilis. AA, amino acids
NADH or NAD+ :

reduced or oxidized form of nicotinamide adenine dinucleotide
OD600 :

optical density at wavelength of 600 nm
SA:

synthetic amino acid medium
Declarations
Authors' contributions
JML and CS carried out all the experimental work and analyzed the data and wrote the manuscript. CS and PRJ participated in the design of the study and wrote the manuscript. SHD provided useful suggestions for experiment design and revised the manuscript critically. AW provided residual whey permeate for the study and revised the manuscript. All authors read and approved the final manuscript.
Acknowledgements
This work was supported by a grant from the Innovation fund Denmark (4106-00037B).
Competing interests
The authors declare that they have no competing interests.
Open AccessThis article is distributed under the terms of the Creative Commons Attribution 4.0 International License (http://creativecommons.org/licenses/by/4.0/), which permits unrestricted use, distribution, and reproduction in any medium, provided you give appropriate credit to the original author(s) and the source, provide a link to the Creative Commons license, and indicate if changes were made. The Creative Commons Public Domain Dedication waiver (http://creativecommons.org/publicdomain/zero/1.0/) applies to the data made available in this article, unless otherwise stated.
Authors' Affiliations
(1)
National Food Institute, Technical University of Denmark, Kongens Lyngby, Denmark
(2)
Arla Foods Ingredients Group P/S, Viby J, Denmark