Genome and methylome of the oleaginous diatom Cyclotella cryptica reveal genetic flexibility toward a high lipid phenotype
Biotechnology for Biofuels
2016
9:258
Received: 8 July 2016
Accepted: 15 November 2016
Published: 25 November 2016
Abstract
Background
Improvement in the performance of eukaryotic microalgae for biofuel and bioproduct production is largely dependent on characterization of metabolic mechanisms within the cell. The marine diatom Cyclotella cryptica, which was originally identified in the Aquatic Species Program, is a promising strain of microalgae for large-scale production of biofuel and bioproducts, such as omega-3 fatty acids.
Results
We sequenced the nuclear genome and methylome of this oleaginous diatom to identify the genetic traits that enable substantial accumulation of triacylglycerol. The genome is comprised of highly methylated repetitive sequence, which does not significantly change under silicon starved lipid induction, and data further suggests the primary role of DNA methylation is to suppress DNA transposition. Annotation of pivotal glycolytic, lipid metabolism, and carbohydrate degradation processes reveal an expanded enzyme repertoire in C. cryptica that would allow for an increased metabolic capacity toward triacylglycerol production. Identification of previously unidentified genes, including those involved in carbon transport and chitin metabolism, provide potential targets for genetic manipulation of carbon flux to further increase its lipid phenotype. New genetic tools were developed, bringing this organism on a par with other microalgae in terms of genetic manipulation and characterization approaches.
Conclusions
Functional annotation and detailed cross-species comparison of key carbon rich processes in C. cryptica highlights the importance of enzymatic subcellular compartmentation for regulation of carbon flux, which is often overlooked in photosynthetic microeukaryotes. The availability of the genome sequence, as well as advanced genetic manipulation tools enable further development of this organism for deployment in large-scale production systems.
Keywords
DiatomGenome sequence Cyclotella cryptica Algae biofuelCarbon metabolismDNA methylation
Background
Global environmental changes are happening at an increasingly rapid rate, and development of technologies to alleviate negative outcomes is urgently needed. One proposed solution is producing energy from biofuel, which is renewable and has fewer detrimental effects than the use of fossil fuels. A potential feedstock for biofuel production, microalgae, has garnered interest because of its high productivity. The overall requirement for land to grow algae to sustain the United States' fuel supply is predicted to be relatively small (<4% of the total land mass) compared to other crops [1].
Developing technologies have increased the promise of algal biofuel to meet energy needs [2, 3]. These new advances were preceded by the US Department of Energy funded Aquatic Species Program (ASP) which produced pioneering work in aquaculture and large-scale production of biodiesel from microalgae [4]. During the ASP, algal species across the tree of life were assessed for their ability to accumulate abundant triacylglycerol (a precursor to biofuel), to grow under variable environmental conditions such as pH, salinity and temperature, and to grow at a productive and sustainable rate in outdoor raceway ponds [4]. Several genera stood out from the rest, including chlorophytes, chrysophytes, and diatoms. Diatoms (Bacillariophyta), which are naturally highly productive, accounted for ~60% of the top-performing species in a recommended list of biofuel production organisms produced by the ASP [4].
Cyclotella cryptica
(Fig.
1
), a brackish water diatom isolated from Martha's Vineyard, Massachusetts, was identified in the ASP as a top species for large-scale biofuel production.
Cyclotella cryptica
has been shown to be an excellent accumulator of lipid ([
5
,
6
]; Fig.
1
), is euryhaline, enabling flexibility in cultivation conditions [
5
–
7
], and can grow outdoors at levels between 20.0 and 29.7 g Ash Free Dry Weight (AFDW) m
2
/day in a 2.8 and 48 m
2
pond, respectively [
8
,
9
]. During the ASP,
C. cryptica
was used to investigate the lipid accumulation response during starvation for silicon, a macronutrient required by diatoms to synthesize their silicified cell walls, as well as to understand the properties of key enzymes involved in flux of carbon into lipid [
10
,
11
]. More recently, based on a survey of 175 different microalgal strains,
C. cryptica
was selected as a top candidate for omega-3 fatty acid production, which is highly desirable for pharmaceutical and aquaculture applications, as well as a top producer of protein and nitrogen, suitable for agricultural feed [
5
]. In addition to having traits suited for commercial production,
C. cryptica
was the first chlorophyll-
c
containing algae to undergo stable nuclear transformation, a milestone in algal genetic engineering [
12
]. That study was the first of many significant advances in diatom genetic engineering, including determining the subcellular localization of proteins using GFP fusions, RNAi and antisense knockdowns, CRISPR, transcription activator-like effector nucleases (TALEN), and plasmid delivery via conjugation using an artificial episome [
13
–
18
].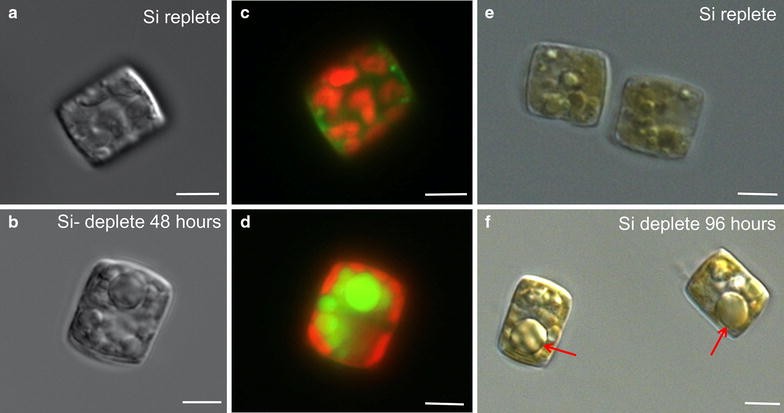 Although C. cryptica and other microalgal species have excellent native productivity characteristics, cost analyses [19] indicate that further improvements are necessary to make algal biofuel production economically competitive with fossil fuels. Genetically based approaches are required to establish robust improved-productivity phenotypes. Both random mutagenesis and directed genetic manipulation can be used to accomplish this. The latter requires knowledge of an organism's genome sequence, and such information has successfully been used to identify targets for genetic manipulation in diatoms to improve lipid productivity [14, 17, 20, 21]. To identify appropriate gene targets for manipulation, a thorough understanding of the enzymes involved in central carbon metabolism is required, including the number of isozymes that catalyze each chemical reaction and the compartment-specific localization of enzymes or enzymatic processes within the cell. It is especially important to consider organellar compartmentation of metabolic processes in a diatom cell, which, because of diatoms' secondary endosymbiotic origin, contain additional compartments relative to the green algae. This includes the periplastid compartment surrounding the chloroplast and endoplasmic reticulum that also surrounds the periplastid compartment around the chloroplast [22–24]. Studying the diversity of core processes in carbon metabolism, such as glycolysis and fatty acid biosynthesis, within different lineages of algae [25, 26] as well as more closely within species of the same lineage [27–29], may allow researchers to address why certain species are better suited for biofuel production than others. Differences in the organization of primary carbon metabolism between species likely reflect differences in efficiencies in processing carbon, which relates to factors controlling their productivity. Understanding the dissimilarities amongst microalgae will help elucidate what constitutes an optimized biofuel/bioproduct production system, and enable a production species to be manipulated to create the desired product in the most efficient manner. The availability of additional algal genome sequences has enabled a more thorough comparison of these diverse polyphyletic organisms to identify metabolic steps that may influence the organism's productivity characteristics. These comparisons are also essential to understanding the complex evolutionary history and ecology of microalgae.
To bring the promising characteristics of C. cryptica in line with current day approaches to improve productivity, we sequenced the nuclear, chloroplast, and mitochondrial genomes, performed a detailed in silico analysis of the core metabolic processes involved in or competing with lipid production and compared these to other diatom genomes, in particular the closely related Thalassiosira pseudonana. To investigate whether epigenetic factors influence lipid accumulation or primary metabolism in general, bisulfite sequencing was performed to examine the methylome of cells under silicon replete and silicon-deplete, lipid induced conditions. We further developed C. cryptica by application of genetic tools including fluorescent protein tagging and the use of an inducible promoter using genetic constructs derived from T. pseudonana. Genome sequence and data generated from this analysis provides a foundation to further improve this species for large-scale biofuel/bioproducts production and provide insight into central carbon metabolism in diatoms.
Conclusions
Determination of the genome sequence of C. cryptica elucidates metabolic features that underlie its high productivity and lipid accumulation ability, and the application of state-of-the-art approaches to further develop this species featured in the Aquatic Species Program for biofuel/bioproduct production [4]. Diatoms in general have attractive characteristics for large-scale biofuel/bioproduct production. In addition to their innate high productivity, their distinctive lipid induction stimulus by silicon starvation leads to rapid and substantial increases in triacylglycerol levels [6, 26, 42] without detrimental effects on cellular protein content that would typically occur under nitrogen starvation conditions used in other microalgae. Thus, they could serve as both a biofuel precursor and protein source in a production system.
A dominant feature of the C. cryptica genome is the presence of large regions of repeat sequences encoding a variety of types of mobile genetic elements (Additional file 1: Table S2) which are highly methylated, presumably as a means to inhibit expansion of these elements. In a global sense, in the conditions tested, methylation does not appear to play a significant role in regulating metabolic gene expression, however, there are notable and important exceptions in the examples of highly methylated yet highly expressed genes (Additional file 1: Figure S7), and the chloroplast-localized PEPS gene which is highly methylated and not expressed (Fig. 7ii). There are a few, yet significant, differences in gene content and metabolic topology when comparing C. cryptica and T. pseudonana, which may underlie the former's high productivity. In particular, pyruvate metabolism is substantially different, with C. cryptica potentially being able to process pyruvate with greater efficiency because of compartmental separation of distinct reaction steps comparing the chloroplast and cytoplasm, and intercompartmental processing in the mitochondria, avoiding a transport step (Figs. 6, 7). Additional isozymes involved in TAG synthesis and carbohydrate breakdown are present in C. cryptica, which may improve carbon flux into TAG synthesis (Figs. 6, 7v, vi). Characterization of these metabolic differences, and those involved in other potential carbon sinks such as chitin, identifies a variety of gene targets to manipulate to directly test these hypotheses, and to understand how the differences in carbon flux may affect productivity, with a goal of ultimately improving productivity. The heterotrophic capability of C. cryptica may further aid in increasing productivity, either by enabling heterotrophic production or reducing respiratory losses at night from photosynthetically-fixed carbon. The application of state-of-the-art genetic tools to C. cryptica (Fig. 10), and continued development of such, will enable reprogramming of the metabolism otherwise adapted for environmental survival to improve productivity in the relatively controlled conditions for large-scale production. By bringing the promising productivity characteristics of C. cryptica in line with current day approaches to improve productivity, its potential as a model biofuel/bioproduct organism can be maximized.
Methods
Source of genetic material
Genomic DNA for genome and methylome sequencing was isolated from a clonal culture of C. cryptica, CCMP332. This strain of C. cryptica was originally isolated in June of 1956 from the West Tisbury Great Pond (41.355° N, 70.655° W) in MA, USA and maintained and by the National Center for Marine Algae and Microbiota (NCMA, formerly Provasoli–Guillard National Centre for Culture of Marine Phytoplankton CCMP). CCMP332 has been maintained in the lab since 2008 under a 12:12 light–dark cycle at 18 °C with an illumination of 150 μmol/m2 s light. For genomic DNA isolation, C. cryptica was plated onto artificial seawater (ASW) agar plates [86] under the presence of 1:1000 dilution of penicillin/streptomycin (Gibco, catalog no. 15140-122) to minimize bacterial contamination. A single colony was picked and grown in liquid ASW for scale up. 1 L liquid cultures were mixed using a magnetic stir plate (250 rpm), bubbled with air, and grown in continuous light (150 μmol/m2 s) for 3 days to early stationary phase (~1.2 × 106 cells/mL) before harvesting for DNA isolation. To isolate DNA for methylome analysis, a 2.5 L culture was grown using above conditions to mid exponential phase (5 × 105 cells/mL). On the third day, 300 mL of liquid culture was harvested for the T = 0, silicon replete time point for genomic DNA isolation. 1500 mL of cells was harvested by centrifugation and placed into ASW deprived of silica (Si-ASW) as described in [42]. Cells were monitored for 48 h in Si-ASW before harvesting 300 mL DNA for Si-T = 48 methylome. Cells were stained for 4,4-difluoro-4-bora-3a,4a-diaza-s-indacene (BODIPY 493/503, Molecular Probes) as described in [42] and imaged using a Zeiss Axio Observer Z1 Inverted Microscope at a 63× objective. Cell growth was monitored using a Neubauer hemocytometer with counts done in duplicate or quadruplicate.
Functional annotation
Functional annotation of genes from C. cryptica and the five other reference diatom genomes was performed using PhyloDB, a comprehensive database of proteins at JCVI. KEGG, KO, KO Pathway, EC annotations were assigned using TimeLogic® Tera-BLAST™ algorithm (Active Motif Inc., Carlsbad, CA, USA), e value threshold 1e−5; Pfam/TIGRfam using Hmmer v 3.1b2 (http://hmmer.org), and transmembrane domains with TMHMM 2.0c [87]. Genes from all six genomes were clustered into orthologous groups or larger gene families using MCL [88] with inflation parameter = 2.0. Perl scripts were developed to aggregate cluster annotations based on shared functional content of genes. Methods for prediction of lateral gene transfer, RBH pairs, phylogenetic analysis, and subcellular localization prediction are described in Additional file 1.
Abbreviations
AAK14816-like:

putative glycerol-3-phosphate acyltransferase
ACC:

acetyl-CoA carboxylase
AGPAT:

1-acyl-glycerol-3-phosphate acyltransferase
ASP:

Aquatic Species Program
ASW:

artificial Seawater
BGS:

1,3 β-glucan synthase
DGAT:

diacylglycerol acyltransferase
DGTT:

diacylglycerol acyltransferase type 2
ED:

Entner Doudoroff
ENO:

enolase
ENR:

enoyl-ACP reductase
FBA:

fructose bisphosphate aldolase
FBP:

fructose 1,6 bisphosphatase
Fru6P:

fructose-6-phosphate
GAPDH:

glyceraldehyde 3-phosphate dehydrogenase
3PG:

glycerate 3-phosphate
GLK:

glucokinase
GPI:

glucose-6-phosphate isomerase
GPAT:

glycerol-3-phosphate acyltransferase
HD:

3-hydroxyacyl-ACP dehydratase
KAR:

3-ketoacyl-ACP reductase
KAS:

3-ketoacyl-ACP synthase
LCLAT1:

lysocardiolipin acyltransferase 1
LPLAT:

lysophospholipid acyltransferase
MAT:

malonyl-CoA-ACP transacylase
MDH:

malate dehydrogenase
ME:

malic enzyme
MGAT:

monoacylglycerol acyltransferase
NR:

nitrate reductase
OAA:

oxaloacetate
PAP:

phosphatidic acid phosphatase
PDRP:

pyruvate phosphate dikinase regulatory protein
PEP:

phosphoenolpyruvate
PEPC:

phosphoenolpyruvate carboxylase
PEPCK:

phosphoenolpyruvate carboxykinase
PEPS:

phosphoenolpyruvate synthase
PFK:

phosphofructokinase
PGAM:

phosphoglycerate mutase
PGK:

phosphoglycerate kinase
PGM:

phosphoglucomutase
PK:

pyruvate kinase
PPC:

periplastid compartment
PPDK:

pyruvate phosphate dikinase
PPP:

pentose phosphate pathway
PYC:

pyruvate carboxylase
RBH:

reciprocal best BLAST hit
SAR:

Stramenopile, Alveolata, Rhizaria supergroup
TAG:

triacylglycerol
TPI:

triose phosphate isomerase
UAP:

UDP-N-acetylglucosamine pyrophosphorylase
UGP:

UTP-glucose-1-phosphate uridylyltransferase
Declarations
Authors' contributions
JCT, SDG, MM processed genomic material and assembled DNA and RNA libraries. SJC and DAL assembled the genome, methylomes, and performed genome annotation pipelines. MT, AJ, SP provided additional bioinformatics support. JCT, OC and MH performed further annotation of metabolic processes. OG performed genetic engineering experiments. SRS, JPM provided OrthoMCL and annotation data. EEA, AEA, SSM, MP, and MH provided financial support. JCT, SJC, DAL, SSM, MP, and MH conceived the study, oversaw the project and wrote the manuscript. All authors read and approved the final manuscript.
Acknowledgements
The authors would like to thank Dr. Roshan Shrestha for his advice and assistance on genetic manipulation experiments.
Competing interests
The authors declare that they have no competing interests.
Availability of supporting data
The dataset(s) supporting the results of this article are available in the Additional files 1, 2, 3, 4 and the UCSC Genome Browser [89]. Links to downloadable files including nuclear, mitochondrial, and chloroplast genomes, RepeatModeler, gene models, methylome, and RNAseq expression data can be found at the Downloads page of [90]. The assembly used for this study is cycCry0dot2 dated February 15, 2013.
Funding
Support for JCT, OG, OC, and MH was provided in part by the Air Force Office of Scientific Research Grant FA9550-08-1-0178, Department of Energy Grants DE-SC0012556 and DE-EE0001222 and National Science Foundation Grant CBET-0903712. SJC was supported by the Broad Stem Cell Research Center. Support for DAL is from NIH Training Grant in Genomic Analysis and Interpretation T32HG002536. Support for SDG and SSM was provided to SSM by US Department of Energy Grant DE-FC02-02ER63421. MT was supported by P01 GM099134. Support for SP, and EEA was provided by US National Science Foundation (MCB-1149552). Support for SRS, JPM and AEA was provided to AEA by the Gordon and Betty Moore Foundation (GBMF3828 and GBMF5006), the US Department of Energy (DE-SC0008593) and the National Science Foundation (OCE-1136477). MM was supported by the Whitcome Training grant. AJ was supported by R01 AI065617.
Open AccessThis article is distributed under the terms of the Creative Commons Attribution 4.0 International License (http://creativecommons.org/licenses/by/4.0/), which permits unrestricted use, distribution, and reproduction in any medium, provided you give appropriate credit to the original author(s) and the source, provide a link to the Creative Commons license, and indicate if changes were made. The Creative Commons Public Domain Dedication waiver (http://creativecommons.org/publicdomain/zero/1.0/) applies to the data made available in this article, unless otherwise stated.
Authors' Affiliations
(1)
Scripps Institution of Oceanography, University California San Diego, La Jolla, USA
(2)
Institute for Genomics and Proteomics, University of California, Los Angeles, USA
(3)
J. Craig Venter Institute, La Jolla, USA
(4)
Department of Chemistry and Biochemistry, University of California, Los Angeles, USA