Enhanced biological fixation of methane for microbial lipid production by recombinant Methylomicrobium buryatense
Biotechnology for Biofuels
2018
11:129
Received: 22 July 2017
Accepted: 23 April 2018
Published: 4 May 2018
Abstract
Background
Due to the success of shale gas development in the US, the production cost of natural gas has been reduced significantly, which in turn has made methane (CH4), the major component of natural gas, a potential alternative substrate for bioconversion processes compared with other high-price raw material sources or edible feedstocks. Therefore, exploring effective ways to use CH4 for the production of biofuels is attractive. Biological fixation of CH4 by methanotrophic bacteria capable of using CH4 as their sole carbon and energy source has obtained great attention for biofuel production from this resource.
Results
In this study, a fast-growing and lipid-rich methanotroph, Methylomicrobium buryatense 5GB1 and its glycogen-knock-out mutant (AP18) were investigated for the production of lipids derived from intracellular membranes, which are key precursors for the production of green diesel. The effects of culture conditions on cell growth and lipid production were investigated in high cell density cultivation with continuous feeding of CH4 and O2. The highest dry cell weight observed was 21.4 g/L and the maximum lipid productivity observed was 45.4 mg/L/h obtained in batch cultures, which corresponds to a 2-fold enhancement in cell density and 3-fold improvement in lipid production, compared with previous reported data from cultures of 5GB1. A 90% enhancement of lipid content was achieved by limiting the biosynthesis of glycogen in strain AP18. Increased CH4/O2 uptake and CO2 evaluation rates were observed in AP18 cultures suggesting that more carbon substrate and energy are needed for AP18 growth while producing lipids. The lipid produced by M. buryatense was estimated to have a cetane number of 75, which is 50% higher than biofuel standards requested by US and EU.
Conclusions
Cell growth and lipid production were significantly influenced by culture conditions for both 5GB1 and AP18. Enhanced lipid production in terms of titer, productivity, and content was achieved under high cell density culture conditions by blocking glycogen accumulation as a carbon sink in the strain AP18. Differences observed in CH4/O2 gas uptake and CO2 evolution rates as well as cell growth and glycogen accumulation between 5GB1 and AP18 suggest changes in the metabolic network between these strains. This bioconversion process provides a promising opportunity to transform CH4 into biofuel molecules and encourages further investigation to elucidate the remarkable CH4 biofixation mechanism used by these bacteria.
Keywords
Methane biofixationMethanotrophic bacteriaMembrane lipidsHigh cell density cultureBioconversion processMetabolic engineering
Background
Methane (CH
4
) is the simplest and most energy dense alkane with a specific energy of 55 MJ/kg. Only 36% of CH
4
released into the atmosphere is contributed by natural geological activities [
1
], while most of the rest is due to human activities (Fig.
1
), such as energy extraction, agriculture, and waste management [
2
]. Since 2008, the development of shale gas technologies in the US has reduced the cost of natural gas significantly, making CH
4
(the major component of natural gas) a potential alternative carbon source for bioconversion processes compared with other high-price raw material sources or edible feedstocks [
3
]. However, more than 5.4 quads (1.47 × 105 million cubic meters) of natural gas have been flared annually as a wasted resource at oil production sites around the globe [
4
,
5
]. Therefore, it is urgent to explore alternative approaches to use CH
4
more efficiently and economically. Biological fixation of CH
4
by microorganisms has been attracting great attention and is a promising strategy to increase the value of natural gas [
6
] as well as another major source of CH
4
, biogas [
7
].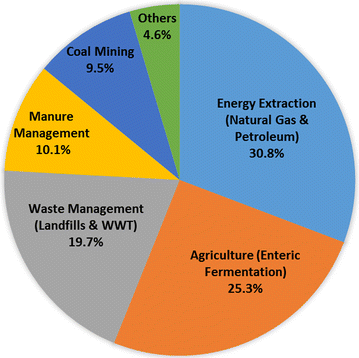 Methanotrophic bacteria, which were discovered in 1906 [8] and then characterized beginning in the 1970s [9], are a group of bacteria capable of utilizing CH4 as their sole carbon and energy source. Although some methanotrophs are able to grow in anaerobic environments, only aerobic methanotrophs have been isolated in pure culture and are genetically tractable. These organisms can oxidize CH4 to methanol and beyond for both catabolism and anabolism and therefore have the ability to serve as a production platform for the conversion of CH4 into bio-based products [10–12].
Biofuels are an important component of a global effort to replace fossil fuels with renewable sources of energy due to enormous demand in terms of environmental issues, sustainable considerations, and greenhouse gas emissions, and methane-based biological gas to liquids (Bio-GTL) technologies could contribute to the various biofuel strategies under development [
13
,
14
]. In 2013, a program announced by the Advanced Research Projects Agency-Energy (ARPA-E) of the US Department of Energy, named Reducing Emissions using Methanotrophic Organisms for Transportation Energy (REMOTE), was initiated to accelerate the development of economic processes for bioconversion of CH
4
into liquid fuels [
6
]. One biocatalyst selected for this work was the methanotroph
Methylomicrobium buryatense,
which grows robustly at a range of pH and salinity levels [
15
].
M. buryatense
is an aerobic gammaproteobacterium that oxidizes methane to methanol and then formaldehyde, which is subsequently incorporated into cellular biomass via the ribulose monophosphate cycle (Fig.
2
). A set of genetic tools have been developed for
M. buryatense
[
16
,
17
], and have been used to engineer this microorganism to produce lactic acid [
18
] as well as increase fatty acid levels during growth on CH
4
[
19
,
20
].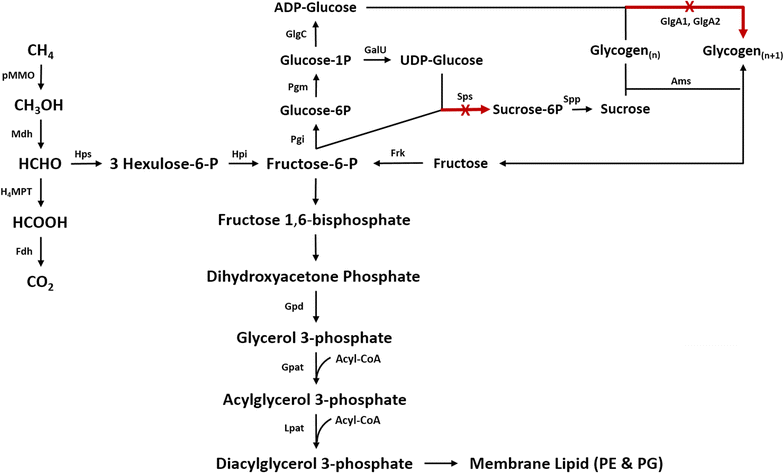 Fatty acids and glycerolipids such as phosphatidyl ethanolamine (PE) and phosphatidyl glycerol (PG) are included among the list of cellular components produced during growth on CH4. These are incorporated into membranes, which can be upgraded to diesel blend stocks for biofuel through a catalytic process known as hydrodeoxygenation [6]. A lab-scale demonstration of an integrated biorefinery process was successfully developed recently, in which process membrane lipids produced by M. buryatense were converted into green diesel [21]. Gilman et al. investigated effects of CH4 and O2 limitation on M. buryatense growth and lipid production in continuous cultures, and discovered that oxygen-limited condition provided the highest dry cell weight (DCW) of 0.79 g/L and lipid content of 10.7% (w/w) [22]. Although the production performance of that research in terms of cell density and lipid productivity was low compared with oleaginous yeasts growing on sugars or microalgae growing photosynthetically with CO2, the results provided the basis for improvement in the work described here.
In order to provide more insights into using M. buryatense in an industrial setting, this study summarizes our efforts to achieve high lipid titer and productivity in high cell density cultures. Additionally, a mutant strain (M. buryatense AP18) in which the carbon sink of glycogen was eliminated was constructed and tested under the same conditions. The cell growth and lipid production from both strains were studied and compared in order to elucidate the influence of culture conditions on lipid production, gas uptake/evolution rates, and glycogen accumulation in batch cultures. Finally, the fatty acid compositions of lipids produced by 5GB1 and AP18 were analyzed and characterized for diesel fuel production.
Conclusions
In this study, high cell density cultures of different M. buryatense strains grown with CH4 as the sole carbon and energy source were used for the production of the microbial lipid, a potential feedstock for liquid transportation fuels. The highest observed DCW of 21.4 g/L was obtained in batch cultures of 5GB1 with high agitation and flow rate, whereas this high cell density was accompanied by high levels of glycogen and relatively low levels of lipid. One explanation for this could be that at high cell density, 5GB1 metabolism shifts to produce glycogen, and nutrient limitation may also result in down regulation of pMMO synthesis and concomitant reduction in intracellular membrane and membrane lipids [40]. To enhance the carbon flux from CH4 to lipids, a mutant (AP18) where glycogen production is abrogated was constructed and used in this research. AP18 provided both high DCW of 15.3 g/L and high lipid productivity of 45.4 mg/L/h. A lipid content of up to 9.3% with undetectable levels of glycogen accumulation was also achieved by AP18, which may therefore serve as a base strain for additional attempts to increase lipid production. Overall, the highest DCW and lipid productivity obtained under high cell density culture conditions present a 2-fold enhancement in cell density and 3-fold improvement in lipid production compared with previous reported data from cultures of 5GB1 [21].
It should be noted that increased CH4/O2 uptake rate and CO2 evaluation rate from AP18 cultures suggest more carbon (CH4) and energy are needed to produce lipids by AP18. The resulting low carbon conversion efficiency could be a problem for the economics of the process. As the CSTR approach to cultivation of methanotrophs is highly inefficient and other reactor systems such as bubble columns are better suited for gas-based fermentations [49], it will become important to review the physiological response of 5GB1 and AP18 under high cell density culture conditions to determine if glycogen accumulation will impact lipid production under more commercially relevant conditions. The results of this study expand our understanding on the characteristics of M. buryatense under different culture conditions, which provided an insight for the practice of biofixation of CH4 for the production of microbial lipid-based bioproducts.
Abbreviations
CHP:

combined heat and power
C14:0:

myristate
C16:0:

palmitate
C16:1:

palmitoleate
C18:0:

stearate
C18:1:

oleate
C18:2:

inoleate
C18:3:

linolenate
CN:

cetane number
CO2 :

carbon dioxide
DCW:

dry cell weight
rpm:

rotations per minute
GHG:

greenhouse gas
H2O:

water
HPLC:

high-performance liquid chromatography
OD:

optical density
CH4 :

methane
O2 :

oxygen
RuMP:

ribulose monophosphate
pMMO:

particular methane monooxygenase
MDH:

methanol dehydrogenase
LDH:

lactate dehydrogenase
PDH:

pyruvate dehydrogenase
GPD:

glycerol-3-phosphate dehydrogenase
GPAT:

glycerol-3-phosphate acyltransferase
LPAT:

acylglycerol-3-phosphate transferase
PE:

phosphatidylethanolamine
PG:

phosphatidylglycerol
NADH:

nicotinamide adenine dinucleotide (reduced form)
Declarations
Authors' contributions
QF designed and performed experiments and wrote this manuscript. PP advised on the design of the experiments and revised the manuscript. AWP performed experiments. HS prepared the culture medium and seed cultures. ND advised on the design of the cultivation. All authors read and approved the final manuscript.
Acknowledgements
This work was supported by a Grant from the Advanced Research Projects Agency-Energy (ARPA-E) of US Department of Energy (0670-5169) and the Key Research and Development Program of Shaanxi Province, China (2017GY-146). The authors would like to thank Kelsey Ramirez, Stefanie Van Wychen, and Alan Bohn for their supporting roles in this work.
Competing interests
The authors declare that they have no competing interests.
Availability of supporting data
Not applicable.
Consent for publication
Not applicable.
Ethical approval and consent to participate
Not applicable.
Funding
This work was supported by a Grant from the Advanced Research Projects Agency-Energy (ARPA-E) of US Department of Energy (0670-5169).
Publisher's Note
Springer Nature remains neutral with regard to jurisdictional claims in published maps and institutional affiliations.
Open AccessThis article is distributed under the terms of the Creative Commons Attribution 4.0 International License (http://creativecommons.org/licenses/by/4.0/), which permits unrestricted use, distribution, and reproduction in any medium, provided you give appropriate credit to the original author(s) and the source, provide a link to the Creative Commons license, and indicate if changes were made. The Creative Commons Public Domain Dedication waiver (http://creativecommons.org/publicdomain/zero/1.0/) applies to the data made available in this article, unless otherwise stated.
Authors' Affiliations
(1)
School of Chemical Engineering and Technology, Xi'an Jiaotong University, Xi'an, China
(2)
National Bioenergy Center, National Renewable Energy Laboratory, Golden, USA
(3)
Department of Chemical Engineering, University of Washington, Seattle, USA