Engineering of plants with improved properties as biofuels feedstocks by vessel-specific complementation of xylan biosynthesis mutants
Biotechnology for Biofuels
2012
5:84
Received: 24 July 2012
Accepted: 31 October 2012
Published: 26 November 2012
Abstract
Background
Cost-efficient generation of second-generation biofuels requires plant biomass that can easily be degraded into sugars and further fermented into fuels. However, lignocellulosic biomass is inherently recalcitrant toward deconstruction technologies due to the abundant lignin and cross-linked hemicelluloses. Furthermore, lignocellulosic biomass has a high content of pentoses, which are more difficult to ferment into fuels than hexoses. Engineered plants with decreased amounts of xylan in their secondary walls have the potential to render plant biomass a more desirable feedstock for biofuel production.
Results
Xylan is the major non-cellulosic polysaccharide in secondary cell walls, and the xylan deficient irregular xylem (irx) mutants irx7, irx8 and irx9 exhibit severe dwarf growth phenotypes. The main reason for the growth phenotype appears to be xylem vessel collapse and the resulting impaired transport of water and nutrients. We developed a xylan-engineering approach to reintroduce xylan biosynthesis specifically into the xylem vessels in the Arabidopsis irx7, irx8 and irx9 mutant backgrounds by driving the expression of the respective glycosyltransferases with the vessel-specific promoters of the VND6 and VND7 transcription factor genes. The growth phenotype, stem breaking strength, and irx morphology was recovered to varying degrees. Some of the plants even exhibited increased stem strength compared to the wild type. We obtained Arabidopsis plants with up to 23% reduction in xylose levels and 18% reduction in lignin content compared to wild-type plants, while exhibiting wild-type growth patterns and morphology, as well as normal xylem vessels. These plants showed a 42% increase in saccharification yield after hot water pretreatment. The VND7 promoter yielded a more complete complementation of the irx phenotype than the VND6 promoter.
Conclusions
Spatial and temporal deposition of xylan in the secondary cell wall of Arabidopsis can be manipulated by using the promoter regions of vessel-specific genes to express xylan biosynthetic genes. The expression of xylan specifically in the xylem vessels is sufficient to complement the irx phenotype of xylan deficient mutants, while maintaining low overall amounts of xylan and lignin in the cell wall. This engineering approach has the potential to yield bioenergy crop plants that are more easily deconstructed and fermented into biofuels.
Keywords
XylanIrregular xylem mutantSecondary cell wallVND6VND7Transcription factorsBiofuelsPentosesSaccharificationLignin
Background
Lignocellulosic biomass has potential as an abundant and renewable feedstock for biofuel production. The main component of lignocellulosic biomass is the secondary walls of plant cells. A need for dedicated bioenergy crops with improved cell wall compositions and properties has become evident if biofuels are to be a cost-efficient alternative to fossil fuels [1, 2].
Secondary cell walls of plants consist of cellulose microfibrils embedded in a matrix consisting mainly of hemicelluloses and lignin, the amounts of each single polymer varying widely between different species and cell types. Together these complex sugar polymers form rigid barriers that provide shape, structural strength and protection against environmental stresses and pathogens [2–4]. Hemicelluloses – mainly xylans – make up 20-35% of the secondary cell wall. In grasses, xylans are also the main noncellulosic polysaccharide in the primary walls [2, 4, 5]. As such, xylans represent a major part of the available biomass.
The bioconversion of lignocellulosic biomass into biofuels is currently suffering under the considerable recalcitrance of the biomass toward efficient deconstruction processes of the polymers into simple sugars [1, 6]. Hemicelluloses and lignin embed cellulose microfibrils in a tight matrix, thus hindering access of cell wall degrading enzymes to the polysaccharides [7, 8]. In addition, xylans are composed almost entirely of pentose sugars, which cannot be efficiently fermented [9, 10]. Finally, xylans are heavily esterified with acetate, especially in hardwoods, and this hinders efficient enzymatic hydrolysis while the released acetate inhibits yeast fermentations [11, 12]. For all these reasons, plants that have reduced amounts of xylan in their secondary cell walls, while still maintaining normal growth and development, would present a valuable feedstock for biofuel production.
Xylans are polysaccharides that have linear backbones of β-(1→4)-linked d-xylosyl residues that can be substituted with various side chains. The major xylan in dicot plants, glucuronoxylan (GX), is decorated with side chains of α-d-glucuronic acid (GlcA) and 4-O-methyl-α-d-glucuronic acid (MeGlcA). Moreover, acetylation is especially common in the secondary walls of this group of plants [5]. GXs from angiosperm and gymnosperm species have been shown to contain a reducing end oligosaccharide sequence consisting of β-d-Xylp-(1→4)-β-d-Xylp-(1→3)-α-l-Rhap-(1→2)-α-d-Galp A-(1→4)-d-Xylp[13–15]. The reducing end oligosaccharide has so far not been detected in grasses. It is not known whether this oligosaccharide functions as a primer for xylan biosynthesis or as a terminator sequence [15, 16].
While the biosynthesis of other hemicelluloses with β-(1→4)-linked backbones involves the Cellulose Synthase Like (CSL) protein families, this does not appear to be the case for xylans [4, 17]. Studies mostly of Arabidopsis mutants have led to the identification of several glycosyltransferases (GTs) with a role in xylan biosynthesis: IRX9/IRX9L [18] and IRX14/IRX14L [18, 19] from GT family GT43 as well as IRX10/IRX10L [20, 21] from GT47 seem to be involved in biosynthesis of the xylan backbone, while IRX8 (GAUT12) [15] and PARVUS (GATL1) [15, 22] from GT8 and IRX7 (FRA8) and IRX7L (F8H) [23, 24] from GT47 may be involved in synthesizing the reducing end oligosaccharide. All these GTs are predicted to be Golgi-localized type II membrane proteins. None of the proteins have had their biochemical activity determined and it is therefore not clear how they work together in the biosynthesis of xylan, but some studies indicate that they may function in protein complexes [25, 26].
The GTs responsible for adding substitutions to xylan are better understood. Enzymes from GT61 are responsible for adding arabinosyl residues to the xylan backbone [27], and other enzymes from GT61 add xylose to such arabinosyl residues in grasses [28]. The glucuronosyl residues are added by GlucUronic acid substitution of Xylan (GUX) enzymes that belong to GT8 [29–31], and methyl groups are added to the glucuronic acid residues by a methyltransferase belonging to the DUF579 family [32].
The irregular xylem 7 (irx7), irx8 and irx9 T-DNA insertion mutants are deficient in GX biosynthesis, the resultant phenotype being the characteristic irregular xylems that arise when the weakened xylem vessels collapse inward, as they can no longer withstand the negative pressure that allows water to travel through the vessels. The irx7, irx8, and irx9 Arabidopsis mutants have severely dwarfed whole plant morphologies and are largely infertile [33]. For both IRX7 and IRX9, there are redundant genes, IRX7L and IRX9L, respectively, which are not highly expressed in tissues with secondary walls, but still influence the phenotype. The double knock-out mutations irx7/irx7L and irx9/irx9L are essentially lethal [18]. Different alleles have been described for irx9 and the irx9-2 mutant has a milder growth phenotype with a less severely stunted growth than the irx9-1 mutant and remains fertile [15, 18, 34]. Through analyses of the irx7, irx8 and irx9 mutants, it was found that they are specifically expressed in developing vascular tissues where secondary walls are being deposited and are important for wall thickness and integrity. Xylose content in irx7, irx8 and irx9 is 28%, 35% and 45% less than wild type levels, respectively, and the mutants have significant reductions in cellulose content that is thought to be a consequence of the stunted growth of the plants and not a direct effect of the lost gene function. Together, these deficiencies cause large reductions in wall thickness of ~60% in all three mutants [15, 33–35]. As the wall integrity is compromised in irx7, irx8 and irx9, the mechanical breaking force of the stems is considerably lower than that of wild type plants [15, 35]. In irx7 and irx8, the reducing end oligosaccharide is largely absent, and they show a decrease in the number of GX chains. In contrast, the reducing end oligosaccharide is retained in the irx9 mutant while the number of GX chains is increased and the chain length is decreased [15, 34, 35]. All these mutants retain substitution with MeGlcA but are devoid of GlcA substitution.
The spatial, temporal and quantitative expression of genes is controlled by transcription factors. The regulation of cell wall polysaccharide biosynthesis has been shown to involve a complex network of transcription factors, several of which are members of the plant specific NAC (N AM, A TAF1/2 and C UC2) domain proteins [36–38]. Vascular-related NAC Domain 6 (VND6) (At5g62380) and VND7 (At1g71930), together with the closely related NAC Secondary Wall Thickening Promoting Factor 1 (NST1) and NST3 (SND1) transcription factors, have been shown to be key regulatory switches for activation of secondary cell wall biosynthesis. VND6/VND7 and NST1/NST3 separately and/or collectively activate the biosynthetic pathways for cellulose, xylan and lignin through activation of a cascade of direct and indirect downstream transcription factors, many of which belong to the MYB family of transcription factors [39–42].These master regulators exhibit cell specific expression patterns, where VND6 and VND7 specifically regulate secondary cell wall biosynthesis in vessels while expression of NST1 and NST3 is confined to fibers [43–48]. VND6 and VND7 show vascular-specific expression patterns, the expression of VND6 being specifically located in the inner-metaxylem vessels, while that of VND7 is present in the protoxylem poles of the procambium region and in differentiating protoxylem and metaxylem vessels [43, 49, 50]. The function of VND6 and VND7 genes as key regulators of xylem vessel development was illustrated when they were overexpressed under the control of the cauliflower mosaic virus 35S promoter [43]. This experiment showed that various cell types could be transdifferentiated into xylem vessel elements with reticulated or pitted patterns like those of the metaxylem for the VND6 construct, and into xylem vessels with annular or spiral patterns like those of protoxylem vessels for the VND7 construct. Furthermore, dominant repression of either gene by fusion to the SRDX-domain specifically inhibited metaxylem and protoxylem formation, respectively [43].
The morphological effect of the
irx
mutations led us to hypothesize that the main reason for dwarfed growth in
irx
mutants is the collapsed vessels, and that specifically restoring xylan biosynthesis in vessels would therefore complement the mutations (Figure
1
). We used Arabidopsis
irx7
,
irx8
and
irx9
mutants as backgrounds with strongly reduced amounts of GX in the secondary walls to reintroduce GX synthesis specifically in the vascular tissues, by exploiting the tissue-specific expression patterns of the
VND6
and
VND7
promoters. The dwarfed growth and
irx
-phenotype of the
irx7
,
irx8
and
irx9
mutants could be complemented to varying degrees, in some cases completely restoring wild-type growth patterns and mechanical properties while maintaining a low overall xylan content and improved saccharification properties.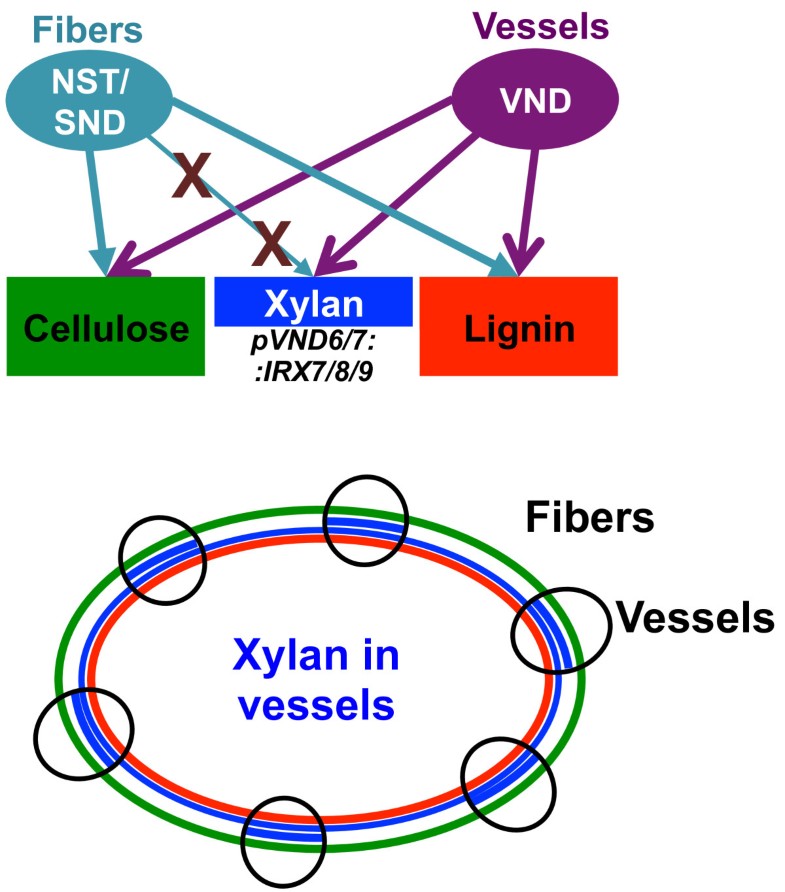 Conclusions
During this study, we have shown that it is possible to apply a xylan engineering approach by manipulating the spatial and temporal deposition of this abundant polymer specifically to the xylem vessels in mutant Arabidopsis plants deficient in GX biosynthesis. We obtained Arabidopsis plants that have up to a 23% reduction in xylose levels compared to wild type plants. These transformants exhibit wild type-like growth patterns and morphology and normal xylem vessels. Furthermore, these plants showed up to a 42% increase in saccharification yield after hot water pretreatment and 24 h of incubation with an enzyme mixture. The best results were obtained by transforming irx7 mutants with the pVND7:IRX7 construct. Several other plant lines in the irx9 and irx8 backgrounds yielded partial complementation of the irx phenotype thus showing promise of improvement in future experiments. The breaking-force tests show that the improvement in xylose-reduction and lignin content can be achieved without compromising mechanical strength of the plants.
The xylan engineering system developed in this study has the potential of being transferred to other biofuel crop species. Particularly poplar species have been shown to contain functional orthologs of the Arabidopsis IRX genes, and for the biosynthesis of cell wall polymers to be regulated by a transcriptional regulatory system similar to that in Arabidopsis.
Abbreviations
CSL:

Cellulose synthase like
GlcA:

α-D-glucuronic acid
GUX:

GlucUronic acid substitution of Xylan
GX:

Glucuronoxylan
GT:

Glycosyltransferase
Irx :

Irregular xylem
MeGlcA:

4-O-methyl-α-D-glucuronic acid
NAC:

NAM ATAF1/2 and CUC2
NST:

NAC secondary wall thickening promoting factor
VND:

Vascular-related NAC domain.
Declarations
Acknowledgements
This work was funded by the US Department of Energy, Office of Science, Office of Biological and Environmental Research, through contract DE-AC02-05CH11231 with Lawrence Berkeley National Laboratory. PDP was additionally supported by: Augustinus Fonden, Direktør Ib Henriksens Fond, Fabrikant Vilhelm Pedersen og Hustrus Legat, Fællesfonden for Søren Christian Sørensen og Hustrus Mindefond og Foreningen af Jydske Landboforeninger, Henry & Mary Skovs Fond, Hotelejer Anders Månsson og Hustrus Legat, HP Olsen og Hustrus Mindefond, Knud Højgaards Fond, KVLs Jubilæumsfond, Landlegatet and Oticon Fonden. Dr. Daniel Klein-Marcuschamer is thanked for assistance with determining potential economic impact of the engineering strategy, and Dr. Prajakta Mitra for help with lignin determination.
Authors' Affiliations
(1)
Feedstocks Division, Joint Bioenergy Institute, Emeryville, USA
(2)
Physical Biosciences Division, Lawrence Berkeley National Laboratory, Berkeley, USA
(3)
Department of Plant Biology and Biotechnology, University of Copenhagen, Frederiksberg, Denmark
(4)
Technology Division, Joint Bioenergy Institute, Emeryville, USA
(5)
Sandia National Laboratories, Livermore, USA
(6)
Department of Genetics, Kasetsart University, Bangkok, Thailand
(7)
Life Sciences Division, Lawrence Berkeley National Laboratory, Berkeley, USA
(8)
Department of Plant & Microbial Biology, University of California, Berkeley, USA
Copyright
© Petersen et al.; licensee BioMed Central Ltd. 2012
This article is published under license to BioMed Central Ltd. This is an Open Access article distributed under the terms of the Creative Commons Attribution License (http://creativecommons.org/licenses/by/2.0), which permits unrestricted use, distribution, and reproduction in any medium, provided the original work is properly cited.