A novel pathway to produce butanol and isobutanol in Saccharomyces cerevisiae
Biotechnology for Biofuels
2013
6:68
Received: 1 February 2013
Accepted: 25 April 2013
Published: 4 May 2013
Abstract
Background
The sustainable production of biofuels remains one of the major issues of the upcoming years. Among the number of most desirable molecules to be produced, butanol and isobutanol deserve a prominent place. They have superior liquid-fuel features in respect to ethanol. Particularly, butanol has similar properties to gasoline and thus it has the potential to be used as a substitute for gasoline in currently running engines. Clostridia are recognized as natural and good butanol producers and are employed in the industrial-scale production of solvents. Due to their complex metabolic characteristics and to the difficulty of performing genetic manipulations, in recent years the Clostridia butanol pathway was expressed in other microorganisms such as Escherichia coli and Saccharomyces cerevisiae, but in yeast the obtained results were not so promising. An alternative way for producing fusel alcohol is to exploit the degradation pathway of aminoacids released from protein hydrolysis, where proteins derive from exhausted microbial biomasses at the end of the fermentation processes.
Results
It is known that wine yeasts can, at the end of the fermentation process, accumulate fusel alcohols, and butanol is among them. Despite it was quite obvious to correlate said production with aminoacid degradation, a putative native pathway was never proposed. Starting from literature data and combining information about different organisms, here we demonstrate how glycine can be the substrate for butanol and isobutanol production, individuating at least one gene encoding for the necessary activities leading to butanol accumulation. During a kinetic of growth using glycine as substrate, butanol and isobutanol accumulate in the medium up to 92 and 58 mg/L, respectively.
Conclusions
Here for the first time we demonstrate an alternative metabolic pathway for butanol and isobutanol production in the yeast S. cerevisiae, using glycine as a substrate. Doors are now opened for a number of optimizations, also considering that starting from an aminoacid mixture as a side stream process, a fusel alcohol blend can be generated.
Keywords
Butanol
Isobutanol
Glycine
Saccharomyces cerevisiae
Background
The production of biofuels from renewable biomasses is one of the answers to help solving the problems associated with limited fossil resources and climate changes. Butanol has superior liquid-fuel characteristics in respect to ethanol, similar properties to gasoline, and thus it has the potential to be used as a substitute for gasoline in currently running engines [1].
Clostridia are recognized as natural and good butanol producers and are employed in the industrial-scale production of solvents [2]. However, the complex metabolic characteristics and the difficulty of performing genetic manipulations on these bacteria fostered the exploitation of other well established cell factories. In recent years, Escherichia coli and Saccharomyces cerevisiae were engineered with the Clostridia butanol pathway [3, 4]. While many optimizations have been successfully introduced in E. coli[5–8] reaching productions similar to that obtained in Clostridia[9], this was up to now not reported for the budding yeast. For an exhaustive view of the metabolic strategies applied for butanol and other fusel alcohol production see [10, 11] and references therein. Remarkably, Liao et al. proposed that proteins, and thus the aminoacids released from proteins hydrolysis, can be used as a raw material for biorefining and so for biofuels production. Indeed, proteins are abundantly present as final waste of lignocellulose processing [12]. We focused our attention on the strategy which takes advantage of ketoacids as intermediates in amino acids biosynthesis and degradation metabolism to produce fusel alcohols in the yeast S. cerevisiae. While the pathway to isoketovalerate was better elucidated and recently successfully exploited for isobutanol formation in S. cerevisiae[13–17], butanol production from ketovalerate was never experimentally measured.
S. cerevisiae have one or more carrier systems specific for each aminoacid, even if they are not all currently known. Among them, the general aminoacids permease, encoded by GAP1 gene, is involved in glycine transport [18]. In the cytosol glycine can be catabolised in different ways, based on nutritional requirements. For example, it can be converted into serine through serine hydroxymethyltransferase enzyme (Shm2) [19] or into CO2 and NH3 through the enzymatic complex of glycine decarboxylase enzyme (GDC) [20].
Villas-Bôas and co-workers [
21
] have
in silico
proposed the generation of glyoxylate as a consequence of glycine deamination. Moreover, the authors described the formation of α-ketovalerate and α-isoketovalerate as intermediates of the same pathway through not identified reactions. Starting from these indications and knowing from literature that α-ketovalerate can be converted into butanol [
22
], and that α-isoketovalerate can be converted into isobutanol [
23
], we cultivated yeast cells with glycine, observing the formation of both alcohols. By deeply investigating the literature, we have first (
i
) hypothesized and then (
ii
) biochemically demonstrated step by step the butanol and isobutanol production through the glycine degradation pathway via glyoxylate and α-ketoacids intermediates (Figure
1
). Additionally, we suggest at least one possible gene encoding for the enzymes responsible for butanol production.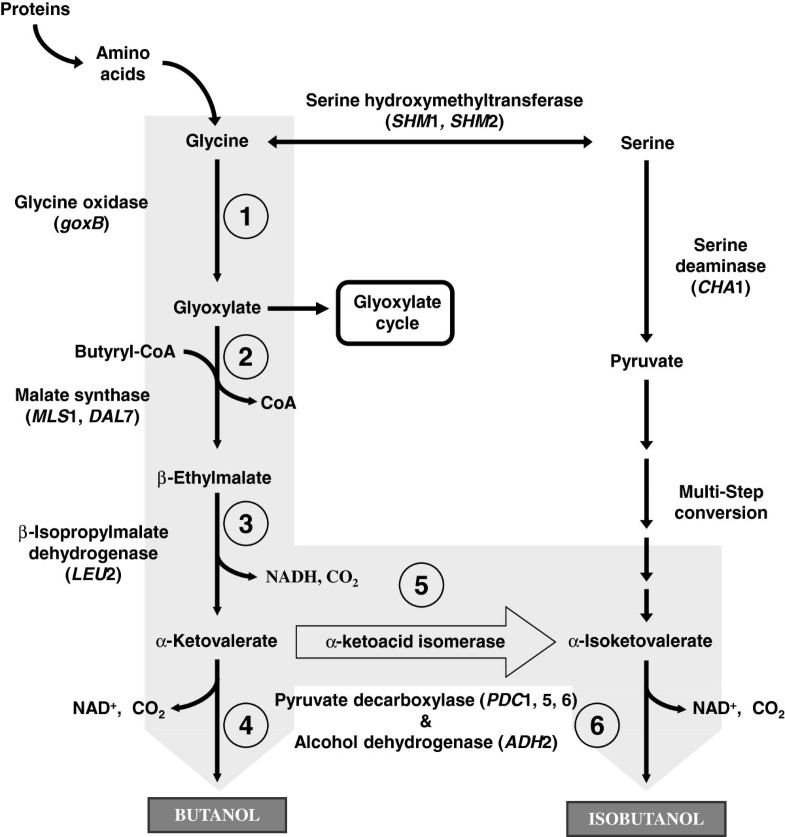 Glycine deaminase has been hypothesized to catalyze the glycine conversion into glyoxylate [21], the first step of the pathway. In S. cerevisiae the gene encoding for this enzyme has not been annotated yet. However, Bacillus subtilis gene goxB[24] encodes for a glycine oxidase that can catalyze this conversion (Figure 1, circle 1). For the second step, similarly to what happens in Pseudomonas aeruginosa[25], we hypothesized the glyoxylate condensation with butyryl-CoA to yield the β-ethylmalate intermediate (Figure 1, circle 2). β-ethylmalate might be then converted into α-ketovalerate through a β-isopropylmalate dehydrogenase enzyme (Figure 1, circle 3), as described in E. coli[22]. The final step is well depicted by the Ehrlich pathway: the α-ketovalerate is converted into butanol through a reductive decarboxylation reaction [26] (Figure 1, circles 4 and 6).
Summarizing, the single steps of the proposed pathway have been already described in literature, even if in different pathways and from different microorganisms: moreover, in some cases indications were provided only as enzymatic reactions. In this work we demonstrate that in the yeast S. cerevisiae thanks to these reactions glycine can be converted into butanol.
Conclusions
This study describes a novel pathway to produce butanol and isobutanol in the yeast S. cerevisiae through the glycine degradation pathway.
We characterized the entire pathway identifying for each step at least one enzymatic reaction with at least one relative gene for butanol production. 92 mg/L of butanol were produced starting from glycine as substrate.
It might be speculated that butanol derives from butyryl-CoA and that glycine is solely used to drive the flux. Remarkably, the proposed pathway implies catalytic reactions that justify how glycine is not simply burnt to carbon dioxide, but is an effective co-substrate for the butanol production, as highlighted by the numbered carbons (see Figures 3, 4, 5 and 6, panels A).
Despite the yield on glycine is still quite low, it should be underlined that butanol was obtained through endogenous activities which are in general involved in other reactions and specific for other substrates. Therefore, it can be anticipated that there are many different possibilities for optimizing the pathway, considering every single enzyme involved, the pool of substrates and their compartmentalization.
From an economical point of view the production of higher alcohols starting from purified glycine cannot be considered as a sustainable process. Metabolic engineering and synthetic biology can then help in the construction of a yeast redirecting sugars to glycine production, and from there to optimize the sole butanol production, but this appears at the moment as a long way to run. However, an alternative seems closer to reality: a considerable fraction of proteins accumulate as waste product deriving from exhausted biomasses of different microbial productions and currently is not fully absorbed by the market [12]. It is then possible to imagine a side-stream process of production which is based on protein hydrolysates; the different aminoacids fed to a yeast strain optimized for desired fusel alcohol production could generate a blend with good properties as biofuel [12], adding value and completing the concept of biorefinery.
Considering the potentiality of S. cerevisiae as ethanol producer and considering the potentiality of the aminoacid degradation pathway for fusel alcohol productions [12], it really seems the right moment to intensify the effort in studying and improving yeast tolerance to a mixture of different organic solvents.
Abbreviations
GAP1:

General Amino acid Permease gene
Shm2:

Serine HydroxyMethyltransferase enzyme
GDC:

Glycine Decarboxylase (enzymatic) Complex
goxB:

Glycine OXidase gene, B. subtilis
MLS1:

MaLate Synthase gene
DAL7:

Malate synthase gene (name description: Degradation of ALlantoin)
Agx1:

Alanine:Glyoxylate aminotrans(X)ferase enzyme
leuB:

LEUcine Biosynthesis (β-isopropylmalate dehydrogenase gene), E. coli
LEU2:

LEUcine biosynthesis (β-isopropylmalate dehydrogenase gene)
β-IPMD:

β-IsopropylMalate Dehydrogenase enzyme
pTPI:

Triose-Phosphate Isomerase, promoter
PDC:

Pyruvate DeCarboxylase gene(s)
ARO10:

AROmatic amino acid requiring gene
NAD(H)+:

Nicotinamide Adenine Dinucleotide (oxidized and reduced)
FAD(H2):

Flavin Adenine Dinucleotide (oxidized and reduced)
-CoA:

Coenzyme A
YPD:

Yeast extract, Peptone, Dextrose
YPGE:

Yeast extract, Peptone, Glycerol, Ethanol
PMSF:

PhenylMethaneSulfonyl Fluoride
DTNB/TNB:

5,5'-DiThio-bis(2-Nitrobenzoic Acid)/5-Thio-2-Nitrobenzoic Acid
OD:

Optical Density
HPLC:

High-Performance Liquid Chromatography
*:

if not differently specified, the listed genes and enzymes refer to S. cerevisiae
Declarations
Acknowledgements
This work was supported by Eni S.p.A. – Corporate. The authors gratefully acknowledge Alessandro Scardua for technical contribution and Francesca De Ferra for fruitful discussions.
Authors' Affiliations
(1)
University of Milano Bicocca, Milano, Italy
(2)
PTA (Schweiz) GmbH, Switzerland
Copyright
© Branduardi et al.; licensee BioMed Central Ltd. 2013
This article is published under license to BioMed Central Ltd. This is an Open Access article distributed under the terms of the Creative Commons Attribution License (http://creativecommons.org/licenses/by/2.0), which permits unrestricted use, distribution, and reproduction in any medium, provided the original work is properly cited.