Dieselzymes: development of a stable and methanol tolerant lipase for biodiesel production by directed evolution
Biotechnology for Biofuels
2013
6:70
Received: 4 December 2012
Accepted: 1 May 2013
Published: 7 May 2013
Abstract
Background
Biodiesels are methyl esters of fatty acids that are usually produced by base catalyzed transesterification of triacylglyerol with methanol. Some lipase enzymes are effective catalysts for biodiesel synthesis and have many potential advantages over traditional base or acid catalyzed transesterification. Natural lipases are often rapidly inactivated by the high methanol concentrations used for biodiesel synthesis, however, limiting their practical use. The lipase from Proteus mirabilis is a particularly promising catalyst for biodiesel synthesis as it produces high yields of methyl esters even in the presence of large amounts of water and expresses very well in Escherichia coli. However, since the Proteus mirabilis lipase is only moderately stable and methanol tolerant, these properties need to be improved before the enzyme can be used industrially.
Results
We employed directed evolution, resulting in a Proteus mirabilis lipase variant with 13 mutations, which we call Dieselzyme 4. Dieselzyme 4 has greatly improved thermal stability, with a 30-fold increase in the half-inactivation time at 50°C relative to the wild-type enzyme. The evolved enzyme also has dramatically increased methanol tolerance, showing a 50-fold longer half-inactivation time in 50% aqueous methanol. The immobilized Dieselzyme 4 enzyme retains the ability to synthesize biodiesel and has improved longevity over wild-type or the industrially used Brukholderia cepacia lipase during many cycles of biodiesel synthesis. A crystal structure of Dieselzyme 4 reveals additional hydrogen bonds and salt bridges in Dieselzyme 4 compared to the wild-type enzyme, suggesting that polar interactions may become particularly stabilizing in the reduced dielectric environment of the oil and methanol mixture used for biodiesel synthesis.
Conclusions
Directed evolution was used to produce a stable lipase, Dieselzyme 4, which could be immobilized and re-used for biodiesel synthesis. Dieselzyme 4 outperforms the industrially used lipase from Burkholderia cepacia and provides a platform for still further evolution of desirable biodiesel production properties.
Keywords
Lipase
Biodiesel
Proteus mirabilis
Proteus sp. K107
Directed evolution
Alcohol tolerance
Background
Biodiesel is a well-validated transportation fuel that is an attractive alternative to petrodiesel [1]. Biodiesel burns cleaner, releases less CO2 to the atmosphere, is biodegradable and can be obtained from renewable sources [1, 2]. Moreover, biodiesel can be used in existing diesel engines and is compatible with current fuel distribution infrastructure. Finding new sources of biodiesel and improved production methods is therefore an important goal in achieving diversification of energy resources [2].
Biodiesel is typically composed of a mixture of fatty acid methyl esters (FAME) (Figure
1
), although other esters can be used [
3
]. Biodiesel is usually synthesized via the base-catalyzed transesterification of triacylglycerol (TAG) oils with methanol (MeOH) or ethanol (EtOH). In the base-catalyzed reaction, the presence of water leads to the production of free fatty acids (FFAs), which are a dead-end product. Moreover, any FFAs present in the oil cannot be converted to methyl esters. FFA contamination requires additional purification and also leads to emulsions that complicate reaction clean up. In addition, glycerol, the other value-added reaction product, becomes contaminated with salt and base, increasing purification costs and lowering its value [
1
].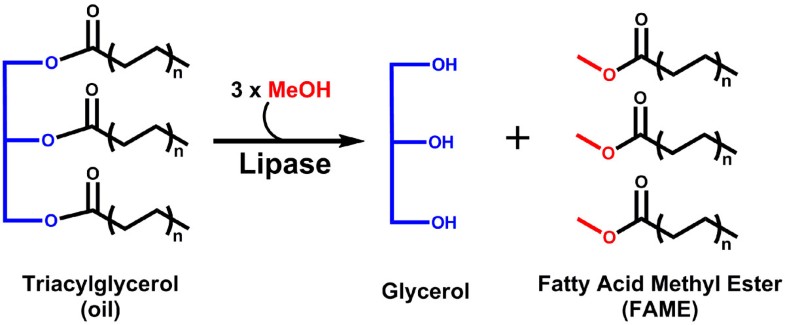 Lipases are a family of enzymes that are interesting as an alternative catalyst for biodiesel production [4]. Like chemical catalysts, lipases can catalyze the transesterification of TAG with short chain alcohols at significant rates. However, unlike the base-catalyzed reaction, some lipases can also convert FFAs to FAMEs even in the presence of high levels of water [4, 5]. Moreover, the lipase catalysts can be easily separated from the glycerol product, thereby eliminating glycerol contamination and increasing its potential as a value-added product to lower the net cost of biodiesel production [6, 7].
An obvious drawback to the use of lipases is the high cost of the catalyst relative to a simple base such as NaOH [7, 8]. The initial investment cost of a lipase catalyst could be greatly mitigated, however, if it could be used for long periods of time to generate large quantities of biodiesel. Unfortunately, the presence of high concentrations of MeOH used for biodiesel synthesis can cause rapid loss of lipase activity due to alcohol-induced inactivation [9].
Various approaches have been employed to increase lipase lifetimes for biodiesel synthesis [10]. Process engineering approaches have included enzyme immobilization, the use of co-solvents, or the step-wise feeding of alcohol so the concentration remains low [11]. However, the use of co-solvents further increase costs while step-wise feeding of MeOH is difficult on an industrial scale. In addition, there have been efforts to identify natural lipases that are inherently more tolerant of the harsh conditions employed for biodiesel production [12]. To our knowledge, rational design or directed evolution approaches have not been used to improve natural lipases specifically for this non-natural role.
Directed evolution and rational design of existing lipases have the potential to produce long lasting re-engineered enzymes with specific properties [13]. For example, previous reports have shown that many α/β hydrolase fold enzymes, including lipases, have been successfully reengineered by directed evolution for improved thermostability as well as tolerance to a variety of polar solvents such as dimethylsulfoxide (DMSO), dimethylformamide (DMF), and acetonitrile (MeCN) [14–18]. To date, there are no reports of the reengineering of a lipase specifically for improved tolerance to short-chain alcohols such as MeOH and EtOH. The development of a lipase highly resistant to MeOH inactivation would be especially useful as a catalyst for the economical synthesis of biodiesel.
Many microbial lipases have been identified as potential enzyme catalysts for biodiesel synthesis with a wide range of stabilities and catalytic efficiency [12]. In spite of the large number of identified microbial lipases, most are poor targets for directed evolution methods because they require chaperones and/or post-translational modifications specific to the host organism [19]. As a result most microbial lipases can only be produced in their native host, hampering engineering efforts. As an example, one of the most widely used industrial lipases, LipA from Burkholderia cepacia, is highly active and tolerant to short-chain alcohols but requires a chaperone for proper folding and does not express solubly in Escherichia coli[19].
Recently, an effective biodiesel-producing lipase from Proteus sp. K107 was identified that can be expressed solubly at high levels in E. coli[20]. The Proteus sp. K107 lipase is 100% identical to a lipase from Proteus mirabilis so we will refer to it as Proteus mirabilis lipase (PML). PML belongs to the Proteus/psychrophilic subfamily of I.1 lipases which lack a leader sequence and a disulfide bond present in other family I.1 and I.2 lipases [21]. PML was shown to be tolerant to short-chain alcohols such as MeOH and EtOH and to catalyze the synthesis of fatty acid methyl esters (biodiesel) in the presence of high concentration of water. Highlighting the usefulness of PML as a potential low-cost catalyst for biodiesel production [22], a recombinant E. coli strain overexpressing PML could also be used as a whole-cell biocatalyst for FAME synthesis [20]. Unfortunately, PML is irreversibly inactivated by incubation at over 50% MeOH, a common weakness of lipases [23]. In this paper we report the development of a PML variant with significant increases in thermostability and tolerance to MeOH that retains nearly wild-type activity at ambient temperature. A high-resolution crystal structure of the optimized lipase provides insight into adaptations in PML leading to heat and MeOH tolerance.
Conclusion
We have employed directed evolution for the first time to improve properties of a lipase for biodiesel production. Unlike the B. cepacia lipase, PML is highly expressed in an active form in E. coli, making it a viable platform for engineering efforts. The evolved PML enzyme, Dieselzyme 4, catalyzes efficient synthesis of biodiesel even in the presence of a high concentration of water and has better methanol tolerance and heat stability than the top industrially used lipase from B. cepacia. The success of the screening protocol and identification of regions on the enzyme central to improved stability makes Dieselzyme 4 a viable platform for further engineering by further directed evolution, perhaps by targeted methods such as CAST [39] or ISM [40] to develop better catalysts for biodiesel production in the future.
Methods
Materials
All chemicals were of analytical grade or better. 4-nitrophenyl palmitate, and Triton X100 were from Sigma. 1-naphthyl palmitate and Fast Blue B were from MPI Biochemicals. All other solvents were from Fluka. Amano lipase PS (Burkholderia cepacia) was purchased from Sigma and was purified before use using a HiTrapQ column (GE life sciences) and dialyzed into 20 mM Tris-Cl pH 7.5, 0.1 M NaCl. Primers for cloning and mutagenesis were ordered from Valuegene. Refined canola oil used for transesterification was from the local market.
Construction of mutants by site-directed mutagenesis
Site-directed mutagenesis was performed using the Quick-change Site Directed Mutagenesis Kit (Stratagene) according to the manufacturer's directions. For generation of double mutants, a modified megaprimer method was used [41]. Briefly, in an initial PCR, a forward and reverse mutagenic primer, each containing a different mutation, was used to amplify a short segment of the PML gene using Taq Hot-Start Supermix (Denville) to generate a megaprimer. In a second PCR reaction, 5 μL of the initial PCR was mixed with 30 ng plasmid template, 0.2 μM dNTP, Pfu HotStart II Reaction Buffer, and 2.5 U of Pfu HotStart Fusion II DNA Polymerase (Stratagene) in a 50 μL reaction. The reaction was cycled as for the QuikChange reaction. The resulting PCR product was digested with DpnI and used to transform BL21Gold(DE3) or XL10Gold directly.
Construction of PML mutant library by error-prone PCR
The wild-type lipase gene from Proteus mirabilis was cloned into a pET28a vector as previously described and used as template for error-prone PCR. Random mutagenesis was performed using the Genemorph II Kit (Stratagene) according to the manufacturer's instructions to ensure a 1-2% error rate per gene (1–5 amino acid changes). Primers which flank the 5'NdeI and 3'EagI restriction sites were used for amplification. An appropriate amount of DNA template was used to generate between 1 and 5 mutations per 1 kb. Briefly, 0.1 ng template was mixed with 0.2 mM each dNTP, 0.2 μM each primer, 1X Mutazyme II Buffer, and 2.5 U Mutazyme II in 50 μL. The PCR was incubated at 95°C for 2 minutes followed by 45 cycles of 95°C for 30 s, 58°C for 30 s, 72°C for 1 min, with a final extension at 72°C for 10 minutes. The resulting PCR product was purified using a QIAquick spin column (Qiagen) and digested overnight with NdeI and EagI (NEB) at 37°C. The digested product was gel purified and ligated into NdeI/EagI digested pET28 using T4 DNA ligase (NEB) for 16 hours at 16°C. The resulting library was directly transformed into chemically competent BL21Gold(DE3) and plated on LB-agar containing 50 μg/mL kanamycin for screening and analysis. To confirm the desired 1-2% error rate per gene, plasmid was isolated from 20 colonies and sequenced (Genewiz).
Library screening for MeOH tolerance
Screening for improved methanol tolerance was accomplished by a colony lift screening protocol with a PML mutant library expressed in BL21Gold(DE3). Following overnight incubation at 37°C, transformants (~600/plate) were lifted onto sterile filter circles (Whatman 410) and placed colony-up on a LB-agar plate containing 50 μg/mL kanamycin and 1 mM IPTG for 2–3 hours at 18°C to induce protein expression. The filter was then immersed in lysis solution (50 mM sodium phosphate pH 7.5, 0.1 M NaCl, 0.1% Triton X100, 1 mg/mL lysozyme) at 25°C for 1 hour. Lysis solution was decanted and replaced by MeOH solution containing 0.1% Triton X100 and incubated at a selected temperature for a desired amount of time. After incubation, the MeOH solution was decanted and the filters were developed by overlaying with 1 mM 1-naphthyl palmitate, 3 mM Fast Blue B, 0.5% Triton X100 dispersed in 0.5% agar. After 10 minutes, mutants displaying residual activity were identified by formation of a purple color due to the azo dye formed between 1-naphthol and Fast Blue B (Figure 3). The corresponding colony was then isolated from the master plate for validation and further characterization.
For validation, positives from the filter screen were grown in 10 mL LB containing 50 μg/mL kanamycin to OD600 of 0.6 and protein expression was induced with 0.5 mM IPTG for 16 hours at 18°C. The cells were pelleted (6K rcf × 30 min; Sorvall GS-3 rotor), resuspended in buffer (50 mM sodium phosphate pH 7.5, 0.1 M NaCl, 5 mM imidazole), lysed by sonication (5 × 30 s pulse) and clarified by centrifugation (20K rcf × 30 min; Sorvall SS-34 rotor). To validate, 50 μL of the supernatant was incubated with 70% MeOH for 1 hour and then diluted to 10% MeOH prior to being assayed with 1 mM p-nitrophenyl palmitate (pNPP). Residual activity was defined as the activity compared to a sample incubated at 10% MeOH for 1 hour. Mutations were confirmed by sequencing (Genewiz) and the beneficial mutations were combined by site-directed mutagenesis and reassayed for improved MeOH tolerance. The best performing combined mutants were then used as parents for subsequent rounds of directed evolution.
Expression and purification of WT and mutant PMLs
Over-expression of wild-type and mutant PML was carried out in E. coli BL21Gold(DE3) (Agilent). Single transformants were transferred to 2 L of Luria-Burtani (LB) media containing kanamycin for incubation at 37°C and grown to an OD600 of 0.6. Protein expression was induced with 0.5 mM IPTG at 16°C for 16 hours. Cells were harvested by centrifugation and purified by Ni-NTA chromatography (Qiagen) as described previously. Wild-type and mutant PMLs were then dialyzed into 20 mM Tris–HCl pH 7.5 containing 100 mM NaCl and flash frozen as droplets in liquid N2 prior to storage at −80°C.
Enzyme kinetics and characterization
Kinetic assays were carried out in 96 well microtiter plates (Grenier Bio-One) with purified protein. For kinetic analysis a stock solution of 86.13 mM pNPP was prepared in 1:1 Acetonitrile:Triton X100. The initial rate of conversion of pNPP to p-nitrophenol was monitored at 405 nm over the first minute using a plate reader (SpectraMax M5, Molecular Devices). For temperature or methanol incubation studies, the residual activity was assayed using 1 mM pNPP in 50 mM phosphate pH 7.0. For temperature inactivation, 60 μL of 150 nM enzyme was incubated in 50 mM phosphate pH 7.0 in thin walled PCR using a PCR cycler (Mastercycler ProS, Eppendorf). The residual activity remaining as a function of incubation for 1 hour at various temperatures or as a function of time at 50°C was determined by hydrolysis of pNPP. Activity was normalized to activity at 25°C. For methanol tolerance, 1.5 μM enzyme was incubated with 50 mM phosphate pH 7.0 containing various concentrations of methanol. After 2 hours, the enzyme was diluted 10-fold so that the final methanol concentration was 10% and the final enzyme concentration was 150 nM. For inactivation by methanol over time, the enzyme was incubated in 50% methanol at 25°C. At various time points, 10 μL aliquots were diluted 1:10 with 90 μL 5.5% methanol (10% final) and assayed for residual activity compared to incubation with 10% methanol as described above.
Immobilization and transesterification
Purified B. cepacia, PML, and mutant lipases (Dieselzymes) were covalently immobilized on hydrophobic Immobead 350 oxirane functionalized beads (ChiralVision) prior to use. Beads (0.25 g) were washed once with 10 mL methanol followed by two washes with 10 mL 0.1 M sodium phosphate pH 7.0. The buffer was decanted and 1 mL enzyme at 0.2 mg/mL in 20 mM Tris–HCl pH 7.5, 0.1 M NaCl was added. Immobilization was allowed to proceed for 16–20 hours at 25°C. All 3 enzymes studied were immobilized to a similar degree (≥95%) as monitored by OD280nm and by residual activity remaining in the supernatant.
After immobilization, the buffer was decanted and the beads were used for transesterification without further modification. For the synthesis reaction, 0.625 mL of 50% methanol (1:1 methanol:0.1 M phosphate pH 7.0) was added to the beads followed by 1.5 mL refined canola oil. The solution was gently mixed with a vortex and then placed on a shaker at 200 rpm at 25°C. An initial reaction was performed with 0.1 g beads to establish the transesterification rate for each construct. For the recycling experiment, an appropriate amount of beads (0.25 g, 0.25 g, and 0.08 g of wild-type PML, Dieselzyme 4, and BCL respectively) were added such that ~5-10% conversion was reached in the first hour. After each 20 hour cycle, 10 μL aliquots of the oil layer were taken for analysis by gas chromatography (below). To monitor the effect of reuse on initial rate, 10 μL were taken at 2 and 4 hours during cycles 1, 4, and 7. For reuse, the beads were recovered by filtration, washed with 5 mL buffer followed by 5 mL hexanes and then allowed to dry before adding fresh methanol, buffer, and oil.
Quantification of fatty acid methyl esters
The extent of transesterification was monitored by gas chromatography (GC). For analysis, 10 μL samples were diluted with 1 mL hexane spiked with 0.5 mg/mL methyl heptadecanoate (internal standard). 1 μL of the samples at a split ratio of 50:1 were analyzed on an Agilent 5890 Series II GC with flame ionized detector using an HP-INNOWax column (0.25 mm × 30 m, Agilent). The carrier gas was helium with a flow rate of 5 mL/min. The oven temperature was kept at 200°C for 3 min and then raised to 230 at 5°C/min then to 250 at 20°C/min and held at 250°C for 9 min. The injector and detector temperatures were kept at 230 and 330°C respectively. The percent conversion was determined by comparison to a biodiesel sample prepared from refined canola oil using a large excess of free Burkholderia cepacia lipase at a 5:1 MeOH:oil ratio in the presence of 5% water as described previously [23].
Crystallization, structure determination, and refinement of mutant PML
Crystallization trials for Dieselzyme 4 were performed using purified His-tagged lipase with no additives. Drops were generated by mixing 2 μL purified protein at 9 mg/mL with 2 μL well solution. Large crystals of the mutant PML formed in many conditions between one day and two weeks. One condition, Qiagen PACT condition #38 (1X MMT pH 5, 20% PEG 1500), was optimized and gave large crystals (0.2×0.2×0.2 mm) within one week. Prior to data collection, crystals were soaked in crystallization well solution plus 15% glycerol and flash frozen in liquid nitrogen. Data were collected in house on a Rigaku FRE + x-ray generator equipped with an ADSC Quantum 4 CCD detector at 100 K. Diffraction images were indexed, integrated, and scaled with Denzo and Scalepack. Initial phases were determined by Molecular Replacement using PHASER in CCP4i. The wild-type PML (PDBID 4GW3) was used as the search model. The resulting model was further refined via iterative rounds of model building and refinement in COOT and Refmac5 over the resolution range 50–1.8 Å. The final model was deposited in the Protein Data Bank with PDBID 4HS9. Data statistics can be found in Additional file 4: Table S1.
Abbreviations
FAME:

Fatty acid methyl ester
TAG:

Triacylglycerol
MeOH:

Methanol
EtOH:

Ethanol
FFA:

Free fatty acids
DMSO:

Dimethylsulfoxide
DMF:

Dimethylformamide
MeCN:

Acetonitrile
PML:

Proteus mirabilis lipase
BCL:

Burkholderia cepacia lipase
CALB:

Candida Antarctica lipase B
PCR:

Polymerase chain reaction
LB:

Luria-burtani media
IPTG:

Isopropyl-β-D-1-thiogalactopyranoside
pNPP:

Para-nitrophenyl palmitate
CAST:

Combinatorial active-site saturation test
ISM:

Iterative saturation mutagenesis.
Declarations
Acknowledgements
This work was supported by grants from the US Department of Energy and from the Camile and Henry Dreyfus Foundation. D.M.C. and M.B. acknowledge the support of a PROTEO scholarship and NSERC grant (Discovery 138654).
Authors' Affiliations
(1)
Department of Chemistry and Biochemisty, UCLA-DOE Institute of Genomics and Proteomics, Molecular Biology Institute, University of California, Los Angeles, USA
(2)
Département de chimie-biologie, Université du Québec à Trois-Rivières, Trois-Rivières, Canada
Copyright
© Korman et al.; licensee BioMed Central Ltd. 2013
This article is published under license to BioMed Central Ltd. This is an Open Access article distributed under the terms of the Creative Commons Attribution License (http://creativecommons.org/licenses/by/2.0), which permits unrestricted use, distribution, and reproduction in any medium, provided the original work is properly cited.