Transcriptional program for nitrogen starvation-induced lipid accumulation in Chlamydomonas reinhardtii
Biotechnology for Biofuels
2015
8:207
Received: 29 July 2015
Accepted: 17 November 2015
Published: 2 December 2015
Abstract
Background
Algae accumulate lipids to endure different kinds of environmental stresses including macronutrient starvation. Although this response has been extensively studied, an in depth understanding of the transcriptional regulatory network (TRN) that controls the transition into lipid accumulation remains elusive. In this study, we used a systems biology approach to elucidate the transcriptional program that coordinates the nitrogen starvation-induced metabolic readjustments that drive lipid accumulation in Chlamydomonas reinhardtii.
Results
We demonstrate that nitrogen starvation triggered differential regulation of 2147 transcripts, which were co-regulated in 215 distinct modules and temporally ordered as 31 transcriptional waves. An early-stage response was triggered within 12 min that initiated growth arrest through activation of key signaling pathways, while simultaneously preparing the intracellular environment for later stages by modulating transport processes and ubiquitin-mediated protein degradation. Subsequently, central metabolism and carbon fixation were remodeled to trigger the accumulation of triacylglycerols. Further analysis revealed that these waves of genome-wide transcriptional events were coordinated by a regulatory program orchestrated by at least 17 transcriptional regulators, many of which had not been previously implicated in this process. We demonstrate that the TRN coordinates transcriptional downregulation of 57 metabolic enzymes across a period of nearly 4 h to drive an increase in lipid content per unit biomass. Notably, this TRN appears to also drive lipid accumulation during sulfur starvation, while phosphorus starvation induces a different regulatory program. The TRN model described here is available as a community-wide web-resource at http://networks.systemsbiology.net/chlamy-portal.
Conclusions
In this work, we have uncovered a comprehensive mechanistic model of the TRN controlling the transition from N starvation to lipid accumulation. The program coordinates sequentially ordered transcriptional waves that simultaneously arrest growth and lead to lipid accumulation. This study has generated predictive tools that will aid in devising strategies for the rational manipulation of regulatory and metabolic networks for better biofuel and biomass production.
Keywords
Network modelingPhenotypic transitionTranscriptional regulatory networkMetabolic networkLipid accumulation Chlamydomonas reinhardtii
Background
Green algae hold great promise for the manufacture of renewable biofuels [1]. The relatively low yield of algae-based biofuels, however, does not currently make them an economically viable replacement for fossil fuels [1]. Several strategies have been used to improve biofuel production, from strain design to improvements in growth, harvesting and refining techniques [2], but a large gap still needs to be bridged. Green algae accumulate lipids when subjected to nutrient depletion [3–10] and other stresses [11–13]. In parallel, nutrient starvation also causes growth arrest, thus limiting biomass accumulation, which is a major disadvantage for large-scale biofuel production. Consequently, an obvious strategy for the improvement of microalgae biofuel yield would be the decoupling of lipid accumulation from growth arrest at the molecular level. Such a rational strain design strategy requires a comprehensive mechanistic understanding of the transcriptional regulatory network (TRN) controlling lipid accumulation in order to identify the key regulatory elements (e.g., transcription factors (TFs) or metabolic bottlenecks), which coordinate the transition from nutrient starvation to growth arrest and lipid accumulation.
Our understanding of lipid accumulation in green algae has recently benefited from the use of high-throughput technologies to track genome-wide transcriptional changes during state transitions. In this regard, C. reinhardtii has emerged as the de facto model organism for algal biofuels research [12]. The early analyses of whole transcriptome changes in C. reinhardtii [6] uncovered the main hallmarks of nitrogen (N) starvation and lipid accumulation, i.e. the downregulation of protein synthesis and photosynthetic apparatus and redirection of primary carbon (C) metabolism. Subsequent high-resolution time series transcriptome experiments revealed that the TF nitrogen-responsive regulator-1 (NRR1) is in part responsible for the transcriptional changes that result in lipid accumulation during N starvation [14]. More integrative views of the phenotype transition during N starvation [15, 16] highlighted the importance of early transcriptional responses and gradual upregulation of alternative pathways of N assimilation and C metabolism. In addition to transcriptomic approaches, quantitative proteomic methods have provided unique insights into the global metabolic adjustments that drive N starvation-induced lipid accumulation, uncovering complex activity changes in the enzymes responsible for C and N metabolism [17–19]. For instance, proteomics analysis of lipid bodies revealed lipid accumulation to be a complex process involving lipid synthesis and recycling, as well as lipid trafficking and signaling to maintain homeostasis in microalgae oil bodies [20]. Further comprehensive analysis integrating transcriptome and proteome measurements revealed the multilevel responses of N-sparing mechanisms [21]. Metabolomics studies have also been conducted to characterize C. reinhardtii response to N starvation, which revealed differential flux signatures under N deprivation [22–24]. Finally, other macronutrient starvation studies, such as for sulfur (S) and phosphorus (P), have allowed for comparative transcriptome analyses. While several characteristic physiological changes are shared across N, S and P starvations (e.g., photosynthesis apparatus downregulation, reduced C fixation and lipid accumulation), other acclimation responses are nutrient-specific, such as the upstream controllers of the starvation response signaling circuit (e.g., SNRK2.1 or PSR1 [25, 26]), triacylglycerol (TAG) accumulation temporal profiles [27] and thylakoid membrane conservation [28].
The availability of high-throughput data sets provides an opportunity to use computational modeling approaches to obtain added insight into the process of lipid accumulation. In particular, the computational inference of TRNs from genome-wide gene expression datasets should be achievable, as a suite of methods are available to construct such network models [29–31]. For instance, the cMonkey algorithm [32], a semi-supervised biclustering algorithm that uses gene expression data guided by biologically informative priors and de novo cis-acting gene regulatory element (GRE) detection, has been successfully applied to numerous organisms across all domains of life to build accurate and predictive models of TRNs [33–38]. High-throughput data sets also provide an opportunity to study the behavior of metabolism at a systems level. In this regard, constraint-based modeling approaches such as flux balance analysis [39] have proved to be particularly valuable for genome-scale investigation of metabolic flux distributions and for the development of metabolic engineering strategies in many species [40–45] while they can also serve as valuable platforms for data integration [46].
To obtain mechanistic insight into the transcriptional response of C. reinhardtii to N starvation, we employed a systems-level approach to unravel the program responsible for coordinating transcriptional changes that occur from the onset of N starvation to lipid accumulation. Through the integration of multiple publicly available data sets and resources, we used cMonkey to build the first mechanistic TRN model for the transition from N starvation into lipid accumulation in C. reinhardtii. To assess the impact of transcriptional regulation affecting metabolism, we integrated the TRN model with a genome-scale metabolic model for C. reinhardtii [47]. This enabled prediction of metabolic flux distributions during N starvation, as well as the identification of putative targets for increasing lipid yield. Furthermore, we conducted a comparative analysis of the expression pattern of key metabolic genes between N, S and P starvation experiments to identify common and condition-specific responses to those macronutrient starvations. Thus, through the integration of co-regulated modules identified from the time course analysis into a comprehensive metabolic model of C. reinhardtii, we obtained a systems-level understanding of how genome-wide transcriptional changes induced by N starvation drive the metabolic shift into a lipid accumulation state.
Results and discussion
To infer a N starvation-specific TRN model for
C. reinhardtii
, we integrated complementary data from: (1) the
C. reinhardtii
genome annotation [
48
] (version 5.5, available from Phytozome [
49
]), (2) the highest resolution time series transcriptome data set available for
C. reinhardtii
N starvation [
14
], and (3) a network of functional protein–protein interactions [
50
]. Analysis of the publicly available transcriptome data resulted in the identification of a set of 2,147 transcripts that showed significant difference in abundance between the onset of N starvation and lipid accumulation (see "
Methods
"; Fig.
1
a). This set of transcripts constitutes the core network of transcriptionally regulated genes responsible for sensing N starvation and orchestrating the subsequent physiological shift to the lipid accumulation phenotype. We analyzed this set of 2147 transcripts with cMonkey [
32
] and identified a total of 215 putatively co-regulated modules, which were organized into a high confidence TRN model that can be explored through the interactive Chlamy Network Portal [
51
] (Fig.
1
b).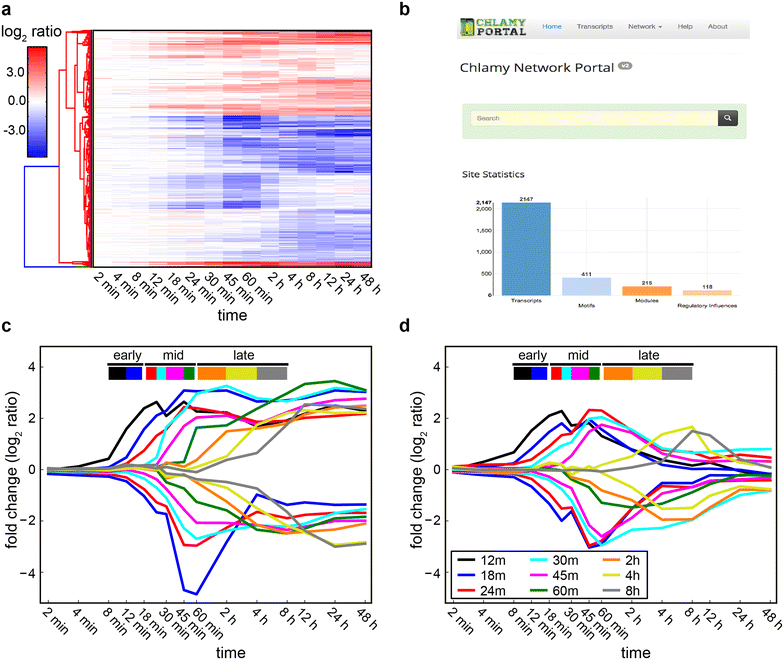 The 215 co-regulated transcriptional modules were combined based on their temporal profiles to generate an ordered sequence of 31 transcriptional waves of two types:
monotonic
, in which transcript abundances changed and achieved new steady state levels; and
transient
, in which transcript abundances changed transiently before returning to the pre-starvation levels (Fig.
1
c, d, Additional file
1
: Table S1). The sizes of these transcriptional waves ranged from 17 to 340 transcripts, while their temporal schedules ranged from 12 min (min), for the earliest responding transcriptional modules, through 8 h (h) for late-stage responses. We labeled each wave by the timestamp at which the mean gene expression level of the corresponding transcriptional module(s) crossed the twofold threshold relative to the pre-starvation condition. The overall schedule of changes can be divided into three major stages of transcriptome transitions:
early
-
stage response
from 0 to 18 min, which was characterized by changes in transcripts for N transport, cellular signaling, ionic composition and protein translation;
mid
-
stage response
from 18 to 60 min, marked by the reorganization of metabolism; and
late
-
stage transition
between 1 and 8 h just before cells undergo a phenotypic state transition marked by lipid accumulation. We describe below a temporally organized summary of changes, with selected highlights of major events that occur at each of the three stages of the N starvation response (Table
1
serves as a reference for summary and highlights, and Additional file
1
: Table S1 contains a comprehensive list of all transcripts associated with each stage, wave and module).
Table 1
Summary of the organization of the transcriptional changes
Stage

Time

Trend

Dynamics

Waves, modules, transcripts

Functional highlights (corrected p value)

Early

0–18 min

Up

Monotonic

2, 7, 105

Ammonium transport (1.7e−9)

Potassium ion transmembrane transport (1.4e−5)

Ion channel activity (2.8e−3)

Ion transport (3.4e−3)

Protein kinase activity (1.3e−2)

Transient

2, 7, 118

Down

Monotonic

1, 1, 17

Ribosome biogenesis (6.3e−8)

Transcription (3.7e−6)

rRNA processing (2.9e−5)

Pseudouridine synthesis (7.0e−5)

Methyltransferase activity (9.0e−5)

Transient

1, 17, 202

Mid

18–60 min

Up

Monotonic

4, 24, 304

Mitochondrial pyruvate transport (1.0e−6)

Glutamine biosynthetic process (3.0e−5)

Lipid metabolic process (5.2e−5)

Amine metabolic process (7.5e−5)

Proteolysis (9.6e−3)

Transient

3, 7, 110

Down

Monotonic

4, 44, 552

Purine nucleotide biosynthetic process (5.1e−5)

Fatty acid beta-oxidation (4.9e−4)

Pseudouridine synthesis (8.7e−4)

Malate dehydrogenase activity (1.6e−3)

Fatty acid biosynthetic process (1.9e−3)

Transient

4, 15, 237

Late

1–8 h

Up

Monotonic

3, 12, 177

DNA replication (8.6e−7)

Microtubule cytoskeleton organization (1.1e−4)

NADP binding (3.5e−3)

Lipid metabolic process (1.8e−2)

Nucleotide binding (2.4e−2)

Transient

2, 8, 139

Down

Monotonic

3, 47, 489

Photosynthesis (7.7e−31)

Protein folding (1.0e−13)

Fructose-bisphosphate aldolase activity (8.4e−6)

Cell redox homeostasis (4.9e−5)

Fatty acid biosynthetic process (7.5e−3)

Transient

2, 5, 95
Conclusion
Analysis of expression dynamics at the whole transcriptome scale for C. reinhardtii has uncovered a complex but structured transcriptional response during N starvation and subsequent transition into a state of lipid accumulation. The application of the biclustering algorithm cMonkey revealed that the transcriptional response was modular and organized as 31 temporally ordered waves that were triggered as early as 12 min and continued changing until 8 h after N starvation. Based on the timing and functional composition of the waves the N starvation response could be divided into three categories: the early response characterized by distinct cellular signaling, the mid response recapitulating how the cell metabolism transitions into a different state and the late response with hallmarks of the acquisition of the final phenotype, dominated by transcripts for photosynthesis, lipid metabolism, oxidative stress and protein folding. Furthermore, we predicted a network of transcriptional regulators, at least 17 TFs and chromatin remodeling proteins that putatively orchestrate the transcriptional response. Certainly, the phenotypic transition is not the consequence of regulation by a single TF, but the coordinated response of several factors. In fact, integration of the TRN model with a genome-scale metabolic flux model demonstrated that there are 57 metabolic bottlenecks that are distributed across different modules of the transcriptional program. The TRN mediates the coordinated downregulation of these 57 metabolic steps to drive increased lipid per unit biomass. Similar expression patterns of the 57 enzymes under S starvation are suggesting that the same TRN might oversee both the S- and N-starvation responses. In contrast, different metabolic and transcriptional networks appear to be responsible for the P-starvation response, wherein only 6 of the 57 enzymes were differentially expressed. Ultimately, to ensure the integration of the TRN model with other existing resources and broader dissemination among the scientific community, we developed an accessible web-based resource, the Chlamy Network Portal [51], which incorporates the TRN model together with the processed expression data and offers filtering and visualization interfaces for further analysis. Well-known resources such as Phytozome [49], STRING [50], and Gene Ontology (GO) terms [86] are seamlessly integrated at the Chlamy Network Portal.
Recent studies in C. reinhardtii [21, 70, 79] and other microalgae [87] have integrated various omics data sets to reveal that cellular response to N starvation is controlled by the structure of a TRN, and cannot be explained by individual action of a handful of TRs. Schmollinger et al. [21] performed a very comprehensive study of the cellular response to N starvation at different regulatory levels, quantifying the transcriptome, proteome and metabolome for both wild type and mutant strains. They uncovered several N-sparing mechanisms and listed a set of differentially regulated TFs as candidate regulators of the cellular response. In order to identify the key regulatory genes involved in the control of lipid metabolism, Gargouri et al. [79] used a time-lagged correlation analysis to identify putative TRs of cellular metabolism, before and after the onset of lipid accumulation. Our approach is distinct in that it integrates different types of evidence for co-regulation to infer a mechanistic and predictive TRN. Furthermore, by integrating this model with a metabolic model we were able to predict consequences of specific transcriptional changes on biomass production as well as metabolic flux towards TAG accumulation. The modular architecture of this TRN predicts TR regulation of not single transcripts or metabolites, but rather co-regulated modules enabling a robust assessment of the functional consequences of TR changes. Importantly, Valledor et al. [70] combined transcriptomics, proteome and metabolome measurements during N starvation and repletion to demonstrate how such integrative approaches reveal new understandings of molecular regulation. A beautiful example is the discovery of a central role for the major lipid droplet protein within such regulatory and metabolic network model in linking signaling cascades (GTPases downregulated during N starvation) to vesicle formation (COP II) and lipid body formation.
There are several possible limitations to our study. First, our TRN is based on expression data and transcriptional changes do not fully account for changes at the protein level, much less for functional activity of post-transcriptionally regulated proteins [88, 89], which may result in phenotypic changes not recapitulated by the transcriptional response. Therefore, integration of proteome and metabolome measurements would represent a powerful complement to our approach. At the level of the integration of the metabolic and TRN models, potential missing links may occur from the incomplete nature of the currently available metabolic models for C. reinhardtii consisting on 1080 genes and 2190 reactions, which is far from the complete metabolome set. Indeed, in a parallel effort, our group recently extended and improved the metabolic model for C. reinhardtii, upgrading it to 1355 genes (1460 transcripts), 2394 reactions and 1133 metabolites, enabling very accurate predictions of gene deletion growth phenotypes, with an area under the receiver operating characteristic curve of 0.92 [90]. Also, the lack of an exhaustive annotation for the TF set is another source for missing interactions between potential regulators of the transcriptional modules. Additionally, other potential regulators of gene expression like miRNAs are not currently included in our TRN model. Finally, the experimental validation of de novo detected GREs and predicted TF to transcriptional module interactions would produce a more accurate picture of the functional interactions recapitulated by our TRN.
We foresee two main future directions of this study: first, the expansion of the TRN model with expression data from other phenotypic transitions, e.g., starvation on other nutrients, different growing conditions (light, trophic conditions, CO2 levels, etc.), and different mutant strains. A second direction would be to refine the accuracy and specificity of the transcriptional regulatory influences with the integration of quantitative data that includes additional influencers, like miRNAs [91–95] or post-translational modifications [96]. Moreover, a genome-wide chromatin state map would constitute a resourceful informational tool for detecting and associating GREs to the transcriptional response [97, 98]. Recent experimental evolution work with C. reinhardtii [99–101] has shown the adaptive plasticity of this organism to quickly generate new phenotypes with increased fitness to novel environments. Experimental evolution approaches and gene editing [102] would be complementary and a good synergistic combination to TRN modeling to better understand the process of lipid accumulation in microalgae, with the ultimate goal of engineering new strains with desired phenotypes.
Given the complexity underlying the phenotypic transitions in C. reinhardtii, we are confident that the constructed TRN model presented here represents a relevant predictive tool that would uniquely guide the rational selection of candidate gene targets for improved biofuel production. The dissemination of the TRN through the Chlamy Network Portal platform will especially ensure an efficient broadcast of the model to the growing biofuel research community.
Abbreviations
GRE:

gene regulatory element
TRN:

transcriptional regulatory network
KD:

knockdown
TAG:

triacylglycerol
FA:

fatty acid
TR:

transcriptional regulator
TF:

transcription factor
Declarations
Authors' contributions
ALGL analyzed and interpreted the data, designed the study and drafted the manuscript. SS carried out the metabolic analysis, interpreted the data and drafted the manuscript. JV designed the study, interpreted the data and drafted the manuscript. SI participated in the analysis and interpretation of the data and revised the manuscript. WC participated in the analysis and interpretation of the data and revised the manuscript. DDB participated in the conception of the study and the interpretation of the data and helped to draft the manuscript. CBY participated in the conception of the study and the interpretation of the data and helped to draft the manuscript. ST designed the web portal, participated in the conception of the study and the interpretation of the data and revised the manuscript. DJR participated in the conception of the study and the analysis of the data and revised the manuscript. MVO participated in the conception of the study and the interpretation of the data and revised the manuscript. NDP participated in the design of the study and revised the manuscript. NSB conceived the study, participated in its design and coordination and drafted the manuscript. All authors read and approved the final manuscript.
Acknowledgements
We would like to thank Julie Kerns for a careful reading of the manuscript and for useful comments. We would also like to thank Gustavo Glusman, Max Robinson and Chris Lausted for useful comments. This work was partially funded by DOE-ABY (DEEE0006315) (SI, JV, ALGL, WC, NSB, NDP), NIH Center for Systems Biology (grant P50 GM076547) (ALGL, NSB, NDP) and the Camille Dreyfus Teacher-Scholar program (NDP). We also acknowledge financial support from the German Ministry for Research and Education within the framework of the GerontoSys (grant FKZ 0315581D) and e:Med (grant FKZ 01ZX1402C) initiative (SS).
Competing interests
The authors declare that they have no competing interests.
Open AccessThis article is distributed under the terms of the Creative Commons Attribution 4.0 International License (http://creativecommons.org/licenses/by/4.0/), which permits unrestricted use, distribution, and reproduction in any medium, provided you give appropriate credit to the original author(s) and the source, provide a link to the Creative Commons license, and indicate if changes were made. The Creative Commons Public Domain Dedication waiver (http://creativecommons.org/publicdomain/zero/1.0/) applies to the data made available in this article, unless otherwise stated.
Authors' Affiliations
(1)
Institute for Systems Biology, Seattle, USA
(2)
Jena University Language and Information Engineering (JULIE) Lab, Friedrich-Schiller-University Jena, Jena, Germany
(3)
Research Group Theoretical Systems Biology, Friedrich-Schiller-University Jena, Jena, Germany
(4)
Sapphire Energy Inc., San Diego, USA
(5)
Polar Science Center, University of Washington, Seattle, USA
(6)
Departments of Bioengineering and Computer Science and Engineering, University of Washington, Seattle, USA
(7)
Departments of Biology and Microbiology, University of Washington, Seattle, USA
(8)
Molecular and Cellular Biology Program, University of Washington, Seattle, USA
(9)
Lawrence Berkeley National Lab, Berkeley, USA
Copyright
© López García de Lomana et al. 2015