Co-production of hydrogen and ethanol by pfkA-deficient Escherichia coli with activated pentose-phosphate pathway: reduction of pyruvate accumulation
Biotechnology for Biofuels
2016
9:95
Received: 18 February 2016
Accepted: 19 April 2016
Published: 29 April 2016
Abstract
Background
Fermentative hydrogen (H2) production suffers from low carbon-to-H2 yield, to which problem, co-production of ethanol and H2 has been proposed as a solution. For improved co-production of H2 and ethanol, we developed Escherichia coli BW25113 ΔhycA ΔhyaAB ΔhybBC ΔldhA ΔfrdAB Δpta-ackA ΔpfkA (SH8*) and overexpressed Zwf and Gnd, the key enzymes in the pentose-phosphate (PP) pathway (SH8*_ZG). However, the amount of accumulated pyruvate, which was significant (typically 0.20 mol mol−1 glucose), reduced the co-production yield.
Results
In this study, as a means of reducing pyruvate accumulation and improving co-production of H2 and ethanol, we developed and studied E. coli SH9*_ZG with functional acetate production pathway for conversion of acetyl-CoA to acetate (pta-ackA +). Our results indicated that the presence of the acetate pathway completely eliminated pyruvate accumulation and substantially improved the co-production of H2 and ethanol, enabling yields of 1.88 and 1.40 mol, respectively, from 1 mol glucose. These yields, significantly, are close to the theoretical maximums of 1.67 mol H2 and 1.67 mol ethanol. To better understand the glycolytic flux distribution, glycolytic flux prediction and RT-PCR analyses were performed.
Conclusion
The presence of the acetate pathway along with activation of the PP pathway eliminated pyruvate accumulation, thereby significantly improving co-production of H2 and ethanol. Our strategy is applicable to anaerobic production of biofuels and biochemicals, both of which processes demand high NAD(P)H.
Keywords
Biohydrogen
Co-production of hydrogen and ethanol
Glycolysis
Pentose-phosphate pathway
NADPH production
Escherichia coli
Background
Biological H2 production can be accomplished via dark fermentation, photo-fermentation, or biophotolysis. Among these approaches, dark fermentation is considered the most promising, due to its simple bioreactor configuration and operation and, above all, fast H2 production rate [1–3]. Its commercial application, however, has a critical drawback: the low glucose-to-H2 production yield [4]. The theoretical maximum with facultative anaerobes such as Enterobacter sp. is 2 mol H2 mol−1 glucose, and that with strict anaerobes such as Clostridia sp. is 4 mol H2 mol−1 glucose [5]. Energy recovery is <40 % even with 4 mol H2 mol−1 glucose, and this makes H2 production less attractive compared to the production of other biofuels such as ethanol and butanol [6, 7]. To address the low H2 production yield from glucose, introduction of heterologous pathways such as ferredoxin- or NAD(P)H-dependent H2 production in E. coli has been attempted [8, 9]. Despite functional in E. coli, the heterologous pathways were highly inefficient and no practical improvement in H2 yield was achieved. From process development aspect, hybrid systems such as dark- plus photo-fermentation, hythane process (H2 in the first stage and methane in the second), among others, have been suggested; with most of these hybrid systems unfortunately, scale-up is problematic, due to the requirement of complex instrumentation and/or reactor operation [10–12]. As an alternative solution to the introduction of heterologous pathways or hybrid process development, we have suggested co-production of H2 and ethanol in a simple, single-reactor system [13]. Similar approaches but with different carbon source or target products have been reported. For example, from glycerol which is a more reduced substrate than glucose, co-production of H2 and ethanol by E. coli [14] and Klebsiella sp. [15] has been studied. Equimolar production of H2 and ethanol at 1 mol mol−1 glycerol was obtained successfully [14]. However, due to its limited supply, glycerol cannot be used for sustainable and renewable energy production. Co-production of H2 and acetaldehyde with glucose as carbon source has also been reported. However, in this case, acetaldehyde should be chemically reduced to ethanol to be used as fuel [16].
Under anaerobic conditions, most glucose is metabolized via the Embden–Meyerhof–Parnas (EMP) pathway in facultative
Enterobacter
sp. including
Escherichia coli
. In this pathway, 1 mol of glucose is converted to 2 mol of pyruvate, and 2 mol of NADH is generated. Under anaerobic condition, pyruvate is further metabolized to acetyl-CoA and formate, from which ethanol, acetate, and H
2
are produced (Fig.
1
). In theory, for redox neutrality, 1 mol of acetate, 1 mol of ethanol, and 2 mol of H
2
can be produced from 1 mol of glucose. For production of 2 mol of ethanol (instead of 1 mol of ethanol plus 1 mol of acetate), more NAD(P)H (i.e., 4 mol) must be generated during glycolysis, which is possible when glucose is metabolized through the pentose-phosphate (PP) pathway. However, the theoretical maximum yield for co-production of H
2
and ethanol, according to carbon and energy balance, is 1.67 mol mol
−1
each, not 2.0 mol mol
−1
. It is because that, for production of more NAD(P)H in the oxidative PP pathway, some carbon needs to be sacrificed and converted to carbon dioxide (CO
2
) [
17
]. In a previous study, in order to completely block the EMP pathway, we attempted to disrupt
pgi
, but the strain could not grow under anaerobic conditions [
13
]. Therefore, we deleted the major phosphofructokinase isozyme, PfkA, in
E. coli
BW25113 Δ
hycA
Δ
hyaAB
Δ
hybBC
Δ
ldhA
Δ
frdAB
(designated as SH5), so as to divert carbon flux to the PP pathway. Further, we also eliminated the acetate production pathway (
pta
-
ackA
) and overexpressed Zwf and Gnd, two major enzymes in the PP pathway. The resulting recombinant mutant SH8*_ZG (
E. coli
BW25113 Δ
hycA
Δ
hyaAB
Δ
hybBC
Δ
ldhA
Δ
frdAB
Δ
pta
-
ackA
Δ
pfkA
overexpressing
zwf
and
gnd
) could successfully co-produce ethanol (1.38 mol mol
−1
) and H
2
(1.32 mol mol
−1
) from glucose, without acetate. However, a substantial amount of pyruvate (0.18 mol mol
−1
) was always produced, thus significantly reducing the co-production yields of H
2
and ethanol [
18
].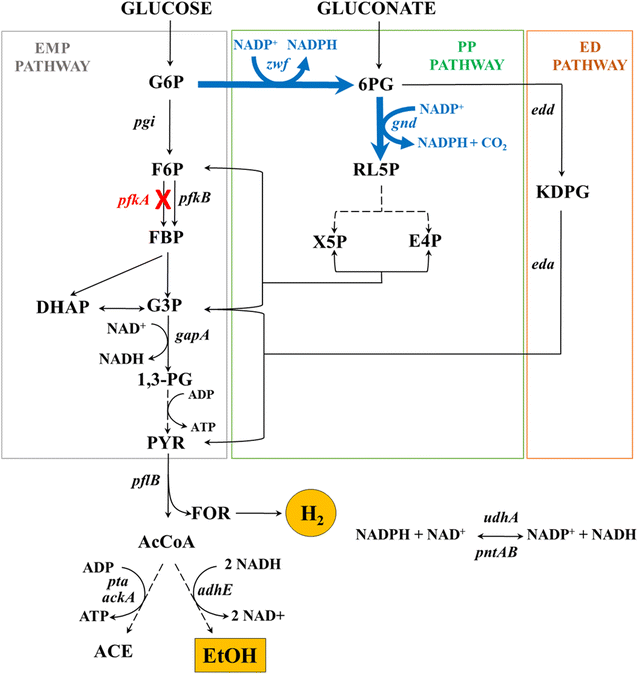 In the present study, as a means of eliminating pyruvate accumulation and improving co-production yields, we developed a new E. coli mutant (designated SH9) with an intact acetate production pathway (E. coli BW25113 ΔhycA ΔhyaAB ΔhybBC ΔldhA ΔfrdAB ΔpfkA) from SH5 and evolved the strain (SH9*) for growth under anaerobic conditions. After Zwf and/or Gnd was overexpressed in SH9*, the recombinant strain was investigated for co-production of H2 and ethanol under various induction conditions. The flux distributions among the three glycolytic pathways (EMP, PP, and ED) as well as transcription of the major enzymes in these pathways were also analyzed. Additionally, the effects of the disruption of the Entner–Doudoroff (ED) pathway on activation of the PP pathway and co-production of H2 and ethanol were evaluated.
Conclusion
In this study, we demonstrated successful co-production of H2 and ethanol by eliminating pyruvate accumulation in the E. coli strain SH9*_ZG. This was possible via down-regulation of the EMP pathway by deletion of pfkA and overexpression of the two major PP pathway enzymes, Zwf and Gnd, while maintaining the acetate production pathway intact. The maximum yields of H2 and ethanol, 1.88 and 1.40 mol mol−1, respectively (both close to the theoretical maximum of 1.67 mol mol−1 for each), were obtained by SH9*_ZG. Analysis of the carbon distribution and gene expression confirmed that the PP pathway was actively functioning in SH9*_ZG. However, due to insufficient NAD(P)H supply, some acetate, up to 0.12 mol mol−1, was produced. To further improve co-production yields, still-unknown hurdles to the operation of the PP pathway as the sole glycolytic route should be identified and removed.
Methods
Strains, plasmids, and materials
The mutant strains were developed from the base strain, SH5, constructed in our previous study [31]. The restriction enzymes, Phusion® high-fidelity DNA polymerase and other DNA-modifying enzymes used for gene cloning, were obtained from New England Bio-Labs (Beverly, MA, USA). The pDK7 plasmid was obtained from Kleiner et al. [32]. The genome for the PCR template was isolated using a genomic DNA isolation kit purchased from Promega (Madison, WI, USA). Mini-preparation of plasmids was performed using the LaboPass™ plasmid extraction kit (Cosmo genetech Co. Ltd., Korea). The oligonucleotides for PCR were synthesized, and amplified PCR fragments were sequenced by Macrogen Inc. (Seoul, Korea). Yeast extract (Cat. 212750) and Bacto™ tryptone (Cat. 211705) were purchased from Difco (Becton–Dickinson; Franklin Lakes, NJ, USA). Unless indicated otherwise, all of the other chemicals were acquired from Sigma (St. Louis, MO, USA).
Construction of recombinant E. coli strains
Plasmids pEcZ, pEcG, and pEcZG from our previous study were used for homologous overexpression of Zwf and Gnd [18]. The recombinant plasmids were constructed from pDK7 with the IPTG-inducible tac promoter. The deletions of pfkA and edd eda were performed using λ-Red recombinase and pKOV methods, respectively. pKD46 vector and linear DNA fragment with homologous regions as well as the recombinant pKOV plasmid were constructed to delete the target gene using the previously described methods [33, 34]. The list of strains constructed in this study is provided in Table 1.
Culture conditions
LB medium was used for culturing cells during recombinant strain construction, and M9 medium was used in co-production experiments. The M9 medium composition is 5.0 g L−1 glucose, 1.0 g L−1 yeast extract, 3.0 g L−1 Na2HPO4, 1.5 g L−1 KH2PO4, 0.5 g L−1 NH4Cl, 0.25 g L−1 NaCl, 0.25 g L−1 MgSO4, 0.01 g L−1 CaCl2, 0.2 mg L−1 NiSO4, 1.4 mg L−1 FeSO4, 0.2 mg L−1 Na2SeO3, 0.2 mg L−1 Na2MoO4, and 8.8 mg L−1 cysteine HCl. Cells were cultured at 37 °C in either a 250 mL Erlenmeyer flask or a 165-mL serum bottle in an orbital shaker rotating at 200 rpm. The recombinant cells were maintained with kanamycin (50 µg mL−1) and chloramphenicol (25 µg mL−1) whenever cultured. For anaerobic experiments, the serum bottles containing M9 media were purged with argon for 15 min to remove oxygen present in the headspace and media. The expression levels of Zwf and Gnd were initiated by the addition of 0.1 mM IPTG at the beginning of cultivation. In the differential expression experiment the IPTG concentration was varied at 0–0.2 mM.
RNA extraction and real-time PCR
Samples for real-time PCR (RT-PCR) analysis were collected in the late exponential growth phase during the fermentation experiment. The RNA in the samples was stabilized by adding two volumes of RNAprotect reagent (Qiagen Korea Ltd., Korea) and processed as dictated in the protocol. The cell pellets, as treated with RNAprotect, were stored at −80 °C prior to extraction of total RNA. A Nucleospin® RNA isolation kit (MachereyNagel, Germany) was used to isolate the total RNA from the processed pellets. The RNA was quantified in a UV-spectrophotometer and checked in agarose gel for integrity and concentration. The isolated total RNA and random hexamers were used to synthesize cDNA using the SuperScript III first-strand synthesis system (Thermo Fisher Scientific, Waltham, MA, USA). RT-PCR analysis was performed using the synthesized cDNA, gene-specific primers and Power SyBr® Green (Thermo Fisher Scientific). RT-PCR was performed in a 48-well StepOne real-time PCR system (Thermo Fisher Scientific), and rpoD was used as an endogenous control. The experiment was performed in duplicate, and relative mRNA quantification was performed according to the ΔC T method [35].
Genome sequencing of adapted strains
The genomes of the SH9 and SH9* strains were sequenced by next-generation sequencing [36]. The genome isolation and sequencing were performed by Macrogen Inc., Korea, using the Illumina HiSeq 2000 sequencer. The genome sequence of E. coli BW25113 (GenBank accession no. CP009273.1) was used as seen in Ref. [37]. The SH9 and SH9* genomes were compared, and the single-nucleotide polymorphisms (SNPs) and insertions/deletions (INDELs) were analyzed in the adapted strain.
Determination of enzymatic activities
The enzymatic activities of Zwf and Gnd were measured as outlined previously, though with slight modifications to the protocol [38, 39]. Briefly, Zwf activity was determined with 0.5 mM of glucose-6-phosphate as the substrate and 0.2 mM of NADP+ as the cofactor. Gnd activity was determined in the same manner, except with 6-phosphogluconate as the substrate. The assay buffer contained 50 mM Tris–HCl buffer (pH 7.5) and 10 mM MgCl2. Soluble fractions of the culture were incubated at 30 °C for 2 min in the reaction buffer, and the assay was initiated by the addition of the substrate and co-factor. The reduction of NADP+ was monitored at 340 nm, and the enzymatic activity was calculated. One unit of enzymatic activity is defined as the number of µmoles of NADP+ reduced per minute. Soluble transhydrogenase (UdhA) activity was measured according to the protocol defined by Boonstra et al. [28]. Briefly, the reduction of thio-NAD+ by UdhA was measured at 400 nm with NADPH as the substrate.
Analytical methods
The cell growth was determined periodically by measurement of the optical density (OD600) of the cultures at 600 nm using a UV spectrophotometer (Lambda 20, Perkin Elmer, USA). The gases present in the headspace of the serum bottles were measured by gas chromatography (DS6200 Donam Systems Inc., Seoul, Korea) fitted with a column and thermal conductivity detector. The amounts of glucose, ethanol, and other metabolites were quantified using high-performance liquid chromatography (Agilent Technologies, HP, 1200 series) installed with an Aminex carbohydrate analysis column, as described in Sankaranarayanan et al. [40]. Protein-expression analysis was performed by SDS-PAGE as described earlier [41]. The protein present in the samples used for determination of enzymatic activity was measured by Bradford assay as described previously [42].
Abbreviations
ADH:

alcohol dehydrogenase
CO2 :

carbon dioxide
ED:

Entner–Doudoroff
EMP:

Embden–Meyerhof–Parnas
GAP:

glyceraldehyde-3-phosphate
H2 :

hydrogen
INDEL:

insertion/deletion
IPTG:

isopropyl-β-D-thiogalactopyranoside
OD600 :

optical density
Pgi:

phosphoglucose isomerase
PP:

pentose-phosphate
RT-PCR:

real-time PCR
SNP:

single-nucleotide polymorphism
Declarations
Authors' contributions
BSS, ES, SMR, and SP designed the research. BSS and ES performed the experiments and wrote the manuscript. The manuscript was revised and critical comments were provided by SMR and SP. All authors read and approved the final manuscript.
Competing interests
The authors declare that they have no competing interests.
Funding
This work was supported by the National Research Foundation of Korea (NRF) Grant funded by the Korea government (MSIP) (2012K1A3A1A19036612). This work was also supported by the Advanced Biomass R&D Center (ABC) of Global Frontier Project funded by the Ministry of Science, ICT and Future Planning (ABC-2011-0031361). The authors are grateful also to the BK21 Plus program at Pusan National University.
Open AccessThis article is distributed under the terms of the Creative Commons Attribution 4.0 International License (http://creativecommons.org/licenses/by/4.0/), which permits unrestricted use, distribution, and reproduction in any medium, provided you give appropriate credit to the original author(s) and the source, provide a link to the Creative Commons license, and indicate if changes were made. The Creative Commons Public Domain Dedication waiver (http://creativecommons.org/publicdomain/zero/1.0/) applies to the data made available in this article, unless otherwise stated.
Authors' Affiliations
(1)
Department of Chemical and Biomolecular Engineering, Pusan National University, Busan, Republic of Korea
(2)
Centre for Research and Development, PRIST University, Thanjavur, India
Copyright
© Sundara Sekar et al. 2016