Identification and characterization of the glucose dual-affinity transport system in Neurospora crassa: pleiotropic roles in nutrient transport, signaling, and carbon catabolite repression
Biotechnology for Biofuels
2017
10:17
Received: 18 July 2016
Accepted: 7 January 2017
Published: 19 January 2017
Abstract
Background
The glucose dual-affinity transport system (low- and high-affinity) is a conserved strategy used by microorganisms to cope with natural fluctuations in nutrient availability in the environment. The glucose-sensing and uptake processes are believed to be tightly associated with cellulase expression regulation in cellulolytic fungi. However, both the identities and functions of the major molecular components of this evolutionarily conserved system in filamentous fungi remain elusive. Here, we systematically identified and characterized the components of the glucose dual-affinity transport system in the model fungus Neurospora crassa.
Results
Using RNA sequencing coupled with functional transport analyses, we assigned GLT-1 (K m = 18.42 ± 3.38 mM) and HGT-1/-2 (K m = 16.13 ± 0.95 and 98.97 ± 22.02 µM) to the low- and high-affinity glucose transport systems, respectively. The high-affinity transporters hgt-1/-2 complemented a moderate growth defect under high glucose when glt-1 was deleted. Simultaneous deletion of hgt-1/-2 led to extensive derepression of genes for plant cell wall deconstruction in cells grown on cellulose. The suppression by HGT-1/-2 was connected to both carbon catabolite repression (CCR) and the cyclic adenosine monophosphate-protein kinase A pathway. Alteration of a residue conserved across taxa in hexose transporters resulted in a loss of glucose-transporting function, whereas CCR signal transduction was retained, indicating dual functions for HGT-1/-2 as "transceptors."
Conclusions
In this study, GLT-1 and HGT-1/-2 were identified as the key components of the glucose dual-affinity transport system, which plays diverse roles in glucose transport and carbon metabolism. Given the wide conservation of the glucose dual-affinity transport system across fungal species, the identification of its components and their pleiotropic roles in this study shed important new light on the molecular basis of nutrient transport, signaling, and plant cell wall degradation in fungi.
Keywords
Glucose transporterDual-affinityGLT-1HGT-1/-2CellulaseSignaling
Background
Organisms dynamically interact with their biotic and abiotic environments by adjusting cell transcriptional and post-transcriptional programs in response to external nutrient (like sugar) changes and stress stimuli. In theory, nutrient transport, sensing, and downstream signal transduction are critical for the coordination of extracellular nutrient availability with internal metabolism, development, and cell survival [1–3]. Glucose acts as a primary carbon source as well as a pivotal signal that triggers a cellular regulatory network influencing sugar transporter expression, carbon catabolism, and biomass accumulation. In particular, glucose sensing and uptake are critical for cellulase expression regulation via carbon catabolite repression (CCR) [4, 5]; therefore, elucidating the molecular basis of glucose transport is critical for plant biomass deconstruction and bio-based chemical and fuel production. The glucose transport system of Saccharomyces cerevisiae is the best documented system among fungal species, and consists of 20 different hexose carriers belonging to the major facilitator superfamily (MFS) [3, 6, 7]. S. cerevisiae possesses a dual-affinity transport system for glucose uptake that is coordinated with these hexose transporters composed of a high-affinity system (K m = 1–2 mM) and a low-affinity system (K m = 15–20 mM) [7]. In the filamentous fungi Neurospora crassa, glucose uptake also behaves in a dual-affinity fashion, with K m values of 10–50 µM (system II) and 8–20 mM (system I) [8–10]. However, the genes of this dual system have still not been uncovered and their functions thus remain to be dissected.
Among the 20 different hexose carries in S. cerevisiae, two transporter-like glucose receptors Rgt2p and Snf3p, which sense low and high levels of external glucose, respectively, mediate a glucose signaling pathway [11, 12]. The recently identified high-affinity hexose transporter Hxt1, the homolog of Rgt2p/Snf3p in Ustilago maydis, also functions in glucose signaling [13]; this indicates the potential of hexose transporters to act as "transceptors" in fungi. Transceptors of other nutrients, such as nitrate, amino acids, phosphate, and cellobiose, have been found in eukaryotes [14–17], but glucose transceptors, to our knowledge, have not yet been definitively characterized, although Hxt1 in Ustilago maydis and GLUT2 in humans might possess this dual function [13, 18].
Another branch of glucose-sensing and signal modulation in fungi is mediated by the cAMP-protein kinase A (PKA) signaling pathway. In S. cerevisiae, binding of glucose to Gpr1p activates the downstream Gα protein Gpa2p, leading to stimulation of the adenylate cyclase Cyr1p, which increases cAMP levels, thereby affecting PKA activity [19]. The PKA pathway regulates a wide range of processes in fungi, including metabolism, cell growth, circadian rhythms, germination, and conidiation (for details, see reviews [19, 20]).
In glucose signaling in N. crassa, the ortholog of yeast Gpr1p is GPR-4 (NCU06312), which has been identified as a carbon source receptor [21]. Ligand binding to GPR-4 can stimulate the downstream Gα protein GNA-1 (NCU06493), leading to an increase in the level of cAMP produced by the activated adenylate cyclase CR-1 (NCU08377) [21]. External glucose sensing is associated with a Rgt2p/Snf3p ortholog RCO-3 (NCU02582)-mediated pathway, in which RCO-3 appears to act as a non-transporting glucose sensor [22]. Mutation of rco-3 leads to complete dysfunction of the low-affinity transport system and partial impairment of the high-affinity system [22].
In this study, we characterized the glucose dual-affinity transport system in the model fungus N. crassa. One low-affinity glucose transporter, GLT-1 (NCU01633), and two high-affinity transporters, HGT-1/-2 (NCU10021 and NCU04963), were identified as the major components of systems I and II, respectively. Simultaneous deletion of hgt-1/-2 (strain Δ2hgt) resulted in a notable increase in cellulolytic enzyme production when N. crassa was grown on cellulose. A group of carbohydrate-active enzymes (CAZys), nearly all glycolytic enzymes and asexual sporulation genes, were differentially expressed in the Δ2hgt mutant according to RNA-Seq. Based on analyses of an array of mutants and point mutations within HGT-1/-2, we hypothesized that the glucose dual-affinity transport system comprising GLT-1 and HGT-1/-2 in N. crassa was involved in glucose transportation, sensing, and downstream signaling cascades. This is the first time the glucose dual-affinity transport system of N. crassa has been systematically elucidated at the gene level. Our findings significantly improve our understanding of glucose uptake and signaling in fungi, and shed new light on plant cell wall deconstruction for cellulosic biorefinery by filamentous fungi.
Discussion
Dual-affinity systems for nutrient transport in filamentous fungi: revision of an old story
In individual organisms, uptake affinities usually vary widely among different nutrients [
8
,
10
,
14
,
66
–
69
]. In filamentous fungi such as
A. niger
and
N. crassa
, glucose uptake at the cellular level behaves in a dual-transport fashion [
8
–
10
,
70
]. Several physiological characteristics of the glucose dual-transporter system in
N. crassa
are worth noting: (1) the low- and high-affinity systems (systems I and II) cover a 1000-fold difference in affinity making this system a good representative model of glucose uptake; (2) system I is a glucose diffusion system, while system II is an active, H
+
-co-transport mechanism; and (3) system I is constantly expressed at high glucose levels, whereas system II is subject to repression by glucose and can be de novo synthesized under low- or no-carbon conditions [
8
–
10
,
23
,
24
,
71
]. The dual-affinity glucose transport system in
N. crassa
has been known about for nearly 50 years since the 1970s but has not been investigated systematically at the gene level until the present study, although some characteristics of
hgt
-
1
and GLT-1 have been identified before [
33
,
40
]. Here, three genes were assigned to this dual-system: GLT-1 forms the low-affinity transport system that takes up glucose under adequate glucose conditions, whereas HGT-1 and HGT-2 comprise the high-affinity system that imports sugar when the external glucose concentration is very low (Fig.
12
). Whether this dual-affinity transport system, which is highly conserved across fungal species (Fig.
11
), increases the adaptability of fungal systems in nature needs to be further investigated. Moreover, because both sensing and import are pivotal for microorganism growth [
72
], the finding that HGT-1/-2 perform glucose signaling in addition to their transport functions suggests a novel role for HGT-1/-2 as sensor-like transporters (the so-called "transceptors") in the dual-affinity transport system, thereby promoting both cell growth and interaction with the environment. Together, the findings here, to our knowledge, represent the first genome-wide molecular characterization of the dual-affinity glucose transport system in filamentous fungi.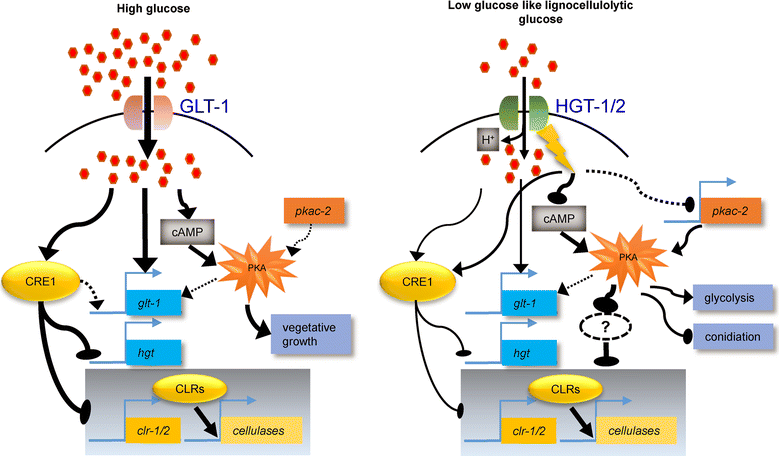 Low- vs. high-affinity systems: a trade-off between transport capacity and gene dosage
Despite the apparent exclusiveness of high-affinity and high-capacity, high-affinity transporters, such as hgt-1/-2, are always highly expressed in derepressed conditions (Fig. 2 and Additional file 5: Figure S3). Even though the low-affinity system I gene glt-1 displayed considerably higher expression than other sugar transporters in the presence of high glucose (Fig. 2), its mRNA level was not at the same order of magnitude as those of hgt-1/-2 under low-glucose conditions (e.g., RPKM = 210 for glt-1 vs. 5,700 for hgt-1; Fig. 2b). In contrast, the V max value of GLT-1 was considerably higher than those of HGT-1/-2 (30.75 ± 1.34 mmol h−1 g−1 DCW for GLT-1 vs. 26.42 ± 0.38 and 78.11 ± 4.46 µmol h−1 g−1 DCW for HGT-1 and -2). This suggests that the high-affinity transport system, consisting of low-capacity transporters, compensates for this inherent kinetic handicap by increasing the number of individual proteins to keep pace with the low-affinity system in uptake velocity. The maximum glucose uptake rate of the derepressible system II was demonstrated to be similar to that of the glucose-inducible system I [8]. The highly expressed high-affinity transport system is therefore able to maintain nutrient homeostasis while external nutrients are being depleted, thereby providing sufficient preparation time for starvation and consequent cell recovery when nutrients are replenished [68].
Glucose transport by the derepressible glucose transporters HGT-1/-2 suppresses lignocellulase gene expression and vegetative growth under carbon-limited environments, thereby favoring fungal sporulation for survival
In a number of filamentous fungi, deletion of cre-1/creA/cre1 promotes the utilization of alternative carbon sources, particularly through derepression of cellulolytic enzymes [4, 73–75]. Although deletion of cre-1 in the Δ2hgt strain resulted in faster growth on Avicel (Fig. 7), simply concluding that the hyper-production of cellulases in Δ2hgt is related to the regulator CRE-1 is not warranted: single deletion of cre-1 only resulted in approximately 30% higher protein production than in the WT [4], far less than the 180–210% increases are seen in the Δ2hgt and Δ2hgt;Δcre-1 mutants (Fig. 7a). HGT-1/-2 appear to connect extracellular glucose signaling with the internal CCR signal, because the Δ2hgt mutant displayed moderate resistance to 2-DG inhibition (Fig. 6d, e). This HGT-mediated suppression is partly associated with CRE-1-mediated CCR, as downregulation of cre-1 in Δ2hgt occurred in the late phase of cellulose utilization (Fig. 6a; Additional file 10: Table S4). Despite these findings, exactly how HGT-1/-2 function with CRE-1 (or other unknown factors) to mediate CCR in N. crassa remains to be elucidated. Intriguingly, the transcriptional regulator vib-1, which was recently found to coordinate glucose signaling and CCR during plant cell wall degradation [5], was not strongly upregulated when hgt-1/-2 were deleted (Additional file 10: Table S4). Future investigations of the regulatory network consisting of VIB-1-mediated CCR and the HGT-mediated glucose response should help to decipher fungal glucose signaling and CCR regulation.
In S. cerevisiae, extracellular glucose can be sensed by two membrane transporter-like sensors, Rgt2p and Snf3p [11]. These two sensors possess a long cytoplasmic C-terminus harboring one or two short conserved sequence blocks that are essential for glucose signal transduction [12]. The identical homolog of Rgt2p/Snf3p in N. crassa is RCO-3 (Fig. 11), which also contains an extremely long C-terminus in the cytoplasm (Fig. 10a). Mutation of rco-3 in N. crassa leads to severe cell defects in glucose uptake as well as decreased growth in the presence of high glucose levels, but the ability to sense low levels of glucose is probably still retained [22]. These results were corroborated in our study: qRT-PCR analysis revealed that glt-1 was dramatically downregulated (~100-fold) in Δrco-3 compared with the WT, resulting in synergistically elevated expression (ten- to 30-fold) of hgt-1/-2 and NCU06358 (Additional file 14: Figure S9). Because the derepression of high-affinity glucose transporters hgt-1/-2 was not affected in the Δrco-3 mutant, RCO-3 might act as a low-affinity glucose sensor [22], whereas HGT-1/-2 are high-affinity ones.
Intriguingly, glycolysis and fermentation were stimulated in Δ2hgt (Additional file 11: Table S5). This phenomenon is quite similar to the "Warburg effect" in cancer cells, where glycolysis is improperly activated by several important kinases, such as PI3K/AKT and tyrosine kinase [76]. Similarly, the cAMP-PKA signaling pathway cannot be excluded as a possible explanation for these HGT-dependent functions (Fig. 12): (1) the internal cAMP level was significantly higher in the Δ2hgt mutant during cellulose utilization (Fig. 9); (2) pkac-2, one of only two PKA catalytic subunits reported to date in N. crassa [57], was strongly and constantly upregulated (Additional file 11: Table S5); and (3) asexual conidiation-related genes were extensively inactivated in Δ2hgt (Additional file 11: Table S5). In N. crassa, inactivation of PKA leads to strong derepression of submerged-culture conidiation as well as aerial sporulation [57, 77]. Future investigations of the connection between HGT and the cAMP-PKA signaling pathway as well as the specific roles of HGT in glycolysis, plant cell wall deconstruction, and sporulation will help us to understand the architecture of nutrient signaling regulation in filamentous fungi (Fig. 12).
Sporulation and quiescence are conserved strategies for survival when organisms encounter nutrient depletion or other chemical/physical stresses [78, 79]. In this regard, signaling to suppress vegetative growth and activate sporulation is a preferred mechanism for fungi to overcome severe growth environments. As revealed by this study, HGTs are strongly derepressed under carbon-limited or lignocellulolytic conditions, which lead to the inactivation of glycolysis but activation of asexual sporulation (Fig. 12). HGT-mediated repression of cellulosic growth therefore favors fungal conidiation, which might be beneficial for species survival under carbon-limited environments. Conversely, upon encountering plentiful glucose, it should be noted that N. crassa can inhibit system II [23] and synergistically elevate the expression of the low-affinity transporter glt-1 for cell proliferation (Fig. 12).
Conclusions
In this study, HGT-1/-2 and GLT-1 were identified as major derepressible and glucose-inducible components, respectively, of the high- and low-affinity glucose transport systems in N. crassa. Growth defects due to loss of glt-1 were restored by upregulation of the high-affinity transporters hgt-1/-2. In addition to their glucose-transporting functions under carbon-limited or cellulolytic conditions, HGT-1/-2 also mediate glucose signaling to connect extracellular nutrient availability with internal catabolite repression and metabolism, and thus may act as glucose transceptors. Simultaneous deletion of hgt-1 and hgt-2 leads to comprehensive derepression of a large group of genes including those encoding glycolysis enzymes and plant cell wall-degrading enzymes, which are associated with CRE-1-related CCR, transcriptional regulation by CLR-1/-2, and the cAMP-PKA signaling pathway. Given the wide conservation of these dual-affinity transport components across the fungal kingdom, future investigations of GLT-1 and HGT-1/-2, and studies of HGT-mediated signaling in other fungal systems will shed new light on long-standing questions about the physiological roles and evolutionary traits of the dual-affinity transport system, and thus inform studies on fungal glucose signaling, pathogenicity, and plant cell wall deconstruction for biorefinery.
Methods
Strains, media, and culture conditions
The N. crassa WT strain (FGSC2489) and mutants Δglt-1 (FGSC13161), Δhgt-1 (FGSC22819), Δhgt-2 (FGSC18807), ΔNCU05897 (FGSC13717), ΔNCU00450 (FGSC15906), and Δrco-3 (FGSC17928) were obtained from the Fungal Genetics Stock Center (FGSC) [80]. The mutant Δcre-1 was a gift from the laboratory of Professor N. Louise Glass of the University of California, Berkeley. Multiple deletion mutants were generated via sexual crosses of the above-mentioned mutants (FGSC protocol, http://www.fgsc.net/Neurospora/NeurosporaProtocolGuide.htm). Artificial misexpression strains were constructed by transforming the Δ2hgt;his-3 − strain with the linearized plasmid pMF272 harboring the clock-controlled gene 1 (ccg-1) or M. grisea ribosomal protein 27 (MgRP27) [44, 48] promoters, various gene-coding sequences or point-mutated analogs, and flanking regions from the his-3 gene sequence [81]. Transformants with histidine prototrophy were selected for further purification via microconidial separation (FGSC protocol, http://www.fgsc.net/Neurospora/NeurosporaProtocolGuide.htm). At least three purified biological transformants per selected gene were used for downstream experiments. N. crassa strains were pre-grown on slants containing 3 mL Vogel's minimal medium [82] with 2.0% (w/v) sucrose as a sole carbon source for 1–2 days in darkness at 28 °C, followed by constant light for 6–8 days at room temperature to obtain mature conidia. Unless indicated, N. crassa conidia were inoculated into liquid Vogel's minimal medium with various carbon sources at 106 conidial mL−1 with constant light shaking at 200 rpm, 25 °C. For CCR sensitivity analysis, 2-DG (Sigma-Aldrich, St. Louis, MO, USA) was added to 100 mL liquid Vogel's minimal medium containing 2.0% Avicel PH-101 (Sigma-Aldrich) to a final concentration of 0.1%.
For media shift experiments, N. crassa cultures were pre-grown on 100 mL Vogel's salts supplemented with 2.0% sucrose for 16 h, with the generated mycelia then filtered through six layers of gauze and immediately washed with sterilized water at least five times. The mycelia from each flask pre-culture were then transferred to 100 mL Vogel's medium containing 0–10% glucose as the sole carbon source, followed by 60-min growth according to previous studies [23]. The mycelia were subsequently sampled via filtration and flash frozen in liquid nitrogen for total RNA extraction. For low-glucose uptake assays, the washed mycelia were transferred to 100 mL carbon-free Vogel's medium with shaking for 90 min [23]. The carbon-starved mycelia were then centrifuged at 3220×g for 5 min, and approximately 4 mL wet mycelia were transferred into new medium containing 100 mL Vogel's salts plus 0.02% glucose with shaking at 25 °C and 200 rpm. Culture supernatants (500 µL) were taken at indicated time points (0, 5, 10, 20, and 30 min) and immediately filtered through 0.22-µm membranes. Each mycelial culture used for the glucose uptake assay was harvested, dried, and weighed. Glucose concentrations were measured with a Megazyme d-Glucose Assay kit according to the manufacturer's instructions (Megazyme, Wicklow, Ireland). Equivalent glucose uptake was defined as the amount of glucose consumed per gram of dried mycelia.
Saccharomyces cerevisiae EBY.VW4000 [41], a gift from Professor Eckhard Boles, was grown in YPM medium (1.0% yeast extract, 2.0% peptone, 2.0% maltose, and optionally 2.0% agar) for subsequent use. Recombinant strains were cultured in synthetic complete medium (SC) supplemented with drop-out amino acids lacking uracil (Ura−) and 2.0% glucose or maltose as the sole carbon source (with or without 2.0% agar). For the growth complementation assay, recombinant strains were incubated in liquid SC (Ura−) medium with maltose. Cells were harvested at an optical density at 600 nm (OD600) of 1.0–2.0, washed twice with distilled water, and resuspended in distilled water to an OD600 of 0.25–0.30. Serially diluted cells (×1, ×10, and ×100; 2 µL for each diluted clone) were plated on solid SC (Ura−) medium containing either maltose or glucose. Growth on maltose or glucose medium at 3 or 6 days, respectively, was photographed with a Canon camera (Canon EOS207, Japan).
Plasmid construction
The open reading frames (ORFs) of cre-1, hgt-1/-2, and glt-1 were amplified from the cDNAs of N. crassa. For misexpression of these genes in the Δ2hgt mutant, their ORFs were inserted into the multiple cloning sites of the shuttle vector pMF272 [83] driven by either the ccg-1 or the MgRP27 promoter and tagged with enhanced green fluorescence protein (eGFP). The analogs hgt-1(R172K), hgt-2(R155K), and glt-1(R167K) were generated by site-directed mutagenesis using high-fidelity PCR polymerase (Thermo Fisher Scientific, Waltham, MA, USA). For heterologous expression in S. cerevisiae, these transporter ORFs were recombined with the yeast shuttle vector pRS426 [84] fused with the native phosphoglycerate kinase-1 (pgk-1) promoter and the eGFP reporter gene. Cloning primers are listed in Additional file 15: Table S6. Restriction enzymes were purchased from Thermo Fisher Scientific. All recombinant plasmids were amplified in Escherichia coli strain DH5α and sequenced for gene authenticity.
RNA extraction, sequencing, and data analysis
Mycelial sampling and total RNA extraction were performed as described in a previous study [43]. Briefly, cultured mycelia were harvested by filtration and immediately frozen in liquid nitrogen. Total RNA was isolated with Trizol reagent (Invitrogen, Carlsbad, CA, USA) and further purified using DNase I (RNeasy Mini kit, Qiagen, Hilden, Germany). The RNA concentration and OD260/OD280 were measured with a Nanodrop 2000c (Thermo Scientific), and RNA integrity was checked by agarose gel electrophoresis and using an Agilent 2100 (Agilent Technologies, Santa Clara, CA, USA).
Qualified RNA with an OD260/OD280 >1.8 and RIN (RAN Integrity Number) >7.0 was prepared according to Shenzhen BGI (Shenzhen, China) and Novogene (Tianjin, China) standard protocols, and sequenced on an Illumina HiSeq 2000/2500 platform (San Diego, CA, USA). The biological reproducibility of the RNA-Seq data was demonstrated to be high through sample-to-sample clustering [25] and Spearman correlation analysis (Additional file 1: Figure S1, Additional file 9: Figure S6). Read mapping and counting using TopHat2 (version 2.0.12) [85] and HTSeq (version 0.6.0) [86] was performed as previously described [43]. The reads mapped to each transcript were used to calculate normalized transcript abundance (as RPKM [87]) and to perform differential gene expression analysis in GFOLD (version 1.1.0) [88] and DESeq2 (version 1.2.10) [25]. Genes with a DESeq2 P value <1 × 10−4 were considered to be statistically differentially expressed at a robust significance level. Because genes with |GFOLD| > 1 are empirically more likely to be of biological importance [88], a combined criterion of |GFOLD| > 1 and P < 1 × 10−4 was applied for genome-wide differential gene analysis. DESeq2 [25] was used to estimate expression fold-changes, which represent apparent expression changes that may also be useful for assessment of biological expression variations. RNA-Seq raw data are available at the Gene Expression Omnibus under accession number GSE78952.
Hierarchical clustering analysis was performed using Cluster 3.0 [89] or the pheatmap package in R (version 1.0.2) (http://www.r-projectorg). To generate a clustering heatmap, the RPKM values of each gene were log-transformed and calculated by the complete linkage method with Euclidean distance as the similarity metric. Selected differentially expressed genes were submitted to the MIPS Functional Category Database [28], and significantly enriched pathways were estimated.
qRT-PCR
Quantitative real-time reverse-transcription polymerase chain reaction was performed using SYBR Green Realtime PCR master mix (Toyobo, Osaka, Japan) according to the manufacturer's instructions on a CFX96 real-time PCR detection system (Bio-Rad, Hercules, USA). Each reaction was conducted in duplicate or triplicate. The actin gene (NCU04173) was used as an endogenous control for all experiments. All primers used in this study are listed in Additional file 15: Table S6. The relative expression level of each gene was calculated using the 2−ΔΔCt method [90].
cAMP measurements
Samples submerged in Vogel's medium with 2.0% Avicel and cultured for the indicated time periods were harvested by filtration and immediately frozen in liquid nitrogen. Mycelia were finely ground in liquid nitrogen, transferred to 1.0% hydrochloric acid, briefly vortexed, and frozen at −80 °C until use. Before cAMP measurements, the samples were thawed at 4 °C and centrifuged at 12,000×g for 15 min at 4 °C. The supernatant was used for the cAMP assay following the Applied Biosystems (Waltham, MA, USA) protocol. The protein concentration of each supernatant was quantified by the Bradford method (Bio-Rad). The protein in the pellet was solubilized in 0.5% sodium dodecyl sulfate plus 0.1 M sodium hydroxide, vortexed for 30 s, and also measured using the Bradford method.
Secreted enzyme and dried mycelial weight assays
For secreted protein assays, 800 µL of each culture supernatant was collected during the growth period (2–7 days with Avicel and 1–6 days with cellobiose), centrifuged at 15,294×g for 8 min to remove mycelia, and stored at 4 °C for analysis within 24 h or at −20 °C for sodium dodecyl sulfate polyacrylamide gel electrophoresis (Novex NuPAGE Pre-cast Protein Gels; Thermo Fisher Scientific).
The total secreted protein content was determined using the Bradford method (Bio-Rad) with bovine serum albumin as a standard. Carboxymethyl cellulase and xylanase activities were measured using an Azo-CMC/xylan kit (Megazyme) according to the manufacturer's instructions. Exoglucanase activity was assayed as previously described using p-nitrophenyl-d-cellobioside (Sigma-Aldrich) as the substrate [43].
Mycelia grown on sucrose, glucose, and cellobiose for designated times were harvested, dried, and weighed. Biomass dry weights of the Avicel cultures were measured according to a previous study [43] with a slight modification. In brief, 5 mL of thoroughly mixed culture broth was centrifuged at 3220×g for 5 min. After discarding the supernatant, 3 mL 80% (v/v) acetic acid:concentrated nitric acid (10:1, v/v) reagent was added and the mixture was boiled in water for 1 h to solubilize the fungal biomass. This procedure was repeated with a fresh 3-mL aliquot of acetic acid:nitric acid reagent. The reaction mixture (residual Avicel) was then centrifuged, dried, and weighed. Mycelial dry weight was defined as the dry weight of the original 5-mL culture minus that of the reaction mixture.
Microscopy and imaging
Visualization of eGFP-tagged glucose transporters in S. cerevisiae and N. crassa was conducted using a 100 × 1.4 NA oil immersion objective on a Leica TCS SP5 II laser scanning confocal microscope (Leica, Wetzlar, Germany). For confocal microscopy of yeast, single clones of recombinant EBY.VW4000 strains harboring various glucose transporters were inoculated into SC(Ura−) liquid medium supplemented with 2.0% maltose and grown overnight to an OD600 of 1.0–2.0. The cell cultures were centrifuged, washed twice with sterile water, and resuspended in phosphate-buffered saline solution. For microscopy of N. crassa, recombinant N. crassa was pre-grown on Vogel's medium with 2.0% sucrose for 16 h and then briefly washed with sterilized water at least five times and resuspended in Vogel's medium with either 2.0% Avicel, glucose, or no added carbon for 4 h with shaking at 200 rpm and 25 °C. Before confocal scanning, mycelia were treated with 1 µg mL−1 4′,6-diamidino-2-phenylindole for 15 min as needed. Images were processed using the Leica Microsystems LAS AF-TCS MP (version 2.4.1) and ImageJ (version 1.47) software.
Radiolabeled glucose transport
A glucose transport assay in yeast was performed according to a previously published protocol [33].
Phylogenetic analysis
Amino acid sequences of GLT-1 and HGT-1/-2 (http://www.broadinstitute.org) were used as queries in BLASTp searches against the protein sequences in the genomes of A. nidulans, A. niger, A. oryzae, A. fumigatus, M. thermophile, T. reesei, B. cinerea, C. globosum, C. graminicola, F. graminearum, M. oryzae, U. maydis, and T. marneffei in the National Center for Biotechnology Information (NCBI) and DOE Joint Genome Institute (JGI) databases. The best hits with identity >50%, E-value <1 × 10−10, and coverage >60% were selected as the closest homologs of GLT-1 and HGT-1/-2, with the exception of two GLT-1 homologs (Um XP_758184.1: 43% identity; Mo XP_003719105.1: 40% identity). Among these highly conserved homologs, under-documented low- and high-affinity glucose transporters served as positive controls. Hexose transporters of S. cerevisiae and H. sapiens, and reported pure sensors in S. cerevisiae and N. crassa were included as outgroups. The protein sequences of these MFS transmembrane proteins were aligned with ClustalW [91] using the following parameters: protein weight matrix, Gonnet; gap opening penalty, 10; gap extension, 0.2; and gap distance, 5. A phylogenetic tree was constructed under the JTT amino acid substitution model by maximum likelihood in MEGA 5.2 [92], with 1000 bootstrap replicates.
Data plotting
All figures were plotted on the R program platform (http://www.r-project.org/) or Excel 2013. Unless otherwise indicated, values represent the means of at least three replicates; error bars show standard deviations.
Abbreviations
cAMP:

cyclic adenosine monophosphate
CAZy:

carbohydrate-active enzyme
CCR:

carbon catabolite repression
CMCase:

carboxymethyl cellulase
eGFP:

enhanced green fluorescence protein
FGSC:

Fungal Genetics Stock Center
GEO:

gene expression omnibus
MFS:

major facilitator superfamily
PKA:

protein kinase A
qRT-PCR:

quantitative real-time reverse transcription polymerase chain reaction
RPKM:

reads per kilobase per million mapped reads
SDS-PAGE:

sodium dodecyl sulfate polyacrylamide gel electrophoresis
WT:

wild type
Declarations
Authors' contributions
BW and CT conceived and designed the project. BW, JL, and JG performed experiments. BW, JG, and CT analyzed the data. BW and CT wrote the paper. JL, JG, PC, and XH participated in critical discussion and draft revision. All authors read and approved the final manuscript.
Acknowledgements
We thank Professor N. Louise Glass and Professor J. Philipp Benz for manuscript critical reading and Professor Eckhard Boles for generously supplying the hexose-transporter-null yeast strain EBY.VW4000. We also thank Ms. Lixian Wang, Mr. Yong Chen, and Mr. Jinxiao Ji for technical assistance. This work was supported by the National Natural Science Foundation of China (31670042, 31471186) and the key project of Chinese Academy of Sciences (ZDRW-ZS-2016-3).
Competing interests
The Tianjin Institute of Industrial Biotechnology, Chinese Academy of Sciences and the authors have made a patent application for the glucose transporters GLT-1 and HGT-1/-2 for potential applications in biotechnology. There are no non-financial competing interests for any of the authors.
Availability of data and materials
All supporting data are available, including raw RNA-Seq data, which have been deposited into the Gene Expression Omnibus under accession number GSE78952.
Open AccessThis article is distributed under the terms of the Creative Commons Attribution 4.0 International License (http://creativecommons.org/licenses/by/4.0/), which permits unrestricted use, distribution, and reproduction in any medium, provided you give appropriate credit to the original author(s) and the source, provide a link to the Creative Commons license, and indicate if changes were made. The Creative Commons Public Domain Dedication waiver (http://creativecommons.org/publicdomain/zero/1.0/) applies to the data made available in this article, unless otherwise stated.
Authors' Affiliations
(1)
Key Laboratory of Systems Microbial Biotechnology, Tianjin Institute of Industrial Biotechnology, Chinese Academy of Sciences, Tianjin, China
(2)
University of Chinese Academy of Sciences, Beijing, China
(3)
School of Ophthalmology and Optometry, Eye Hospital, State Key Laboratory Cultivation Base and Key Laboratory of Vision Science, Ministry of Health and Zhejiang Provincial Key Laboratory of Ophthalmology and Optometry, Wenzhou Medical University, Wenzhou, China
(4)
School of Life Sciences, Heilongjiang University, Harbin, China