Stepwise metabolic engineering of Escherichia coli to produce triacylglycerol rich in medium-chain fatty acids
Biotechnology for Biofuels
2018
11:177
Received: 17 April 2018
Accepted: 18 June 2018
Published: 25 June 2018
Abstract
Background
Triacylglycerols (TAGs) rich in medium-chain fatty acids (MCFAs, C10–14 fatty acids) are valuable feedstocks for biofuels and chemicals. Natural sources of TAGs rich in MCFAs are restricted to a limited number of plant species, which are unsuitable for mass agronomic production. Instead, the modification of seed or non-seed tissue oils to increase MCFA content has been investigated. In addition, microbial oils are considered as promising sustainable feedstocks for providing TAGs, although little has been done to tailor the fatty acids in microbial TAGs.
Results
Here, we first assessed various wax synthase/acyl-coenzyme A:diacylglycerol acyltransferases, phosphatidic acid phosphatases, acyl-CoA synthetases as well as putative fatty acid metabolism regulators for producing high levels of TAGs in Escherichia coli. Activation of endogenous free fatty acids with tailored chain length via overexpression of the castor thioesterase RcFatB and the subsequent incorporation of such fatty acids into glycerol backbones shifted the TAG profile in the desired way. Metabolic and nutrient optimization of the engineered bacterial cells resulted in greatly elevated TAG levels (399.4 mg/L) with 43.8% MCFAs, representing the highest TAG levels in E. coli under shake flask conditions. Engineered cells were observed to contain membrane-bound yet robust lipid droplets.
Conclusions
We introduced a complete Kennedy pathway into non-oleaginous E. coli towards developing a bacterial platform for the sustainable production of TAGs rich in MCFAs. Strategies reported here illustrate the possibility of prokaryotic cell factories for the efficient production of TAGs rich in MCFAs.
Keywords
Escherichia coli
Triacylglycerol
Medium-chain fatty acid
Acyltransferase
Acyl-ACP thioesterase
Lipid droplet
Background
Worldwide, demand for oil-based products used in the energy industry has increased over recent decades leading to concerns for both the supply and the carbon footprint on the environment. Renewable plant oils, non-seed oils, and microbial oils (or single-cell oils, SCOs) are expected to play vital roles in providing a sustainable source of oils [1, 2]. Triacylglycerols (TAGs) rich in medium-chain fatty acids (MCFAs), including capric acid (C10:0), lauric acid (C12:0), and myristic acid (C14:0), are of particular interest due to their lower freezing point and higher carbon conversion yield. Such oils are important constituents of certain oleochemicals and jet fuels [3–5]. However, the end products of wild-type plant and bacterial fatty acid synthetase activities are mainly C16 and C18 fatty acids. Meanwhile, natural sources of oils rich in MCFAs are restricted to a limited number of plant species, such as Cinnamomum camphora, Cuphea sp., Cocos nucifera, and Umbellularia california, which are unsuitable for mass agronomic production [6].
Several studies have investigated the modification of seed oils to increase MCFA content. Co-expression of MCFA-specific CpuDGAT1, CvFatB1, and CvLPAT2 resulted in 25 mol% of C10 fatty acid in Camelina seed oils with modest effects on seed oil content and plant growth [7]. In addition, the accumulation of MCFAs in Nicotiana benthamiana leaf oils has been recently achieved by introduction of MCFA-specific EgDGAT along with CcFatB or UcFatB [8]. Although microbes including Escherichia coli and Yarrowia lipolitica have been engineered to produce medium-chain free fatty acids, fatty alcohols, fatty acid ethyl esters (FAEEs), or fatty alkanes with varying outcomes [9–11], the accumulation of MCFAs in the form of TAGs is rare in microorganisms, especially prokaryotic microorganisms.
Before achieving accumulation of TAGs rich in MCFAs, TAGs first needs to be synthesized to a high level. The bacterial Kennedy pathway for TAG biosynthesis involves the sequential esterification of glycerol-3-phosphate to produce a central molecular phosphatidic acid (PA) [12]. PA can be dephosphorylated by phosphatidic acid phosphatase (PAP) to produce diacylglycerol (DAG). DAG is subsequently catalyzed into TAG by wax ester synthase/acyl-coenzyme A:diacylglycerol acyltransferase (WS/DGAT). This enzyme is the rate-limiting enzyme, because it leads to the last step of TAG formation. WS/DGATs are unique in oleaginous microorganisms and a few oil crops [13, 14]. Unlike DGAT1 or DGAT2 from eukaryotic algae, plants, and animals, WS/DGAT is the only class of DGAT responsible for TAG formation in bacteria [15]. Among the reported WS/DGATs, AtfA from Acinetobacter baylyi has been evaluated as the best candidate for TAG production in E. coli [16]. Soon after this report, Atf8 from Rhodococcus jostii RHA1 was demonstrated to efficiently facilitate TAG accumulation [17]. In addition, a thermophilic tDGAT from Thermomonospora curvata was shown to yield over 30% of TAGs to neutral lipids in 30 min in E. coli [18]. It would be interesting to compare the abilities of these newly isolated WS/DGATs to atfA.
In contrast to WS/DGATs, only a few bacterial PAPs have been characterized for TAG synthesis [19]. Heterologous expression of PAP encoding genes from oleaginous Streptomyces coelicolor (lppα or lppβ), or from R. jostii RHA1 (ro00075) has resulted in a two-to-sixfold increase in DAG content in E. coli [20, 21]. Furthermore, the combination of LPPα/β along with WS/DGAT Sco0958 leads to TAG accumulation in E. coli BL21(DE3)∆dgkA∆fadE. Both LPPα and LPPβ are considered to be dedicated PAPs involved in generating DAG for TAG biosynthesis, although LPPβ has a higher PAP activity [21]. The PAP encoding gene pgpB is also present in E. coli, but its activity is generally low [22]; however, PgpB has been used for enhancement of TAG production [16].
Acyl-CoA synthetase, responsible for esterification of free fatty acids (FFAs) to acyl-CoA, is crucial for reconstruction of the acyl-CoA-dependent TAG synthesis pathway in E. coli. There is only a single acyl-CoA synthetase (FadD) with broad substrate specificity identified in E. coli [23]. Overexpression of fadD enhances the TAG content in engineered E. coli [16, 24]. By contrast, numerous acyl-CoA synthetase isoforms are characterized from TAG-producing plants, yeasts, algae, or bacteria [15, 25, 26]. In general, mitochondrial-located acyl-CoA synthetase isoforms activate fatty acids for β-oxidation, while endoplasmic reticulum or plastid-localized isoforms contribute to TAG or PL synthesis in eukaryotic cells. However, whether multiple acyl-CoA synthetases exist and which isoforms of these may be responsible for TAG synthesis in oleaginous bacteria have not been determined yet [15].
The central fatty acid metabolism regulator FadR has been well studied and employed in the previous experiments to increase total fatty acids (TFAs), TAGs, or hydroxy fatty acids in E. coli [16, 27]. However, it has also been reported that FadR does not increase the TAG content in E. coli containing 4.5% TAGs (w/w CDW) [28]. Although FadR has dual roles for both stimulating fatty acid synthesis and inhibiting fatty acid degradation, it represses fadD transcription, and thus impairs recycling of FFA for acyl-CoA-dependent TAG synthesis [29].
Enhancement of MCFA flux is aimed at producing TAGs rich in MCFAs. Since both plants and bacteria use a type II FAS system to synthesize fatty acids, many plant MCFA-specific acyl-ACP thioesterases (TEs) have been successfully applied in E. coli for generating high levels of MCFAs [30, 31]. In our recent work, CnFatB3 from Cocos nucifera, CcFatB1 from Cinnamomum camphora, or CpFatB2 from Cuphea pulcherrima have been shown to greatly enhance the MCFA titer in E. coli BL21(DE3) [32]. In addition, ChFatB2 from Cuphea hookeriana leads to high levels of MCFA accumulation in canola but not in Camelina seeds [33, 34]. Whether ChFatB2 can release MCFAs in E. coli has not been tested yet. In addition, bacterial TE LpFat or CtFat does not enhance the MCFA titer, although the MCFA percentage was indeed increased in our previous experiments [32]. Among several tested bacterial TEs from the oleaginous bacterium A. babylyi, only AcTesA' led to the accumulation of C14:0 in E. coli, reaching 7.4 µg/mg CDW [35].
In this study, we focused on the metabolic engineering of
E. coli
aiming to build a sustainable cell platform for the production of TAGs with tailored fatty acids. A Kennedy pathway was reconstructed in
E
.
coli
for the accumulation of high levels of the regular TAGs (Fig.
1
). MCFA flux was enhanced by a specific TE and redirected into TAGs. Nutritional optimization further improved the production of TAG rich in MCFAs by 63%, reaching its highest level of 399.4 mg/L in shake flasks. In addition, lipid droplets (LDs) with a robust structure were observed in engineered
E. coli
, suggesting that other value-added lipids may be produced and then stored in the form of prokaryotic LDs with higher stability and less toxicity to cells.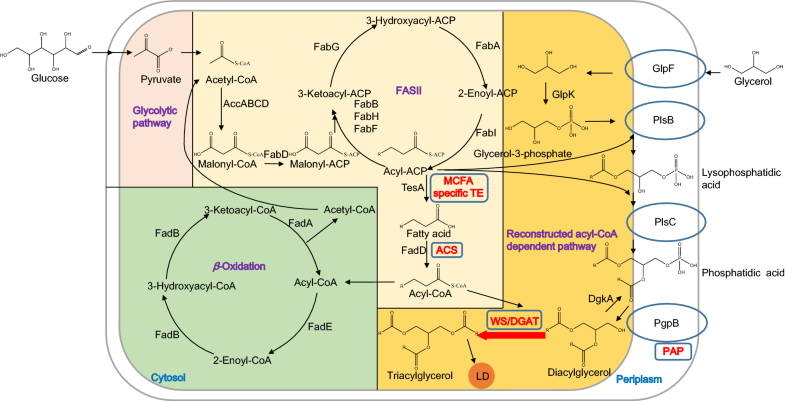 Conclusions
In conclusion, we reconstructed an acyl-CoA-dependent pathway in E. coli by introducing four heterologous genes including tDGAT, RoPAP, RoFadD1, and RoTetR2 to produce high levels of TAG. Co-expression of castor RcFatB with the above genes created MCFA substrates available for TAG assembly. The titers of TAGs rich in MCFAs reached 399.4 mg/L, attaining their highest levels under shake flask conditions. In addition, membrane-bound LDs were formed in engineered E. coli. This illustrated that E. coli as a prokaryotic cell factory has the potential to produce value-added TAG.
Methods
Chemicals, enzymes, and kits
Chemicals including primuline, hexane, acetone, acetic acid, and diethyl ester were purchased from Sigma-Aldrich (St. Louis, USA) or Sinopharm (Shanghai, China). Methanol, chloroform, Phusion polymerase, restriction enzymes, T4 DNA ligase, DNase I, and RevertAid First Strand cDNA Synthesis Kit were purchased from Thermo Fisher Scientific (Beverly, USA). Plasmid Miniprep Kit, Total DNA Extraction Kit, PCR Purification Kit, and Gel Extraction Kit were purchased from TianGen (Beijing, China). RNA Protect Reagent and RNeasy Mini Kit were purchased from Qiagen (Hilden, Germany). Power SYBR® Green PCR Master Mix was from Applied Biosystems (Massachusetts, USA). FFA, DAG, TAG, or FAEE standards were purchased from Nu-Chek (Elysian, USA) or Larodan (Stockholm, Sweden).
Strains, media, and growth conditions
Escherichia coli DH5α was used for plasmid construction and propagation. E. coli BL21(DE3) was used for gene expressing and TAG production. Cells were cultivated in Luria–Bertani medium (LB, 1% (w/v) tryptone, 0.5% (w/v) yeast extract, and 1% (w/v) NaCl) at 37 °C with shaking at 200 rpm for cell inoculation or plasmid propagation. Appropriate antibiotics were added at the following concentrations: kanamycin 50 mg/L, ampicillin 100 mg/L, spectinomycin 50 mg/L, or chloramphenicol 34 mg/L, respectively. Auto-induction medium ZYP-5052 with appropriate antibiotics was mainly used for TAG production [43]. For time-course experiment, cells were collected after culturing in ZYP-5052 at 37 °C with shaking at 200 rpm for 6, 12, 24, 36, and 48 h, respectively.
For nutrient optimization, 16 designed media were tested for TAG production. The detailed information of the designed media is listed in Additional file 10: Table S1. Cells were cultured at 37 °C with shaking at 200 rpm for 48 h.
Plasmid construction and gene expression
All constructed strains and plasmids used in this study are summarized in Additional file 11: Table S2. Oligonucleotides used as PCR primers are listed in Additional file 13: Table S3. PAP encoding genes RoPAP (WP_005246202) from R. opacus PD630 and RjPAP (WP_011593404) from R. Jostii RHA1 were chemically synthesized and inserted into pCDFDuet-1, respectively. Then, each gene was subcloned into the downstream of atfA (AAO17391, from A. baylyi ADP1) flanked by a Ribosome-Binding Site (RBS) sequence (AAGGAG). Other WS/DGAT encoding genes include atf1 (EHI42943) and atf2 (EHI41112) from Rhodococcus opacus PD630, atf8 (ACY38595) from R. jostii RHA1, tDGAT (WP_012854133) from Thermomonospora curvata DSM 43183, and atfA_co (atfA was codon optimized for E. coli expression). Each above WS/DGAT encoding gene was chemically synthesized and subcloned into upstream of RoPAP flanked by a RBS sequence, located in the EcoRI/NotI sites of pCDFDuet-1. Acyl-CoA synthetase genes RoFadD1 (EHI43506) or RoFadD2 (AHK27355), from R. opacus PD630, were then inserted into the NdeI/XhoI located at the second multiple cloning sites (MCS2) of pCDFDuet-1. Fatty acid metabolism regulators fadR from E. coli, or RoTetR1, RoTetR2, and RoTetR3 from R. opaque PD630 were subcloned into pET28a in our previous work [32]. For assembling multiple genes into one vector, tDGAT and RoPAP, flanked by RBS were introduced into EcoRI/NotI sites of pCDFDuet-1, while RoFadD1 and RoTetR2 flanked by RBS were inserted into NdeI/XhoI sites, generating the plasmid pCDFDuet::tDGAT/RoPAP::RoFadD1/RoTetR2. The detailed information on constructed plasmids is shown in Additional file 6: Figure S6.
TE genes RcFatA (NP_001310680) and RcFatB (NP_001310677) from Ricinus communis, ChFatB2 (AAC49269) from C. hookeriana, AcTesA' from A. baylyi were all codon-optimized, chemically synthesized, and inserted into pACYCDuet-1, respectively. Three other plant TE genes, CnFatB3, CcFatB1, and CpFatB2, previously constructed in pACYCDuet-1 vector [32], were also used in this study. The gene RcFatA or RcFatB with RBS at 5′-end was also inserted into pCDFDuet::tDGAT/RoPAP::RoFadD1/RoTetR2 via seamless assembly technology to generate pCDFDuet::tDGAT/RoPAP::RoFadD1/RoTetR2/RcFatA or pCDFDuet::tDGAT/RoPAP::RoFadD1/RoTetR2/RcFatB, respectively (Additional file 6: Figure S6).
Lipid analysis
Escherichia coli cells were cultured each in 50 mL medium, and the mass of the freeze-dried cells was measured. Total lipids were isolated from two and half or five milligram of the freeze-dried E. coli cells according to a previous method [16]. The extracted lipids were separated by thin-layer chromatography (TLC) using a solvent system (hexane:diethyl ester:acetic acid = 70:30:1), and visualized by spraying with 0.01% primuline dissolved in 80% acetone. The bands corresponding to FFA and TAG were recovered from TLC plates and methylated as previously described [1]. The resulting fatty acid methyl esters (FAMEs) were then analyzed using a 7890A gas chromatography (GC, Agilent technologies, USA) equipped with a flame ionization detector (FID) and an HP-FFAP column (30 m × 250 µm i.d. × 0.25 µm thickness). For quantification, either 10 µg of C15:0-TAG and 5 µg of C15:0-FFA (for low levels of TAG or FFA) or 20 µg of C15:0-TAG and 10 µg of C15:0-FFA were added into samples as internal standards before lipid extraction, respectively. Lipids from 2 mg dried cells were directly methylated to FAMEs and analyzed by GC as described above, to quantify cellular TFA.
Shotgun lipidomic analysis of TAG profile was done by liquid chromatography–mass spectrometry (LC–MS) [52]. Briefly, a hybrid triple quadrupole/linear IT mass spectrometer, API 4000 Q-Trap (AB SCIEX, Foster City, CA, USA), operating under an Analyst software system was utilized here. The heater temperature along the ion transfer capillary was maintained at 300 °C. The shelter gas (nitrogen) pressure was 344.75 kPa. The diluted lipid (0.01–0.06 mg/mL) was directly infused into the ESI source at a flow rate of 0.02 mL/min. TAG profile was analyzed with tools at the website: http://www.lipidmaps.org.
Microscopy analysis
For transmission electron microscopy (TEM) imaging, cells were fixed with 2.5% glutaraldehyde and 2% paraformaldehyde in 0.1 M phosphate buffer pH7.4 under vacuum for 24 h. For super-resolution microscopy observation, aliquots (200 µL) of cell cultures grown for 12, 24, 36, or 48 h were harvested, washed and dissolved in phosphate-buffered saline (PBS), and then stained with 2 µL of Nile Red (1 mg/mL in acetone stock) for 30 min in the dark. Stained cells were washed three times with PBS and then suspended in 100 µL PBS. Samples were observed immediately using a Structured Illumination Microscope (N-SIM, Nikon, Japan) equipped with an EMCCD camera (iXon DU-897, Andor, Northern Ireland) and a 100 × 1.49 NA TIRF objective (CFI Apo TIRF, Nikon, Japan). The fluorescence was excited with a 561 nm laser and detected by a 570–640 nm bandpass emission filter. Images were captured in multiple phases and angles of the illumination pattern and then directly reconstructed with the Nikon NIS-Elements Ar software. The final pixel size of SIM image was 30 nm.
Abbreviations
MCFA:

medium-chain fatty acids
CDW:

cell dry weight
DAG:

diacylglycerol
WS/DGAT:

wax ester synthase/acyl-Coenzyme A:diacylglycerol acyltransferase
FAME:

fatty acid methyl ester
FFA:

free fatty acid
TFA:

total fatty acid
SCO:

single-cell oil
TAG:

triacylglycerol
acyl-ACP:

acyl-acyl carrier protein
TE:

acyl-ACP thioesterase
TLC:

thin-layer chromatography
FAEE:

fatty acid ethyl ester
LD:

lipid droplet
Declarations
Authors' contributions
LW, XZ, SS, FH, and XW conceived this project. XL, LW, and ZH carried out experimental work. LW, WC, and XW analyzed and interpreted the data. XZ, SS, and XW wrote the paper. All authors assisted in the process. All authors read and approved the final manuscript.
Acknowledgements
We are grateful to Ling Luo for providing help with electronic artwork.
Competing interests
The authors declare that they have no competing interests.
Availability of data and materials
All data generated or analyzed during this study are included in this article and its additional files.
Consent for publication
Not applicable.
Ethics approval and consent to participate
Not applicable.
Funding
This work was supported by Chinese Academy of Agricultural Sciences (Grant Number CAAS-ASTIP-2013-OCRI) and Ministry of Science and Technology of the People's Republic of China (Grant Number 2016YFD0501209).
Publisher's Note
Springer Nature remains neutral with regard to jurisdictional claims in published maps and institutional affiliations.
Open AccessThis article is distributed under the terms of the Creative Commons Attribution 4.0 International License (http://creativecommons.org/licenses/by/4.0/), which permits unrestricted use, distribution, and reproduction in any medium, provided you give appropriate credit to the original author(s) and the source, provide a link to the Creative Commons license, and indicate if changes were made. The Creative Commons Public Domain Dedication waiver (http://creativecommons.org/publicdomain/zero/1.0/) applies to the data made available in this article, unless otherwise stated.
Authors' Affiliations
(1)
Oil Crops Research Institute of the Chinese Academy of Agricultural Sciences, Wuhan, People's Republic of China
(2)
CSIRO Agriculture & Food, Canberra, Australia
(3)
Key Laboratory of Biology and Genetic Improvement of Oil Crops, Ministry of Agriculture, Wuhan, People's Republic of China
(4)
Oil Crops and Lipids Process Technology National & Local Joint Engineering Laboratory, Wuhan, People's Republic of China
(5)
Hubei Key Laboratory of Lipid Chemistry and Nutrition, Wuhan, People's Republic of China
(6)
State Key Laboratory of Agricultural Microbiology, Huazhong Agricultural University, Wuhan, People's Republic of China