Process intensification through microbial strain evolution: mixed glucose-xylose fermentation in wheat straw hydrolyzates by three generations of recombinant Saccharomyces cerevisiae
Biotechnology for Biofuels
2014
7:49
Received: 20 December 2013
Accepted: 18 March 2014
Published: 3 April 2014
Abstract
Background
Lignocellulose hydrolyzates present difficult substrates for ethanol production by the most commonly applied microorganism in the fermentation industries, Saccharomyces cerevisiae. High resistance towards inhibitors released during pretreatment and hydrolysis of the feedstock as well as efficient utilization of hexose and pentose sugars constitute major challenges in the development of S. cerevisiae strains for biomass-to-ethanol processes. Metabolic engineering and laboratory evolution are applied, alone and in combination, to adduce desired strain properties. However, physiological requirements for robust performance of S. cerevisiae in the conversion of lignocellulose hydrolyzates are not well understood. The herein presented S. cerevisiae strains IBB10A02 and IBB10B05 are descendants of strain BP10001, which was previously derived from the widely used strain CEN.PK 113-5D through introduction of a largely redox-neutral oxidoreductive xylose assimilation pathway. The IBB strains were obtained by a two-step laboratory evolution that selected for fast xylose fermentation in combination with anaerobic growth before (IBB10A02) and after adaption in repeated xylose fermentations (IBB10B05). Enzymatic hydrolyzates were prepared from up to 15% dry mass pretreated (steam explosion) wheat straw and contained glucose and xylose in a mass ratio of approximately 2.
Results
With all strains, yield coefficients based on total sugar consumed were high for ethanol (0.39 to 0.40 g/g) and notably low for fermentation by-products (glycerol: ≤0.10 g/g; xylitol: ≤0.08 g/g; acetate: 0.04 g/g). In contrast to the specific glucose utilization rate that was similar for all strains (qGlucose ≈ 2.9 g/gcell dry weight (CDW)/h), the xylose consumption rate was enhanced by a factor of 11.5 (IBB10A02; qXylose = 0.23 g/gCDW/h) and 17.5 (IBB10B05; qXylose = 0.35 g/gCDW/h) as compared to the qXylose of the non-evolved strain BP10001. In xylose-supplemented (50 g/L) hydrolyzates prepared from 5% dry mass, strain IBB10B05 displayed a qXylose of 0.71 g/gCDW/h and depleted xylose in 2 days with an ethanol yield of 0.30 g/g. Under the conditions used, IBB10B05 was also capable of slow anaerobic growth.
Conclusions
Laboratory evolution of strain BP10001 resulted in effectively enhanced qXylose at almost complete retention of the fermentation capabilities previously acquired by metabolic engineering. Strain IBB10B05 is a sturdy candidate for intensification of lignocellulose-to-bioethanol processes.
Keywords
FermentationXyloseXylitolWheat StrawSteam Explosion
Background
Second-generation biofuel production aims at biotechnological conversion of lignocellulosic biomass into liquid fuels, typically ethanol. Processes currently advancing to commercial scale production are facing two problems in particular. Firstly, for an efficient release of fermentable sugars from the insoluble feedstock, a technically complex and energy-intensive series of upstream processing steps are required [1–3]. Hence, mechanical and thermochemical pretreatment methods, alone or in combination, are applied to degrade and remove the lignin and to enhance the accessibility of the structural carbohydrates hemicellulose and cellulose for the subsequent enzymatic hydrolysis. During this pretreatment, however, secondary decomposition processes lead to formation of by-products, for example furans, phenolic compounds and organic acids, and many of those are inhibitory or even toxic to microorganisms applied to sugar fermentation [1–3]. It is widely accepted therefore that lignocellulose hydrolyzates constitute exceptionally difficult substrates for biotechnological conversions [1, 2, 4, 5]. Since intermediate purification of the hydrolyzate is usually not a viable process option, a key requirement for efficient second-generation bioethanol production is a microbial strain that combines useful fermentation capabilities with high robustness to the overall conditions of the hydrolyzate [1, 2, 4, 5]. Saccharomyces cerevisiae is a sturdy ethanol producer with long-standing history in the fermentation industries. Among the different candidate microorganisms considered, therefore, S. cerevisiae stands out as a highly promising choice for industrial scale applications [6].
Even though the composition of fermentable sugars in lignocellulose hydrolyzates varies strongly depending on the feedstock and the upstream processing technology applied, it is typical for most substrates to contain a significant amount of xylose next to the main glucose [
1
]. A major limitation of
S. cerevisiae
for lignocellulosic bioethanol development is the organism's natural inability to utilize xylose. Metabolic engineering has therefore been key in the development of xylose-fermenting strains of
S. cerevisiae
[
2
,
5
–
8
]. The applied strategies can be classified broadly according to whether xylose assimilation, which occurs through net isomerization of xylose into xylulose, was achieved via two-step oxidoreductive or direct isomerase-catalyzed transformation, as shown in Figure
1
[
9
–
13
]. Recombinant strains derived from either strategy displayed the expected broadening of substrate scope towards xylose. However, their specific xylose uptake rates and ethanol formation rates were still very low in comparison to the corresponding specific rates on glucose [
5
–
7
]. Moreover, xylose fermentation capabilities were usually severely deteriorated upon switching from synthetic substrate conditions to the harsher conditions of a lignocellulosic hydrolyzate [
2
,
6
,
8
,
14
]. A particular downside of strains harboring the oxidoreductive pathway is that a substantial amount of xylose is converted to xylitol and thus lost for ethanol production. Xylitol by-product formation is widely believed to have its origin in a mismatched coenzyme usage, NADP or NAD, during xylose reduction and xylitol oxidation (Figure
1
) [
11
,
15
–
19
]. Coenzyme specificity engineering in xylose reductase (XR; NADPH → NADH) and xylitol dehydrogenase (XDH; NAD
+
 → NADP
+
) was useful to render the two-step isomerization of xylose a more nearly redox-neutral process (Figure
1
) [
15
–
17
,
20
]. However, aside from the intended change in coenzyme specificity, engineered enzymes must also fulfill the requirement of good activity under physiological boundary conditions
in vivo
. Due to their favorable kinetic properties that include high turnover number and apparent substrate and coenzyme affinities well aligned to intracellular metabolite concentrations in xylose-fermenting
S. cerevisiae
, some of the reported XR variants are especially promising for strain development. This is exemplified clearly by strain BP10001 from this laboratory that harbors an optimized NADH-preferring mutant of
Candida tenuis
XR. BP10001 shows a xylitol yield (
Y
Xylitol
) more than halved by comparison to
Y
Xylitol
in the reference strain BP000 that expresses the NADPH-preferring wild-type XR [
16
,
18
–
22
]. Importantly, the lowering of
Y
Xylitol
in BP10001 was not achieved in a trade-off against a decrease in xylose uptake rate (
q
Xylose
) [
20
,
22
]. However,
q
Xylose
of strain BP10001 was still almost two magnitude orders lower than the corresponding
q
Glucose
and it was certainly insufficient for viable co-fermentation of glucose and xylose [
20
,
22
]. It must be emphasized that low
q
Xylose
is a common problem of xylose-fermenting strains of
S. cerevisiae
, regardless of the metabolic engineering strategy applied in their construction [
6
,
7
,
13
].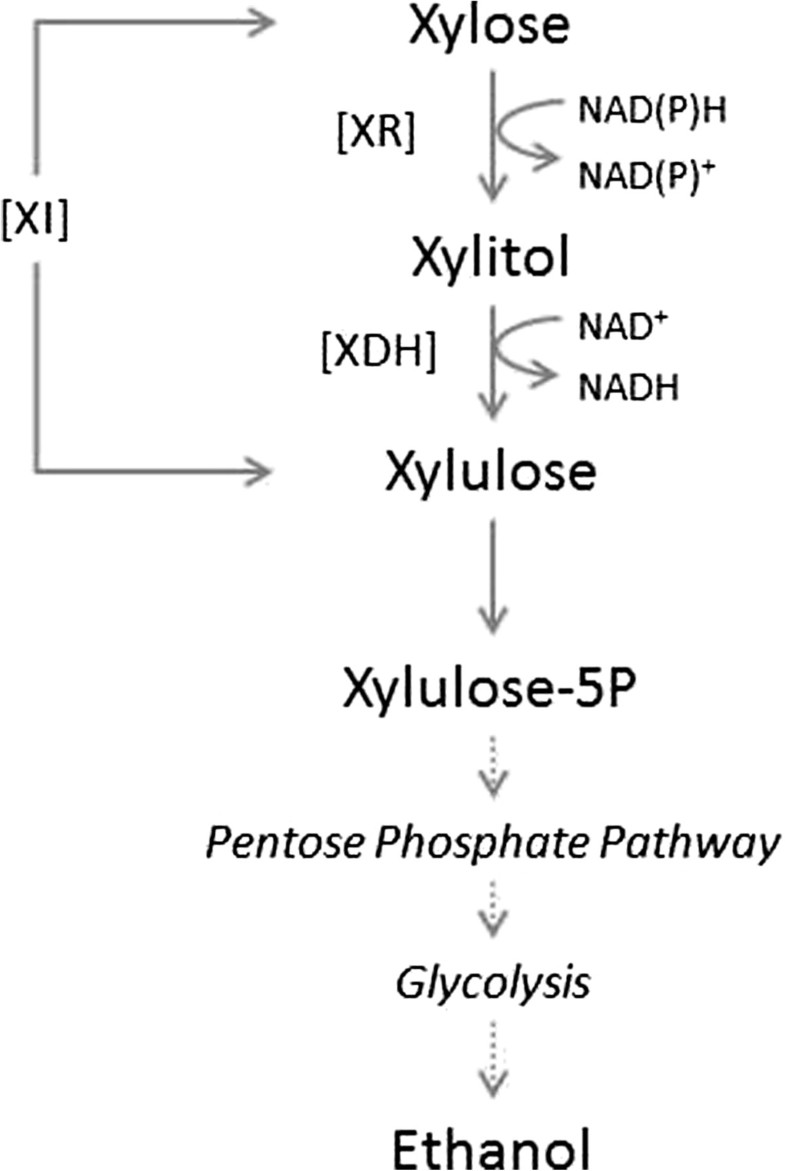 The specific substrate consumption rate is a kinetically complex rate parameter, which often eludes clear-cut dissection into one or more rate-determining transport or reaction steps, these in turn presenting distinct targets for further metabolic engineering. Laboratory evolution presents a long-known method for physiology optimization in microorganisms, and it has recently been adapted as a powerful complement of metabolic engineering to the development of high qXylose strains of S. cerevisiae [23–26]. Improvements in qXylose of up to one magnitude order were achieved using evolutionary engineering, and strains capable of co-utilization of glucose and xylose, and of cellobiose and xylose were obtained [25–28]. Interestingly, some strains also acquired the ability of slow anaerobic growth as a result of the evolution, presumably as a consequence of the enhanced ATP production rate at elevated qXylose [25, 26]. Moreover, resistance to the overall environment of lignocellulose hydrolyzates or certain compounds present in it (for example furfural, acetic acid) could also be improved substantially by evolutionary engineering [23, 29].
We have therefore applied laboratory evolution to strain BP10001 and used specific anaerobic growth rate (μXylose) in combination with high qXylose to select strain IBB10A02 from several anaerobically growing yeast strains thus obtained. Further strain adaption through multiple rounds of batch xylose fermentations resulted in the identification of strain IBB10B05. The two evolved strains plus their parent strain BP10001 were compared in mixed glucose-xylose fermentation of undiluted and non-detoxified wheat straw hydrolyzate, which represents a notably challenging substrate. In Europe, wheat straw is considered to have the highest potential as biomass source for bioethanol production due to its abundance and low cost [30]. Even though wheat straw hydrolyzates have already been utilized as substrate for bioethanol production in the past, efficient xylose conversion often had complex process requirements, for example simultaneous saccharification and fermentation (SSF) [31, 32] or fed-batch processing [33]. Therefore, further improvement in xylose conversion rates and higher ethanol yields at lower by-product formation must still be rendered possible [4–6, 29, 34]. To ensure optimal conditions for xylose fermentation and to keep technical requirements to a minimum level the process was run as separate hydrolysis and co-fermentation (SHCF) with the fermentation accomplished in simple batch cultures [33, 34]. Results presented in this paper delineate marked gain in xylose fermentation efficiency and overall substrate tolerance due to evolutionary engineering, and strain IBB10B05 was identified as a promising candidate for direct glucose-xylose fermentation in unprocessed wheat straw hydrolyzate.
Conclusions
The qXylose is a complex physiological parameter of key technological importance in S. cerevisiae fermentations of lignocellulose hydrolyzates. Laboratory evolution of strain BP10001 to generate strains IBB10A02 and IBB10B05 resulted in effectively (up to 17.5-fold) enhanced qXylose at complete perpetuation of the fermentation capabilities (YEthanol; qGlucose) previously acquired by metabolic engineering. Strain IBB10B05 was identified as a particularly robust candidate for intensification of lignocellulose-to-bioethanol production processes.
Methods
Chemicals and media used
Unless mentioned otherwise, all chemicals were from Carl Roth + Co KG (Karlsruhe, Germany). Defined mineral (M-) medium was prepared as described elsewhere [15], except that riboflavin and folic acid were not added. For use of M-medium under anaerobic conditions, ergosterol (10 mg/L), Tween 80 (0.42 g/L) and 250 μL/L Antifoam 204 (all from Sigma-Aldrich, St Louis, MO, USA) were additionally supplied. YPD medium contained yeast extract (10 g/L), peptone (from casein, 20 g/L) and glucose (20 g/L). YX medium contained yeast extract (10 g/L) and xylose (58 g/L). Medium for anaerobic agar plate cultivation contained yeast extract (8 g/L), peptone (from casein, 10 g/L), xylose (20 g/L), agar (13 g/L), thioglycolate (500 mg/L), L-cysteine (500 mg/L) and resazurin (1 mg/L). All media were brought to pH 6.5, and the pH was verified after sterilization.
Laboratory evolution of strain BP10001 and isolation of strains IBB10A02 and IBB10B05
Strain BP10001 was previously constructed from S. cerevisiae CEN.PK 113-5D through genomic integration of genes encoding a doubly mutated (Lys274-to-Arg; Asn276-to-Asp) variant of XR from C. tenuis and the wild-type XDH from Galactocandida mastotermitis. Another gene copy of the endogenous xylulose kinase 1 was also integrated. Each gene was expressed under control of the constitutive TDH promoter and the CYC1 terminator. Laboratory evolution was carried out with strain BP10001 in two steps. Because evolutionary engineering of BP10001 will be described in a separate paper, only a brief summary is given here. Firstly, strain BP10001 was incubated in 15 mL glass tubes (Pyrex® Brand 9825) containing 10 mL M-medium supplemented with 50 g/L xylose (XM). Each tube was inoculated to a cell density of 0.04 gCDW/L and incubation was at 150 rpm in a CERTOMAT BS-1 incubator shaker (Sartorius AG, Göttingen, Germany) at 30°C for 91 days. Afterwards, 400 μL of cell suspension were plated on agar and incubated in an anaerobic jar at 30°C for 15 days. Single colonies were picked, transferred to new agar plates and further incubated for 5 days. Fast growing colonies were selected for cultivation in tubes as described above. The strain showing the highest μmax (strain IBB10A02), determined as the increase in optical density at 600 nm (OD600) over time, was used for further evolutionary engineering by repetitive batches. Hence, strain IBB10A02 was grown (start OD600 approximately 0.05) under anaerobic conditions in sealed flasks containing XM-medium. At mid-exponential phase (OD600 approximately 1), cells were transferred to a new batch (OD600 approximately 0.05) containing fresh XM-medium. Cells were again cultivated until the mid-exponential phase was reached. This procedure was repeated until the observed μmax was approximately doubled. Positive strains were isolated under anaerobic conditions and tested with respect to μmax and YXylitol and the best performing strain was termed IBB10B05.
Preparation of the lignocellulosic feedstock
Austrian wheat straw was utilized. The wheat straw was air-dried to a water content of approximately 10% (w/w) and the fibers were chaffed in a shredder (GE 365; Viking, Tyrol, Austria) to reduce the fiber length to an average of 3 to 4 cm. Further, the wheat straw was treated by steam explosion at 200°C, 15 bar for 10 min with a water to wheat straw ratio of 3. After cooling the wheat straw was stored at -20°C in plastic bags. Dry mass (DM) and water-insoluble content (WIS) were analyzed in triplicates. For DM determination, a moisture analyzer operated at 105°C (MA 50; Sartorius AG) was used. For WIS determination, 2 g of the wheat straw was washed with 50 mL of 50°C warm water, dried at 105°C for 24 h and weighed. Additionally, the content of structural carbohydrates, lignin and ash in the wheat straw was analyzed in double determination, following the protocol of the National Renewable Energy Laboratory (NREL) [44]. The resulting compositional analysis is depicted in Table 1. Besides the main sugars glucose and xylose, only small amounts of mannose (<1.9% DM wheat straw) and arabinose (<0.9% DM wheat straw) could be detected, and they are summarized as 'others' in Table 1.
Enzymatic hydrolysis
Enzymes for wheat straw hydrolysis were produced using the Trichoderma reesei strain SVG17 as described previously [45]. Briefly, the fungus was cultivated in a BIOSTAT C4 bioreactor (Sartorius AG) with 5 L working volume. Pretreated wheat straw (3% (w/v)) was the sole carbon source. Fermentations were run for 7 to 9 days (30°C, pH 4.5, 20% dissolved oxygen), until no further increase in cellulase activity was detected. Cellulase activity was measured with the filter paper unit (FPU) assay as recommended by the International Union of Pure and Applied Chemistry (IUPAC) [46]. The enzyme solution was harvested by centrifugation (4,420 g, 4°C, 20 min, Sorvall RC-5B; DuPont Instruments, Wilmington, DE, USA) and the supernatant filtered sterile (Whatman Klari-Flex System; GE Healthcare, Little Chalfont, UK). Hydrolyzates were freshly prepared shortly before fermentation from one batch of pre-treated wheat straw. The substrate loading was 5% and 15% DM wheat straw and the enzyme loading was 25 FPU/g DM. Reaction was performed in 10 mM sodium acetate buffer (pH 4.8) in 500 mL shaken flasks with ground in stoppers filled with 200 mL wheat straw suspension. The wheat straw suspension was autoclaved and the enzyme solution sterile filtrated. Incubation was at 50°C and 200 rpm in an incubator shaker (CERTOMAT BS-1) for 48 h. Afterwards, the hydrolyzate was heated to 100°C for 15 min and remaining solids were removed by centrifugation (4,420 g, 4°C, 10 min, Sorvall RC-5B). The pH of the hydrolyzate was set to 6.5 with 1 M NaOH solution. The sugar content of the hydrolyzates was analyzed by HPLC as described below. We noted variation in the composition of the 15% hydrolyzates prepared in different hydrolysis runs (N >10). Glucose and xylose were present at 42.8 ± 3.9 g/L and 21.1 ± 3.1 g/L, respectively. Acetic acid concentration was 3.6 ± 0.5 g/L. Mannose (<0.7 g/L) and galactose (<0.2 g/L) were present in small amounts. Cellobiose showed the highest variation in the range 1 to 5 g/L. Activity of β-glucosidase, which is the enzyme hydrolyzing cellobiose into glucose, may have been limiting in some of the cellulase preparations applied to hydrolysis. Reasons for variation in sugar content of different hydrolyzates are not completely clear at this time, and their examination was left for consideration in the future. However, each yeast strain was used in multiple fermentation experiments (N ≥3) and the reported parameters were not affected significantly by the relevant variations in hydrolyzate composition.
Shaken bottle fermentations
Reactions were performed anaerobically at 30°C. About 80% of the total volume was wheat straw hydrolyzate and the remainder volume was composed of media supplementation (10%) and inoculum (10%). In fermentations of 5% hydrolyzate, M-medium and xylose (58 g/L) were added (5% hydrolyzateX). The 15% hydrolyzate fermentations were supplemented with yeast extract (10 g/L). Starting OD600 in fermentations of the hydrolyzates was 5. Additionally, fermentations were conducted in YX media, with a starting OD600 of 0.5. Seed and starter cultures were prepared in M-media with additional glucose (20 g/L) for fermentations supplemented with mineral media. All others were prepared in YPD media. Yeast strains were stored at -70°C in glycerol stocks and initially plated on YPD agar. Incubation was at 30°C for 48 h. Afterwards, cells were transferred to 500 mL shaken flasks filled with 50 mL of the respective media and incubated at 30°C overnight. Subsequently, cells were transferred to 300 mL of fresh media in 1,000 mL shaken flasks. Starting OD600 was 0.05 and incubation was at 30°C until the exponential growth phase was reached. Cells were harvested by centrifugation (4,420 g, 4°C, 20 min, Sorvall RC-5B) and the cell pellet was washed and resuspended in NaCl solution (9 g/L). Fermentations were accomplished in glass bottles tightly sealed with rubber septa (90 mL working volume). The bottles were sparged with N2 prior to and shortly after inoculation. Incubation was at 30°C and 180 rpm (CERTOMAT BS-1).
Sampling and quantitative analysis of sugars and metabolites
Samples of 1.5 mL were frequently removed from yeast fermentations, centrifuged (15,700 g, 4°C, 10 min, Centrifuge 5415 R; Eppendorf, Hamburg, Germany) and the supernatant stored at -20°C for HPLC analysis. Cell growth was recorded as increase in OD600. Cell dry weight (CDW) was determined as follows. 10 mL of cell suspension was harvested by centrifugation (3,220 g, 4°C, 10 min, Centrifuge 5810 R; Eppendorf), and the cell pellet washed with 10 mL and resuspended in 1 mL NaCl solution (9 g/L). Subsequently, the cell suspension was transferred to pre-dried (105°C, 12 h) glass vials and then dried until weight constancy (105°C, approximately 12 h). The CDW/OD600 correlation was determined to be 0.37 and it was established in triple determination. External fermentation products (ethanol, glycerol, acetate and xylitol) were analyzed by HPLC (Merck-Hitachi LaChrom system, L-7250 autosampler, L-7490 RI detector, L-7400 UV detector; Merck, Whitehouse Station, NJ, USA). The system was equipped with an Aminex HPX-87H column and an Aminex Cation H guard column (both Bio-Rad, Hercules, CA, USA). The operation temperature was 65°C and the flow rate of the mobile phase (5 mM sulfuric acid) was 0.6 mL/h. Carbohydrates (glucose, xylose, arabinose, mannose, galactose and cellobiose) were determined with the same HPLC system but equipped with an Aminex HPX-87P column and a de-ashing guard column (both Bio-Rad). Operation temperature was 80°C for the main column and room temperature for the guard column. The mobile phase was deionized water with a flow rate of 0.4 mL/min.
Data processing and calculations
Reported yield coefficients were always based on mass. Yield coefficients for the xylose phase (Additional files 2 and 4) were calculated for the second phase of the fermentation when glucose was depleted. Carbon balance calculations included metabolite and biomass yields. For the biomass yield a value of 26.4 g/C-mol was utilized [47]. It was further assumed that 1 mol CO2 was formed per mol acetate and ethanol. qGlucose and qXylose were calculated by plotting glucose and xylose concentration against fermentation time and fitting the concentration decay with a suitable equation. The first derivative of the respective equation, normalized on the CDW, was used to calculate the uptake rate, which is given in g/gCDW/h. Similar to previously published studies [22, 40], qXylose was observed to decrease with reaction time (Additional file 5). Values of qXylose reported herein are therefore calculated from the initial period of the xylose phase (when glucose was already depleted fully) and represent arithmetic means of at least two determinations made within the first 5 hours of this phase [48]. The courses of qXylose over time are provided in Additional file 5.
Abbreviations
AN:

Anaerobic
ATP:

Adenosine triphosphate
CDW:

Cell dry weight
DM:

Dry mass
FPU:

filter paper unit
Glc:

Glucose
HCD:

High cell density
HPLC:

High performance liquid chromatography
IUPAC:

International Union of Pure and Applied Chemistry
LCD:

Low cell density
MM/M-medium:

Mineral medium
NADH:

Nicotinamide adenine dinucleotide
NADP:

Nicotinamide adenine dinucleotide phosphate
NREL:

National Renewable Energy Laboratory
OD600:

Optical density at 600 nm
Pep:

Peptone
PPP:

Pentose phosphate pathway
qXylose/Glucose:

Specific xylose/glucose uptake rate
Semi-AN:

Semi-anaerobic
SHCF:

Separate hydrolysis and co-fermentation
SHF:

Separate hydrolysis and fermentation
SSF:

Simultaneous saccharification and fermentation
WIS:

Water-insoluble content
XDH:

Xylitol dehydrogenase
XI:

Xylose isomerase
XM-medium:

Xylose mineral medium
XR:

Xylose reductase
Xyl:

Xylose
Xyl/Glc:

Xylose/glucose
YEthanol/Glycerol/Xylitol/Acetate:

Ethanol/glycerol/xylitol/acetate yield
YPD:

Yeast extract peptone dextrose
YX:

Yeast extract xylose
μXylose:

Maximum specific anaerobic growth rate.
Declarations
Acknowledgements
We would like to thank Rupert Köberl from the Technologie- und Dienstleistungszentrum Ennstal GmbH (Reichraming, Austria) for providing the pretreated wheat straw.
Authors' Affiliations
(1)
Institute of Biotechnology and Biochemical Engineering, Graz University of Technology, Austria
Copyright
© Novy et al.; licensee BioMed Central Ltd. 2014
This article is published under license to BioMed Central Ltd. This is an Open Access article distributed under the terms of the Creative Commons Attribution License (http://creativecommons.org/licenses/by/2.0), which permits unrestricted use, distribution, and reproduction in any medium, provided the original work is properly credited. The Creative Commons Public Domain Dedication waiver (http://creativecommons.org/publicdomain/zero/1.0/) applies to the data made available in this article, unless otherwise stated.