Energy-efficient biomass processing with pulsed electric fields for bioeconomy and sustainable development
Biotechnology for Biofuels
2016
9:94
Received: 4 January 2016
Accepted: 13 April 2016
Published: 27 April 2016
Abstract
Fossil resources-free sustainable development can be achieved through a transition to bioeconomy, an economy based on sustainable biomass-derived food, feed, chemicals, materials, and fuels. However, the transition to bioeconomy requires development of new energy-efficient technologies and processes to manipulate biomass feed stocks and their conversion into useful products, a collective term for which is biorefinery. One of the technological platforms that will enable various pathways of biomass conversion is based on pulsed electric fields applications (PEF). Energy efficiency of PEF treatment is achieved by specific increase of cell membrane permeability, a phenomenon known as membrane electroporation. Here, we review the opportunities that PEF and electroporation provide for the development of sustainable biorefineries. We describe the use of PEF treatment in biomass engineering, drying, deconstruction, extraction of phytochemicals, improvement of fermentations, and biogas production. These applications show the potential of PEF and consequent membrane electroporation to enable the bioeconomy and sustainable development.
Keywords
BiorefineryBioeconomySustainable developmentPulsed electric fieldsElectroporationElectrobiorefinery
Introduction to biorefineries for sustainable development and the need for new technologies
Food, chemicals, and industrial sectors are challenged with the growing population, increasing longevity and quality of life. The increasing demand in these major sectors of economy will increase the consumption of fossils energy sources, agricultural land, and drinking water. This demand could lead to the irreversible changes in climate with unpredictable consequences. A possible direction to address this challenge sustainably is increasing the efficiency of currently used processes and displacement of fossil fuels energy sources by production of useful biomass [1, 2]. This substitution of the fossil resources-derived chemicals and fuels with biomass for the production of food, platform chemicals, and fuels is known as bioeconomy [3]. A basic productive unit in the bioeconomy is biorefinery. Bringing biorefineries to practice is expected to contribute to low-carbon economies, by production of chemicals, energy, and jobs without using fossil fuels [4]. The design and implementation of biorefinery depend on a large number of factors, including availability of feedstocks, advances in the biomass production and processing technologies, environmental impacts, and socio-economic conditions [2, 5].
Despite the long history of biomass use by humans, biomass processing and converting technologies are mostly traditional and not efficient in terms of outputs and energy consumption. Therefore, fossil sources are often preferred for synthetic chemicals production and energy generation. During the last centuries, fossil fuels-based processes achieved very high efficiency (for e.g., ~35 % efficiency of electricity generation in the oil and coal power station and ~60 % in the combined gas turbines) [6]. Today biomass-based processes are fundamentally less efficient than fossil fuel sources as the efficiency of the solar energy conversion to chemical energy by photosynthesis is 5 % at most [7]. However, given the advantages of biomass in terms of low-carbon footprint, and, in some cases, low-water footprint, versatility of products, and local and global availability, there is a strong motivation to develop new processes and technologies that will boost the energy efficiency of biorefineries [8]. One type of these new technologies is based on pulsed electric fields (PEF). First, this technology was developed in the USSR in 1940s and 1950s [9, 10] and then in Europe in 1960s [11] for juices and phytochemicals extraction, and microorganisms inactivation [12]. Recent tremendous developments in the fundamental understanding on PEF impact on cells, development of new processes and technologies, suggest that PEF could become an essential tool for energy-efficient biorefineries [13–15].
The focus of this review is to present and critically discuss the use of PEF in biorefineries that enable bioeconomy (Fig.
1
). First, it briefly describes the fundamentals of pulsed electric field-induced electroporation of biological cell membrane, as well as the technologies and devices at the pilot and industrial scale that are already used for biorefineries applications. Second, the review proceeds with the description of the several processes of the biorefinery that can be positively affected by the use of PEF technology. In particular, the use of PEF for (1) biorefineries feedstock development through gene electroporation, (2) biomass drying, (3) extraction of high added-value products from waste, lignocellulose biomass, and microalgae, (4) extraction of molecules from bacteria and yeast, and (5) biogas production, is discussed with more details. Finally, this paper also suggests next steps that should be followed to integrate PEF technology in the biorefinery networks (Fig.
1
). This review is in part result of networking efforts within the COST TD1104 Action [
15
] and in particular of the workshop organized in Compiegne, France, Jan 27–28, 2015.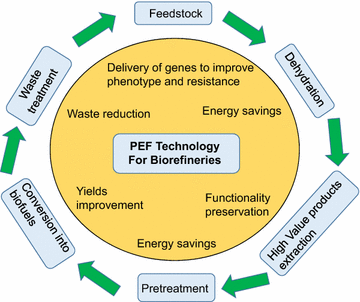 Pulsed electric field technology fundamentals: the cell membrane electroporation phenomena
Induced TMV even though considered relatively small (i.e., 0.2–1 V) is applied across only a short distance—the thickness of a cell membrane is in the order of 10 nm—which corresponds roughly to 1 MV/cm [13]. Recent molecular dynamics (MD) simulation results show that the electric field is non-homogeneous across the membrane [19]. This inhomogeneity can lead to even larger local electric fields. Such electric fields create pores in lipid bilayers, which depends on molecular composition of bilayer among others parameters [19, 20]. The working range of field strengths is usually 5–20 kV/cm for bacteria and archaea; 1–12 kV/cm for microalgae and yeasts; and 0.5–5 kV/cm for plants: [21, 22]. This roughly corresponds to the size of the cell—bacteria and archaea being the smallest, followed by yeast, and plant cells being the largest.
The MD simulations [19] confirm to a large extent a long time prevailing theory on formation of hydrophobic pores created due to membrane exposure to electric field. These hydrophobic pores are then converted into hydrophilic pores through which the transport of molecules occurs. This transport across electroporated membranes of normally impermeable molecules has been experimentally observed in bacteria, eukaryotic cells as well as in archaea [22]. Few artificial membranes have also been electroporated [23].
Although there are still gaps in understanding its basic molecular and cellular mechanisms, electroporation is successfully used in medicine [28, 29], biotechnology [22], and food processing [14, 30] and therefore, could enable industrial scale biomass processing (Fig. 3).
Instruments for large-scale biomass processing
Examples of devices for large-scale processing of biomass
From engineering point of view, high-mass-flow-rate PEF-processing of biomass with a given treatment energy requires large-volume treatment chambers and high pulse repetition frequencies. Large treatment volumes call for large electrode gaps, demanding for high pulse voltage amplitudes and large electrode areas, causing high current flow. In case of limited pulse voltage and current amplitude, mass flow rate can be enlarged by increasing pulse repetition frequency [36].
Fundamental and applied research on the PEF systems in the last four decades led to the development of technologies that enable large-scale biomass processing, required for the industrial scale biorefineries (for e.g., Fig.
5
). To fulfill current requirements, large-scale PEF treatment devices comprise one or several pulse generators (for e.g., Fig.
6
). They are electrically connected to an electrode system for continuous PEF treatment of a flow of material that is established by means of transporting the material through the device. For industrial applications, high reliability for continuous long-term operation and a competitive price for a return-of-invest within a short period of time is of importance. For providing high-voltage pulses, voltage adding e.g., according to the Marx principle is commonly applied [
36
]. Marx-type pulse generator enables voltage multiplication, while each stage component of the generator needs to be designed for the stage voltage only. Depending on the required pulse shape, a single stage can consist of a sole capacitor, a pulse forming network (LC-chain), or a transmission line [
36
]. A conventional Marx circuit, using single capacitors for energy storage, is designed to deliver an exponential-shaped, aperiodically or strongly damped periodically voltage waveform. An approximately rectangular pulse shape can be generated by means of a generator based on LC chains, either as single stage or also in Marx configuration [
37
], and in case of short pulses on the order of 1 µs and preferably less by cable pulse generators [
38
,
39
]. Such a generator, however, requires matching of the load impedance to the generator.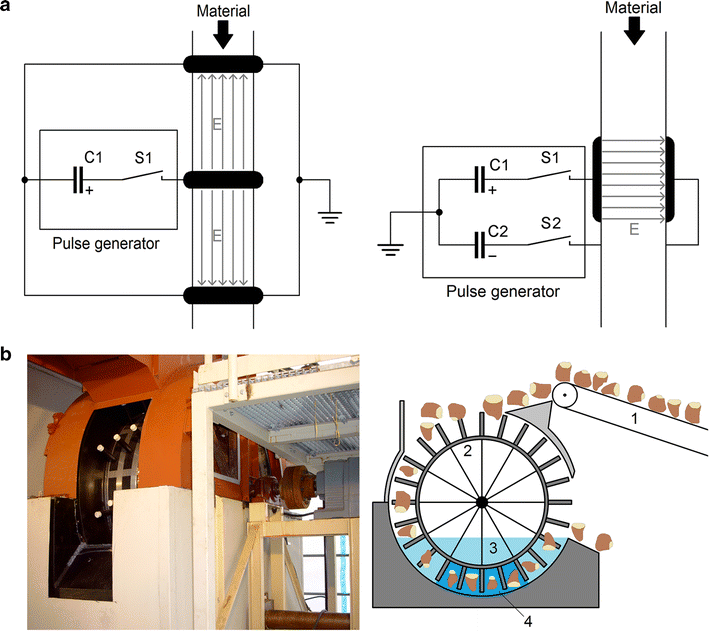 The generators' switching elements significantly determine generator performance. Spark gaps can switch voltages up to the MV range and currents exceeding several 10 kA, and are typical on-switches. Nevertheless, they only can handle repetition frequencies of several 10 Hz, whereas semiconductor switches are limited to switching-voltages of several kV or 10 kV, and currents on the order of 10 kA, as a rule, but, importantly, can switch off current and enable high pulse repetition frequencies in the kHz range.
Thus, a Marx circuit equipped with semiconductor switches capable of closing and opening a circuit and capacitors with a high capacitance can be used for generation of rectangular pulses and also stepwise arbitrary voltage shapes without exact matching of the load [40] and easily adjustable in pulse duration via semiconductor control electronics. In contrast, spark gap-switched pulse forming network generators also providing rectangular-shaped pulses, do not exhibit this flexibility in pulse duration, usually are not commercially applied for pulse durations exceeding 100 µs, but require less stages for realizing high output voltages and can handle higher currents compared to semiconductor-switched Marx topologies. However, if a large switching power in a small volume without necessity to open a circuit is required, currently spark gap-based switching solutions are still more competitive compared to semiconductor switches because of their lower price and for the possibility to design generators with higher stage voltages and a lower number of stage elements in consequence. Common stage voltage values of spark gap-switched Marx generators are between 50 and 100 kV. In the case of semiconductor-based systems, stage voltages are determined by the blocking voltage, i.e., 1.2–6 kV for standard devices.
To avoid complexity of semiconductor triggering of stacked systems, pulse transformer-based generator topologies exhibit advantages. In simplest implementation, a single semiconductor switch discharges a capacitor, charged to less than 10 kV, into the primary winding of a pulse transformer. Maximum output voltages and currents are limited by the transformer ratio and core saturation effects, respectively [41].
Transmission line generators, either spark gap-switched or semiconductor-switched, stacked, or single stage [42] did not enter large-scale PEF-processing of biomass so far, but might gain importance if future applications, e.g., stress response induction, require for pulses shorter than 1 µs and pulse rise times of less than 10 ns, which advantageously can be realized by these systems for voltage levels on the order of several 100 kV.
The design of the treatment chamber electrode system determines the way of grounding the pulse circuit. If the main direction of the electric field is parallel to the flow of material, grounding of one pole of the pulse circuit near the PEF treatment chamber is of advantage [43]. A collinear electrode design is an e.g., for such an arrangement [44]. In cross-linear chambers exhibiting a plate electrode design, the electric field is oriented in a 90° angle to the flow of material. For such field geometry, a ground-symmetric operation helps to prevent a leakage current from flowing out of the electroporation area [43]. The pulse circuit is grounded at the center of the pulse generator delivering a positive and negative voltage of half amplitude to the electrode system for PEF treatment. Hence, less effort for high-voltage insulation to ground is required and a device might be set up more compact [45]. Nevertheless, both configurations might be designed for the application of a roughly homogeneous electric field distribution.
For large-scale PEF treatment devices, the inductance of the pulse circuit may limit the amplitude of the pulse current at a desired pulse shape. Parallel configuration of several pulse generators overcomes such limitations. However, due to jitter of the switching moments of the generators energy oscillations between the generators may occur, if they are connected to one common pair of electrodes only. The use of single electrodes, which are aligned next to each other such that a damping resistor between adjacent electrodes is formed without influencing much the homogeneity of the electric field, prevents such energy oscillations. However, a low jitter of the switching moment is desirable. The jitter of spark gap switches can be reduced significantly by adding means for seed electron generation [46]. A corona discharge at the tip of a wire connected to the cathode of a spark gap emits ultra-violet light. The wire is placed next to both spark gap electrodes in such a way, that the light is able to generate seed electrons inside the spark gap without allowing the corona discharge to bridge the gap to the counter electrode of the spark gap. For more homogeneous radiation, a ring-like corona wire might be used instead. Additionally, a homogeneous-field profile of the spark gap electrodes lowers the jitter, because the volume with an electric field sufficiently large for streamer generation is increased and, hence, the probability for seed electrons to initiate a discharge [46]. Moreover, a homogeneous-field profile fosters homogeneous wear of the electrodes increasing their useful lifetime. Over-voltage triggering of the first stages' spark gaps of Marx generators in parallel configuration enables triggering without additional wear [43]. An ignition electrode is omitted. An over-voltage is applied to each spark gap by means of one or two pulse generators replacing one or both charging coil between the first and second stage. Switching with low jitter is achieved by combining over-voltage triggering with a corona wire next to each spark gap.
The pulse generators might be supplied by the charging current of the Marx generator in order to simplify their integration into the circuit [47, 48]. The means for transporting the material through the PEF treatment device need to be adapted to the mechanical properties of the material. Crushed grapes for e.g., can be pumped. The use of two pumps enables a control of the pressure inside the PEF treatment zone in order to prevent the material from an electric breakdown when being treated at a high electric field level [45]. By means of a degassing valve, air might be removed from the material additionally increasing the electric breakdown strength of the material. Whole sugar beets, for e.g., as well as material with comparable mechanical properties might be transported through the PEF chamber by means of a wheel equipped with rods as a package [49]. So a constant velocity of the product all over the cross-section of the treatment area is guaranteed. Online measurement of the degree of cell disintegration enables an automated control of the device based on the material quality. The degree of cell tissue electroporation can be derived from impedance measurements of the material before and after PEF treatment [50, 51].
Commercialization of industry level PEF technology
Currently, PEF technology is mostly widely used in the food industry. In the 1980s, the German equipment manufacturer Krupp has performed first attempts to commercialize the process, but at this time pulsed power switches have not shown sufficient performance and reliability [
52
,
53
]. In the 1990s, in the US as well as Europe, consortia of food processors, equipment manufacturers, and universities have been formed to develop PEF applications and equipment [
54
]. In 1995 a continuous system was launched by PurePulse, a subsidiary of Maxwell Laboratories. In 2006, a first commercial installation for fruit juice preservation was achieved in the US but was stopped in 2008 due to technical and commercial limitations. The first commercial operation in Europe was achieved in 2009, with the installation of a 1500 l/h juice preservation line. In 2010, the first industrial system for processing of vegetables with a maximum capacity of 50 t/h followed. At present such PEF-treated food products are on market shelves in the Netherlands, Germany, and the UK, where PEF-processing equipment with a capacity of 1500–2000 and 5000–8000 l/h is used [
55
,
56
]. An industrial system to enhance yield of cloudy apple juice is operated in a German fruit juice company in a 10 t/h scale [
57
]. Textural changes observed in potato, sugar beet, and carrot after a PEF treatment are caused by a loss of turgor pressure [
58
,
59
]. As a result subsequent handling, pumping, or cutting processes may be facilitated. After treatment of potatoes with an energy input of 1–2 kJ/kg an improved cutting is observed, causing less fracture, and a smoother cut surface after industrial hydrojet cutting. Due to tissue softening, less product breakage occurs in the following production stages. The process is currently used with a number of 40 industrial installations to replace conventional pre-heating of potatoes (60 °C, 30 min) in French Fries production [
56
]. In Table
2
, we provide an overview of industrial scale pulse generators, as far as data are available. These developments of commercial systems for the food industry will enable the commercial use of the PEF systems for other biorefinery application such as chemical production and biofuels.
Table 2
Industrial PEF systems
| Manufacturer | Power (kW) | Max voltage (kV) | Max current (A) | Treated material |
| --- | --- | --- | --- | --- |
| Diversified Technologies (USA) | 1–150 | 40 | 300 | Liquids |
| ELEA (Germany) | 5–80 | 40 | 200–5000 | Liquids and solids |
| Energy pulse systems (Portugal) | 3.5 | 10 | 150 | Liquids |
| KEA TEC (Germany) | 25 | 300 | 7000 | Liquids and solids |
| Maxwell pulse (USA) | NA | 40 | NA | NA |
| Pure pulse (The Netherlands) | 16–30 | 40 | NA | Liquids |
| ScandiNova (Sweden) | 0.4–90 | 10–450 | 20–1000 | NA |
| SteriBeam (Germany) | 3 | 20–30 | NA | Liquids and solids |
| Pulsemaster (The Netherlands) | 80 | NA | NA | Liquids and solids |
Electrochemical reactions due to pulsed electric field application
Importantly, when PEF are applied to biomass (or any electrolyte solution) placed in direct contact with the metal electrodes of the treatment chamber, besides electroporation of the biological cell membrane, i.e., which makes it permeable for molecules otherwise deprived of any transport mechanisms, a variety of electrochemical reactions occur at the electrode–solution interfaces [60, 61]. These reactions are undesired and their extent should be minimized since they may cause problems in different fields.
For e.g., the electrode reactions can cause evolution of gas (H2, O2), produce toxic chemicals (mostly H2O2, HCl, HClO), electrolysis of water, and changes to the chemical properties (pH, electrical conductivity) of the processed fluid in the vicinity of the electrode surfaces and dissolution of the electrode's material [60, 62, 63]. In addition, reaction products that are formed can react in the bulk with other compounds leading to the formation of toxic compounds or degradation of biomaterials even after PEF treatment has been completed. Electrochemical reactions may also lead to fouling that during extended processing time they can cause several problems such as local electric field distortion, arcing, contamination of the treated material, and in some case, cause the flow of the fluid product to stop. Finally, corrosion can cause serious damages to the electrodes, whose surface roughness can increase as a consequence of the metal release. This, in turn, can cause local electric field distortion and arching, drastically limiting the life time of the electrodes to few hours of operation only [64, 65].
The extent of all the above undesired effects related to the electrode reactions depend on many factors such as chamber design and electrode's material, electrical parameters such as pulse shape, peak voltage, total specific energy input, polarity, and pulse duration as well as the composition and chemical–physical properties of the treated products [66–68].
Although a number of studies have shown that, the extent of the electrochemical reactions may be limited by either using electrode materials featuring higher resistance to electrochemical reactions such as titanium, platinized-titanium or conductive polymers [65], or by using bipolar pulses [66], dissolution of electrode materials and other electrochemical reactions are largely unavoidable in the long term.
Numerical simulation has been recently applied as a valuable tool to predict the occurrence of the electrochemical phenomena at the electrode-liquid interface of a treatment chamber and to optimize the process with respect to the chamber design, electrode's material, product pureness and composition, and the range of operating conditions [69].
PEF treatments for biomass feedstock development
PEF for gene delivery to improve plant biomass feedstocks
For plant cell transformation, often required for genetic modification of the biomass feedstock, the cell wall is often considered as a barrier to DNA transfer, which is only overcome by rupture or wall-degrading enzymes (protoplast formation) [70, 71]. Using PEF for plant cell transfection was mostly described after protoplast formation [72]. Indeed cell plasmolysis before PEF is an efficient approach to DNA delivery into intact plant cells [73]. Using PEF, transient expression (β-glucuronidase (GUS) and chloramphenicol acetyltransferase (CAT)) and stable expression (phosphinothricin acetyltransferase) of exogenous genes were obtained in intact black Mexican sweet maize cells a crop difficult to transform [73]. In this work, one single 15 × 103 µs long pulse of 750 V/cm was applied, leading to a 100 % increase in transient GUS expression in intact maize cells, while preserving the cell viability, by adding 10 mM ascorbate just after PEF.
PEF for gene delivery to improve algal biomass feedstock
Stable transformants of both wall-less and walled strains of the microalga Chlamydomonas reinhardtii, Chlorella ellipsoidea, and Dunaliella salina have been obtained using PEF [74–76]. Temperature, osmolality, electric conditions, field strength (kV/cm), time of discharge, and DNA concentrations have to be carefully optimized to obtain high transformation efficiencies. In [77] it was reported that high efficiency of transformation was achieved in Chlamydomonas to 2 × 105 transformants per μg of DNA, about two orders of magnitude higher than that obtained with the standard glass beads method to introduce exogenous DNA. More recently stable gene transfer by PEF was established in other eukaryotic microalgae, including Nannochloropsis sp. [78, 79] Scenedesmus obliquus [80], Chlorella vulgaris [81], and Phaeodactylum tricornutum [82, 83].
A common rule for the published protocols was that cells were grown phototropically and harvested in the exponential phase of growth. No pretreatment was described. The cultures were washed in a pulsing buffer that was optimized for each trial but in most cases was poor in salts to reduce the conductivity (longer pulse decay, limited Joule heating). A high cell density was used with several μg of pDNA (that could be linearized). Field strengths ranged from 2.5 to 11 kV/cm with decay time from 3 × 103 to 26 × 103 µs. Most trials were performed with a capacitor discharge system except in a recent paper on P. tricornutum, where cells in the log phase of growth were resuspended in an hypotonic buffer and submitted to PEF (several pulses 1.5 kV/cm, 5 × 103 µs followed by a train of 40 V/cm, 50 × 103 µs) [83].
The lack of pretreatment to weaken the wall in algae was the opposite to what was routinely used on yeasts. Pretreatment of the Saccharomyces cerevisiae yeast cells in the early phase of exponential growth with dithiothreitol increased transformation efficiency [84]. Transformation efficiencies of 107 transformants/µg of plasmid DNA were obtained with a square wave electric pulse of 2.7 kV/cm with 15 × 103 µs pulse length. Even small quantities of DNA (100 pg) can be used to transform 108 cells. Important parameters are the pulse field strength, to which cells are exposed, and duration. The method has been successfully applied to various strains of Saccharomyces cerevisiae as well as to other types of yeast [84–86].
Biomass dehydration with pulsed electric fields
Dehydration is one the most energy intensive processes in the biomass treatment. PEF enable energy-efficient dehydration. For example, in the course of the production of sugar from sugar beets, PEF-assisted drying of cossettes increases, in combination with alkaline extraction of the sugar, the dry matter content of the cossettes after pressing from 35 to 40 % [87, 88]. In a conventional sugar-production process, lime milk is used for purging the juice and, hence, added to the juice after extraction. For alkaline extraction, the lime milk is added to the cossettes before diffusion [88] or between two pressings [87]. It strengthens the cell walls, so during pressing water may better drain out of the material. The lower water content results in lower evaporation energy during the subsequent drying stage for the cossettes. PEF-assisted drying is not only more efficient due to the decreased water content after pressing. PEF-treated material exhibits a better diffusion of water and vapor, thus less time is required for the drying process. The decrease of humidity with the time is for PEF-treated material much steeper than for untreated material. The time required for the drying process of energy crop in an oven could be reduced by a factor of 2–3 compared to non-PEF-treated material [89]. For energy-efficient dehydration of green rye and food crops, an electrified press has been set up [51, 90]. Such a press enables the application of high-voltage pulses and mechanical force simultaneously. No extra water needs to be added, because the electric contact to the electrodes is established by means of the juice, which is initially pressed out of the material. When using a stamping press, additional pulse application may increase the yield of juice approximately by a factor of two compared to pressing only.
Biorefinery processing enabled by pulsed electric fields
Conclusions and future directions on the electroporation-based technologies for biorefineries
PEF processes have already shown very exciting results pushing forward multiple aspects of biorefineries, ranging from feedstock development, through dehydration and products extractions to waste treatment (Table
3
shows several examples of PEF use in different stages of biorefineries). PEF treatment is non-thermal and less energy-consuming compared to the conventional thermal extraction and dehydration operations, and permits to better valorize plant cell compounds.
Table 3
Examples of PEF application in biorefineries
Biorefinery application

Examples

PEF parameters

Achieved effects

Delivery of genes to improve feedstock phenotype and resistance

Plants: Mexican sweet maize

750 V/cm, 15 × 103 µs pulse duration, single pulse

Transient expression of GUS and CAT, and stable expression of phosphinothricin acetyltransferase [73]

Algae (strains development): Chlamydomonas

~1900 V/cm, single pulse of exponential shape with 10 µF capacitor discharge

2 × 105 transformants per µg of DNA [77]

Dehydration

Sugar beet cossettes

3–5 kV/cm, 1.6 µs pulse duration, 40–80 pulses [88]

600 V/cm, 100 µs pulse duration, 100 pulses, 2.76 ± 0.16 Wt/kg [87]

PEF reduced the force required for a beet slicing from 16 to 8 N, reducing the total process energy requirement, and costs on changing the blades. In addition, combination with lime reduced the extraction process temperature from 72 to 60 °C with the same extraction efficiency [88]

Lime improved the drying efficiency: 40 % dry matter content of the pulp was archived with less energy invested in evaporation than in untreated samples [87, 88]

Green rye

3.5 kV/cm, 1.5 µs pulse duration, 80 pulses

8 % reduction in relative humidly after PEF + pressing with extrusion press. 100 min reduction time in drying under 105 °C in comparison with untreated controls [51]

Grass, maize, and lucerne drying

7 kV/cm, 1.5 µs pulse duration, 40–80 pulses

>50 % energy saving in comparison with traditional methods [89]

High-value products extraction from biomass waste

Polyphenol extraction from involucral bracts of artichokes

5 kV/cm, 10 µs pulse duration, 100 pulses, 5 kJ/kg, pulse repetition frequency 10 Hz

Almost totally destroyed membranes according to disintegration index (Z p = 0.9) extraction solvent: water. Extraction yield of polyphenols increased by 150 % in comparison with untreated samples. [96]

Polyphenol extraction from grape by-products (pomace, peels, seeds, and vine shoots)

20 kV/cm, 10 µs pulse duration, 2000 pulses, pulse repetition frequency 0.33 Hz

Total polyphenols and flavonoids (naringin and hesperidin) extraction from orange peel

7 kV/cm, pulse duration 3 µs, 20 pulses, pulse repetition frequency 1 Hz 5 kV/cm 3 µs, 20 pulses, pulse repetition frequency 1 Hz

Increased the total polyphenol extraction yield by 159 % [101] 3.1 mg/100 g yields of naringin and hesperidin [101]

Lignocellulose biomass pretreatment

Wood chip

10 kV/cm, 100 µs pulse duration, 2000 pulses, pulse repetition frequency 3 Hz,

Permeability increase to neutral red dye [34]

Switch grass

8 kV/cm, 100 µs pulse duration, up to 5000 pulses

Permeability increase to neutral red dye [34]

Biofuel production

Yeast: in Saccharomyces cerevisiae, a major industrial fermentation organism

2.7 kV/cm, 15 × 103 µs pulse duration, single pulse

Transformation efficiencies of 107 transformants/µg of plasmid DNA were achieved, providing exciting opportunities for high-throughput genetic engineering of strains for biofuel fermentation [84]

Microalgae: A. protothecoides

34 kV/cm, 1 µs pulse duration, ~0.75 MJ/kg

Cell rupture and release 15 % of algae dry weight to the medium [157]

C. vulgaris

3 kV/cm, 2 × 103 µs pulse duration, 30 pulses, flow rate = 1 ml/s

Protein extraction yields: 3.5 µg protein/100 µl solution (107 cells/ml) [131]

N. salina

6 kV/cm, 2 × 103 µs pulse duration, 30 pulses, flow rate = 150 µl/s

Protein extraction yields: 5 µg protein/100 µl solution (108 cells/ml) [131]

Biogas: waste activated sludge and pig manure

10 kWh/m3

Increased biomethane production by 80 % for pig manure and 100 % for WAS after 25–30 days [146]
Expected future developments on the electrobiorefineries will aim at valorisation of the whole biomass feedstock. There exist some examples of PEF application for the valorisation of the whole grape (including pulp, mash, stem, skins, and seeds) [150], sugar beet (including cossettes, pulp, and tails) [150], rapeseed (including hulls, press cake, stem and leafs) [111, 151]. More examples can be expected in future for the valorisation of different crops, wood biomass, yeasts, and marine by-products. However, it is important to remember that the interpretation of results can vary widely depending on the PEF and other parameters used in the experiments. Today, authors often do not report all PEF parameters, thus making it difficult to compare different processes and results. More detailed and consistent reporting of all applied process parameters is required for continuous advancement of the field.
Selective extraction of intracellular compounds seems to be one of the most interesting features of the moderate PEF treatment for the production of high-value products from the biorefineries. Different examples of extraction selectivity from electroporated cell tissue are presented in the literature, including sucrose extraction from sugar beet, colorants extraction from grapes and red beet, polyphenols extraction from green biomass, and lipids extraction from microalgae, among others [152]. We can expect that extraction selectivity will be more explored for the future biorefineries to simplify and minimize the downstream purification operations.
For the conversion of lingo-cellulosic biomass to fermentable sugars, an efficient pretreatment strategy includes (1) disrupting and removing the cross-linked matrix of lignin and hemicelluloses that embeds the cellulose fibers, (2) disrupting hydrogen bonds in crystalline cellulose, and (3) increasing the porosity and surface area of cellulose for subsequent enzymatic hydrolysis. Conventional thermo-chemical operations (such concentrated acid hydrolysis, acidic steam explosion) are severe, high energy-consuming, costs and have negative environmental impact. Severe pretreatment conditions are also resulting in sugar degradation and inhibitor formation. It is expected that PEF treatment may contribute to better fractionation of lingo-cellulosic biomass (for e.g., its delignification [153]) and to the decrease of severity of conventional biomass conversion. The PEF treatments may also intensify cellulose enzymatic hydrolysis, which is actually slow because of low or modest cellulose digestibility. It is important to emphasize, however, that different from the PEF effects on the cell plasma membranes, where the theory of mechanisms—electroporation exist, the effects of PEF on extracellular matrix fibers are mostly observational [32, 35, 154]. Future theoretical work is needed to explain the effects of pulsed electric fields on lignocellulosic structures.
Other biorefinery applications of PEF exist. For instance, it was shown recently that PEF treatment can enhance cellular division of S. cerevisiae [155]. PEF may accelerate the fermentation activity, it can also influence on the methanization and can accelerate anaerobic digestion and biogas production. As the biorefineries translation to industry critically depends on the energy efficiency, PEF technologies provide a unique opportunity to reduce the energy expenditures of biorefineries with selective targeting of the cell membranes.
In recent years, advances in synthetic biology and metabolic engineering promise to revolutionize biofuels and biorefinery industry [156]. Yet, the delivery of large DNA products into the cells for the assembly of large metabolic networks is still challenging [156]. Electroporation technologies could serve as chemical-free tools for the genomic editing of entire metabolic networks by delivering multiple products into the cell with minimal levels of cell death.
Majority of the examples described in relevant scientific literature are carried out on laboratory scale batch units. Hence, in view of future industrial exploitation of this treatment, experimental work on the products of interest should be planned at pilot plant and industrial scale, to evaluate from an economical and environmental point of view the advantages of PEF-assisted processes in comparison to current technologies. Robustness tests are needed for all elements of the devices to be used, as very few long-term data are available on the performance of the systems under continuous operation in industrial facilities [37]. The other avenue of future work is to optimize PEF treatment and process parameters for each specific application. At the same time, it will be of crucial importance to gain insight on the mechanisms of electroporation and cell responses to PEF treatment, in order to be able to design and optimize the processes before scaling up.
Abbreviations
PEF:

pulsed electric fields
TMV:

transmembrane voltage
pDNA:

plasmid deoxyribonucleic acid
MD:

molecular dynamics
LC:

electric circuit consisting of an inductor (L) and a capacitor (C) connected together
PBR:

photo-bioreactor
Z p :

cell disintegration index
DW:

dry weight
PI:

propidium iodide
LY:

lucifer yellow
EDTA:

ethylene diamine tetra acetic acid
DTT:

dithiothreitol
GUS:

β-glucuronidase
CAT:

chloramphenicol acetyltransferase
GAPDH:

glyceraldehyde-3-phosphate dehydrogenase
PGK:

3-phosphoglycerate kinase
HK:

hexokinase
BSA:

bovine serum albumin
GAE:

gallic acid equivalent
SDS-PAGE:

sodium dodecyl sulfate polyacrylamide gel electrophoresis
Declarations
Authors' contributions
AG, MS, JT, GP, UP, GS, ST, DM, EV, and WF wrote the manuscript. All authors read and approved the final manuscript.
Acknowledgements
This article is based upon work from COST TD1104 Action (www.electroporation.net), supported by COST (European Cooperation in Science and Technology). AG acknowledges TAU Center for Innovation in Transportation and Israel Ministry of Energy, Infrastructures and Water Resources for the support of this work.
Competing interests
The authors declare that they have no competing interests.
Open AccessThis article is distributed under the terms of the Creative Commons Attribution 4.0 International License (http://creativecommons.org/licenses/by/4.0/), which permits unrestricted use, distribution, and reproduction in any medium, provided you give appropriate credit to the original author(s) and the source, provide a link to the Creative Commons license, and indicate if changes were made. The Creative Commons Public Domain Dedication waiver (http://creativecommons.org/publicdomain/zero/1.0/) applies to the data made available in this article, unless otherwise stated.
Authors' Affiliations
(1)
Porter School of Environmental Studies, Tel Aviv University, Tel Aviv, Israel
(2)
Institute for Pulsed Power and Microwave Technology, Karlsruhe Institute of Technology, Karlsruhe, Germany
(3)
CNRS, Institut de Pharmacologie et de Biologie Structurale Université de Toulouse, Toulouse, France
(4)
Department of Industrial Engineering, University of Salerno, Fisciano, Italy
(5)
Institut für Bioprozeβ- und Analysenmeβtechnik e.V., Heilbad Heiligenstadt, Germany
(6)
Department of Biology, Faculty of Natural Sciences, Vytautas Magnus University, Kaunas, Lithuania
(7)
German Institute of Food Technologies, Quakenbrück, Germany
(8)
Faculty of Electrical Engineering, University of Ljubljana, Ljubljana, Slovenia
(9)
Departement de Genie Chimique, Centre de Recherche de Royallieu, Universite de Technologie de Compiegne, Compiegne, France