Increasing n-butanol production with Saccharomyces cerevisiae by optimizing acetyl-CoA synthesis, NADH levels and trans-2-enoyl-CoA reductase expression
Biotechnology for Biofuels
2016
9:257
Received: 24 September 2016
Accepted: 17 November 2016
Published: 25 November 2016
Abstract
Background
n-Butanol can serve as an excellent gasoline substitute. Naturally, it is produced by some Clostridia species which, however, exhibit only limited suitability for industrial n-butanol production. The yeast Saccharomyces cerevisiae would be an ideal host due to its high robustness in fermentation processes. Nevertheless, n-butanol yields and titers obtained so far with genetically engineered yeast strains are only low.
Results
In our recent work, we showed that n-butanol production via a clostridial acetoacetyl-CoA-derived pathway in engineered yeast was limited by the availability of coenzyme A (CoA) and cytosolic acetyl-CoA. Increasing their levels resulted in a strain producing up to 130 mg/L n-butanol under anaerobic conditions. Here, we show that under aerobic conditions. this strain can even produce up to 235 mg/L n-butanol probably due to a more efficient NADH re-oxidation. Nevertheless, expression of a bacterial water-forming NADH oxidase (nox) significantly reduced n-butanol production although it showed a positive effect on growth and glucose consumption. Screening for an improved version of an acetyl-CoA forming NAD+-dependent acetylating acetaldehyde dehydrogenase, adhEA267T/E568K/R577S, and its integration into n-butanol-producing strain further improved n-butanol production. Moreover, deletion of the competing NADP+-dependent acetaldehyde dehydrogenase Ald6 had a superior effect on n-butanol formation. To increase the endogenous supply of CoA, amine oxidase Fms1 was overexpressed together with pantothenate kinase coaA from Escherichia coli, and could completely compensate the beneficial effect on n-butanol synthesis of addition of pantothenate to the medium. By overexpression of each of the enzymes of n-butanol pathway in the n-butanol-producing yeast strain, it turned out that trans-2-enoyl-CoA reductase (ter) was limiting n-butanol production. Additional overexpression of ter finally resulted in a yeast strain producing n-butanol up to a titer of 0.86 g/L and a yield of 0.071 g/g glucose.
Conclusions
By further optimizing substrate supply and redox power in the form of coenzyme A, acetyl-CoA and NADH, n-butanol production with engineered yeast cells could be improved to levels never reached before with S. cerevisiae via an acetoacetyl-CoA-derived pathway in synthetic medium. Moreover, our results indicate that the NAD+/NADH redox balance and the trans-2-enoyl-CoA reductase reaction seem to be bottlenecks for n-butanol production with yeast.
Keywords
n-Butanol Saccharomyces Coenzyme AAcetyl-CoAPantothenateAcetylating acetaldehyde dehydrogenaseTrans-2-enoyl-CoA reductase
Background
Butanol isomers like n-butanol or isobutanol are regarded as more suitable fuel substitutes than bioethanol. Butanol production via genetically engineered yeast cells has recently been reviewed in [1]. In our previous work, we have engineered the yeast Saccharomyces cerevisiae for n-butanol production via a Clostridia-derived acetoacetyl-CoA-dependent pathway [2] (Additional file 1: Figure S1). It turned out that the availability of coenzyme A (CoA) and cytosolic acetyl-CoA are limiting heterologous n-butanol production with yeast. For industrial processes, the yeast S. cerevisiae is established as a highly robust, easily genetically modifiable, well-characterized and phage infections-resistant organism for fermentation [3]. However, in S. cerevisiae, the acetyl-CoA metabolism takes place in four different compartments, which hampers metabolic engineering for certain products. Acetyl-CoA functions as a precursor for several metabolic pathways in yeast. It is the end product of fatty acid β-oxidation, a precursor for energy generation, but at the same time, a substrate for fatty acid, isoprenoid, and amino acid biosynthesis. Therefore, acetyl-CoA is a favorable starting point for biotechnological applications which focus on production of lipids, polyketides, isoprenoids, and alcohols [4].
Acetyl-CoA is present in the cytosol, mitochondria, nucleus, and peroxisomes in baker's yeast. Cytosolic acetyl-CoA is produced via the pyruvate dehydrogenase (PDH)-bypass from pyruvate which first is converted into acetaldehyde via pyruvate decarboxylases. Acetaldehyde is then transformed into acetate mainly by acetaldehyde dehydrogenase Ald6, which uses NADPH as cofactor. Finally, acetate is converted into acetyl-CoA via ATP-consuming acetyl-CoA synthetases (ACSs). However, acetaldehyde is mainly diverted to ethanol, which is the main reduction product in yeast. Also, the other precursors of acetyl-CoA, pyruvate or acetate, can enter into one of the other mentioned compartments, and therefore less acetyl-CoA is available in cytosol [4]. Besides, there do not exist direct transport systems for acetyl-CoA between the compartments but only the glyoxylate cycle or carnitine/acetyl-carnitine shuttle [5].
Also, the Crabtree effect limits the availability of cytosolic acetyl-CoA. Most of glucose is converted into ethanol, even under aerobic conditions [6]. Another byproduct is glycerol, whose reduction pathway is also used for NAD+ regeneration to enable further glucose oxidation in glycolysis. To increase cytosolic acetyl-CoA levels for biotechnological purposes, several approaches have been undertaken. Alcohol dehydrogenase genes (ADH) were deleted to limit ethanol production; enzymes of the PDH-bypass were overexpressed [4]; ATP-independent heterologous PDH complexes were expressed in the yeast cytosol [7]; or likewise, ATP-independent, heterologous pyruvate formate lyase was expressed [7, 8]. Moreover, acetylating acetaldehyde dehydrogenases were tested, which convert acetaldehyde directly into acetyl-CoA without ATP consumption. The functionality of these enzymes in yeast was proven by overexpression in acs2 deletion mutants, as acs2 mutants are not able to grow on glucose without expressing another enzyme producing acetyl-CoA in the cytosol [7].
A further promising enzyme is adhE from E.coli, which is a multifunctional oxidoreductase. This enzyme consists of two domains, an acetaldehyde oxidoreductase and an ethanol oxidoreductase, and is probably an evolutionary product of a gene fusion. A reason for this might be that catalytic sites are now closer together and one NADH binding site is shared [9]. In E.coli, adhE catalyzes the reduction from acetyl-CoA into acetaldehyde and then into ethanol. However, Membrillo-Hernandez and coworkers were able to engineer the enzyme to prefer the conversion of acetaldehyde into acetyl-CoA. For that, two point mutations were introduced: A267T and E568K. Mutation A267T was mainly responsible for the improved catalytic activity, and E568K stabilized the architectural integrity [9]. Thus, adhEA267T/E568K can function as an acetylating acetaldehyde dehydrogenase, as well.
Independent of the use of the endogenous PDH-bypass or heterologous enzyme for cytosolic acetyl-CoA production, free CoA is also needed. Biosynthesis of CoA starts from pantothenate in yeast (Fig.
1
). First, pantothenate is converted into 4′-phosphopantothenate by pantothenate kinase Cab1. Together with cysteine, 4′-phosphopantothenate is then transformed into 4′-phosphopantothenoylcysteine, which is further converted into 4′-phosphopantetheine, dephospho-CoA, and finally CoA [
10
]. The pantothenate kinase reaction is limiting CoA synthesis in yeast and is inhibited by acetyl-CoA [
10
,
11
]. Therefore, we used the overexpression of pantothenate kinase coaA from
E.coli
to increase CoA and n-butanol synthesis in yeast [
2
].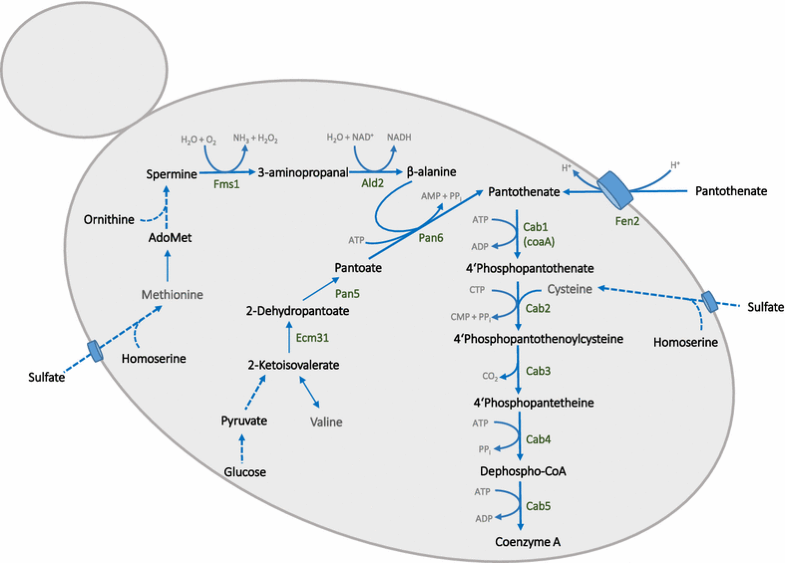 Additionally, in order to enhance CoA and finally acetyl-CoA production in the cytosol, increased supply of pantothenate in the growth medium is necessary [2]. Yeast cells can either take up pantothenate from the medium via the Fen2 transporter [12] or can synthesize it via an endogenous pathway starting from amino acids methionine and valine (Fig. 1). Valine is transaminated into 2-ketoisovalerate, which serves as a precursor for pantoate production. Pantoate in turn is transformed with β-alanine into pantothenate in an ATP-dependent reaction. The precursor of β-alanine is methionine, which is first converted to spermine [13]. The next step, the conversion of spermine into 3-aminopropanal via amine oxidase Fms1, was found to be rate limiting for pantothenate synthesis [14]. Indeed, overexpression of FMS1 even led to pantothenate excretion into the media. Further on, 3-aminopropanal is transformed into β-alanine by aldehyde dehydrogenases Ald2/3, whereby Ald2 is mainly responsible for this reaction [13].
Heterologous n-butanol production via the acetoacetyl-CoA-derived pathway in engineered yeasts needs high levels of acetyl-CoA [2, 6]. In this pathway, two molecules of acetyl-CoA are condensed to acetoacetyl-CoA. This reaction is catalyzed by endogenous yeast thiolase Erg10 [15]. Then, acetoacetyl-CoA can be reduced into 3-hydroxybutyryl-CoA and further converted into crotonyl-CoA via heterologous dehydrogenases and crotonases like hbd and crt from C. acetobutylicum [16]. For the irreversible conversion of crotonyl-CoA into butyryl-CoA, trans-2-enoyl-CoA reductase ter of Treponema denticola was shown to be useful [6]. The last steps from butyryl-CoA into butyraldehyde and n-butanol can be catalyzed by aldehyde dehydrogenase eutE from E. coli [17] and/or aldehyde/alcohol dehydrogenase adhE2 from C. acetobutylicum [18]. Furthermore, on rich medium or via engineering of amino acid synthesis and degradation, S. cerevisiae is able to produce n-butanol also by endogenous amino acid-derived pathways (reviewed in [1]). In a recent study, the endogenous pathway of threonine was optimized and combined with an introduced citramalate synthase-mediated pathway, which enabled n-butanol production of 835 mg/L in complex medium under anaerobic conditions [19].
So far, with the contribution of only the acetoacetyl-CoA-derived pathway in synthetic medium without addition of amino acids, metabolic engineering of S. cerevisiae resulted in n-butanol titers from 2.5 mg/L [20] up to 130 mg/L under anaerobic conditions [2]. Here, we report further improvements for n-butanol production with S. cerevisiae via an acetoacetyl-CoA-derived pathway under aerobic conditions.
Conclusion
One of the major problems in n-butanol production with yeast seems to keep an optimal redox balance of the cofactor NAD between its oxidized form, NAD+, and the reduced form, NADH. Glycolysis is very fast in yeast, and therefore there is a high need for NAD+. On the other hand, the driving force for high production rates of n-butanol is NADH [16]. But, obviously flux through the n-butanol pathway in yeast is not yet high enough to provide enough NAD+ for the continuation of glycolysis. This finally results in a slowdown of glucose consumption. Expression of nox could in fact partially alleviate glucose consumption by increasing NADH re-oxidation, but then obviously NADH was lacking as driving force for n-butanol production. In contrast, the aerobic conditions employed in this work, probably by allowing some NAD+ regeneration, had a positive effect on both glucose consumption and n-butanol formation. Moreover, blocking NADPH formation by deletion of ALD6 in favor of NADH formation via adhE strongly improved n-butanol production. On the other hand, provision of an excess supply of NADH using the more reduced sugar alcohol sorbitol as the carbon source after overexpression of a sorbitol dehydrogenase and a sorbitol transporter [28] in the n-butanol-producing strain VSY19 had a detrimental effect on growth, sorbitol consumption, and butanol production (data not shown) in contrast to the fast growth and sorbitol consumption of a wild-type ethanol-producing yeast strain [28].
The limiting step in the n-butanol pathway seems to be the ter reaction. Indeed, this was already indicated by the work of Swidah and coworkers [25] who observed crotonal secretion in n-butanol-producing yeasts. Therefore, there is a high need to optimize the conversion of crotonyl-CoA to butyryl-CoA for improved n-butanol production with yeast.
The other driving force for n-butanol production is acetyl-CoA. In this work, we could further improve its synthesis by providing more substrate in the form of CoA via endogenous overproduction of pantothenate. Moreover, we found an improved version of acetylating acetaldehyde dehydrogenase adhE, adhEA267T/E568K/R577S. Nevertheless, although the pantothenate kinase reaction was already improved, there still seems to be a bottleneck in the CoA biosynthesis pathway as pantothenate was even secreted out of the cells. Moreover, as indicated by the poor complementation of acs mutants, also adhE seems to be not yet working optimally.
Abbreviations
OD600 :

optical density at 600 nm
SMD:

synthetic minimal medium containing glucose
ADH:

alcohol dehydrogenase
ter:

trans-2-enoyl-CoA reductase
Declarations
Authors' contributions
VS and EB conceived the study. VS conducted the experiments. VS and EB analyzed the data. VS and EB wrote the paper. Both authors read and approved the manuscript.
Acknowledgements
We thank Dr. Mislav Oreb (Frankfurt, Germany) for helpful advices. This work has been financially supported by BASF SE.
Competing interests
The authors declare that they have no competing interests.
Availability of data and materials
All relevant data generated or analyzed during this study are included in this published article and its supplementary information files.
Declarations
All authors have approved the manuscript for submission and that the content of the manuscript has not been published or submitted for publication elsewhere.
Open AccessThis article is distributed under the terms of the Creative Commons Attribution 4.0 International License (http://creativecommons.org/licenses/by/4.0/), which permits unrestricted use, distribution, and reproduction in any medium, provided you give appropriate credit to the original author(s) and the source, provide a link to the Creative Commons license, and indicate if changes were made. The Creative Commons Public Domain Dedication waiver (http://creativecommons.org/publicdomain/zero/1.0/) applies to the data made available in this article, unless otherwise stated.
Authors' Affiliations
(1)
Institute of Molecular Biosciences, Goethe-University Frankfurt, Frankfurt am Main, Germany